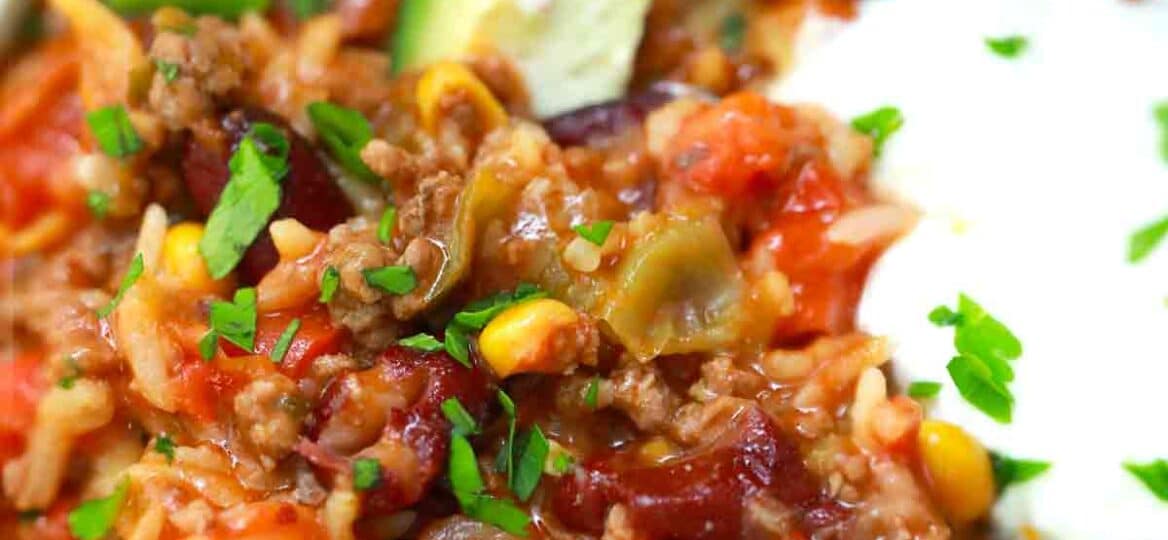 Instant Pot Mexican Casserole [Video]
Instant Pot Mexican Casserole is a healthy, hearty and quick family dish made with budget friendly ingredients such as ground beef, rice, cheese, salsa, and beans. A delicious Tex-Mex meal for the whole family to enjoy.
When it comes to healthy Instant Pot recipes, we have plenty to offer. For more Mexican-inspired recipes, I highly recommend trying this Pressure Cooker Chili, Stuffed Peppers Soup, and Taco Soup.
Instant Pot Mexican Casserole – A Healthy and Quick Dinner for Tonight!
This Mexican Casserole is just as flavorful and delicious as our traditional Taco lasagna but made easier and faster. With the help of the Instant Pot, this recipe is ready in less than one hour from start to finish.
I can certainly call this recipe the ultimate comfort food. Firstly, it is budget-friendly, quick, and super easy to prepare. Simply have the ingredients ready, dump them in the pot, and pressure cook. In no time, you will have the perfect family dinner to enjoy.
Another reason we love this dish is that it combines some of the best Southwest flavors. The fresh tomatoes, ground beef, and chili, all add the unmistakable rich and tasty flavors to it.
Also, you can easily adjust and modify it by swapping the cheeses, rice, or meat. You can use ground chicken, turkey instead of beef. Also, making it spicier, vegetarian-friendly, or even gluten-free is equally easy. If you are looking for a quick and flavorful family dinner, this dish should definitely be on top of your list!
The Ingredients:
Ground Beef: It adds plenty of flavors. I prefer to use lean ground beef, but feel free to go with what you have on hand.
Tomatoes and Salsa: Diced tomatoes work the best here. Alternatively, you could use fresh cherry tomatoes. Choose your favorite salsa as well, we like ours spicy!
White Rice: The best about this recipe is that you DON'T have to cook the rice separately. In case you are interested, you can learn how to cook the perfect rice in the pressure cooker. Also, you can swap the white rice with brown rice for a healthier spin on it.
Veggies: Onion and bell peppers is what I mostly use here. We also like to add some corn kernels. They add some color and plenty of taste. Other great additions would be corn, green beans, peas, etc.
Spices. This would not be a true Tex-Mex dish without some chili powder and cayenne pepper. It is the perfect balance between heat and flavor. Plenty of taco seasoning makes this recipe irresistible.
Sour Cream: Pile it on top, the creaminess works well with thee other textures and flavors.
Beans: Classic black beans will always work. You can also make it with IP black beans or canned beans.
Cheeses: Shredded sharp cheddar cheese or Mexican blend cheese will add plenty of aromas and creaminess to this casserole. Also, you can use a combination of cheeses such as mozzarella, gouda, etc.
How to make the best Instant Pot Mexican Casserole from scratch
Brown the beef: Turn the Instant Pot to SAUTE and add the oil. Cook the beef and the onion, until the meat is no longer pink. Add the Worcestershire sauce.
Add veggies and seasoning: Add the peppers, corn, chili powder, cumin, taco and garlic powder. Stir to combine.
Deglaze: Add some water and using a wooden spoon the bottom of the pot of any bits that stuck to it.
Add tomatoes and salsa: Next, you have to add the tomatoes and the salsa. Equally important is to remember NOT to stir, as this may cause a burn notice during the pressure cooking.
Add the rice: Add the rice and once again do not stir, but instead with the back of a wooden spoon or a spatula, gently push the rice down and spread it evenly so it is submerged in liquid.
Pressure cook: Cook on high pressure for 20 minutes. Allow the pressure to release naturally for 20 minutes, and then quick release any remaining pressure.
Stir in the cheese: Remove the lid and stir. Taste and adjust for any seasonings. Next stir in some of the shredded cheese, then sprinkle the remaining cheese over the top. After that place the lid on top to melt the cheese using the residual heat.
Toppings: Finally, serve hot with your favorite Tex-Mex toppings.
Recipe Adaptations
Mexican Casserole with Chicken. Swap in ground chicken meat for the ground beef called for in this recipe.
To Make Vegetarian. Omit the ground beef and use a can of pinto beans or vegetarian "meat" crumbles instead.
To Make Gluten Free. No changes needed. This casserole recipe is gluten free as written.
Oven-Baked. For an oven baked version, brown the beef, mix all the ingredients into a 9×12 casserole dish and bake at 350 degrees F for about 50-60 minutes. After that, top with more cheese, broil to melt it and serve garnished with your preferred toppings.
Slow Cooker: For the slow cooker you follow the same steps, you just have to slow cook it for about 4 hours on low.
Make is spicier: Use more jalapeño peppers, a spicier salsa and even some hot sauce.
Dump and cook: In case you don't have time to cook the beef, you can just dump all the ingredients into the pot and cook.
Frequently Asked Questions
What to Serve With Mexican Casserole?
This recipe is hearty as it is, and its filled with protein and veggies. If you still want to serve it with something on the side we recommend the followings:
What to do if the casserole is too runny?
Did you make the mistake to use too much liquid, and now you think the dish is lost? Don't panic, you may still be able to save it.
First, you can turn on the Sautés function, stir and cook it for a few minutes, for the liquid to get absorbed better.
Another option is too separately cook some rice and brown some beef and stir it into the mixture.
How to Freeze Pressure Cooker Mexican Casserole?
First, after cooking the recipe, let it fully cool.
After that, transfer the mixture into a freezer safe container and freeze for up to 3 months.
Another option is to place it into a freezer safe casserole dish, wrap tightly in plastic wrap and after that in foil. To cook, defrost it, top it with cheese and bake for 30 minutes at 350 degrees F.
More Casserole Recipes:
Deliciousness to your inbox
Enjoy weekly hand picked recipes and recommendations