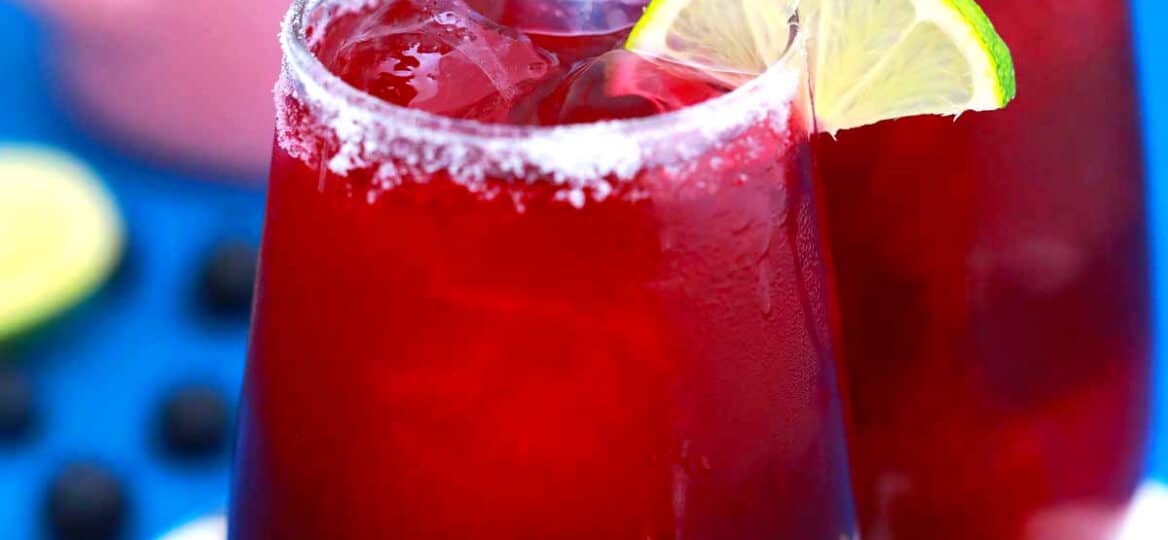 Blueberry Margarita [Video]
Blueberry Margarita is a spiced-up version of your regular cocktail! Fruity and refreshing, it spells fun just like how you want your next summer party to be!
I love blueberries because they are tart yet sweet. It is one of those flavors that will taste good in anything. I usually incorporate it in oatmeal pancakes, French toast casserole, and banana bread! And now, it is time to make it into a cocktail.
Homemade Blueberry Margarita
Blueberry Margarita tastes good and refreshing as it looks! It is blueberry season once again and though you can technically enjoy this fruit throughout the year, it is sweetest at this time.
And the flavors complement the tequila, orange liqueur, and lime juice well! This variation of the regular cocktail is one of my favorites.
I love serving this as a refreshment in the middle of the heat while enjoying a festive spread of other Mexican dishes. We had this recently during our Cinco de Mayo celebration at home and it was well-received!
Other than that, I like how it could be fancy, yet I can chug a glass or two on a weeknight to relax. It is simple to prepare enough to make something up for a late-night family bonding over chips and salsa.
What is a Margarita?
It is a cocktail drink that has tequila as the alcoholic component. It is combined with lime juice and orange liqueur. You can make it sweeter with a simple syrup, but this is not required.
This is thought of to be of Mexican origin, but it is difficult to point out the origin. Over time, there had been many versions as to how it was invented and by who.
But what is true is that it has stood the test of time. And it continues to be one of the most popular cocktail drinks on the planet.
What goes into Blueberry Margarita?
I use the following:
fresh blueberries
lime juice
tequila
orange liqueur
simple syrup
lime wedges
sugar or salt
ice
Notice that for this recipe, I make the concoction from scratch. It is best to use fresh ones and they are by far the easiest to adjust in terms of taste.
For the simple syrup, just dissolve sugar in water over medium heat. Usually, you need one-part sugar and one-part water.
You will need much of this stuff, but you can always refrigerate the rest for you to use in other beverage recipes.
How to make Blueberry Margarita?
Puree: Make a puree out of the berries by processing the fresh fruits in a food processor or blender until smooth. Then, strain the puree to get only the smooth juice and discard the big pieces.
Mix: In a cocktail shaker, put the puree and add in the alcoholic drinks as well as the lime juice and simple syrup.
Serve: Moisten the rim with lime juice by running a lime wedge and then, dip the rim into a shallow bowl of sugar or salt. Put in the ice and then pour in the concoction. Garnish with a lime wedge before serving.
Can you make it with frozen blueberries?
Yes! What's good about using frozen ones is that it will be instantly cold enough and you will require less or no ice. Ice sometimes waters down the drink, so it is a good idea to use frozen ones to start with.
Can you make it in advance?
Yes! What you can do is refrigerate the concoction once mixed several hours in advance to give it time to chill in the fridge. Or, freeze some in mason jars, then defrost and serve when needed.
Another make-ahead tip is to prepare the simple syrup and fruit juices in advance. Then, when ready, just shake together with the rest of the ingredients.
More delicious drink recipes:
Recipe Tips
Serve this Mexican favorite alongside Chipotle Chicken, Grilled Shrimp Tacos, and Shrimp Cakes!
Always serve it cold. And one trick that I do is to refrigerate the glasses, too, before I serve this drink.
Keep a simple syrup in the fridge for a few weeks and make your favorite drinks like homemade lemonade whenever you want it.
Deliciousness to your inbox
Enjoy weekly hand picked recipes and recommendations