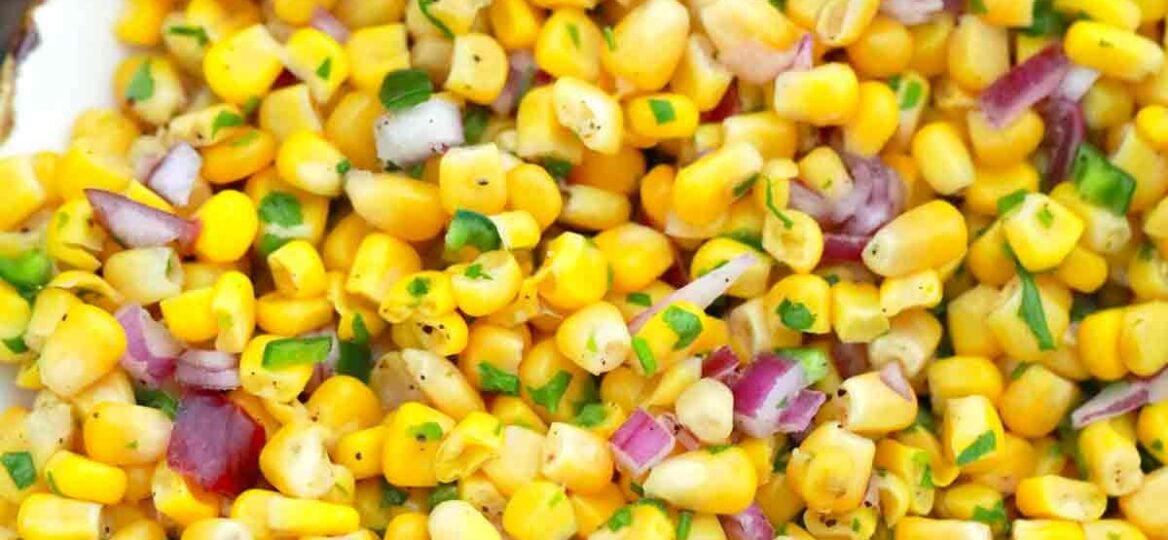 Chipotle Corn Salsa Recipe [Video]
Chipotle Corn Salsa is fresh and delicious, made with sweet corn, lime, and crunchy spicy jalapeno peppers, it makes the perfect appetizer or snack!
Making your own salsa is as easy as chopping up a few things and mixing it all together in a bowl. No cooking is needed. Just mix, chill, and eat for the best salsa you have ever tasted.
If you enjoyed this Chipotle copycat recipe, try our Chipotle Chicken Copycat Recipe with adobo sauce, fresh lime juice, and olive oil or this delicious Sofritas Copycat Recipe flavored with red wine vinegar and adobo sauce.
This copycat Chipotle corn salsa recipe is quick and easy to make, and you only need a few ingredients you probably already have in your kitchen.
It has all the fresh flavors you get from the restaurant version with the added benefit of knowing exactly what ingredients you are using. No need for anything fancy.
You just need corn, red onion, cilantro, peppers, and lime juice. The combination of lemon and lime together with the cilantro and the remaining ingredients makes this one of the great recipes to share with everyone.
These Chipotle Chicken Nachos are also tasty, made with Greek yogurt, corn chips, and chicken breast.
Ingredients needed:
All you need are these simple ingredients for this copycat version of Chipotle corn salsa. For detailed instructions and measurements, scroll down to our handy recipe card.
Corn: We used canned yellow corn.
Jalapenos: Very finely chopped jalapeño peppers.
Onion: Small red onion, very finely diced.
Cilantro: Chopped fresh cilantro.
Lime: Juice one lime.
Lemon: Fresh lemon juice.
Kosher salt
Black pepper
How to make Chipotle corn salsa copycat recipe?
Chop: First, chop the peppers and cilantro with a sharp knife.
Mix: Then, combine all the ingredients in a big bowl.

Chill: Then, cover the bowl with plastic wrap and chill for an hour to let the flavors blend together.

Serve: Finally, serve with your favorite chips or other Mexican dishes.
Recipe variations:
Poblano: Although Chipotle's corn salsa recipe uses jalapenos, you can use poblano peppers instead if you don't like high heat.

Citrus: You can use any citrus juice you like for this recipe.
Frozen: Feel free to use frozen corn instead of canned.

Other corn: Also, you could use sweet white corn instead of yellow.

Beans: Add a cup of cooked black beans for a heartier salsa.
Veggies: You could also add other veggies like tomatoes or red bell pepper.
How to serve:
This makes the perfect addition to any appetizer from chips to taco salads. Try one of our favorite serving suggestions or one of your own.
Serve with chips or veggies at your next game night or family dinner.

If you would rather have it soupier like other salsa recipes instead of pico de gallo, add a cup of minced tomatoes to the recipe.

Or mix this in with cilantro lime rice and some chicken or pork for a hearty main entrée.

Another way to enjoy this recipe is in homemade chipotle burrito bowls.
Serve with taco shells, meat, and your favorite, toppings for taco night.
Frequently asked questions
Is chipotle corn salsa healthy?
Overall, this chipotle corn salsa recipe is very healthy with low carbs, zero fat, and plenty of vitamins.
In one serving of this easy copycat recipe, there are only 80 calories, 15 carbs, and 4 grams of sugar. But it has 3 grams of protein and is a good source of vitamins A and C as well as iron.
Why did Chipotle stop selling this salsa?
Chipotle Mexican Grill has been serving our favorite salsas for years but a few years ago, they took Chipotle's corn salsa off the menu saying that they could only use foods that do not have GMOs (genetically modified organisms).
However, they have since put our favorite topping back on the menu but changed its name to roasted chili corn salsa.
Is it hard to make Chipotle corn salsa?
This is one of those easy recipes you can whip up in minutes from just a few ingredients.
Another bonus in this recipe is that you can change it to suit your tastes or what you have in your kitchen. All you need is corn, citrus juice, peppers, onion, and cilantro.
How to store leftovers:
Store: The best part is that you can store your salsa in an airtight container or in small amounts in separate small jars or baggies for single servings. It will stay fresh in the fridge for about four or five days.

Freeze: Alternatively, put single-serve amounts in the freezer for up to three months for future use.
Defrost: For best results, thaw overnight in the refrigerator.

Reheat: Heat up in your microwave or serve chilled.
More Mexican recipes:
Cooking tips:
Feel free to use fresh corn instead of canned.
If you do not like your salsa very spicy, the only thing to remember for this simple recipe is to make sure you remove the veins and seeds from your jalapeno pepper.
Unless you are not a fan of cilantro, make sure you do not skip this key ingredient.

Make roasted poblanos for your salsa by cooking them in a frying pan on a gas range with some olive oil until they are charred.

Because fresh jalapeno peppers are sometimes difficult to find in some grocery stores, you may have to use canned jalapenos.
Deliciousness to your inbox
Enjoy weekly hand picked recipes and recommendations