Chipotle Chicken Tacos with Chipotle Sauce
Chipotle Chicken Tacos are made with tender chipotle chicken, a creamy chipotle sauce, and crunchy red cabbage slaw. All your favorite Mexican flavors packed in a mini tortilla!
I have many recipes inspired by Mexican cuisine! Think Mexican Black Bean Salad, Grilled Chicken Fajita Salad, and Tres Leches Cake! All these are quite tasty that we have them in our regular menu rotation at home!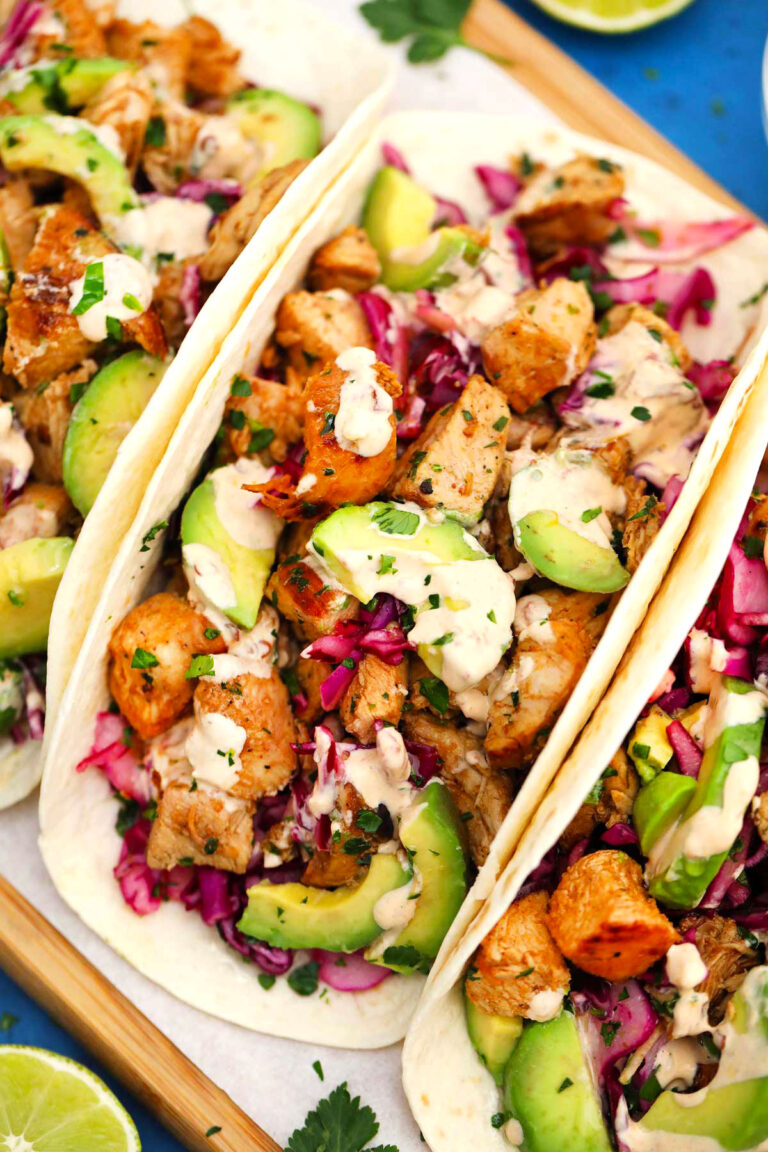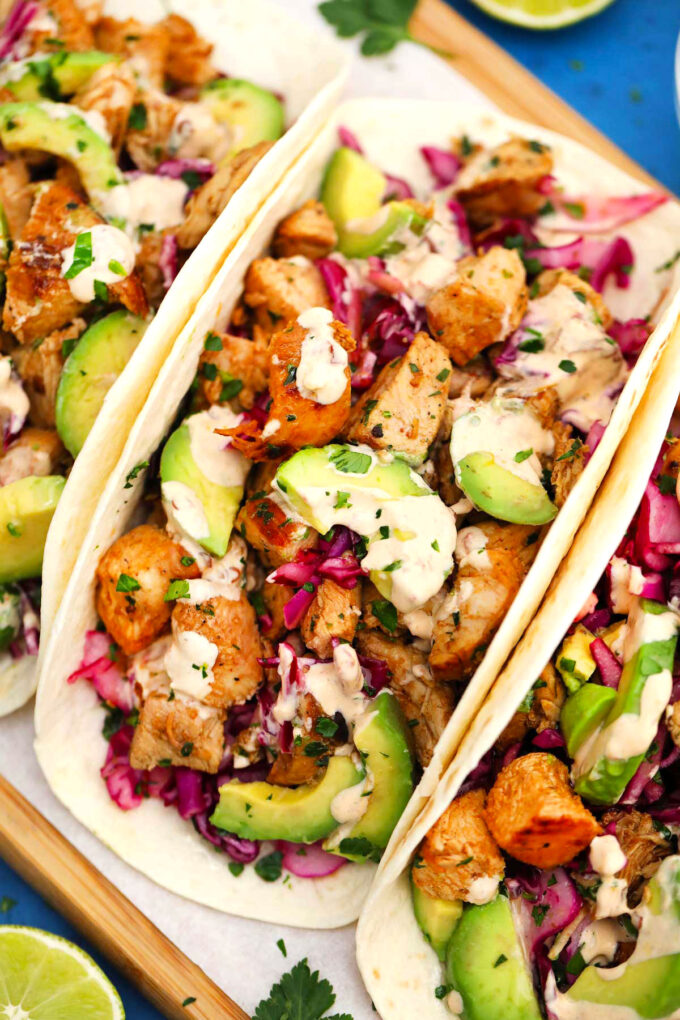 Mexican Chicken Tacos
Chipotle Chicken Tacos are also a regular in our household. They are hearty and festive, and they are easy to prepare.
They can be quite messy to eat though, but it cannot stop us from devouring this Mexican staple! Just like the billion other Americans who love this dish, we are also fans!
No surprise there since tacos are an age-old favorite dating back to as early as 1000 BC. In the US, the term was only coined in the early 1900s. That's how long we have been enjoying this dish!
So, I make them at home instead of going outside to buy one. It is much cheaper this way after all. And being able to customize the taste and to incorporate only the freshest ingredients are just some of the benefits.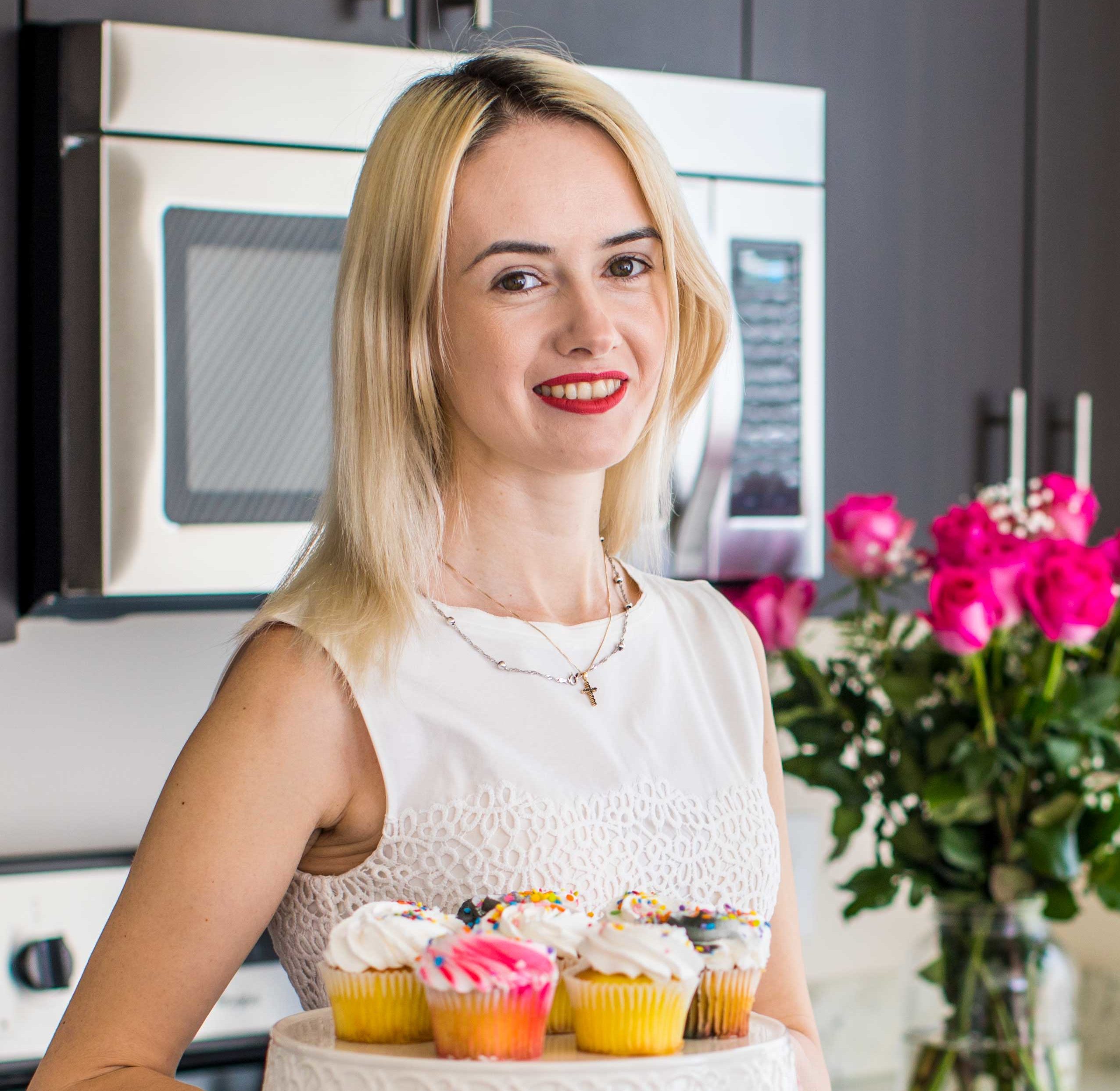 Follow us on Pinterest for more delicious recipes!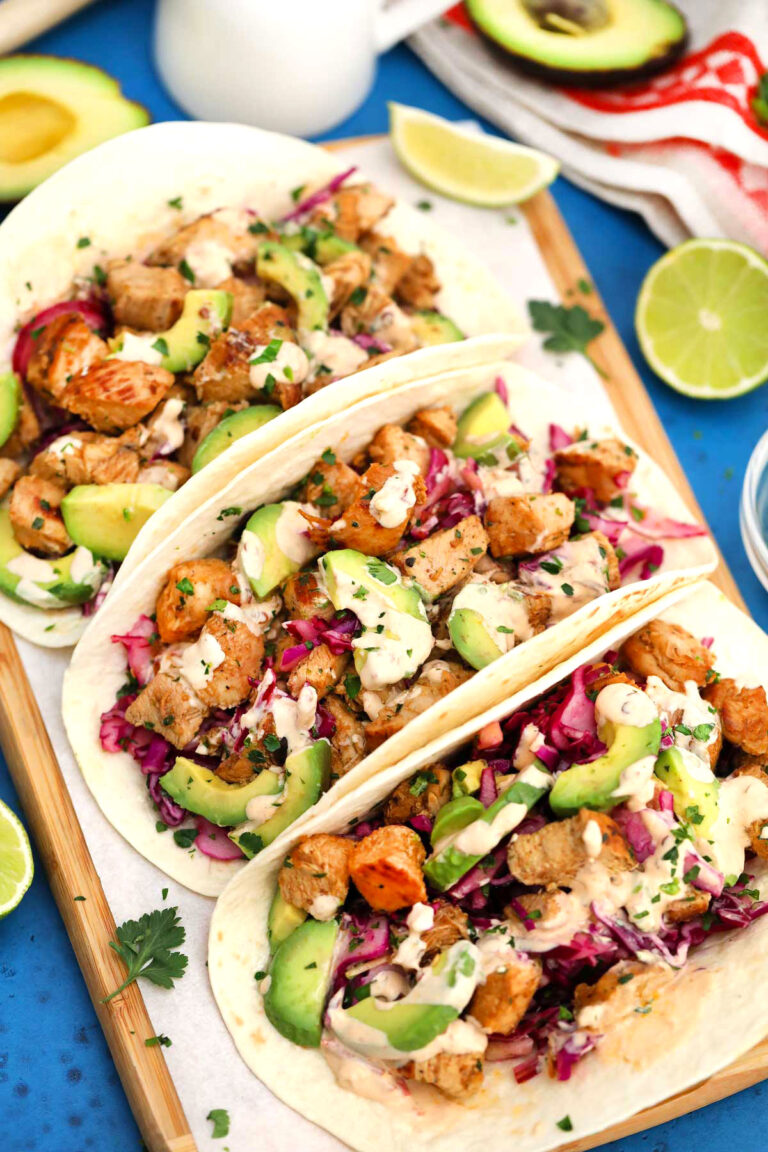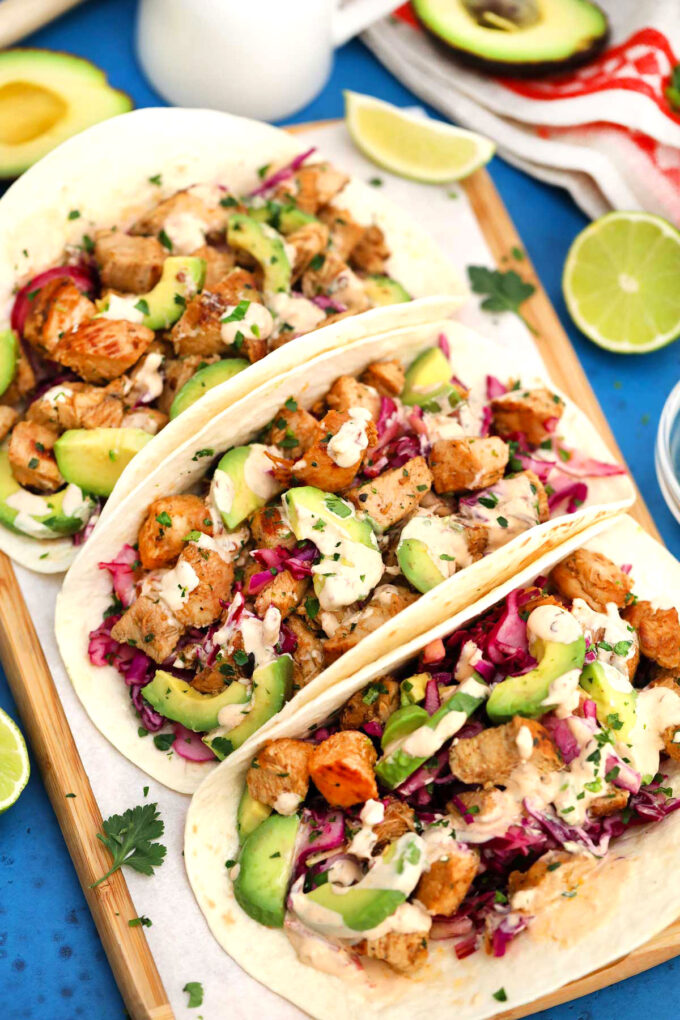 What goes into Chipotle Chicken Tacos?
meat: chicken breasts
marinade: red onion, garlic, adobo sauce, chipotle chili powder, olive oil, cumin, dried oregano, paprika, ground black pepper, distilled vinegar, water, lime juice
red cabbage slaw: red cabbage, green apple, red onion, cilantro, red wine vinegar, orange juice, lime juice and zest, salt
creamy chipotle sauce: mayonnaise, Mexican crema, lime juice, chipotle chiles in adobo sauce, garlic
others: tortillas, avocado slices, parsley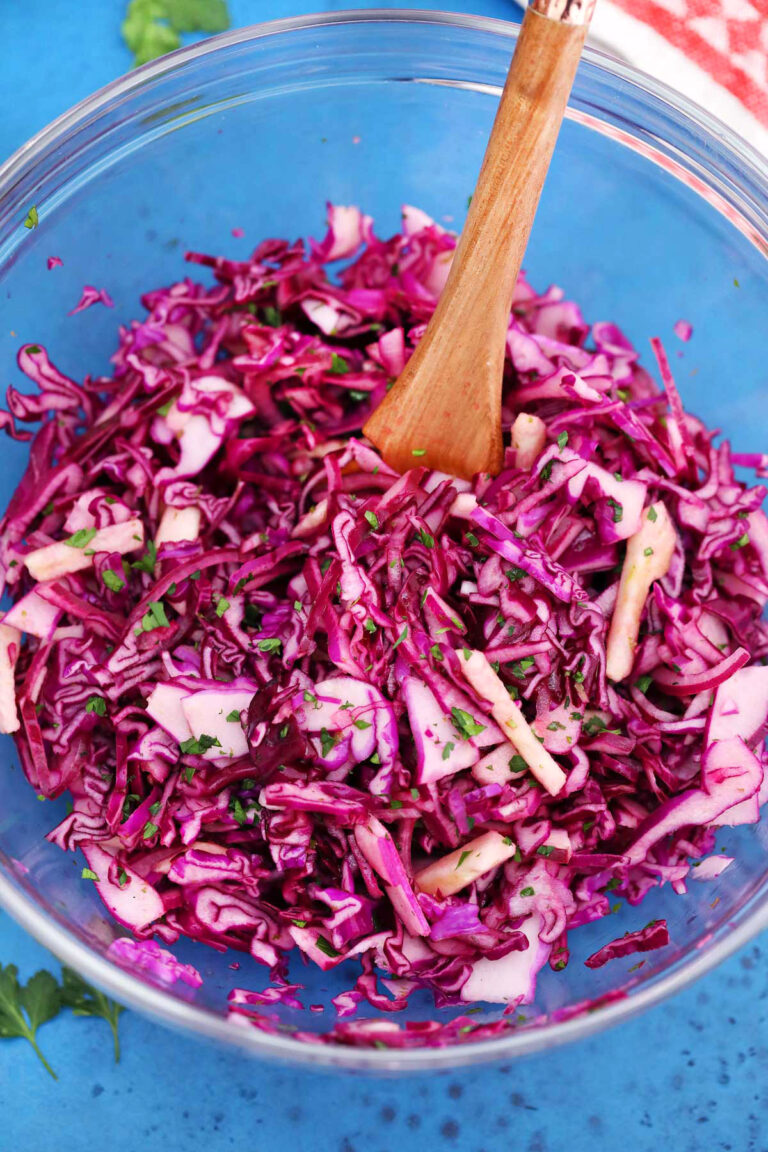 What cut of chicken is best to use?
You can use breasts or thighs; it does not matter. If you want something with fewer calories, go with the boneless skinless breasts.
If you don't mind, you can go with the thighs as these are tastier and these tend to dry out much slower.
How do I marinate chicken for Chipotle Chicken Tacos?
Follow these simple steps to marinate the meat:
Pound on the pieces to thin them out to about half an inch.
Mix the marinade ingredients in a bowl.
Put the meat and marinade in a resealable plastic bag.
Remove the air and tightly seal the bag.
Put the bag in the fridge to marinate.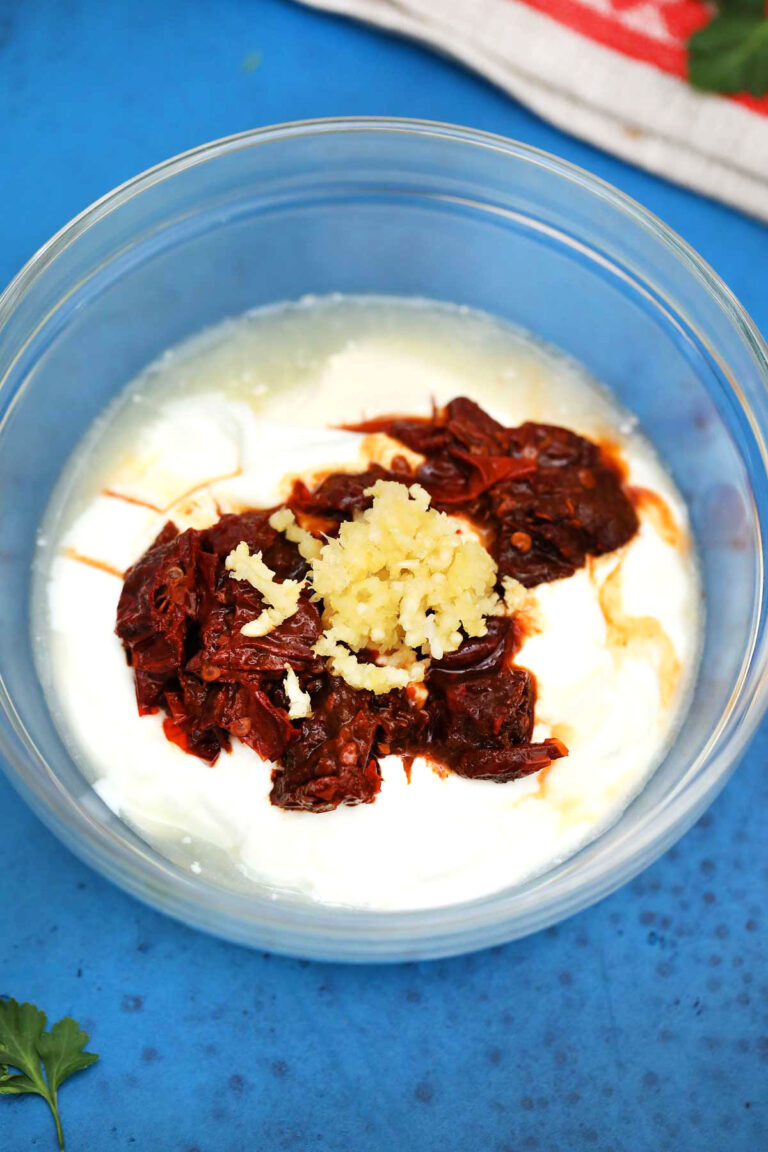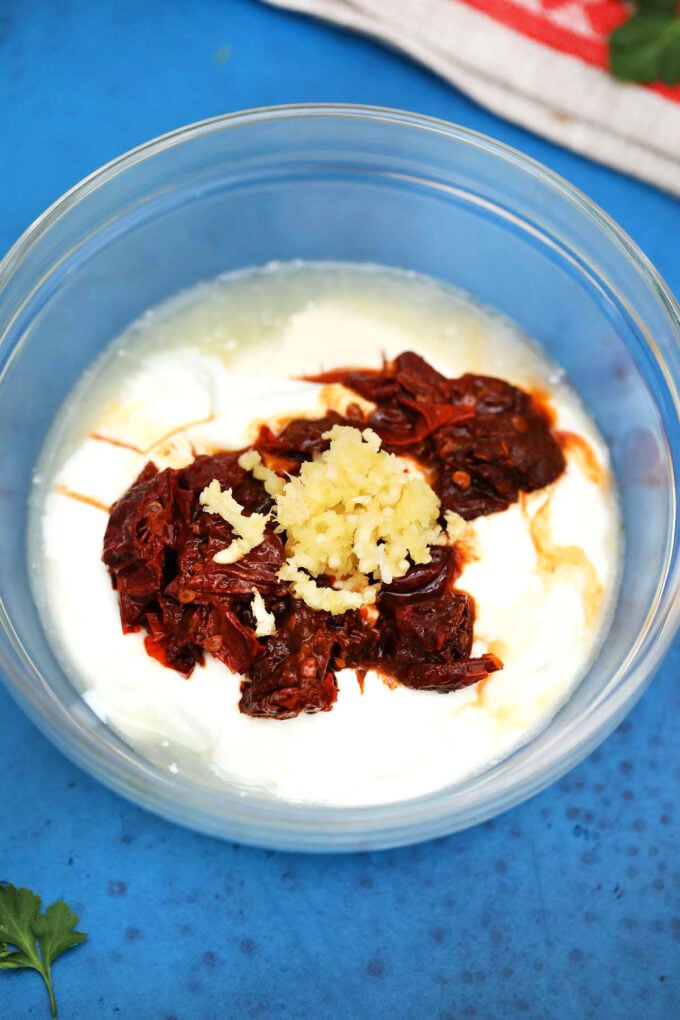 How long should I marinate chicken?
This recipe calls for at least 6 hours to overnight. Hence, you can prepare this in advance and cook it the next day.
How to make Chipotle Chicken Tacos?
Prep the meat: Marinate the breasts as per instructions in the above section.
Grill: Once you have marinated the meat, cook each piece in the grill for about 5 to 6 minutes on each side. Then, chop them into smaller pieces and cook some more in an oiled pan. Stir and cook for about 4 to 5 minutes more.
Prep the slaw: Mix all ingredients in a bowl.
Make the sauce: Combine all the ingredients in a bowl and adjust the taste accordingly. You may want to make it spicier by adding more adobo sauce.
Assemble: In the tortilla, add the meat, slaw, sauce, avocado, and parsley.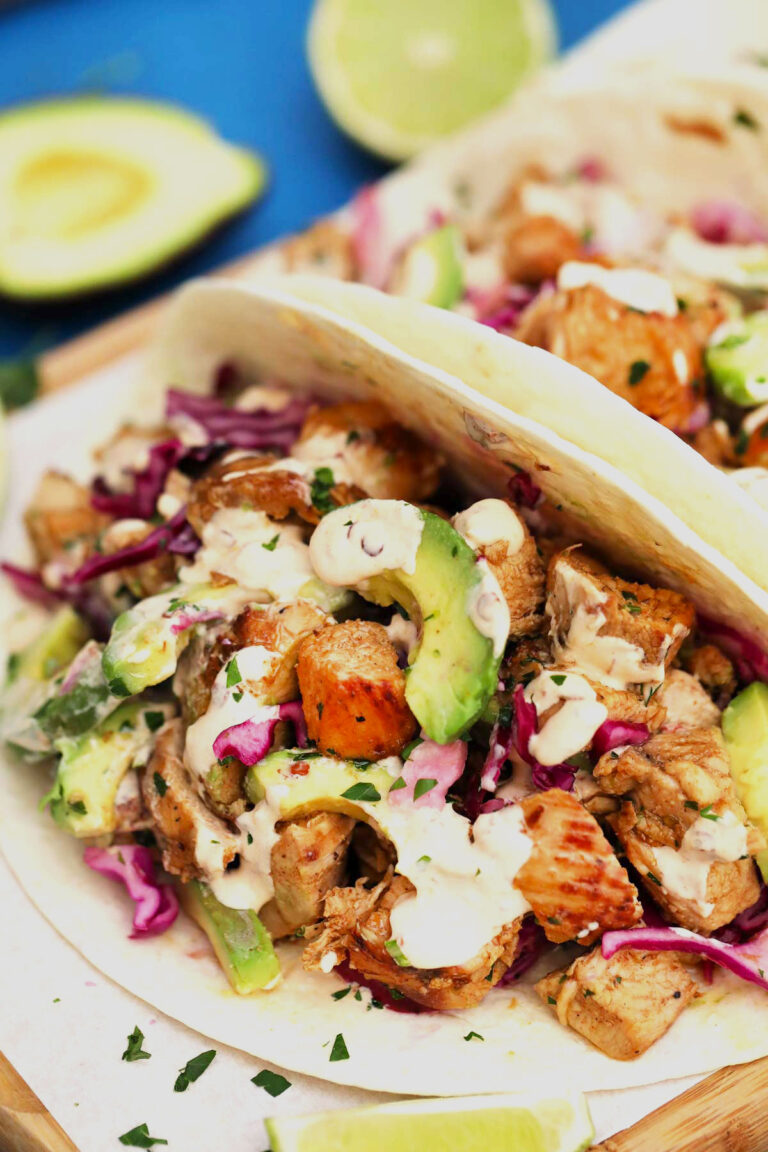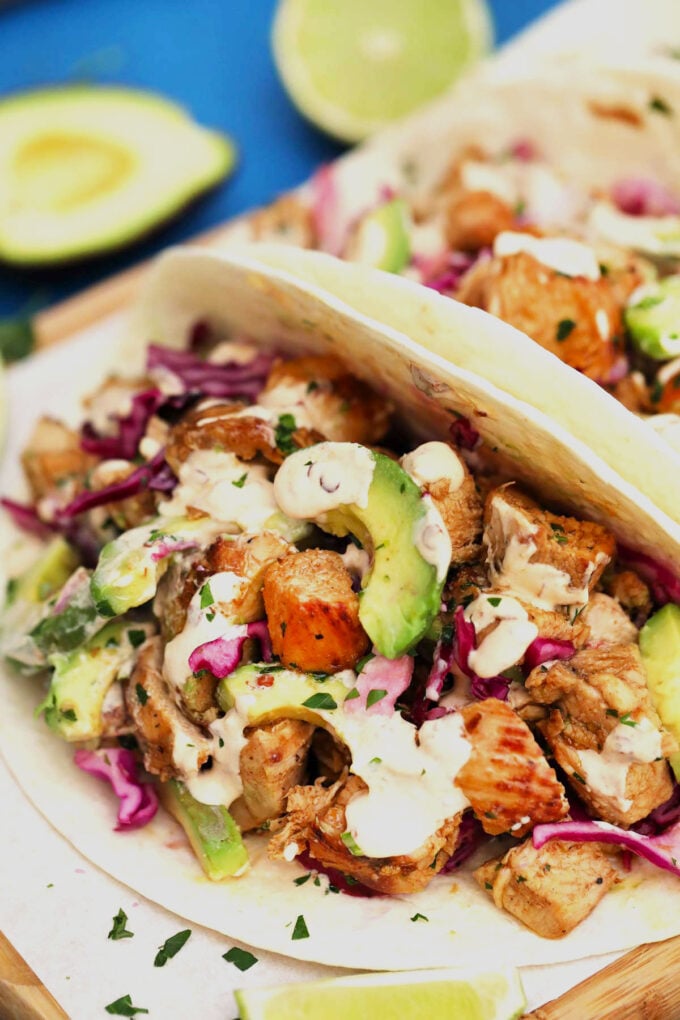 Which tortillas are the best to use for tacos?
You can choose between flour or corn tortilla. Either would be great for this recipe. Usually, the consideration lies in the flavor.
If you use corn tortilla for this, the tortilla itself will impart crunch and flavor. On the other hand, using flour tortilla will let the filling's flavors shine more and it is more pliable.
What to serve with Chipotle Chicken Tacos?
This recipe is great for lunch or a weeknight dinner. It already has carbs, fiber, and protein! But if you want a heartier meal, serve this along with these other Mexican dishes: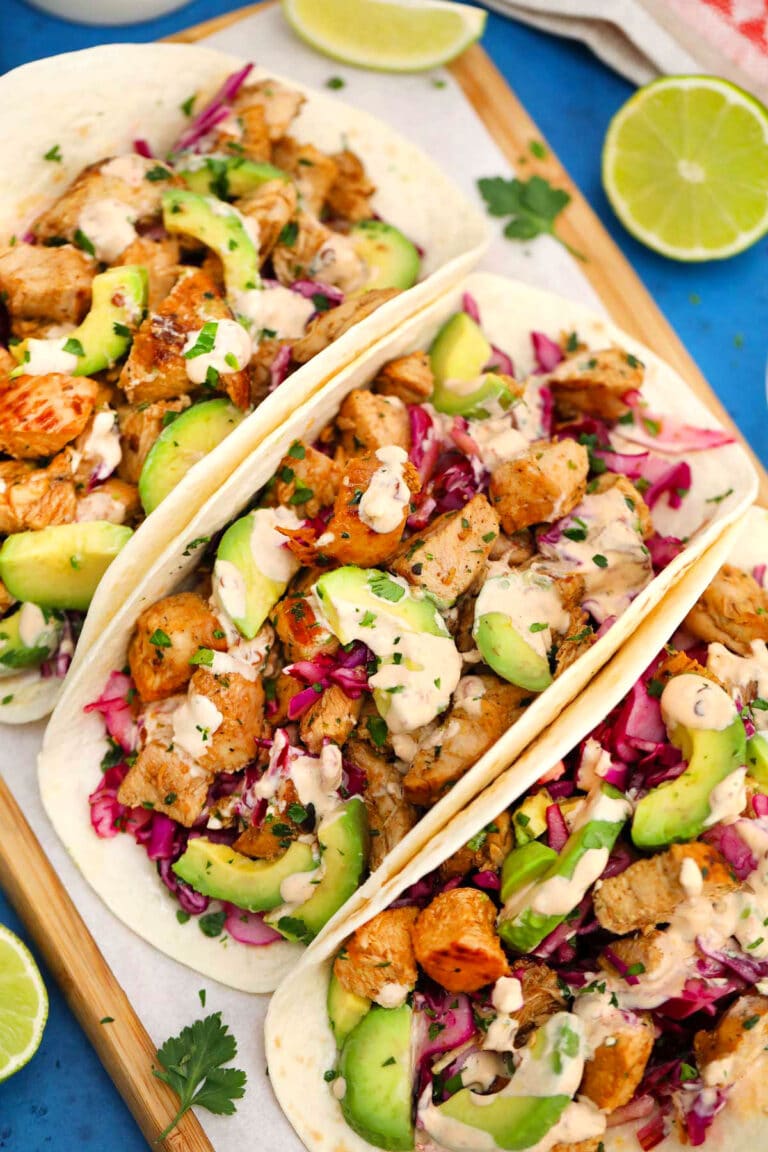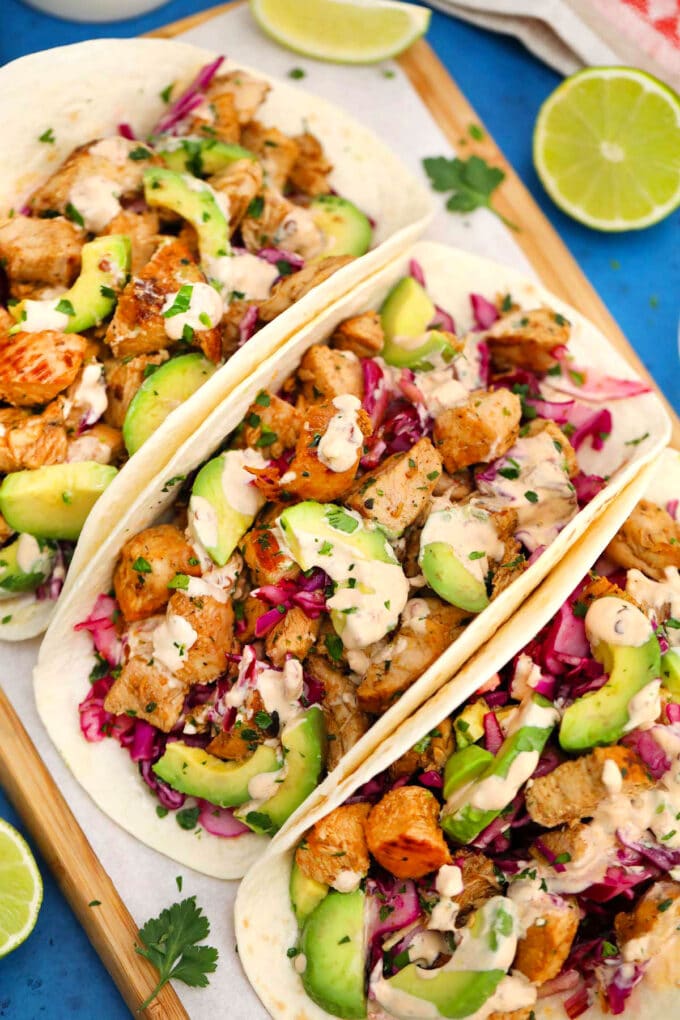 Recipe Tips:
Warm the tortillas first on a pan. If they are too dry, drizzle a bit of oil.
Keep the tortillas warm through the night by putting them in a slow cooker or oven at a low temperature.
You can add cheese like cheddar or Monterey Jack. You can also add bits of bacon!
Save Recipe
Author: Catalina Castravet
Serves: 8 tacos
Prep time:

30

minutes
Cook time:

30

minutes
Total time:

6

hrs
Ingredients
4 chicken breasts (boneless and skinless)
2 tablespoons olive oil
1 avocado (sliced)
8 small flour tortillas (or corn tortillas)
Chicken Marinade:
1/2 medium red onion (chopped)
4 cloves garlic (minced)
2 tablespoons adobo sauce
2 teaspoons chipotle chili powder
2 tablespoons olive oil
2 teaspoons cumin
2 teaspoons dried oregano
2 tablespoon lime juice
1 teaspoon paprika
1/4 cup distilled vinegar
1/3 cup water
Salt and freshly ground black pepper
Red Cabbage Slaw:
5 cups shredded red cabbage
1 green apple (peeled and cut into thin sticks)
1 small red onion (sliced)
1/4 cup cilantro (chopped)
1/4 cup red wine vinegar
2 tablespoons orange juice
juice of 1 lime
zest of 1 lime
1/2 teaspoon salt
Creamy Chipotle Sauce:
1 cup mayonnaise
1/2 cup Mexican crema
2 tablespoons lime juice
3 canned chipotle chiles in adobo sauce (roughly chopped)
2 cloves garlic (minced)
Instructions
Make Chipotle Chicken:
Rinse the chicken and pat it dry with paper towels. Pound it to an even thickness, about a half-inch thick. Add it to a large Ziploc bag.
Add all the marinade ingredients together to a food processor and blend until smooth.
Add marinade to the chicken and remove as much air as possible before closing it. Shake it and mix it well to get the chicken well covered, marinate for at least 6 hours.
Remove the chicken from marinade and add to a medium-high heat grill or grill pan over medium heat. Cook for 5-6 minutes on each side or until cooked through.
Remove chicken from the grill, let stand for 5-10 minutes, then chop roughly.
Add chopped chicken and 2 tablespoons of oil to a
Place a large pan over medium-high heat, add 2 tablespoons of oil, once hot, add the chopped chicken and cook until crisp for 4-5 minutes, stirring occasionally.
Garnish with parsley and serve as is, with rice or in tacos and burritos.
Red Cabbage Slaw:
Toss all the ingredients in a large bowl and set aside.
Creamy Chipotle Sauce:
Combine all the ingredients in a small bowl. Taste and adjust for spiciness, if you want the sauce spicier add a few tablespoons of the above sauce from the can.
Assemble:
Add to tortillas: chicken, topped with coleslaw, creamy chipotle sauce, sliced avocado, and fresh chopped parsley.
Calories: 510 Carbohydrates: 32 Protein: 29 Fat: 41 Saturated Fat: 6 Cholesterol: 92 Sodium: 1593 Potassium: 829 Fiber: 6 Sugar: 9 Vitamin A: 1408 Vitamin C: 43 Calcium: 117 Iron: 3
Save Recipe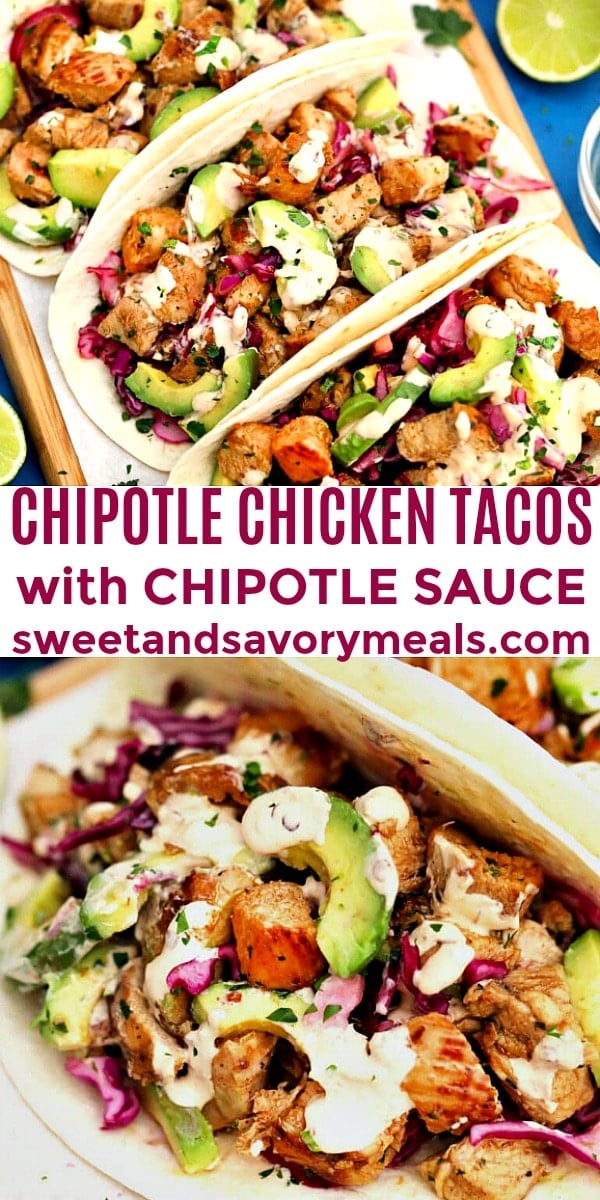 More recipes you might love