Baja Fish Tacos are crispy, made with beer-battered fish, red cabbage slaw, and creamy chipotle sauce. Take this flavorful and authentic Mexican recipe and make it ready for dinner in no time!
Are you not a huge fan of fish? Try my Slow Cooker Beer Ribs taco recipe for an alternative way to make tacos. Serve this meal with my Easy Pico De Gallo and Homemade Guacamole and you can have your own fiesta at home!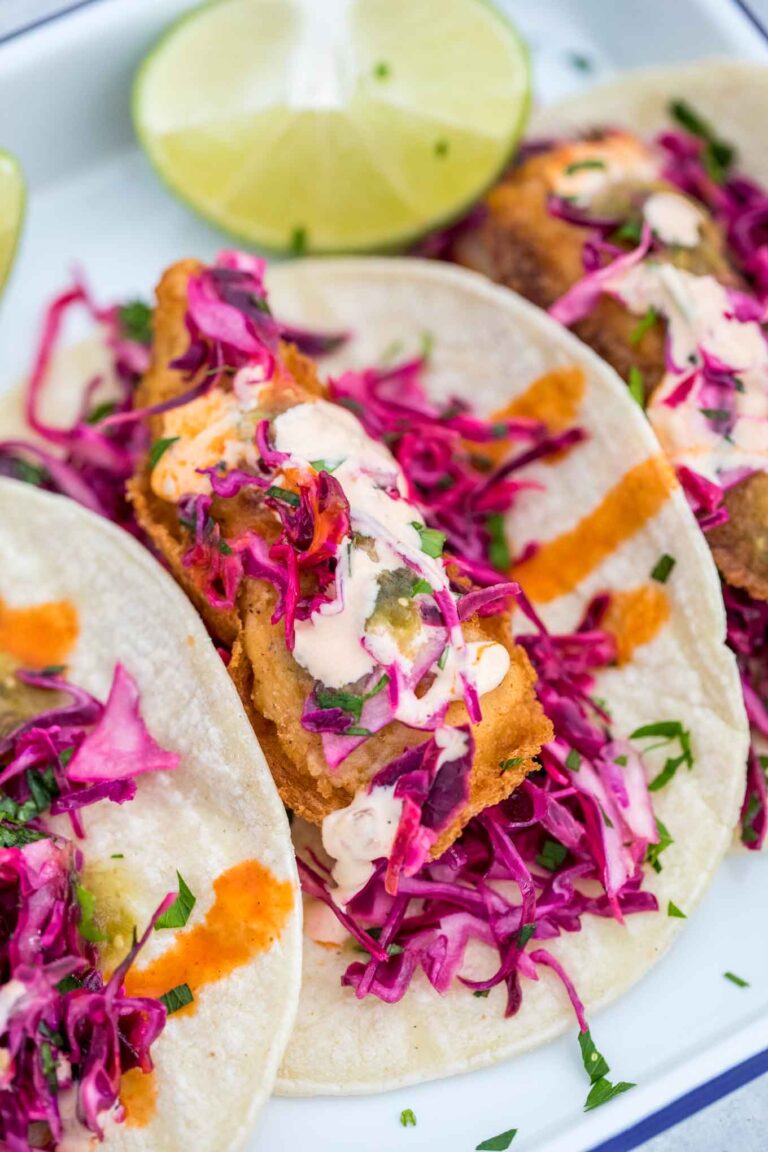 Mexican Baja Fish Tacos
Baja Fish Tacos have a few aspects to them when it comes to assembly. This delicious meal has a warm corn or flour tortilla outside and red cabbage coleslaw that is combined to give you the perfect seafood taco. Everything is finished with a spicy, homemade chipotle sauce, that brings together all the other flavors.
It is a bit of a misconception that you have to deep fry the fish. Instead, you can just fry them in a pan with as much oil as desired. To make this recipe healthier, you can also oven roast the fish.
The best part about this dish is how versatile it can be. You can choose any kind of fish to put in your tacos, but I recommend sticking to a white-fleshed kind. This is so that it can be closest to the recipe, I personally like to use tilapia.
What is Baja style fish tacos?
These white-fleshed fish tacos are an authentic Mexican dish that combines fried fish, slaw, a creamy sauce, tortillas and makes a beautiful balance of flavors in your mouth.
You can use any white fish, however, you can always opt-out for a less expensive kind like cod or bass. The beer batter coating on the fish is to die for and it gives it that beautiful and irresistible crispy shell.
The special slaw that is made for this dish is called "curtido" in Spanish. The slaw is made up of cabbage, carrots, mayonnaise, and cilantro. It is basically the Hispanic version of an American coleslaw. The flavor really is in the slaw, so use my recipe and you will not be disappointed.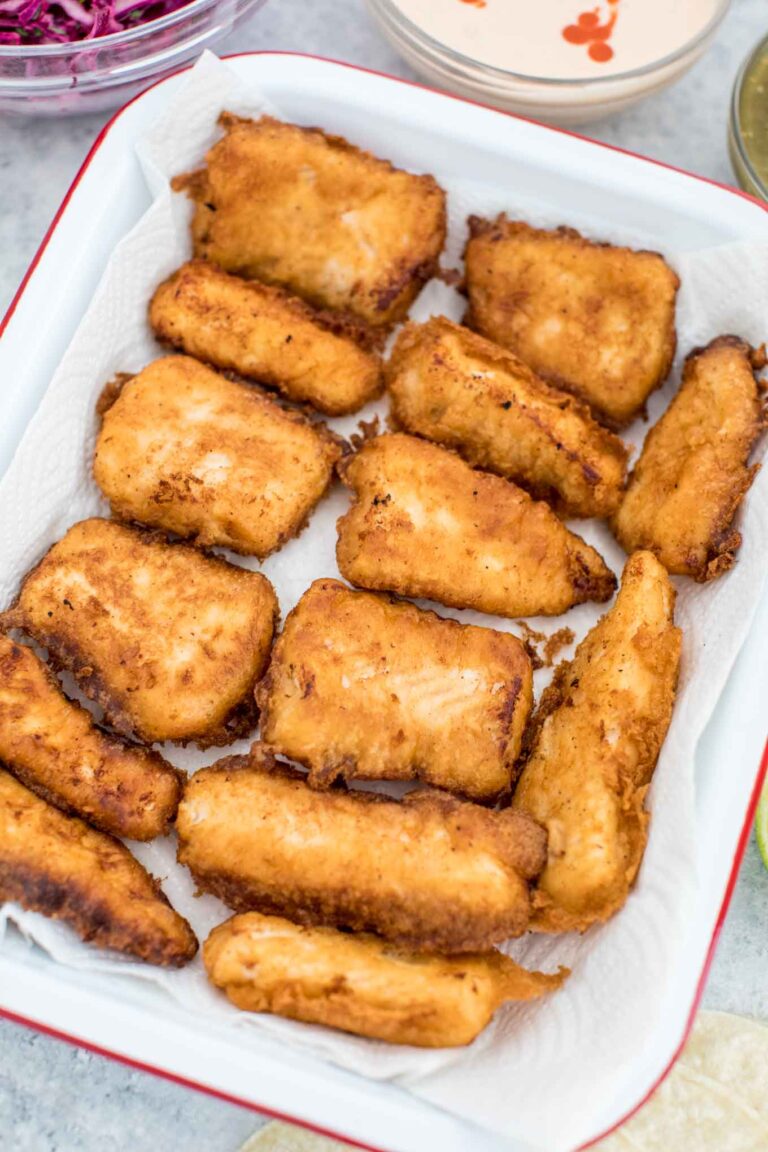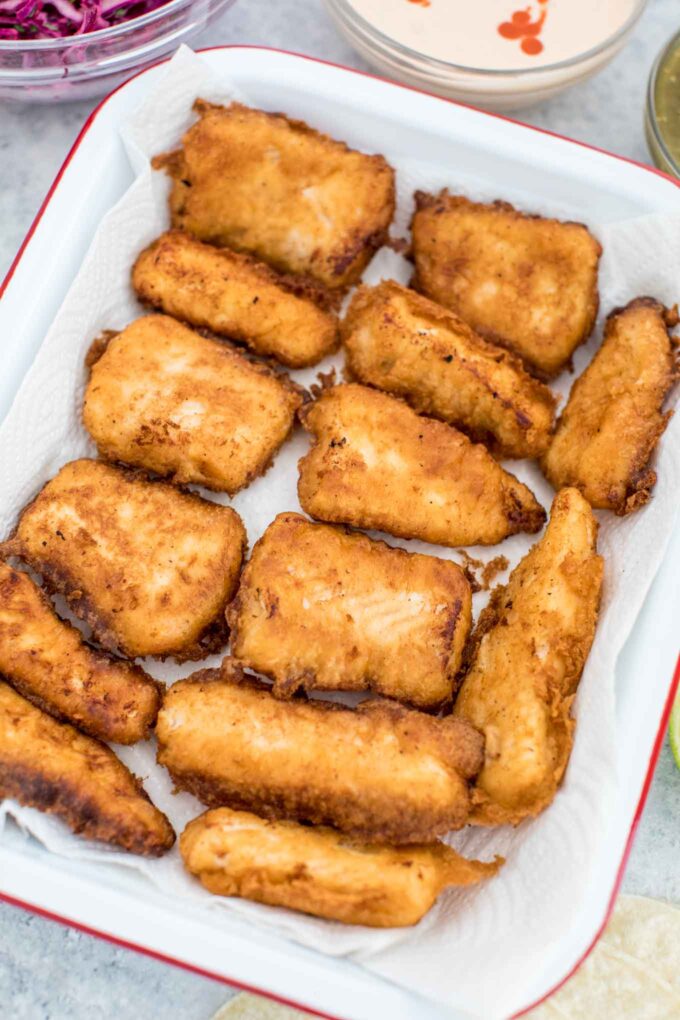 What type of fish does Baja fish tacos use?
I have come to the realization that it does not really matter what kind of fish you use. As long as it has white flesh you are good to go. Some types that I recommend are tilapia, bass, cod, haddock, grouper, catfish, and snapper. All of those can be used because they are easy to fry and not incredibly expensive.
How to make Baja fish tacos?
The best way to make fish tacos is by preparing all the ingredients separately. Make the slaw first so that you can assemble your tortillas immediately after you cook your tilapia.
Allow the tortillas to be warm for a while, you can microwave them for 30 seconds. Also, mix all the ingredients for the chipotle sauce and set aside.
Wait for the tilapia to fry and you are ready to assemble your tacos and enjoy them! Be sure to keep a close eye on the fish, because of tilapia fries very quickly. I recommend frying over medium heat, if the heat is too high, the fillets will turn blackish.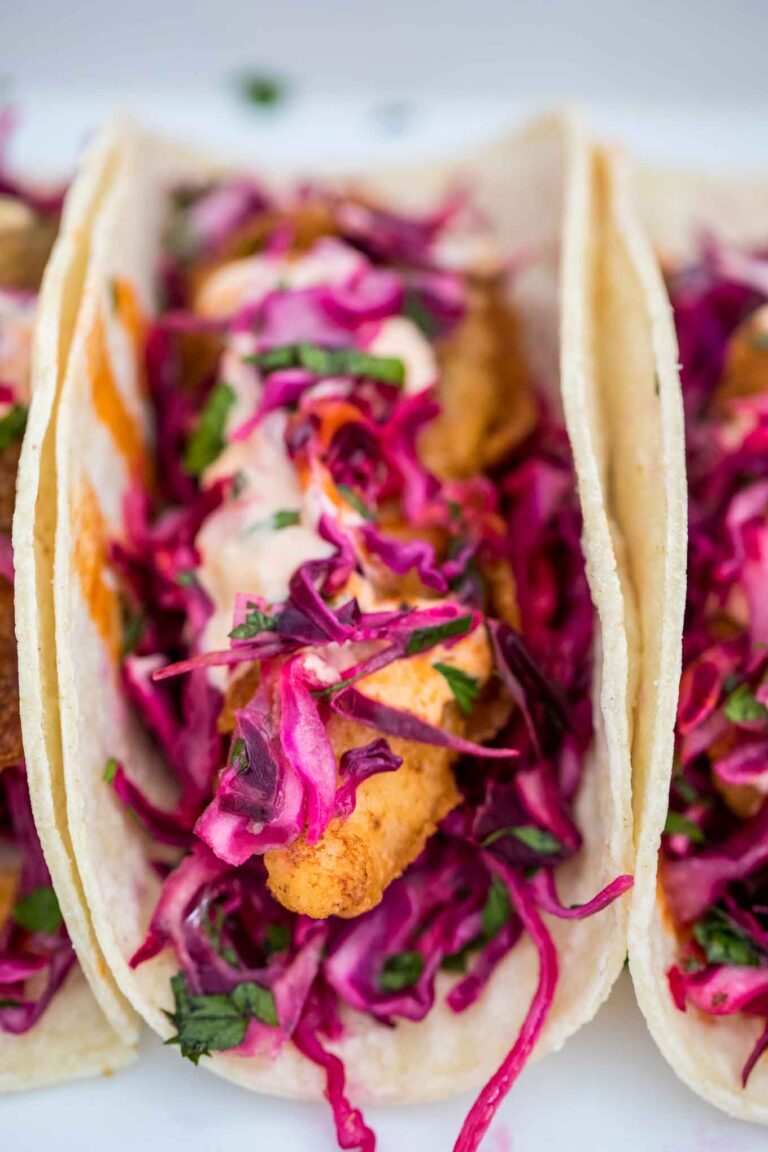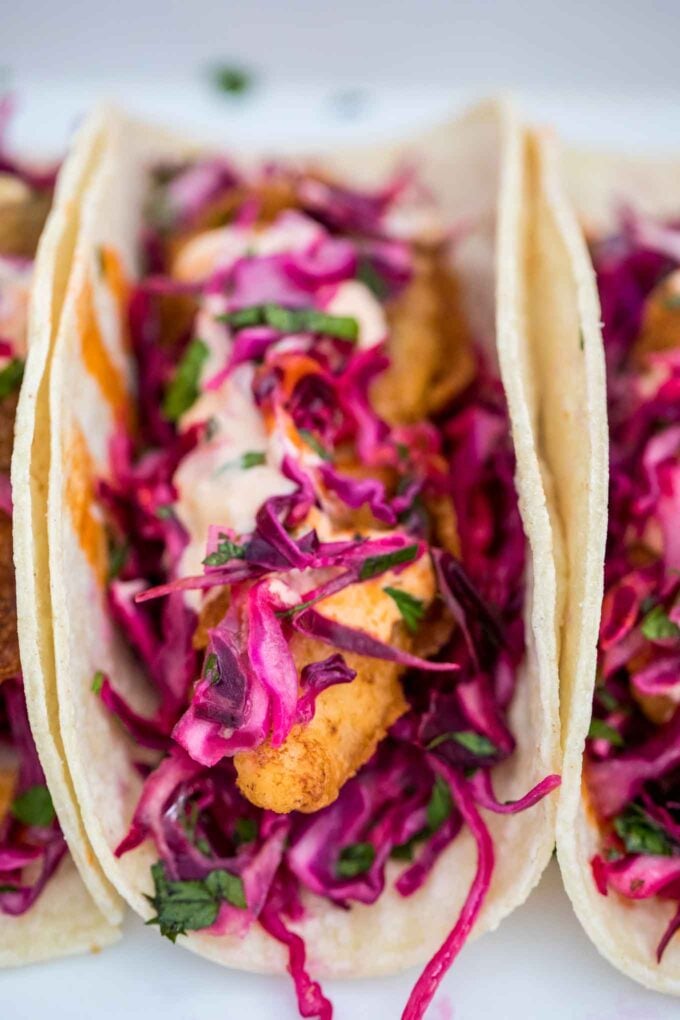 How to make Creamy Chipotle Sauce?
The sauce takes just a few minutes to put together and it requires just mixing the below ingredients in a bowl. Add as many chipotle peppers in Adobo sauce as you want, based on how spicy you prefer the sauce.
Mayo
Chipotle peppers in adobo sauce
Garlic
Lime juice
How many calories does a Baja fish taco have?
They have about 270-300 calories per piece. In order to make the tacos have fewer calories, you can grill your choice of fish rather than fry it.
There is also always the option to skip out on the batter used to fry them all together.
In addition, you can also make your own tortillas at home and make them smaller. Another way to make them have less fat is by eating them on their own and not with foods that are high in calories like blackened beans and cheese.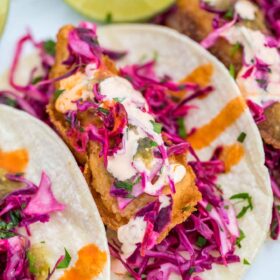 Mexican Baja Fish Tacos
Baja Fish Tacos are crispy, made with beer battered fish, red cabbage slaw and creamy chipotle sauce. A flavorful and authentic Mexican recipe.
Save
Share
Print
Pin
Rate
Ingredients
RED CABBAGE SLAW:
5-6

cups

shredded red cabbage

1

small red onion

(sliced)

1/4

cup

cilantro

(chopped)

1/4

cup

red wine vinegar

2

tablespoons

vegetable oil

juice of 1 lime

zest of 1 lime

1/2

teaspoon

salt
CREAMY CHIPOTLE SAUCE:
1

cup

mayonnaise

2

tablespoons

lime juice

3-4

canned chipotle chiles in adobo sauce

(roughly chopped)

2

cloves

garlic

(minced)
BEER BATTERED FISH:
1 1/2

pounds

tilapia fillets

(cut into about 1-inch wide x 4-inch long strips)

1

cup

all-purpose flour

1

teaspoon

salt

1/2

teaspoon

ground black pepper

1

teaspoon

paprika

1/4

teaspoon

cumin

1

cup

beer

(or seltzer)

Vegetable oil

(for frying)
FOR SERVING:
Soft corn or flour tortillas

(warmed)

Lime wedges
Instructions
RED CABBAGE SLAW:
Toss all the ingredients in a large bowl and set aside.
CREAMY CHIPOTLE SAUCE:
Combine all the ingredients in a small bowl. Taste and adjust for spiciness, if you want the sauce spicier add a few tablespoons of the above sauce from the can.
BEER BATTERED FISH:
Pat dry with paper towels the fish fillets and set aside.

In a large bowl mix the flour, salt, pepper, paprika, and cumin. Gradually add the beer, and whisk until the batter is smooth with no lumps.

Place a medium skillet over medium heat, and add about 1 inch of vegetable oil. Heat the oil until the end of a wooden spoon sizzles when dipped into it

Work in batches: take one fish fillet, dip it into the prepared batter, coating it well, let excess batter drip off and add it to the hot pan. Do not over-crowd the pan. Fry the fish strips until golden brown and cooked through, only about 2 minutes per side.

Transfer to a paper towel-lined plate lined to drain excess oil.

Repeat with remaining fish strips.
SERVE:
Add about 1-2 tablespoons of sauce to a tortilla, add a warm fish strip, top with the cabbage slaw, more sauce and a squeeze of lime. Enjoy!
Nutrition
Calories:
266
kcal
|
Carbohydrates:
12
g
|
Protein:
13
g
|
Fat:
17
g
|
Saturated Fat:
4
g
|
Cholesterol:
36
mg
|
Sodium:
498
mg
|
Potassium:
312
mg
|
Fiber:
1
g
|
Sugar:
2
g
|
Vitamin A:
740
IU
|
Vitamin C:
22.7
mg
|
Calcium:
39
mg
|
Iron:
1.6
mg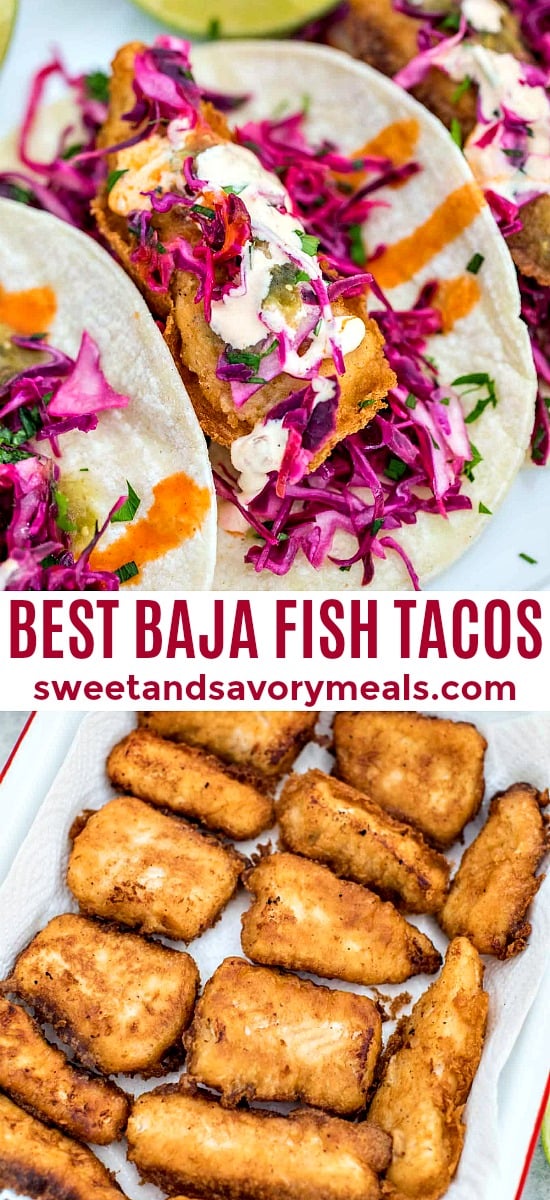 More recipes you might love