Easy Pico de Gallo Recipe
Pico de Gallo is made in just 10 minutes with fresh tomatoes, onion, cilantro, jalapeno, and lime. This is the best topping for any Mexican food.
This is the perfect recipe that goes with anything, and ready in just 10 minutes. You can use it on chicken enchiladas, taco stuffed zucchini boats, or over oven roasted mahi-mahi.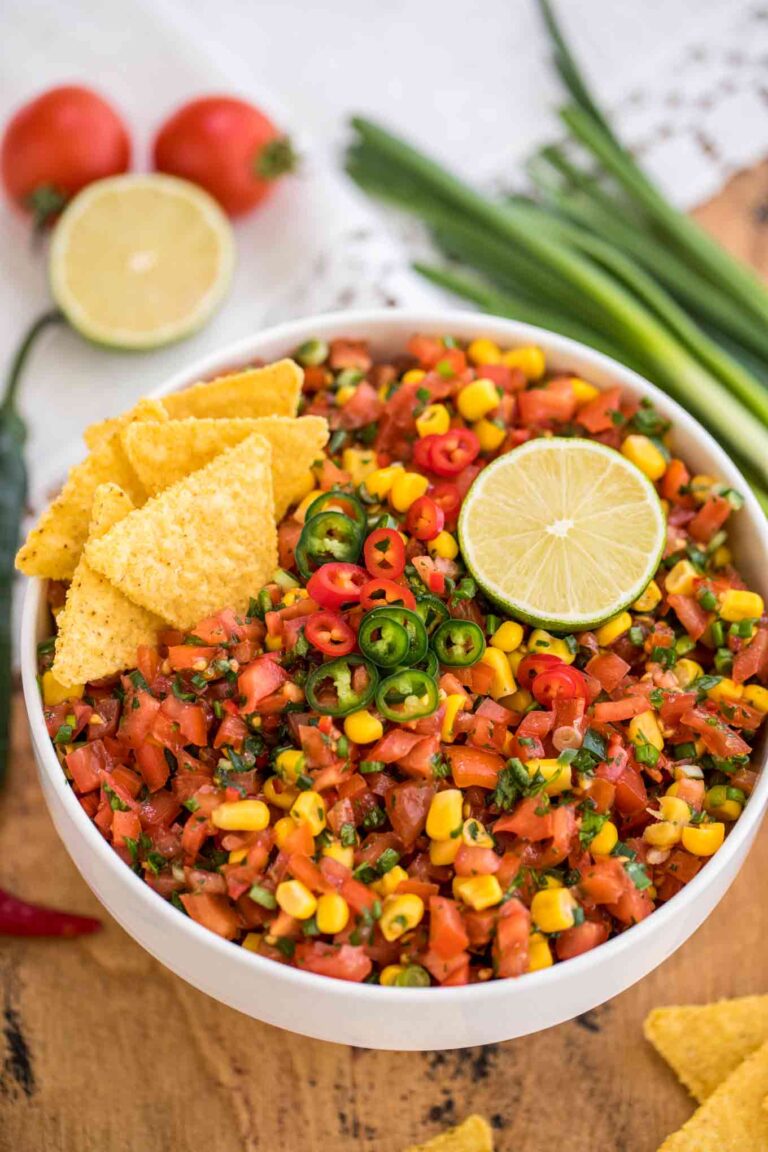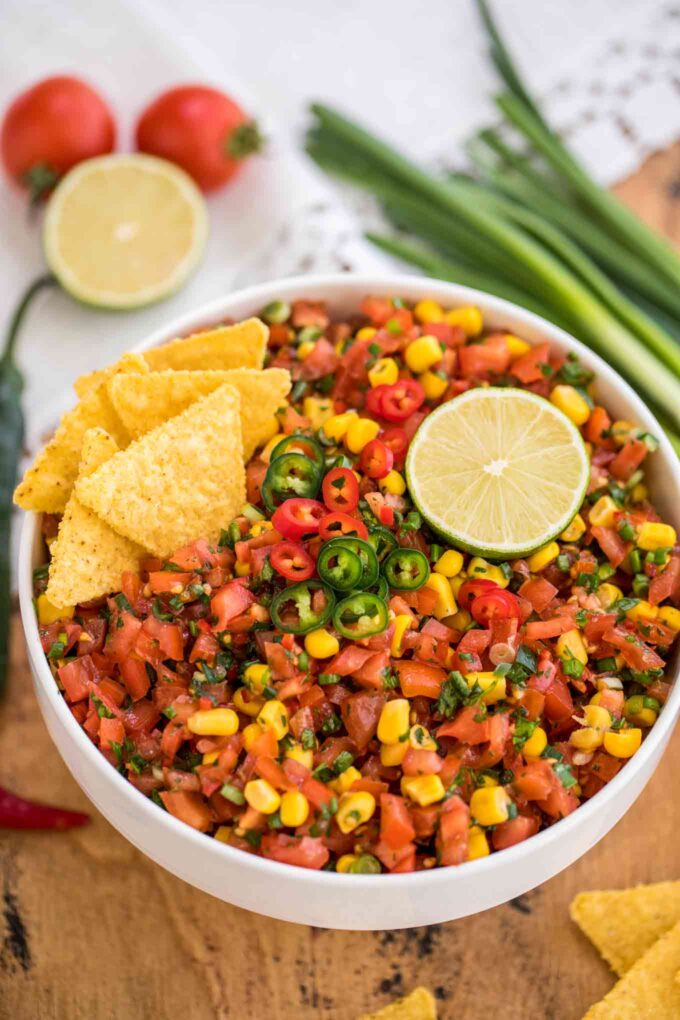 Pico de Gallo
Pico de gallo is one of those staple recipes that goes pretty much on everything. Making it at home is not only easy and budget-friendly but will ensure that you have the best and tastiest recipe possible.
The secret to making this the best and healthy homemade recipe is to use fresh ingredients. Since it requires only 5 ingredients in total, make sure to go with fresh once as the flavor will be so much better!
We serve it with tacos, quesadillas, on top of grilled meats or fish, or just plain with tortilla chips. It is best to serve it immediately. However, you can also enjoy it for later on Mexican nights if refrigerated. Just follow the steps below on how to best store it.
what is pico de gallo?
It is a classic Mexican tomato dip (or sauce) that adds a fresh, healthy, low-calorie boost of flavor to just about any Mexican meal. It is a type of fresh, chunky salsa, with each ingredient chopped into distinct pieces.
Traditionally, it uses fresh tomato as it's main ingredient. Then dressed with a simple dressing such as lime juice and salt. It is one of the most popular Mexican dip served nowadays, which is ready in a few minutes, and goes pretty much with everything!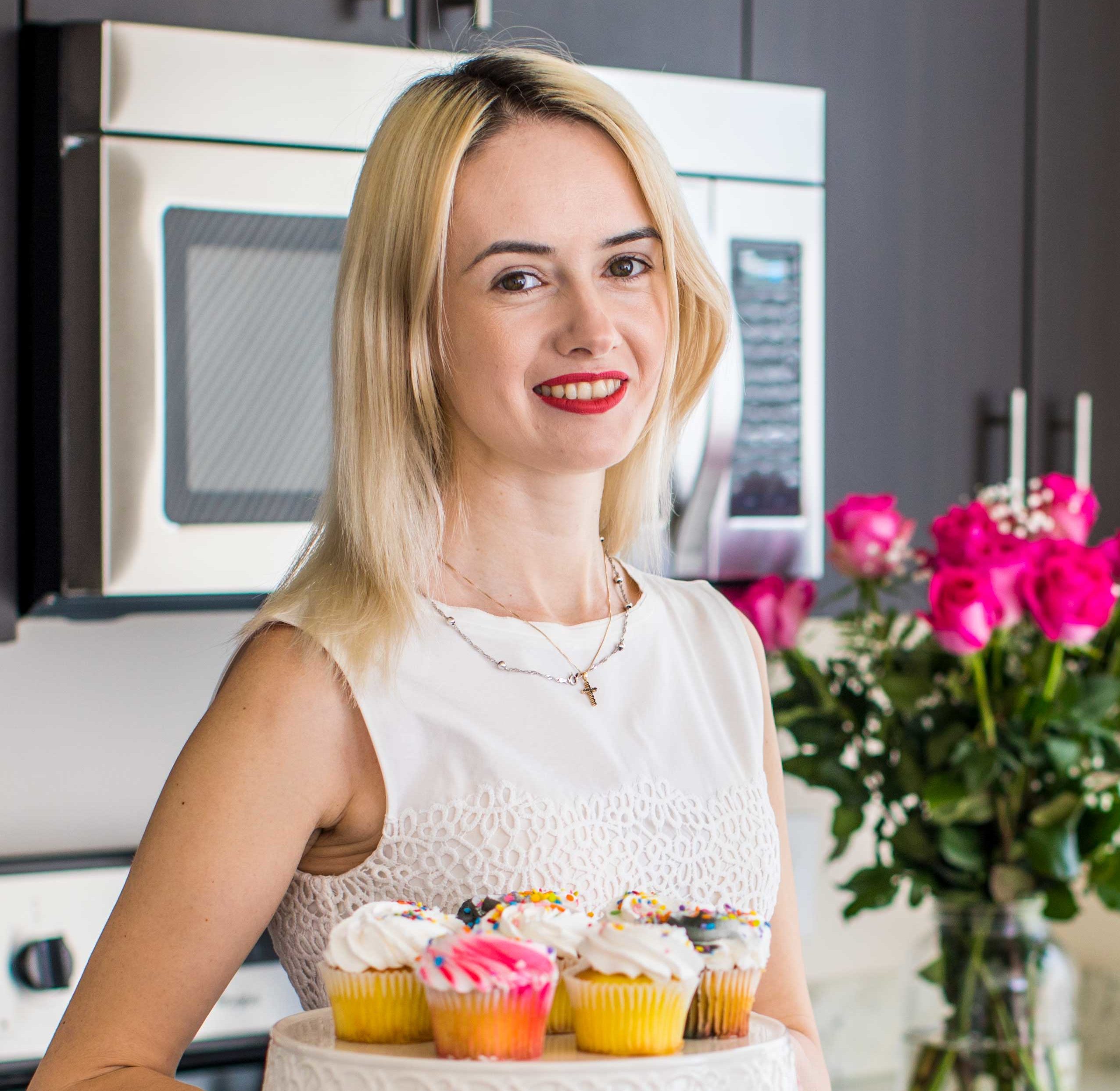 Follow us on Pinterest for more delicious recipes!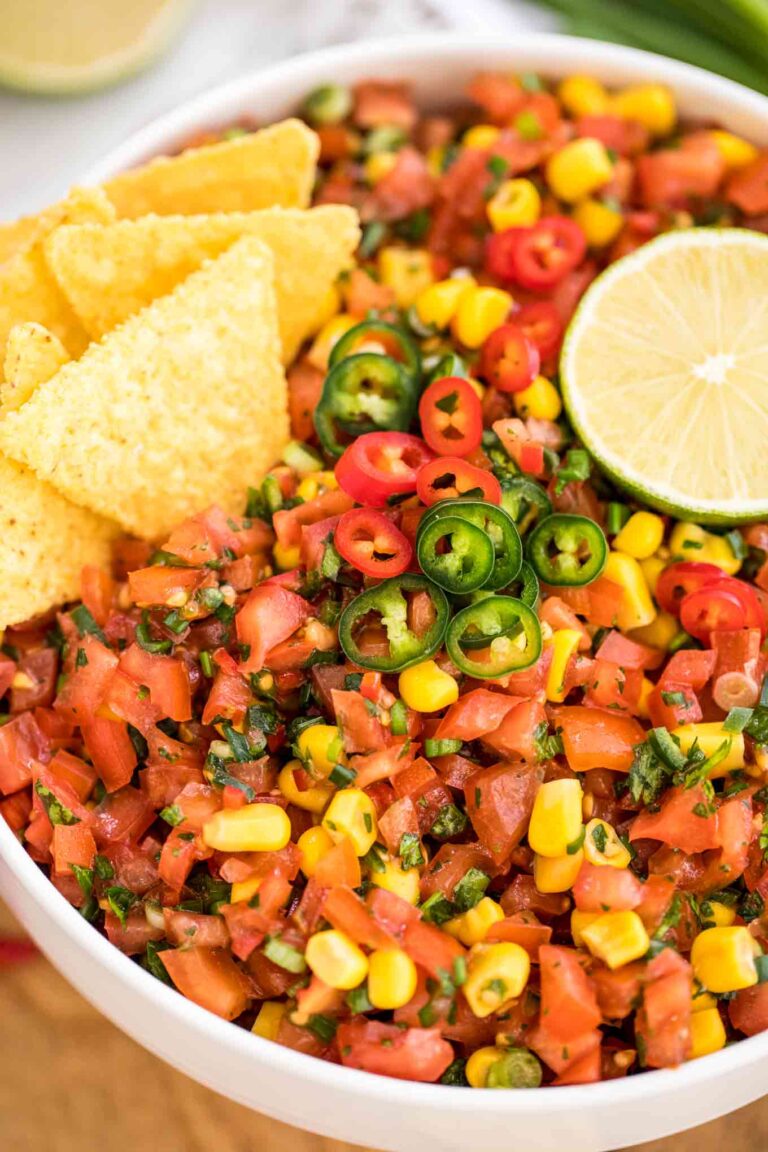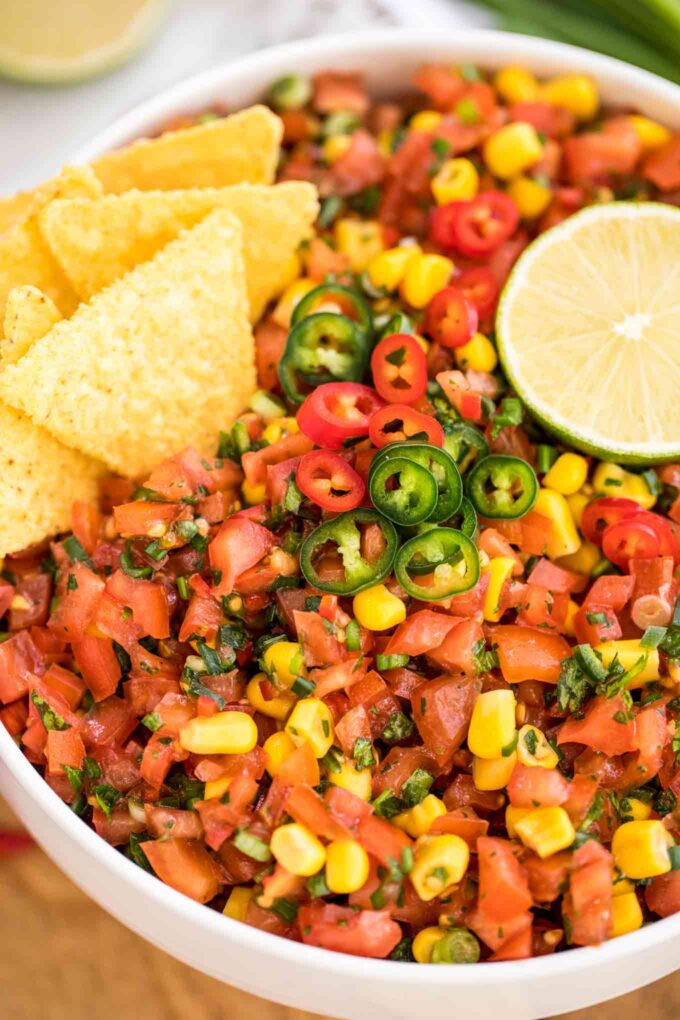 WHAT IS THE DIFFERENCE BETWEEN PICO DE GALLO, AND SALSA?
Although they are both similar, they have some differences. For example, salsa is more of a "sauce" with more liquid in it, where pico de gallo contains very little liquid and is made with fresh, uncooked ingredients. Also, salsa can be made in a variety of ways. It mainly uses a variety of cooked, roasted, or uncooked tomatoes, peppers, spices, and other ingredients.
On the other hand, pico de gallo always contains the same ingredients: fresh and uncooked tomatoes, onion, cilantro, and jalapeño.
How to Make the Best Pico de Gallo?
This is one easy recipe to make. Below are some of the most important steps to follow for the perfect dish:
Use ripe red tomatoes – We like using Roma tomatoes as they are sweeter and more flavorful. Also, they are less watery and are ideal in this recipe. In addition, using ripe tomatoes is absolutely key to making this a great recipe. Therefore, try not to use the best tomatoes and skip the pink once.
Chop your ingredients very finely – For best result and texture, we recommend chopping the tomatoes, onion, jalapeño, and cilantro finely. This might take some extra effort but it's well worth it, as the flavor will be enhanced.
Give the finished product some extra time to marinade – We have discovered that letting it rest for 10-15 minutes results in the best flavor. As the tomatoes and remaining ingredients rest, the salt draws the moisture out of the ingredients and condenses their flavor. Therefore, we strongly recommend waiting for a few minutes for the ingredients to rest before serving.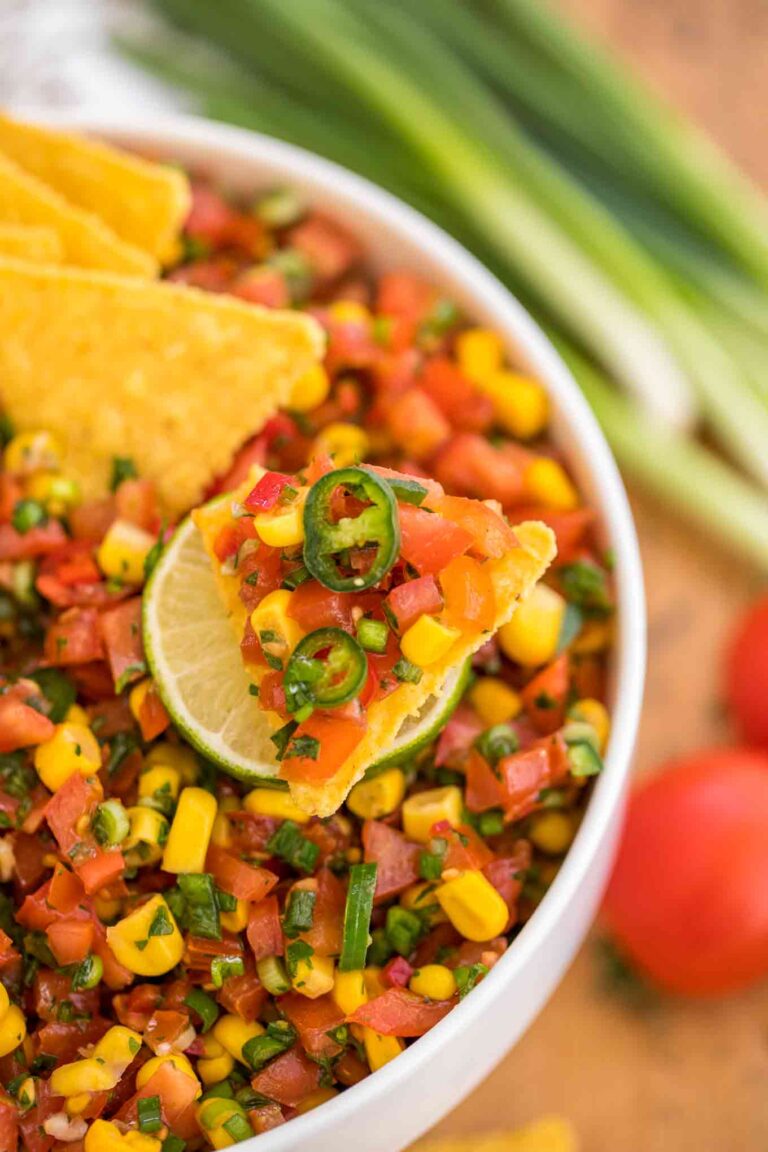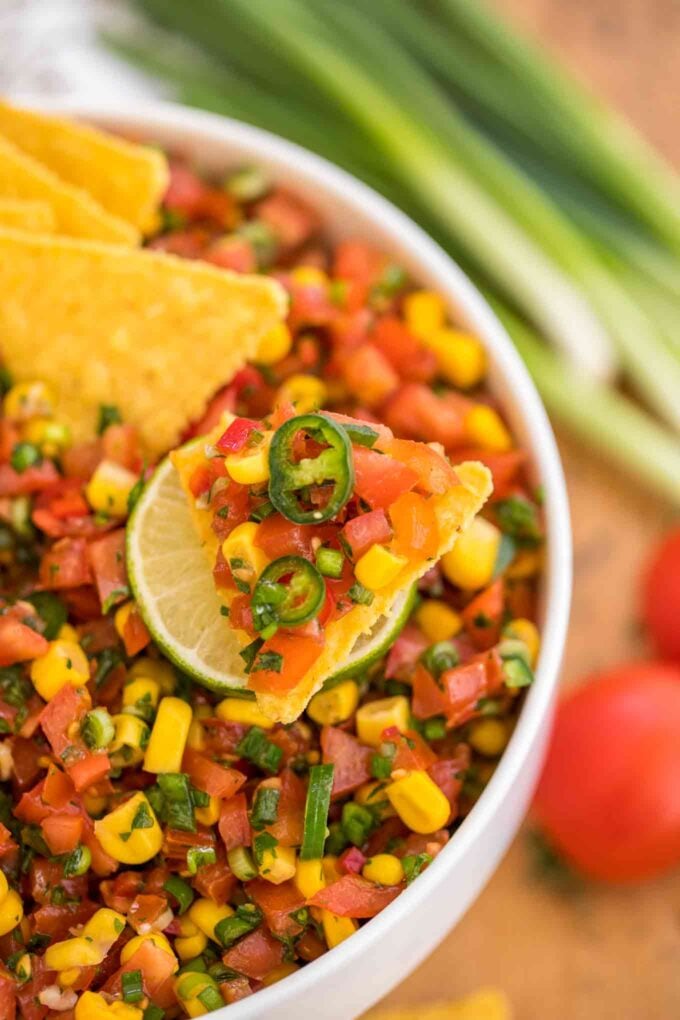 IS PICO DE GALLO HEALTHY FOR YOU?
Yes, this dish is super healthy. It is made with vegetables and has just a few calories, while is loaded with many health benefits. It is packed with antioxidants, vitamin C, vitamin E, and lycopene which could help protect against prostate, urinary, intestinal, and a few stomach cancers.
Therefore, feel free to indulge yourself as much as you want. Not only does it taste amazingly delicious, but it is also super beneficial for your health!
Can I refrigerate it for later?
Yes! Although it is best to serve it fresh and immediately, storing it for later is also an option. The best way to keep it fresh is to scoop out the pulp (seeds and juice) and chopping up the outer layer of the tomato. This helps reduce the liquid in it, which keeps it fresh longer without getting soggy or super watery!
You can keep leftover for about 3 days if you store it in a sealed container in the refrigerator.
More recipes to try:
Save Recipe
Easy Pico de Gallo Recipe
Pico de Gallo is made in just 10 minutes with fresh tomatoes, onion, cilantro, jalapeno, and lime. This is the best topping for any Mexican food.
Author: Catalina Castravet
Serves: 6 servings
Prep time:

10

minutes
Cook time:

0

minutes
Total time:

10

mins
Nutrition information
Calories: 75 Carbohydrates: 12 Protein: 2 Fat: 3 Saturated Fat: 0 Cholesterol: 0 Sodium: 270 Potassium: 316 Fiber: 2 Sugar: 4 Vitamin A: 355 Vitamin C: 23.4 Calcium: 45 Iron: 1.4
Save Recipe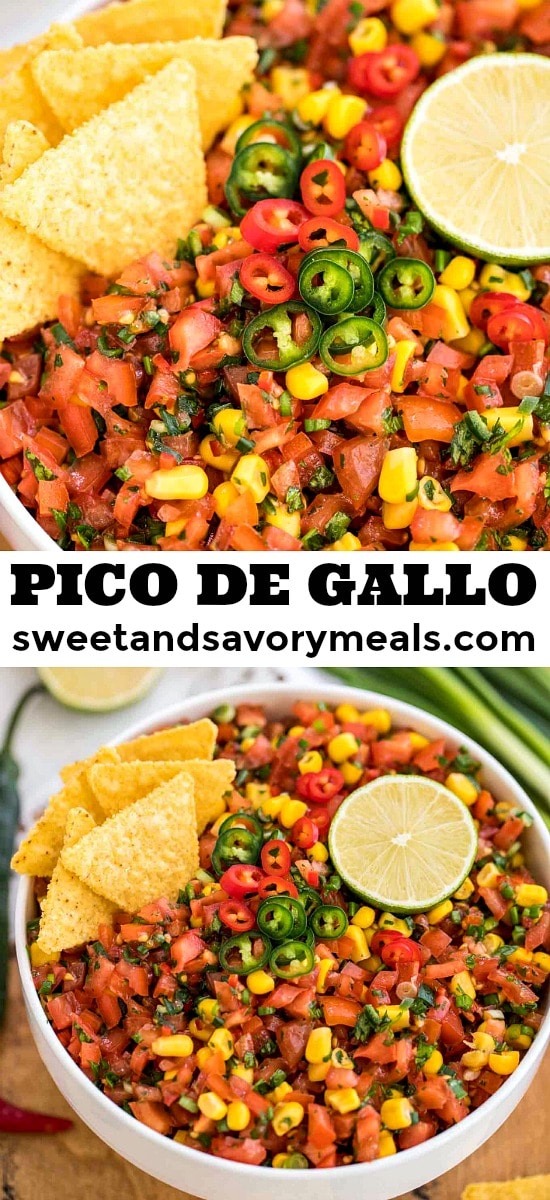 More recipes you might love
Categories: