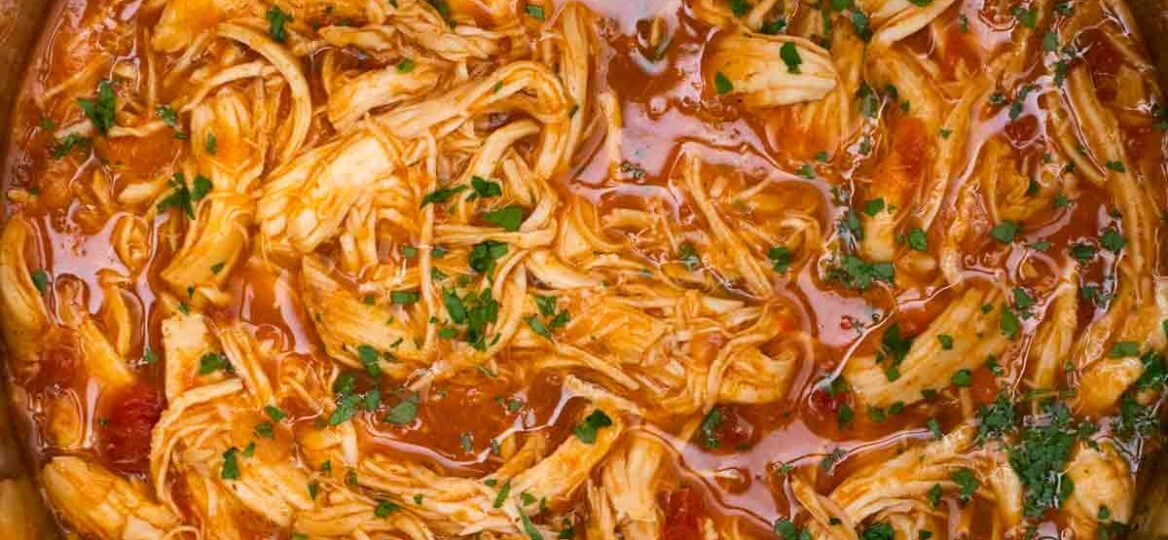 Instant Pot Chicken Tacos [Video]
Instant Pot Chicken Tacos are tender and juicy, loaded with Tex-Mex flavors and very easy to make. The Instant Pot does all of the hard work for you!
Make Taco Tuesday the best day of the week by serving this with Mexican Salad, milky and refreshing Horchata, and finish on a sweet note with these Mexican Wedding Cookies!
Pressure Cooker Chicken Tacos
Instant Pot Chicken Tacos will make you forget all about those dry, stringy chicken breasts you've eaten before. The pressure cooker infuses the meat with so much moisture.
While cooking, the breasts soak up all of those flavors beautifully. The meat becomes so tender, you hardly need any effort to shred it at the end.
Make it more effortless by having everyone make their own tacos. Layout the shredded meat and toppings, and let them DIY!
It's terrific for parties, potlucks, and a fun weeknight meal. This is also fantastic for meal prep since you can make a lot at once and just portion it out.
IP Chicken Tacos Ingredients:
I like using boneless cuts of chicken breasts for this because they stand up well to pressure cooking. For the seasoning, you can definitely use packets, but I highly recommend making your own Taco Seasoning because it takes almost no time to whip up and tastes so much better!
Next, you can make your own salsa from scratch or buy a jar for convenience. You'll also need broth, and it's the perfect time to try making your own Homemade Stock! Finally, the lime juice and salsa brighten up the entire dish.
For serving, prepare some warm tortillas or taco shells. Top with shredded lettuce, juicy tomatoes, and cheese.
How to make Instant Pot Chicken Tacos?
Line up the breasts in your IP. Pour in the stock. Sprinkle seasonings evenly on top.
For the final layer, pour in the salsa. Sprinkle zest and lime juice before covering.

Set IP High-Pressure timer to 11 minutes if using frozen cuts, and 7 minutes if using fresh.
After cook time is done, wait for Natural Release to finish.
Shred the meat inside the IP.
Serve with your favorite taco accompaniments.
Recipe Variations:
For a hint of sweetness, add some mango juice or pineapple juice!
You can use vegetable broth if you prefer.
Want more heat in there? Mix in chili powder, chipotles, use spicy salsa, hot peppers. Serve with jalapenos, or sprinkle some red pepper flakes before pressure cooking.
The meat is already dairy-free and gluten-free. To keep the recipe that way, use GF tortillas and skip the cheese altogether.
Add some sour cream on the side.
Try making it with Homemade Barbecue Sauce!
For a different protein, switch out the meat with beef.
Use alternative cuts like chicken tenders and chicken thighs.
How long to cook chicken in the IP?
It depends on the size of the meat cuts and if you're cooking them from fresh or frozen. Here's a general guide. Note that these timings are for the High-Pressure setting:
6-ounce breast– 10 mins if frozen, 6 mins from fresh
8-ounce breast – 11 mins if frozen, 7 mins from fresh
10-ounce breast – 12 mins if frozen, 8 mins from fresh
Can you cook frozen chicken in the IP?
Yes, and that's one reason why the IP is one of my all-time favorite kitchen appliances!
IP recipes don't take any planning ahead. Making frozen chicken breasts in the IP takes 30 minutes, but it will taste as you've been in the kitchen the whole day. Such a life-saver during busy nights!
Can you double the recipe?
Sure. Just double the ingredients and follow the recipe as directed.
What toppings go well with IP chicken tacos?
If I'm in the mood to keep it simple, I serve these with cheese, diced tomatoes, and shredded lettuce.
But sour cream balances out those tangy flavors so well, especially when you're making the hot version.
Try this out with some thinly-sliced raw red onions, jalapenos, and beans. Cilantro also adds a nice bite, and avocado slices are such a creamy addition.
Storage instructions:
Cool completely and store in airtight containers. Will last up to three months frozen, and up to three days in the fridge.
More delicious Instant Pot recipes:
Recipe Tips:
Pour in up to 2 cups of stock if you're using an 8-quart IP.

Use the shredded meat as topping for taco rice and filling for burritos.