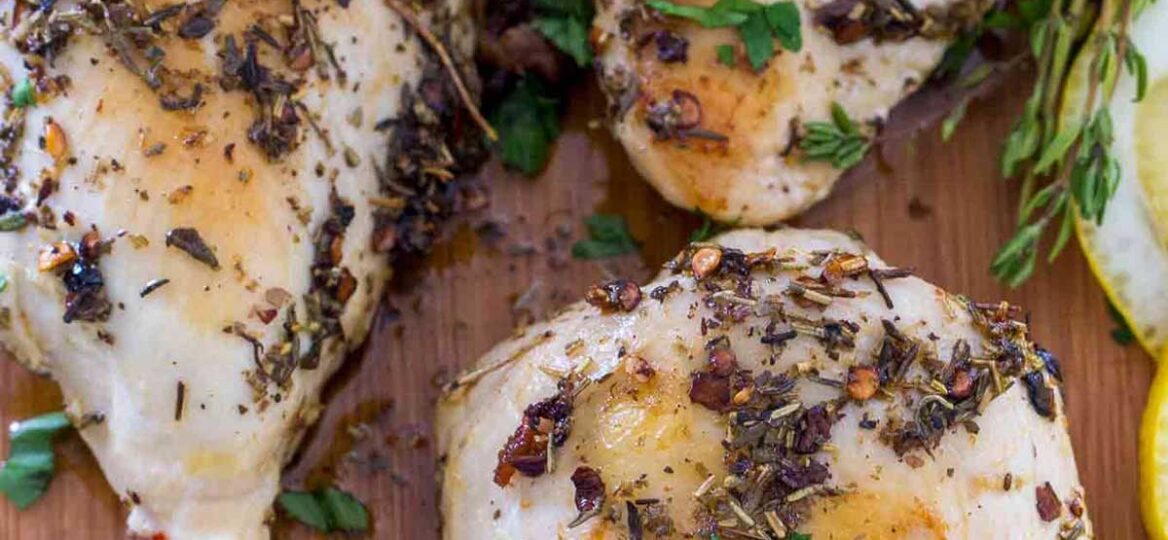 How To Cook Frozen Chicken Breasts In The Instant Pot [Video]
Check the easy way of how to Cook Frozen Chicken Breasts In The Instant Pot for a quick, and very delicious dinner in just about 30 minutes! The cooked meat is juicy, flavor and tender. Serve it as it is or use it as part of other recipes like salads, wraps, or casseroles.
Instant Pot Recipes make dinner time preparation easy and stress-free. Regardless if you have frozen or fresh meat on your hands, you can still make a great meal that the whole family will love. Check How to Cook Raw Chicken Breast in the Instant Pot or How to Make Shredded Chicken for more delicious options.
Instant Pot Frozen Chicken Breasts
When you have an Instant Pot you can make so many delicious recipes in a fraction of the time. One of the best perks of owning one is that you can make many meals without defrosting the meat. With these easy steps on How to Cook Frozen Chicken Breasts In The Instant Pot, you will see how hassle-free cooking with frozen meat can be.
How many times did it happen to you to plan a tasty dinner, and only to realize that you forgot to thaw the meat or that you don't have fresh chicken breasts on hand?! This is the scenario that usually leads to either eating cereal after work or ordering delivery.
Once you see how easy is to cook frozen meat in the Instant Pot, you won't have this problem again. In this post, I will explain to you how to cook instant pot chicken breast using frozen meat.
This basic method of how to cook frozen chicken breast recipe will always be handy, so make sure to Pin the infographic and save or print the recipe!
If you are looking how to cook Frozen Ground Beef in the Instant Pot, you should check my recipe, it definitely saves taco night! Also, see how to cook a frozen whole chicken, frozen chicken wings, and frozen pork tenderloin.
Ingredients Needed:
Frozen boneless chicken breasts – make sure they are not stuck-frozen to each other. This is important, as it may not cook uniformly.
Water or Chicken Broth – I like using the broth for extra flavor.
White wine – The white wine can be replaced with either water or chicken broth.
Minced Garlic
Butter – optional
Seasoning:
Chicken doesn't have to be bland. If you take a few minutes to mix these dried herbs and sauté the chicken, you will end up with a very flavorful and delicious dinner! Also, way quicker than baking the chicken breasts. Here are the herbs that I used:
How do you cook frozen chicken breasts in the instant pot?
This will quickly become one of your favorite chicken recipes when you will see how convenient it is. Therefore, the best part is that you don't have to thaw the meat! This is such a time saver, especially when you are in a rush!
Cooking time is reduced by a lot in comparison to grilling or baking it in the oven, especially if you still need to wait to defrost it. The end result is flavorful and very juicy chicken breast that you can either enjoy right away or store and use as protein on salads. It makes meal prep so much easier.
Prepare the ingredients: First, start by gathering the ingredients and also make sure the meat pieces are not stuck together. They need to be separated.
Add the ingredients to the pot: Next, add the meat to the pot, it's ok if the pieces overlap. After that, add the cooking liquid, garlic, butter, salt, pepper, bay leaves, and thyme.
Pressure cook: After that, close the lid, point the valve to sealing, and pressure cook based on the size of the breasts. Refer to the infographic above for the exact cooking time.
Release pressure: Once done cooking, release pressure naturally for 10 minutes, and after that quick release the remaining pressure.
Temperature: Using a meat thermometer check the internal temperature in the thickest part of the breast. The meat is safe to consume if it reached 165 degrees Fahrenheit.
Rest: Remove the chicken to a cutting board and let it rest for 5-8 minutes.
Serve: Finally, you can serve it as it is, shred it, chop it or slice it.
How to make it crispy:
Pressure cook: First, follow the instructions above and pressure cook the meat.
Discard the liquid: After that, when the cooking time ends, set the cooked chicken aside on a plate and cover it with foil. Discard the liquid from the pot.
Saute: Click on saute and add the olive oil, once hot, add the chicken, sprinkle with the seasoning, and sear it in batches until golden-brown.
Serve: Baste it with the liquid from the pot, garnish with fresh herbs and serve.
How long you should cook Frozen Chicken Breasts in the Instant Pot or other Pressure Cooker?
6-8 ounces frozen chicken breast – pressure cook for 8-9 minutes at high pressure, 10 minutes natural release, and release manually any remaining pressure.
9-10 ounces frozen chicken breasts – pressure cook for 10-12 minutes at high pressure, 10 minutes natural release, and release manually any remaining pressure.
11-12 ounces frozen chicken breasts – pressure cook for 13-15 minutes at high pressure, 10 minutes natural release, and release manually any remaining pressure.
Recipe Variations:
Seasoning: Use your favorite herbs, garlic powder, and onion powder to add extra flavor. Also, when browning the cooked chicken use Italian seasoning, taco seasoning, or cajun seasoning for extra flavor.
Sauce: Add a cup of your favorite sauce when pressure cooking the frozen breasts. As an alternative try Buffalo sauce, barbecue sauce, or Ranch. After that, add the chicken to a bowl and use the cooking liquid to shred it. Add a little at a time and stir to combine.
Citrus: Add a halved lemon to the pot, after cooking place the chicken onto a baking sheet, brush with honey, and top with lemon slices. Next. broil the chicken for a few minutes and serve.
How to serve:
Serve the cooked chicken breasts as is, with a side of roasted vegetables, mashed potatoes, or a simple salad.
As an alternative, chop or slice the meat and serve it as part of a salad, burrito, quesadillas, wrap, or sandwich.
Another option is to use the cooked meat to make chicken salad or to use it in casseroles.
Use it in soups or to make white chicken chili.
Can I brown Frozen Chicken Breasts in the Instant Pot?
Now, that's a no-no. Do not attempt to brown frozen meat of any type. Another way to make the chicken tastier is after you cook it, quickly rinse the pot, select Sauté and brown it for a few minutes.
What is Natural Pressure Release (NPR)?
Natural Pressure Release means that the pressure is released gradually. For a Natural Pressure Release, you click on Keep Warm and wait 10 minutes, or simply do NOT turn the valve from the sealing position.
Another option is to Turn Off/Unplug the pressure cooker, wait 10 minutes, and after that open the valve. After this, you open the valve and let any leftover pressure release, this is already called quick release.
A natural release is usually used when cooking soups, meat in a large amount of sauce, pasta, or steel-cut oats. This method prevents any foam from the dish to shoot out through the valve, which can happen during a Quick Pressure Release.
How to store:
Cool: First, let the cooked meat cool to room temperature.
Refrigerate: After that, add it to an airtight container and store leftovers in the fridge for 4-5 days.
Freeze: As well, let the meat cool first. After that add it to freezer bags or to an airtight freezer-safe container. Before doing this, we recommend wrapping each breast individually in plastic wrap and in foil to keep it fresh. Freeze for up to 3 months.
Thaw: Finally, when ready to use it, transfer the frozen chicken from the freezer to the fridge and thaw it overnight.
Reheat: When ready to reheat, either microwave it, or add a bit of oil to a skillet over medium heat and sear for a few minutes.