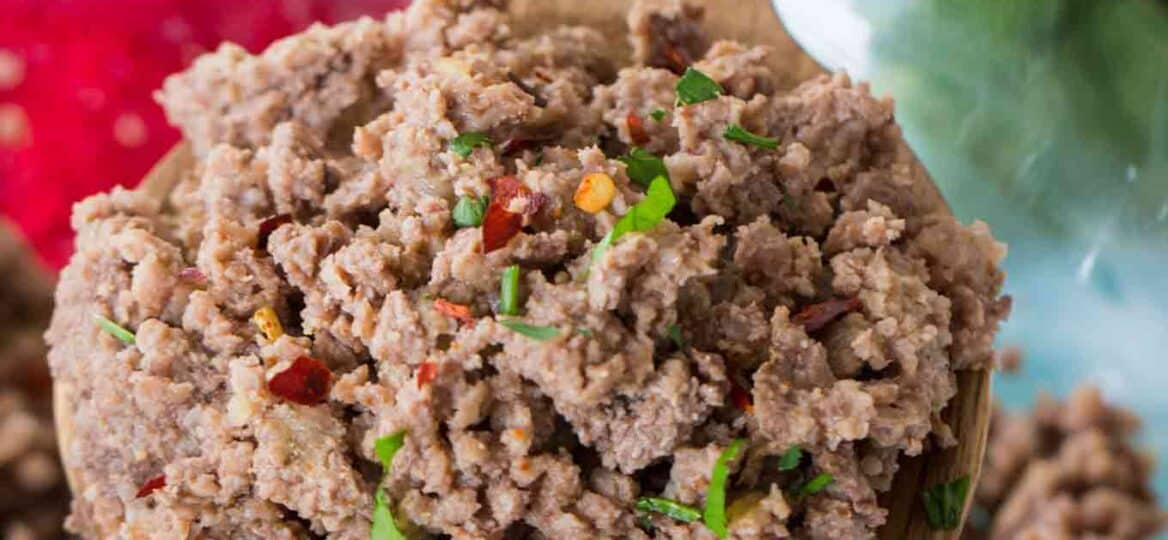 How To Cook Frozen Ground Beef In The Instant Pot [Video]
Learn the easiest way How To Cook Frozen Ground Beef In The Instant Pot in just 20 minutes with only two ingredients. No thawing, no waiting, no dry meat! Use this method to cook any type of frozen ground meat.
This is one of those super easy and handy Instant Pot recipes that will save dinner time. Serve it as is with some seasoning or use in any other recipes calling for ground meat like this Taco Pasta or Korean Ground Beef.
Instant Pot Frozen Ground Beef
Let's face it, most of the time the hardest part of dinner is when you realize that you forgot to thaw the meat. It happened to me so many times when I had great plans and ideas of how delicious dinner would be only to realize that I have a frozen block of ground beef still in the freezer.
But the night can be saved with these easy tips on how to cook frozen ground beef in the instant pot or other pressure cookers with only 2 ingredients, one of which is just water! This is a great recipe for busy days and it's a convenient way to cook quickly cook frozen meat.
Also, once it has been cooked using the saute function to brown the beef with some taco seasoning for an instant pot taco meat recipe! Feel free to use the cooked meat to make other delicious meals like sloppy joes, tacos, quesadillas, or a quick chili.
To make weeknights stress-free and dinner a breeze, check how to cook frozen chicken breasts or chicken wings, how to cook a whole frozen chicken, and also how to cook frozen pork tenderloin in the instant pot.
Ingredients Needed:
Ground beef – the cooking time will depend on weight. Preferably use meat with a higher fat content so it doesn't dry out during the cooking process.
Water
Seasoning – we use the seasoning at the end to add flavor to the meat.
Also, you will need a Trivet or Steamer Insert, the Instant Pot comes with a trivet, but if you don't have one, you can use a steamer insert.
How to cook ground beef in the Instant Pot?
This is a super simple and easy recipe to follow, no matter if you are using frozen hamburger patties or frozen meat. Also, watch the short video tutorial attached for a quick guideline. The general steps are as follows:
Add water: First, add about a cup of water to the inner pot. Then, add the trivet.
Cook the beef: Place the frozen beef on the trivet, and close the lid. Cook on HIGH pressure for about 20 minutes for 1 pound of beef, and for 23 minutes for two pounds. After that, followed by 5 minutes natural pressure release. Next, do a quick pressure release for the remaining pressure.
Crumble the meat: Once cooked, open the lid and transfer the meat to a bowl, using a fork, crumble it, and add seasoning. If the meat is not fully cooked, discard the liquid from the inner pot, clean it and add it back. Press saute, add a tablespoon of oil, and add the crumbled beef to the pot. Using a wooden spoon continue to break it and cook it until browned and done.
Serve: Enjoy it over tacos, or rice. As an option use your favorite pasta sauce and serve it with spaghetti.
Recipe Variations:
After pressure cooking the meat, add it back to the inner pot and saute it using your favorite seasonings. We recommend Taco seasoning, Cajun seasoning, or Italian seasoning.
Also, since plain ground beef tastes bland, you can stir in some garlic powder, onion powder, chili powder, and you preferred dried herbs.
After returning the meat to the pot, add tomato sauce, tomato paste, and seasoning to make sloppy joes.
Another way to make the beef even more awesome is after you crumble it, just saute it for a few extra minutes with sesame oil. Add a little soy sauce, brown sugar, red pepper flakes, and chopped green onions for an Asian twist.
Use any other type of ground meat, like ground turkey, ground chicken, or ground sausage.
As an option use it in ground beef dinners and make casseroles, stuffed peppers, or stuffed zucchini boats.
Can I cook frozen ground meat in the instant pot?
Absolutely! It is a time saver and so easy to make, you only need two ingredients: water and beef. While I would highly recommend staying away from cooking frozen meat in the microwave or boiling it on the stovetop or cooking it in the slow cooker.
Because the cooking time takes too long. Also, the beef becomes over-cooked on the outside and under-cooked in the center, and the texture just isn't the same. The pressure cooking method, however, is the one that I found the most success with. It only takes minutes to cook frozen ground beef in the instant pot, so make sure to save the recipe for emergency dinners!
Can I brown frozen ground beef in the Instant Pot?
I got this question from a few readers and that's a no-no. Do not attempt to brown frozen beef. While the beef has the most amazing flavor when browned, you do not want to try that with frozen beef.
How does the beef taste after cooking it in the Pressure Cooker?
After crumbling it, I like to add some spices, to add more flavor to the beef. It tastes just like you would cook it on the stove. If you find the beef to be a bit fry, after you crumble it, you can mix in 1-2 tablespoons of beef broth or chicken broth.
It tastes absolutely amazing. I like adding taco seasoning to my crumbled beef, as well as pepper flakes, and about 1 tablespoon of beef broth. After mixing well, you get some delicious taco beef.
More easy Instant Pot Recipes:
How to store:
Cool: First, let the cooked ground meat fully cool.
Refrigerate: After that, add it to an airtight container and store it in the fridge for up to 3-4 days.
Freeze: Since it has already been frozen and cooked under pressure, we do not recommend freezing it again. However, if you used it to make pasta sauce, just add it to a freezer-safe airtight container or freezer bag and freeze for up to 3 months.
Thaw: When ready to use, plan in advance and thaw the mixture in the refrigerator overnight.
Reheat: To reheat cooked ground beef, either add it to a skillet with a few tablespoons of broth for moisture or microwave it for a minute or two.
Recipe tips:
We recommend using a frozen slab of 1 or 2 pounds of meat. If it is bigger, the center will not cook properly and may remain frozen.
Also, if the meat is not fully cooked after the normal cooking time, do NOT pressure cook it again. Instead, follow the instructions in the recipe card, and crumble and saute it.
Always use a meat thermometer to check the internal temperature of the meat, for beef it should be no less than 160-165 degrees Fahrenheit.