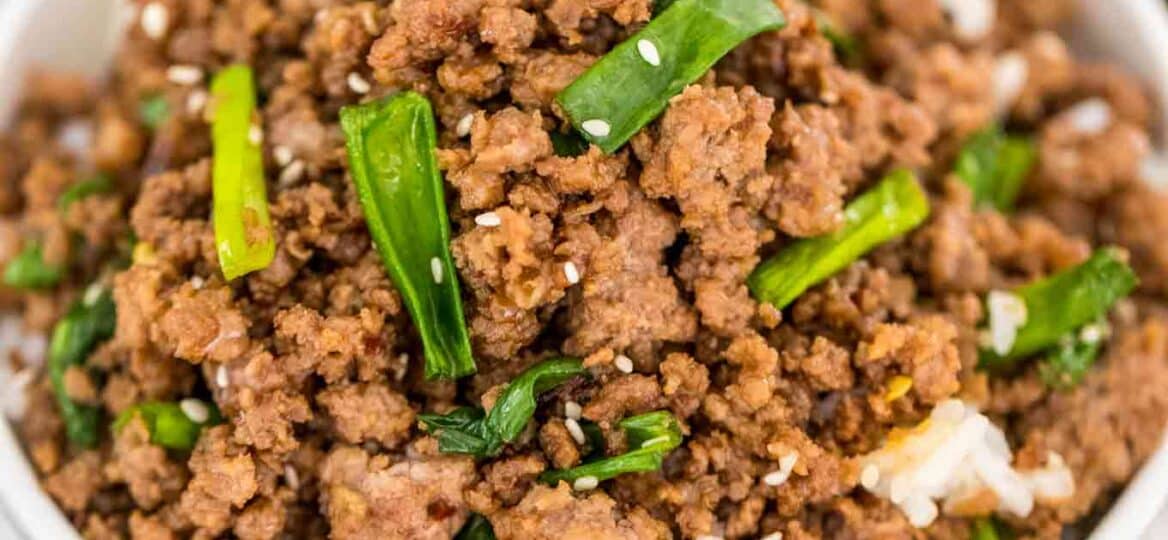 Korean Ground Beef [Video]
Korean Ground Beef is the PERFECT weeknight dinner that is ready in 20 minutes from start to finish. It is one of the easiest dishes you can make, and one of the best homemade Korean recipes to prepare.
We love easy weeknight dinners, and this one is one of our favorites! It is made with ground beef and has the perfect blend of sweet and spicy Korean BBQ flavor in the meat. For more Asian-inspired dishes, you can also try the Korean Beef Bulgogi, Slow Cooker Asian Short Ribs, or Chicken and Broccoli Stir Fry.
Korean Ground Beef and Rice Bowls
This dish has truly become one of my family's most favorite Asian dinners! It is super simple to prepare with minimal ingredients and requires little effort to make. Not to mention, it is ready in about 20 minutes from start to finish!
We usually make it every time we crave easy and delicious Asian food. It is quick and easy to prepare, and the cooking process itself takes just about 10 to 15 minutes. You can have your favorite Korean restaurant dish easily made at home, ready in no time. Also, if have some leftover cooked rice, you'll have dinner on the table before you know it!
You will love this recipe because it is budget-friendly, and uses ingredients that are usually always on hand. You can use fresh ginger here, but since it is not always available, feel free to go with ginger powder. Similarly, you can buy fresh ginger when available and then freeze it for later use.
Ingredients Needed:
Ground beef: I use lean ground beef (about 90% lean) as it works the best in this recipe.
Avocado oil and sesame oil: both of these add quite a lot of flavor, so I highly recommend using them instead of regular oil.
Fresh ginger and garlic
Light brown sugar
Soy sauce: use the low sodium one to control the saltiness.
Green onions: to garnish
Seasoning: crushed red pepper flakes, salt, and pepper.
Cooked white rice.
How to make Korean Ground Beef?
This is a simple dish to prepare that requires just a few ingredients. Also, please watch the recipe video tutorial attached. But the general steps to make it, are as follows:
Brown the meat: In a large skillet, add sesame oil, along with some freshly minced garlic and ginger, and cook it for about 30 seconds over medium-high heat. Then, brown the ground beef in the same pan. Drain any excess grease and then return to the stovetop.
Add the soy sauce: Next, s

tir in brown sugar, soy sauce, and red pepper flakes.

Garnish: Lastly, add some chopped green onions to it.
Serve: Enjoy it warm over a bowl of white rice, and garnish with sesame seeds and sliced green onion.
Recipe Variations:
Turkey or Chicken: Swap the ground beef with ground turkey or chicken.
Make it spicy: For a spicier kick, feel free to top it with sriracha hot sauce.
Add veggies: Want it even healthier? Then, add some green peas, bok choy, or broccoli to the mix.
Tofu: To make it vegetarian, replace the meat with firm tofu.
Frequently Asked Questions:
What is a Korean ground beef bowl?
This easy and delicious dish has its roots and flavors from the popular Korean beef bulgogi. It is made with ground beef cooked in a sweet and savory sauce, steamed rice, and a colorful assortment of vegetables.
An easy dinner option that is ready in about 20 minutes. This dish is a favorite around the world because it is simple to make, yet packed with tons of flavor and proteins.
What temperature should ground beef be cooked to?
It is safest if it is cooked well done to kill any bacteria. Also, according to the USDA, the minimum safe temperature for ground beef should be at 160 degrees Fahrenheit.
How Can I Make it Low Carb?
This is one of the dishes that can easily be converted into a low-carb meal. To do so, follow the steps below:
Substitute the brown sugar with a low-carb brown sugar sweetener.
Instead of white rice, serve the dish over a bed of hot cauliflower rice, or mashed cauliflower.
Similarly, you can try serving it in a lettuce wrap for a fun taco-inspired dish. It is very delicious!
Can I use frozen ground beef?
If you want a quick meal and do not have fresh ground beef, you can quickly and easily defrost it. The best way to do it would be in the microwave or in cold water. If using the microwave, cook the meat right away because some areas may begin to cook during the defrosting.
To defrost in cold water, put the meat in a watertight plastic bag and submerge. To speed up the process, use warmer water.
What is the best rice to use?
It goes well with pretty much any rice type. I enjoy serving it with:
Can you store this dish?
Leftovers can be sealed in a container in the fridge for up to 3 days.
Reheat them gently, covered, in the microwave on 50% power. Also, it's best to put leftovers aside before you drizzle sesame oil to it so that you don't end up microwaving sesame oil.
More Asian-Inspired recipes to try:
Recipe Tips:
After you brown the beef, make sure to drain excess grease that is rendered from the beef.
Similarly, you could use leaner ground meat if desired.
Remember that you should drizzle the sesame oil after cooking is done. Since sesame oil oxidizes easily and is not suitable for high heat cooking, try to use it after the cooking is done.
To make it spicier, use some extra red pepper flakes.
If you prefer not to use soy sauce, you can use some gluten-free and paleo alternatives. You might want to add extra salt though, depending on what you use.
For deeper flavor, replace light brown sugar with dark brown sugar.