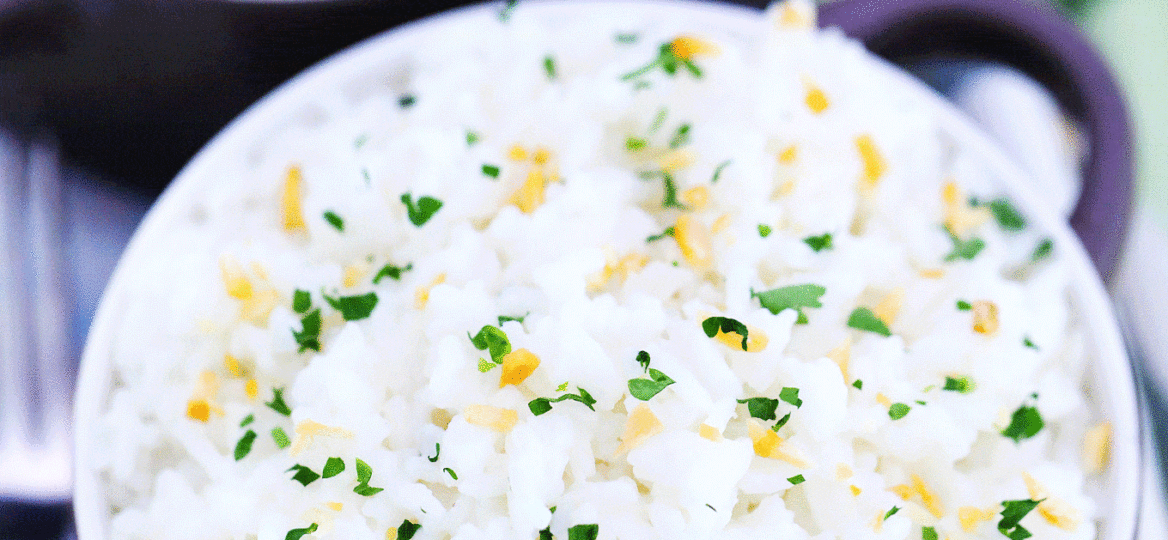 Coconut Rice Recipe [video]
Coconut Rice is a famous Asian side dish bursting with rich coconut flavor. It is a very delicious and a nice upgrade to regular plain rice that you just have to try!
This dish is super flavorful and aromatic. You can combine it with pretty much any recipes, some of our favorites once are Chicken Tikka Masala, Szechuan Chicken, and Moo Goo Gai Pan.
Easy Coconut Rice
Coconut Rice is one side dish I can never resist. It is a staple food in our household's menu, and that makes me appreciate it even more.
This dish is very easy to make using a stove or with a rice cooker. All you need to do is to add all the ingredients to the pot and let it cook. After a while, you can smell the creamy aromatic scent of coconut milk coming from the pot.
Thai restaurants often serve this dish along with stir-fry fish or chicken. It is also common in India, Nigeria, and the Caribbean region as coconut trees naturally abound in these places. Coconut milk is the perfect addition to help balance spicy foods like curry and spicy chicken wings barbecue. Follow this recipe and make sure to serve this dish at your next party.
What is coconut rice?
It is rice infused with coconut milk and coconut extract. It is a healthy side dish very common in large parts of Asia and India. The taste of it can be adjusted by adding a bit of salt, sugar, or both depending on your liking.
How to make coconut rice?
Rinse the rice. Make sure to repeat this until the water is clear.
Then, place it in the pot with the rest of the ingredients.
Let it boil. Then, turn the heat level down to low and let it cook for another 20 minutes.
Next, remove the cover and continue to cook for 5 minutes.
Once done, cover again and let stand for about 10 minutes. Fluff it up using two forks.
Serve warm. Also, you can garnish with some chopped cilantro and shredded coconut.
How to make coconut sticky rice?
If you like to make it sticky, remember to soak it in water overnight. Also, if you are pressed for time, soak the rice in warm water for at least three hours. You may also consider using glutinous rice. These are naturally sticky because they contain a higher amount of starch.
After soaking, simply follow the steps mentioned in the recipe card. This way, you will end up with a stickier version of it.
How to make coconut rice in the rice cooker?
Using a rice cooker makes this dish easier to make. After rinsing it, throw all the ingredients together and let it cook. Once the setting turns to warm, leave it covered for another 10 minutes.
How to make Nigerian coconut rice?
Nigerians have a different take on this dish. First, you will be needing chicken stock, tomato stew, and coconut milk. Combine these ingredients and let it boil.
Next, add the rinsed rice into the boiling pot. Let it cook for about 30 minutes or until all the water dries up. Serve warm and enjoy!
What to serve with coconut rice?
This dish is very versatile and can be served in various ways. It goes well with Grilled Meat and seafood, such as Bang Bang Shrimp. Also, it is good to serve with chicken curry, beef rendang, and stir-fry chicken.
In addition, it can be used in burritos or various bowls.
How do you make coconut rice with brown rice?
The procedures are essentially the same as cooking with white rice. The only difference is that the brown version takes a lot longer to cook and is considered healthier.
To make sure that the rice comes out soft and fluffy, soak it for 30 minutes to an hour before cooking.
Is this dish healthy?
Coconut is known to be very nutritious and rich in both vitamins and minerals. To make it even healthier, skip the sugar and go for brown rice.
How to store it?
Leftover can be stored in an airtight container or plastic ziplock bags. Store it in the fridge for no more than two days. Make sure to do this as soon as possible before it gets spoiled.
Also, if you want to save cooked rice for eating at a later time, it is best to place it in a microwaveable glass or plastic container and freeze it right away. It will last for up to four weeks, and you can serve when needed.
Recipe Tips
We recommend using the Jasmine rice variety as it is naturally fragrant and only slightly sticky.
Feel free to try making this homemade dirty rice, and brown rice.
Make sure to rinse it several times to remove the starch. This way, there is also less tendency for it to clump together.
For extra flavor, stir in a few drops of coconut extract.
Also, if you prefer this dish without added sugar, feel free to skip it.
Deliciousness to your inbox
Enjoy weekly hand picked recipes and recommendations