Last updated on May 18th, 2022 at 06:44 pm
Dirty Rice is a Cajun dish loaded with deep, aromatic, and spicy Southern flavors made heartier with beef and sausage. Try this savory recipe as a tasty side dish or a filling main!
This recipe is already so good on its own, but if you're going for a full Southern spread, try serving it with my Keto Blackened Chicken, Shrimp Creole, and a whole pan of freshly-baked, golden Cornbread!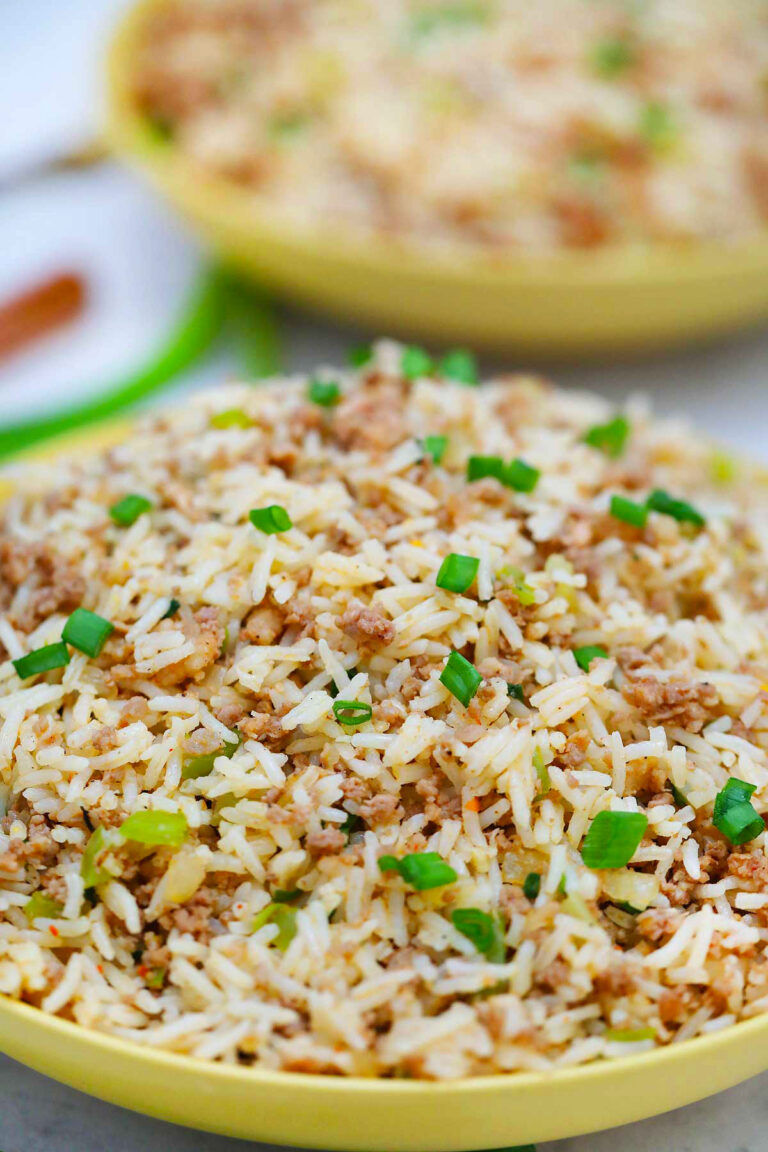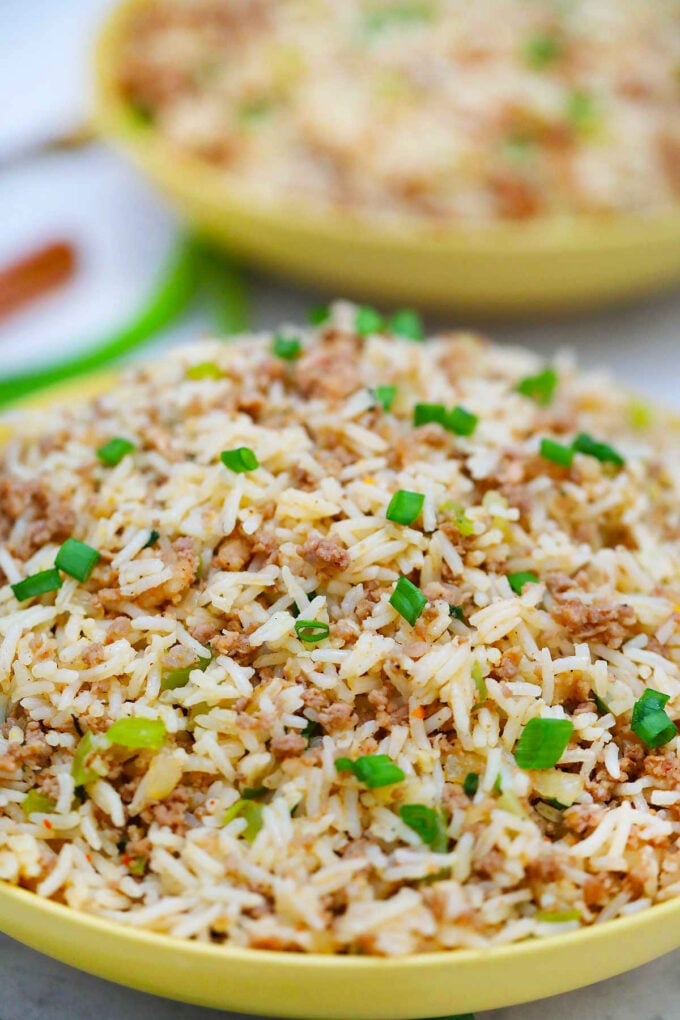 Southern Dirty Rice Recipe
Dirty Rice is just one of many reasons why I can never say no to Southern food. You can taste the history and culture of the region with every ingredient.
For instance, the earliest versions of this recipe used leftover meats. A staple in Southern Louisiana homes, families would roast or fry whole chickens and have them for dinner. Afterward, they'll use the gizzards and liver for the recipe, which essentially becomes a second meal.
My version only uses beef and sausage to make it more accessible for those who don't eat giblets. If you want to make the classic version, feel free to use livers and gizzards in your dish.
This recipe is an excellent base recipe, and you can tweak it with different meats, vegetables, aromatics, spiciness levels, and size of the grain. For best results make sure you try it with this homemade Cajun spices blend.
Don't you just love how simple ingredients become extraordinary when you combine them just so? Let my hearty, meaty, and spicy Dirty Rice recipe take you on a culinary trip to the South!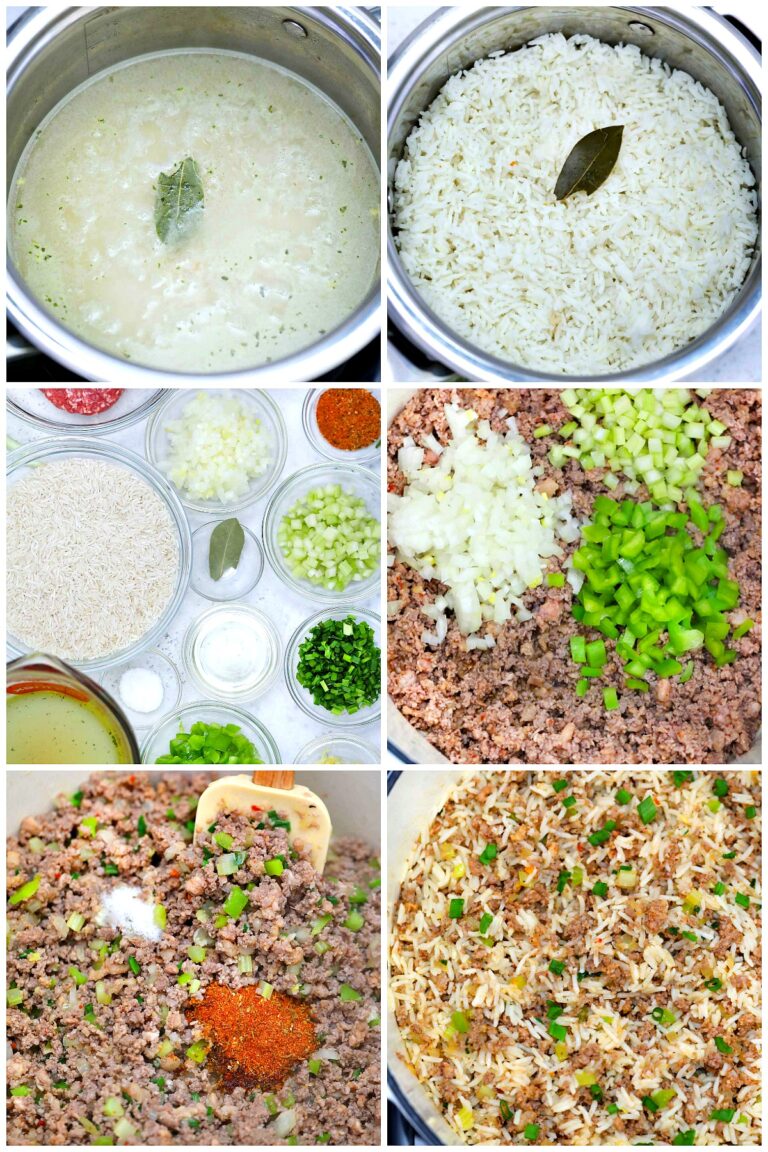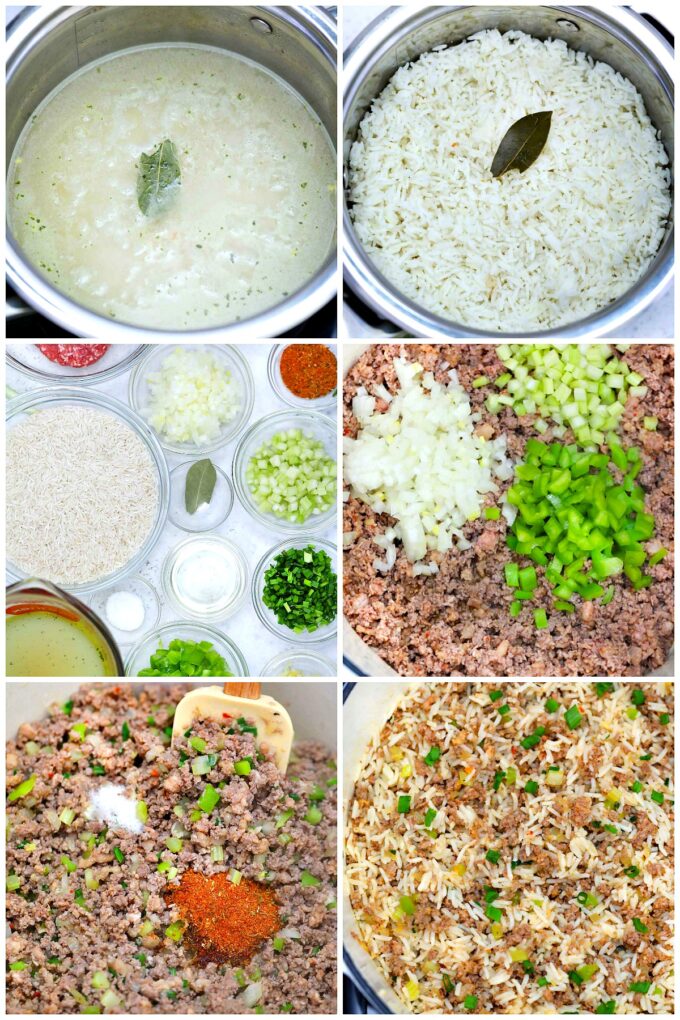 What is Dirty Rice?
A staple Cajun dish that hails all the way from Southern Louisiana. The classic recipe got its "dirty" moniker from the addition of ground beef, gizzards, and chopped livers, hence "dirtying up" the color of white grains.
However, all Dirty Rice recipes begin with the so-called "Holy Trinity" of Cajun and Louisiana Creole cooking— a mirepoix made with generally equal measures of celery, green bell pepper, and onions.
Each is a humble ingredient, but together, they burst into a trifecta of flavors that are the foundation of almost all Creole and Cajun dishes in the South.
How to make Dirty Rice
Prepare. Chop all the ingredients, set aside some of the broth.
Cook the rice. Combine it with chicken broth, water, and bay leaf in a medium saucepan and cook.
Cook the meat mixture. Brown the crumbled sausage and ground beef. Add the rest of the ingredients, then season. Add the remaining chicken broth to the meat, scraping all the browned bits.
Combine. Add the grains to the meat mixture, and stir together until combined.
Serve. Serve immediately as a side with the main dish, or eat on its own.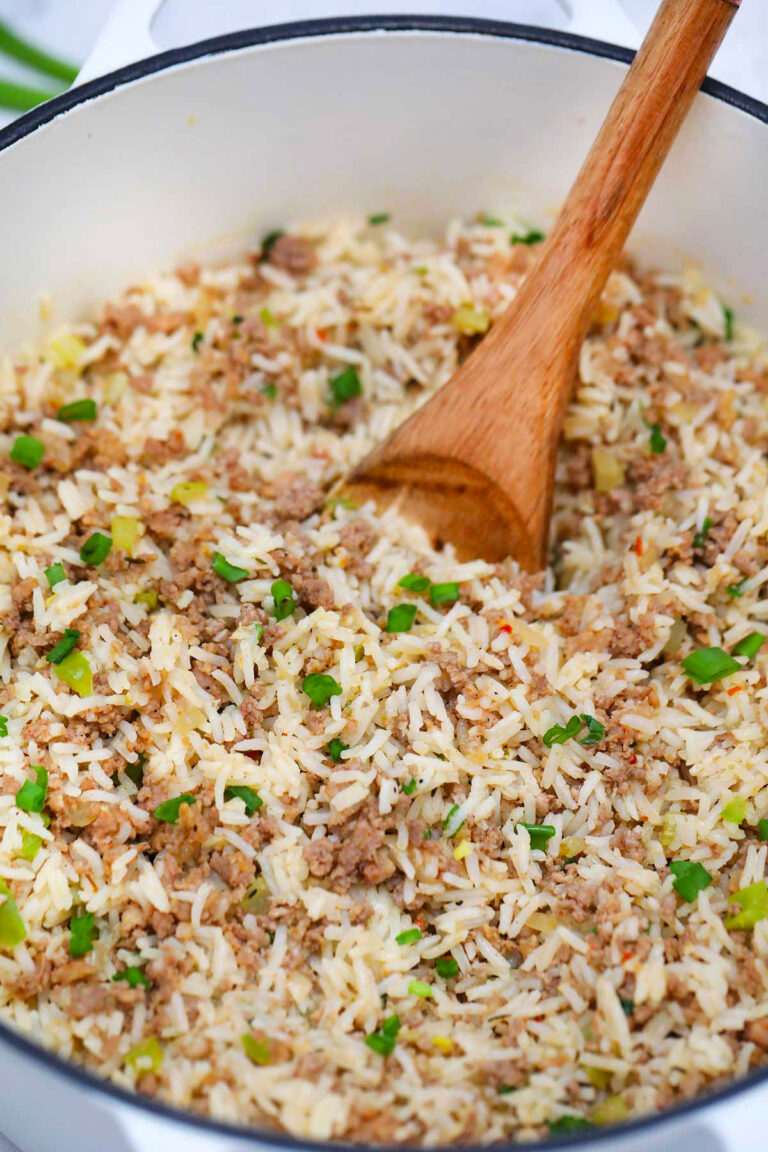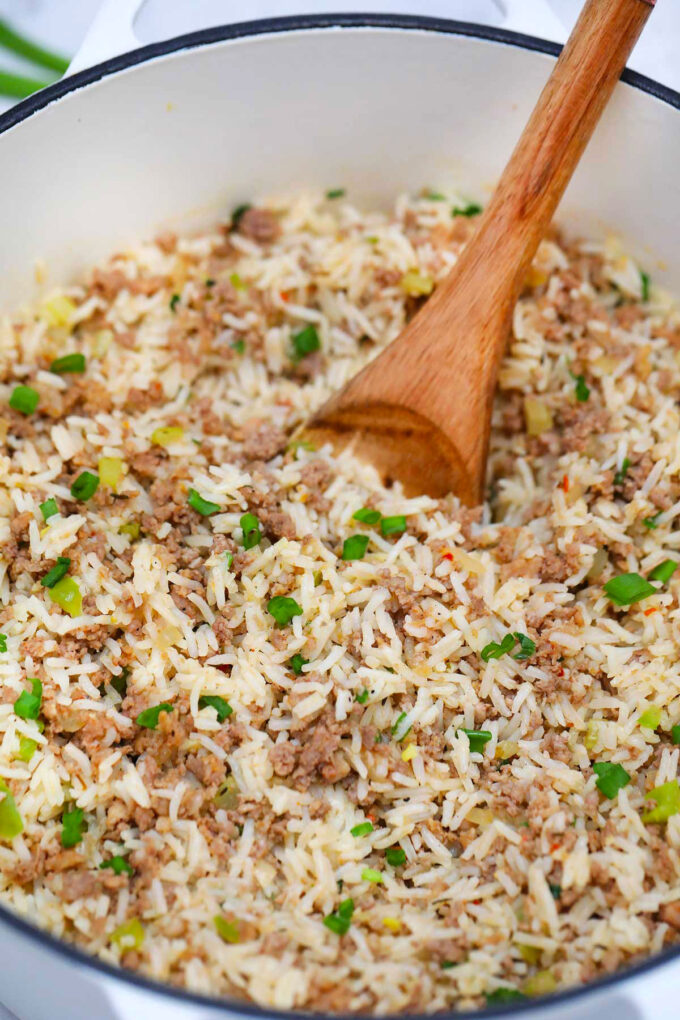 How long do you cook this recipe?
You need less than an hour to make this pot of savory Cajun goodness. The grains take the longest at 20 minutes, but that involves very little effort. Once you've browned the meats, aromatics, and seasonings, combine everything, and it's done!
What to eat with Dirty Rice?
Grilled or barbecued chicken and pork loin go so well with this dish! You can also serve it with collard greens, grilled vegetables, and baked beans.
Feel free to get down, dirty, and creative; some people even throw in some pineapples, serve them inside bell pepper cups, or use it in "dirty" burritos and tacos!
Can you make it ahead of time?
Yes. You can prepare the ingredients the day before, such as chopping up the mirepoix. Since this is also freezer-friendly, you can make a big batch the day before to keep it ready for potlucks or meals throughout the week.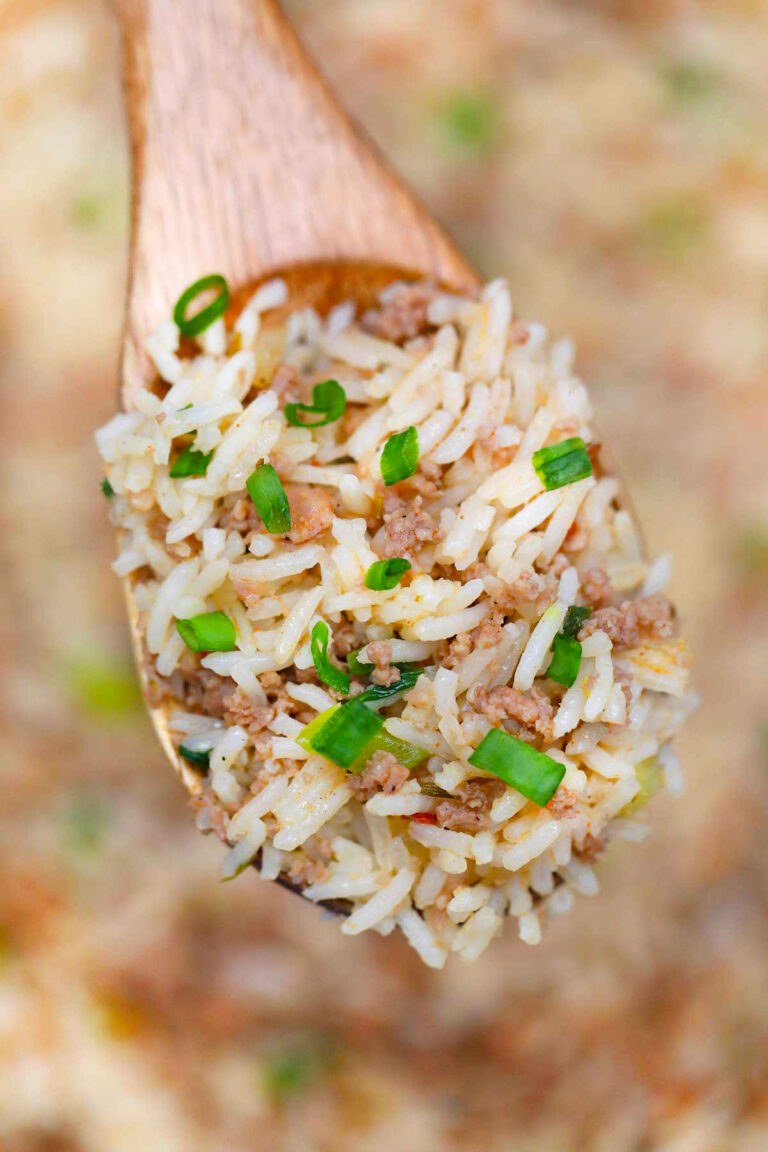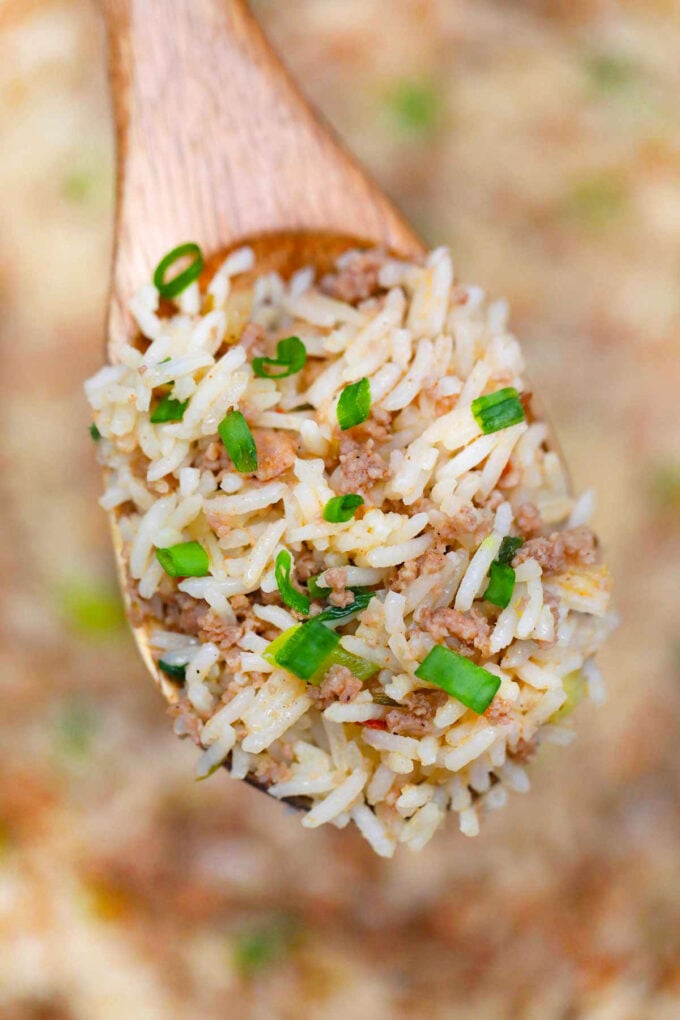 How to freeze it?
This dish freezes well, but keep the following in mind:
Cook the dish within one hour. Split a big batch into small portions to cool them faster.
As soon as the dish has cooled down, freeze it ASAP.
Reheat inside the microwave. Make sure every part of the serving is piping, steaming hot before consuming.

Only heat each portion once for safety reasons.
More delicious recipes: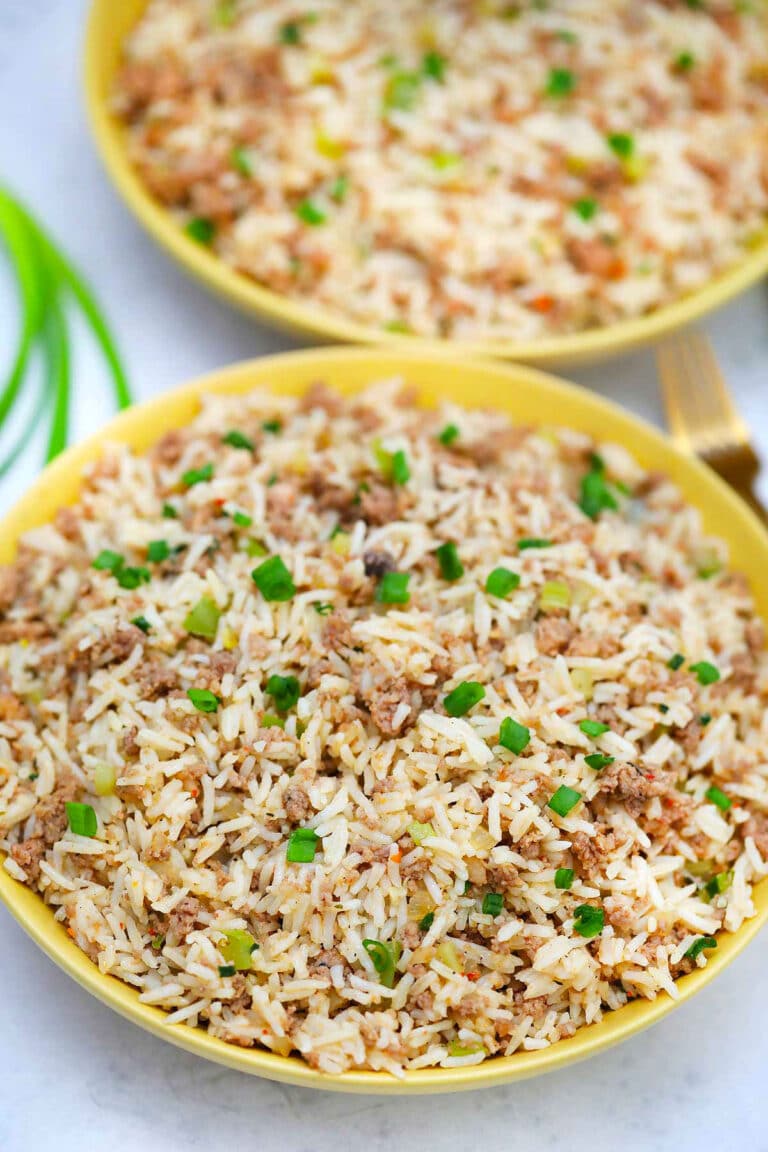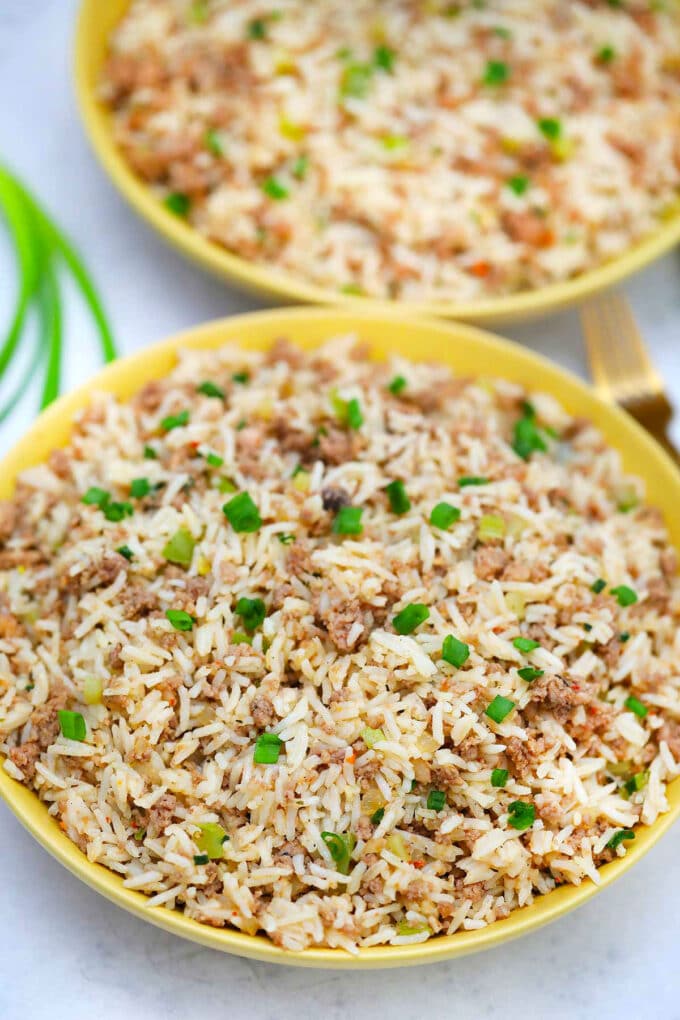 Recipe Tips:
The dish is done once all the broth is cooked away.
Scrape all those flavorful browned bits from the pan. That's key to the delicious "dirty" part!
Experiment with meat combinations, seasonings, vegetables, aromatics, and other add-ons to customize your version.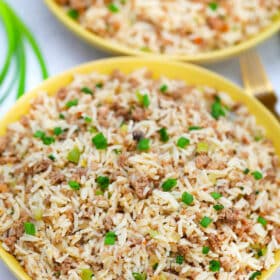 Southern Dirty Rice
Dirty Rice is a Cajun dish loaded with deep, aromatic, and spicy Southern flavors made heartier with beef and sausage.
Save
Share
Print
Pin
Rate
Ingredients
Rice:
1 1/2

cups

long-grain rice

14

ounces

can chicken broth

1 1/2

cups

water

1

bay leaf
Beef Mixture:
1

tablespoon

vegetable oil

1/2

pound

ground beef

1/2

pound

ground sausage

1

medium onion

(chopped)

1

celery rib

(finely chopped)

1/2

green bell pepper

(seeded and chopped)

1/4

cup

green onion

(chopped)

4

cloves

garlic

(minced)

2

teaspoons

Cajun Seasoning

1/2

teaspoon

salt

(to taste)
Instructions
Cook the Rice:
Add 1 cup of chicken broth to a medium saucepan over medium-high heat.

Add 1 1/2 cups of water and the bay leaf. Bring to boil.

Add rice, reduce heat to medium-low, cover and cook for 20 minutes.

Once 20 minutes have passed, turn off the heat, BUT do NOT remove the lid. Let stand with the lid on for another 10 minutes.

Lift the lid, set aside and fluff up the rice with two forks.
Cook the Beef Mixture:
Add oil to a Dutch oven over medium heat.

Once hot add ground beef and ground sausage and crumble everything with a wooden spoon until browned.

Add onion, celery, and green bell pepper. Cook stirring occasionally until meat is no longer pink and vegetables are tender.

Add the minced garlic and green onions, stir and cook for another 5 minutes.

Add the Cajun seasoning, and stir to combine. Add salt to taste.

Add the remaining 1/2 cup of chicken broth and scrape the bottom of the pan for all the brown pieces.

Let simmer 1-2 minutes.
Combine:
Discard the bay leaf from the rice and add it to the Dutch oven. Stir it to combine with the ground beef mixture on low heat.

Once combined well, remove from heat and serve.
Nutrition
Calories:
422
kcal
|
Carbohydrates:
40
g
|
Protein:
16
g
|
Fat:
21
g
|
Saturated Fat:
8
g
|
Cholesterol:
54
mg
|
Sodium:
710
mg
|
Potassium:
373
mg
|
Fiber:
1
g
|
Sugar:
1
g
|
Vitamin A:
435
IU
|
Vitamin C:
15
mg
|
Calcium:
36
mg
|
Iron:
2
mg
More recipes you might love