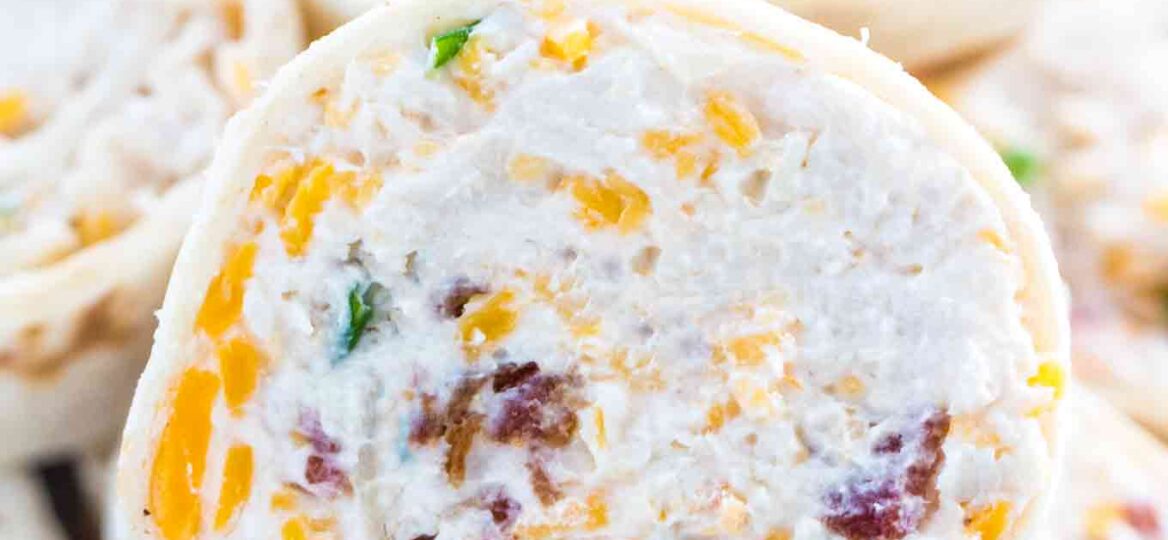 Bacon Cheddar Ranch Pinwheels [VIDEO]
Bacon Cheddar Ranch Pinwheels are the ultimate party appetizers that you can put together in less than 20 minutes. Loaded with bacon, cream cheese, cheddar cheese, and ranch, these crack chicken pinwheels are packed with flavor, and guaranteed to be your favorite appetizer.
If you love a super quick and easy appetizer like these Bacon Cheddar Ranch Pinwheels, we also suggest you try Spinach Artichoke Dip. It is one of our most popular appetizers that is loaded with spinach, cheeses, and surrounded by biscuit rolls. For the seafood lover, we have the Bacon Wrapped Shrimp with Brown Sugar.
Easy Bacon Cheddar Ranch Pinwheels
Bacon Cheddar Ranch Pinwheels are probably one of the quickest and easiest appetizers you can make. With only a few ingredients and less than 20 minutes at your disposal, you can have the most delicious roll-ups.
Additionally, they are a great crowd pleaser and ideal for a game day. The best part is that you do not have to use the oven. Simply use some rotisserie chicken, spread some cream cheese and cheddar cheese over the flour tortilla, and roll them up. It's that simple!
We love pinwheels as they can be filled with various flavors. Also, they are cute little appetizers that a perfect for lunch boxes. Kids and adults would love them. My son is a picky eater, but every time we pack him these pinwheels, he is very happy!
Similarly, the roll-ups can be used as an appetizer or main dish. You can even use leftover chicken, turkey or deli meats to make them.
What do you need to make Bacon Cheddar Ranch Pinwheels?
Rotisserie chicken – optional, but delicious!
Cream cheese
Ranch dressing
Shredded cheddar cheese
Cooked bacon
Green onion or chives
Flour tortillas
How do you make Bacon Cheddar Ranch Pinwheels?
These roll-ups are very easy to make. For best results, follow the steps below:
Start with soft tortillas so they won't crack when rolling up.
Next, in a large bowl, stir all ingredients together until well mixed.
Spread mixture evenly among tortillas; distribute evenly to get every flavor in each bite.
Tightly roll up tortillas.
Cut into 1/2-3/4 inch slices, and serve.
Tortilla Pinwheel Variation Ideas:
You can also make the pinwheels with other flavors, such as:
Ham– sliced ham, cream cheese, mayonnaise, dill, garlic powder, and onion powder.
Turkey – diced or leftover turkey, dill pickles, olives, cream cheese.
Smoked Salmon – smoked salmon, arugula or lettuce, cream cheese.
Caesar: chicken breast, Caesar dressing, Romaine lettuce, crumbled croutons.
Veggie Bacon Ranch – ranch dressing, green chilies, bacon, cream cheese.
Can you bake Bacon Cheddar Ranch Pinwheels?
If you would like the baked version of this recipe, simply follow the steps above. Then, put the pinwheels in a baking sheet, and bake the roll-ups in the oven at 350 degrees F for 15 minutes, or until edges are deep golden brown.
Can you make Bacon Cheddar Ranch Pinwheels in advance?
If you decided to make the roll-ups in advance, make sure to wrap them in plastic wrap and refrigerate before serving. It's best to refrigerate them for up to 24 hours. Do not cut the tortilla roll-up when refrigerating. When ready to serve, remove from refrigerator, slice, and serve.
Can you freeze Bacon Cheddar Ranch Pinwheels?
If you would like to freeze the pinwheels, it's best to freeze the baked version. You could try freezing the unbaked pinwheels, but I would not recommend it since grated cheese will come loose. Therefore, it is best to freeze the baked version.
To do so, simply arrange the roll-ups in an airtight container, and freeze them up to 3 months. Reheat on a parchment-lined baking sheet at 375 degrees F for about 10 minutes, or until warmed through.
Deliciousness to your inbox
Enjoy weekly hand picked recipes and recommendations