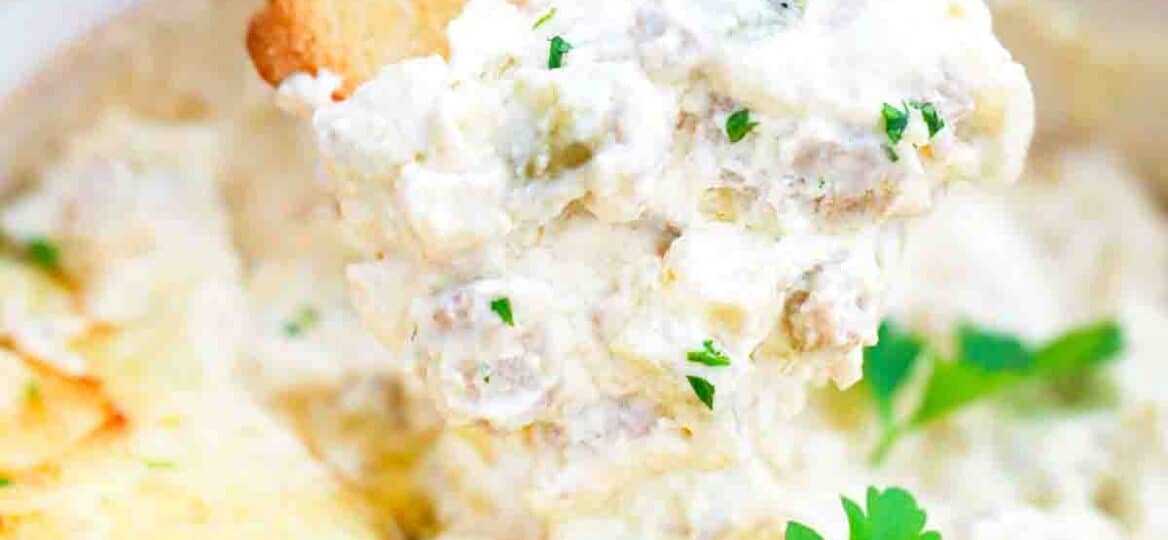 Philly Cheesesteak Dip Recipe
Philly Cheesesteak Dip will be the hit of the party this year! Or the talked-about new item on game day or Super Bowl party. Whenever and wherever you serve it, this delicious dip recipe is impressive with ribeye steak, bell peppers, cream cheese, provolone cheese, and a touch of Worcestershire sauce for extra flavor.
For some sandwiches to go with a different kind of dip, this Instant Pot French Dip recipe is made with swiss cheese, chuck roast, and soy sauce. Looking for a side dish? Our Easy Instant Pot Mac and Cheese lives up to its name and is done in 10 minutes. Add some of this delicious Philly cheesesteak dip to our Creamy Beef and Shells recipe for a hearty meal.
Everyone has probably heard of the Philly cheesesteak and knows it comes from Philadelphia. But not many people know the whole story about how this delicious sandwich came to be. It started in 1930 when brothers Harry and Pat Olivieri sold their first sandwich from their hot dog cart. They made it with grilled onions and served it on a toasted bun. Back then, it did not even have cheese! But we think the cheese is important.
With melty cheese, crunchy green peppers, sauteed onions, and tender roast beef, this Philly cheese steak dip recipe is perfect for any kind of dipping from tortilla chips to veggies. If you have ever had a classic Philly cheesesteak sandwich, you will recognize the flavor immediately and be asking for more.
If you are a fan of Philly cheesesteaks, you are going to love this recipe as a topping or a dip. Looking for more dip recipes? Our beer cheese dip is such a big hit at parties, you will have to triple the ingredients. For something a little spicier, this queso dip is just mildly hot made with pork sausage and Rotel tomatoes.
Ingredients needed:
To make this crowd-pleasing appetizer, gather the ingredients below. Then, when you are ready to begin, find our handy recipe card at the bottom of the page for the exact measurements and ingredients.
Boneless rib eye steak: Thin slices.
Shredded provolone cheese: Separated.
Small onion: Diced.
Softened cream cheese
Large green bell pepper: Diced.
Butter: At room temperature, divided.
Chopped fresh parsley
Minced garlic cloves
Mayonnaise
Worcestershire sauce
Sour cream
Smoked paprika
Non-stick cooking spray
Kosher salt and black pepper: To taste.
How to make Philly cheesesteak dip from scratch?
Preheat oven: First preheat the oven to 400 degrees F and coat a rectangular or square baking dish with non-stick cooking spray or oil.
Cook the veggies: While you wait, melt one tablespoon of butter in a large skillet over medium-high heat. Then add the green pepper and onion and cook for three minutes. The veggies should be softened.
Remove veggies: Next, add garlic cloves and cook for another 30 to 45 seconds over medium heat before removing the veggies from the pan. After, wipe the skillet with a paper towel and melt the last tablespoon of butter in the pan.
Brown the meat: Once melted, add the steak and season it with smoked paprika, salt, and pepper. Let it cook for four to five minutes, stirring occasionally before adding the Worcestershire sauce. Continue cooking until the steak is brown and almost cooked through before chopping it.
Beat the cheese: Then, beat the cream cheese with an electric hand mixer until it is smooth. Add sour cream and mix for another minute.
Mix the meat and veggies in: Now, add the steak and veggies to the cream cheese sour cream mixture and fold it in gently before stirring in half the provolone cheese.
Bake the Philly steak dip: Next, spread the dip into the prepared pan and sprinkle the remaining provolone cheese on top. Bake your cheesesteak dip for 15 to 20 minutes until the cheese is melted and the mixture is bubbly.
Serve: Finally, add parsley to the top and serve with baguette slices or chips.
How to make slow cooker Philly cheesesteak dip from scratch?
Cream the cheese: To begin, beat the cream cheese in a large bowl with a mixer until it is smooth. Add the sour cream and beat again for one more minute.
Combine: Next, add all of the ingredients except for half of the shredded cheese and stir gently until it is thoroughly combined. Transfer the Philly cheesesteak mixture to a small crock pot and set it on low.
Cook the dip: After cooking on low for five to six hours, add the remaining cheese to the top and put the lid back on until you have melty cheese on top. This should only take a minute.
Serve dip: Last, sprinkle with fresh parsley, and serve with your favorite fresh vegetables or baguette chips.
Recipe variations:
Deli beef: For shorter prep time, use deli roast beef, sliced thin.
Leftover roast beef: Even leftover roast beef or any kind of leftover steak would work great.
Other meat: In fact, shredded or chopped chicken, pork, or turkey would also be a delicious taste to add to this dip recipe. Cooked ground beef is also a great idea.
Different cheese: If you are not a provolone fan, use your favorite cheese such as feta, ricotta, or mozzarella cheese. You could even use American cheese or white cheddar.
Melty cheese: Another kind of cheese that would be a great time saver is cheese whiz (Cheez Whiz) or Velveeta.
Add veggies: Feel free to add your own favorite veggies like red bell pepper, green onions, and chopped celery.
Spicy cheese steak dip: A pinch of cayenne pepper or red pepper flakes gives this delicious dip a mild spiciness. The more you add, the spicier it is.
How to serve:
You can serve this juicy beef steak dip with sliced baguette bread or whatever kind of chips you like. This cheesy dip goes with just about anything. Try one of our delicious serving suggestions or share one of your own ideas in the comments section.
Hot dips are great with pita chips, buttery club crackers, bagel chips, Ritz crackers, or pretzel chips.
Add leftover steak dip to a casserole or pasta dish like this Philly cheesesteak casserole made with shell pasta and lots of melty cheese.
Sprinkle some parmesan, romano, or another dry cheese on top for a more intense flavor.
Spread this warm dip on your favorite sandwich. It would be perfect for these slow-cooked French dip sandwiches.
Mix this Philly cheesesteak dip with other dips for a different flavor. It would go great with any kind of dip recipe you like.
Looking for something different to dip? Try our grilled vegetables or rainbow roasted vegetables recipe.
To be honest, this stuff is so good, you could just eat it with a spoon!
Frequently asked questions
Can I use this dip as a sauce on sandwiches?
Yes, this Philly cheesesteak dip is perfect on almost any sandwich. It is especially tasty on a Philly cheesesteak sandwich, but you can also try a dollop on a chicken sandwich, ham, or roast beef sandwich. Or mix it into your favorite recipe for seafood or egg salad for a different taste.
What is the best cut of meat for this dip?
You can use any kind of beef cut you like but a thinly sliced ribeye or top round works best in our opinion. Sirloin is another fantastic cut of meat for this dip. Some other great choices are lean cuts like a skirt or flank steak, but you may want to tenderize it first.
What is the difference between ribeye and prime rib?
Since prime ribs and ribeye steaks come from the same basic cut of beef, the difference really comes from the way they are cooked. A prime rib is typically seared and then slowly roasted on low heat.
On the other hand, a ribeye is usually grilled or pan-fried over high or medium-high heat. Some say the prime rib has more flavor while others like ribeye better. For this recipe, we prefer ribeye.
What are the nutrition facts in this recipe?
Each serving of this delicious dip has 260 calories and 23 grams of fat as well as 8 grams of carbs, 81 milligrams of cholesterol, and 900 milligrams of sodium. But you also get 10 grams of protein, 830 units of vitamin A, 35 milligrams of vitamin C, 165 milligrams of calcium, and 2 grams of iron.
How to store leftovers:
Store: You can store your leftover Philly cheesesteak dip in an airtight container in the fridge for up to five days.
Freeze: It is also safe to freeze your Philly cheesesteak dip for up to four months.
Thaw: Remember to put your leftover dip in the fridge to thaw overnight before serving.
Reheat: To reheat, put it in a microwave-safe dish and heat it in the microwave for one minute.
More dip recipes:
Cooking tips:
Try to chop all the pieces small and about the same size for better uniformity and flavor. You want to be able to scoop it all up with a chip or veggie.
To brown the steak faster, cut it up before frying it.
Broil the top of your Philly cheesesteak dip for one to two minutes to make it brown.
To shorten prep time, use pre-shredded cheese and deli meat.
Have some vegetarian friends or family? Make this dip with browned mushrooms instead of beef.
For fewer calories and less fat, you can substitute the sour cream and cream cheese with Greek yogurt and use low-fat mayo.
Philly Cheesesteak Dip
Ingredients
2

tablespoons

butter

divided

1

large green bell pepper

finely diced

1

small onion

finely diced

4

cloves

garlic

minced

1

lb

boneless rib eye steak

thinly sliced

Salt and pepper to taste

1

teaspoon

smoked paprika

1

teaspoon

Worcestershire sauce

8

ounces

cream cheese

softened to room temperature

1/4

cup

sour cream

1/4

cup

mayo

3

cups

provolone cheese

shredded and divided

1

tablespoon

chopped parsley

cooking spray
Instructions
Preheat the oven to 400 degrees F.

Coat a 6-cup baking dish lightly with cooking spray and set it aside.

Place a non-stick pan over medium-high heat and melt 1 tablespoon of butter.

Add the bell pepper and onion and cook stirring for 3 minutes or until softened.

Add the garlic and cook for 30 seconds. Remove the vegetables to a plate and set aside.

Wipe out the pan with a paper towel and add the remaining butter.

Season the steak with salt and pepper and add it to the pan. Cook for 4-5 minutes, stirring occasionally. Season with more salt and pepper while you cook it.

Add the paprika and Worcestershire sauce until the steak is browned and mostly cooked through.

Remove the steak pieces from the pan and if needed chop them a bit more.

In a medium bowl, beat the cream cheese with a mixer until smooth. Add the sour cream and mayo and beat until combined.

Add the vegetables and steak to the cream cheese mixture and fold them using a spatula.

Stir in half of the cheese.

Spread the dip into the prepared pan and sprinkle with the remaining cheese on top.

Bake for 15-20 minutes or until the dip is bubbly and the cheese is melted.

Broil the top for 1-2 minutes to brown the cheese.

Sprinkle with parsley and serve hot with crostini and celery sticks on the side.
Deliciousness to your inbox
Enjoy weekly hand picked recipes and recommendations