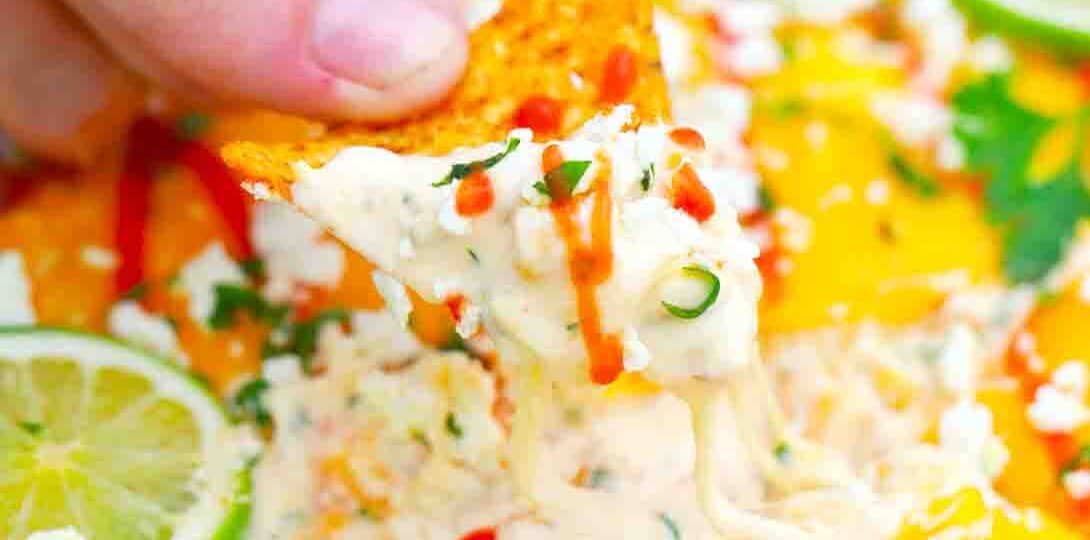 Mexican Street Corn Dip [Video]
Mexican Street Corn Dip is loaded with sweet corn, a cream cheese mixture made with a variety of cheeses and spices for the ultimate cheesy goodness. With the fresh crunchy corn kernels and creamy mayo and cheese mixture, this dip is perfect for a Cinco de Mayo party or any time you want it.
This Mexican street corn dip goes great with Chicken Tinga Tacos made from our chicken tinga, corn, and salsa. If you love street corn, you really should try our recipe for Mexican Street Corn Chicken Tacos made with chicken breast, taco seasoning, and sour cream.
Although traditional street corn is boiled with cayenne pepper, red pepper flakes, smoked paprika, and lots of chili powder. After, the corn is coated with mayo and lime juice before being served with tortilla chips. Today, this popular street food is grilled and seasoned with cheese, sour cream, and spices.
This Mexican street corn dip can be made in minutes starting with our easy Mexican street corn recipe. If you like Mexican food, you should try our Mexican recipes like instant pot Mexican chili seasoned with garlic, taco seasoning, and chili powder.
In addition, try these slow cooker Mexican stuffed peppers made with black beans, rice, and ground beef. Another great chicken meal you may like is this Honey Sesame Chicken with brown sugar, soy sauce, and sesame oil.
If you love this hot Mexican corn dip, you are probably looking for more dip recipes. This buffalo shrimp dip is creamy and smooth with a touch of spiciness and our dill pickle dip is tangy and absolutely delicious. For more appetizer cuisine, check out our appetizer section.
Ingredients needed:
Here are the ingredients you need for this Mexican street corn dip recipe. You will want to scroll down for instructions and measurements. Make sure you print our recipe card because you are going to want to save it in your recipe box to make it again.
Cream cheese: Softened.
Sour cream: Or Mexican crema.

Mayo: Or plain Greek yogurt.

Cloves garlic: Minced.
Franks Redhot sauce: Or your favorite wing sauce.
Juice from one lime
Shredded pepper jack cheese
Shredded cheddar cheese
Canned corn: Fully drained and rinsed.
Feta cheese: Or cotija cheese, crumbled.
Jalapeno peppers: Chopped.
Red onions: Chopped.
Fresh cilantro: Chopped.
Your favorite tortilla chips for dipping
How to make Mexican street corn dip recipe?
Preheat: First, set your oven to 350 degrees F to preheat.

Blend: In the meantime, use a food processor or high-powered blender to combine the lime juice, hot sauce, garlic, mayo, sour cream, cream cheese, and half of each of the cheeses. Mix well.

Mix in the corn: Next, spoon the cream cheese mixture into a large bowl and add half the leftover cheese, corn kernels, feta, chopped pepper, onion, and cilantro. Combine thoroughly.
Bake the Mexican corn dip: Lastly, spoon the mixture into a prepared pan or baking dish and sprinkle with the rest of the cheese. Bake for 15 to 20 minutes or until the cheese is bubbly and hot. Pour into a serving bowl and add garnishes of feta cheese, cilantro, and hot sauce.

Serve street corn dip: Finally, serve with your favorite tortilla chips or pita chips and lime wedges.
How to make crock pot Mexican street corn dip:
Blend the cream cheese mixture: First, blend the cream cheese, sour cream, garlic, hot sauce, lime juice, mayonnaise, and half of the cheeses in a blender or food processor.

Add to the pot: Then, add the cream cheese mixture to the crock pot and add corn kernels, half the remaining cheeses, cilantro, onion, pepper, and feta. Give it a good stir before adding the rest of the cheeses to the top.

Cook: Next, close the slow cooker and cook Mexican street corn dip for one hour on high or two hours on low.

Serve the dip: Lastly, serve finished Mexican street corn dip with chips and wedges of fresh lime.
Recipe variations:
Other veggies: Add some other veggies like chopped green onions, bell peppers, and zucchini.
Fresh corn: Instead of canned corn, you can use fresh corn kernels straight from the cob.
Frozen corn: Similarly, frozen corn kernels are fine too.
Spicier dip: Add red pepper flakes or cayenne pepper for an extra spicy Mexican street corn dip.

Less spicy: On the other hand, if you are not into spicy food, leave out the jalapeno.
Tangy dip: Add lime zest or a bit of lime extract for a tangier dip.
No mayo: You can substitute mayo with Miracle Whip.
How to serve:
This hot corn dip recipe is best served warm with fresh chips and a juicy lime sliced into quarters. Bring it to your next Cinco de Mayo celebration with tortilla chips and lime or try one of these scrumptious serving ideas:
Instead of tortilla or pita chips, you can also use corn chips, crusty bread, or veggies like carrots and broccoli.

Use leftovers to make Mexican street corn salad with sweet red peppers and sour cream.

Add Queso fresco to make an extra cheesy corn dip.

An absolutely delicious way to make this a meal is to add barbacoa beef, shredded chicken, or instant pot birria.

Toss in some olives, mushrooms, and other veggies for a heartier dip.

Serve this party dip with a strawberry margarita or glass of ice-cold Mexican beer.
Frequently asked questions
Why do they call it Mexican street corn dip?
Everywhere you look in Mexico, you can find corn from vendors on the street selling corn on the cob (or elote) to Mexican grilled corn. Corn is a major part of Mexican culture and cuisine going back 10,000 years when it was found growing wild in central Mexico.
Used for everything from corn dishes to tortillas it is thought to have originated as a wild grass called teosinte.
What is cotija cheese?
Named after the name of the city in which it originated, cotija cheese is Mexican cow's milk. It is milky, salty, and creamy like feta. But when it is aged, it has a dry, firm texture.
As it ages, the taste becomes sharper and it starts to taste more like parmesan cheese. It is great for cooking since it does not melt, but gets softer when heated, still retaining its shape.
What is the easiest way to get the corn kernels off the cob?
After peeling your corn, use the bottom of a spoon to lift and remove all of the kernels from one row. After removing this row, use your fingers to push the next two rows down into the empty row and the kernels will just fall off. Continue until all the corn is off the cob. It takes less than one minute.
How do I grill corn?
First, melt butter in a large skillet or cast-iron skillet over medium-high heat until it is hot and bubbling. You can use a large frying pan if that is all you have.
Add the corn kernels, stirring occasionally, until it is slightly charred. This typically takes about five to seven minutes. You can add garlic, chili powder, green onions, salt, and pepper to taste.
How to store leftovers:
Store: Use an airtight container for your leftover dip and keep it refrigerated. Eat it within five or six days for the best flavor.

Freeze: Use a freezer-save container to freeze your Mexican street corn dip for up to three months.
Thaw: For best results, remember to put your frozen dip in the fridge to thaw overnight before serving.
Reheat: Reheat in the microwave for one to two minutes, depending on how much you are reheating.
More cheesy dip recipes:
Cooking tips:
Charring the corn before using makes this a more authentic flavor.

For less prep time, use precut veggies, prepared minced garlic, and store-bought cilantro seasoning.
This will be one of your family's favorite recipes so be sure to print it and save it in your recipe box.

Make a double batch and freeze some for your next impromptu party dip.

This awesome recipe can be changed for specific likes and dislikes. For example, some people do not like cilantro, and others cannot eat spicy food like jalapeno peppers.
This dip is a good source of calcium, vitamin C, and vitamin A.
Mexican Street Corn Dip
Ingredients
16

ounces

cream cheese

softened to room temperature

1/2

cup

sour cream

1/2

cup

mayo

4

cloves

garlic

minced

2

tablespoons

red hot sauce

2

tablespoons

lime juice

1

cup

shredded pepper jack cheese

1

cup

shredded cheddar cheese

30

ounces

canned corn

fully drained and rinsed - 2 cans

8

ounces

Cojita cheese

crumbled

1

jalapeno pepper

diced

1/4

red onion

chopped

1/2

cup

fresh cilantro

chopped
Garnish:
Cotija cheese

Cilantro

Lime wedges

Corn chips

for dipping
Instructions
Preheat the oven to 350 degrees F.

Add cream cheese, sour cream, mayo, garlic, hot sauce, lime juice, and half of each shredded cheese to a high-speed blender. Blend until fully combined.

Scoop the cream cheese mixture into a large bowl and add half of the remaining cheese, corn, cotija cheese, pepper, onion, and cilantro. Stir to combine.

Transfer the mixture to a baking dish. Sprinkle the remaining cheese on top.

Bake for 15-20 minutes or until the cheese is hot and bubbly.

Garnish more cilantro, crumbled cotija cheese, and hot sauce.

Serve with chips and lime wedges.
Deliciousness to your inbox
Enjoy weekly hand picked recipes and recommendations