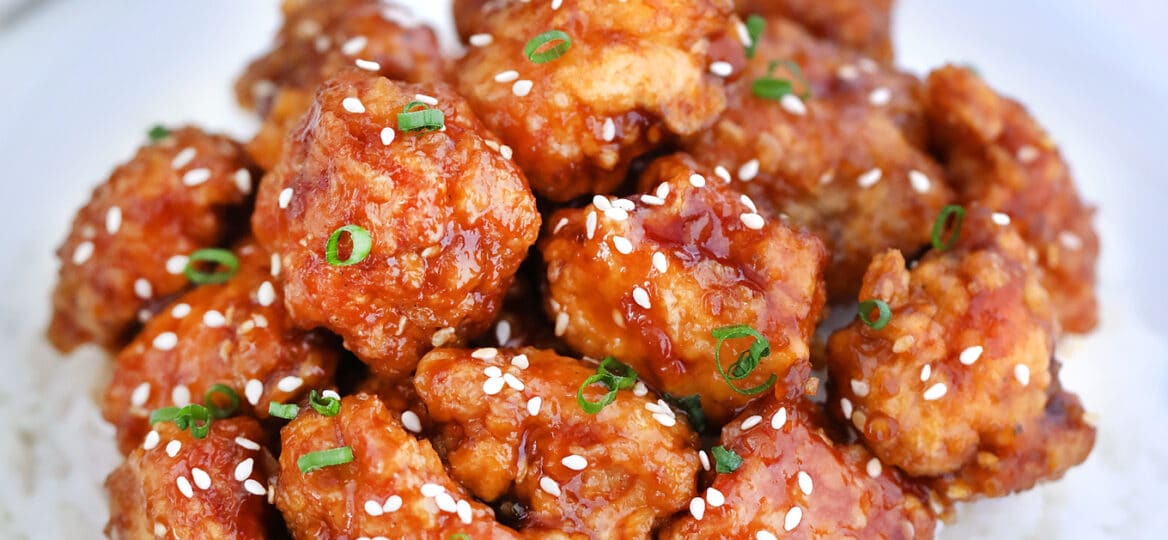 Crispy Honey Sesame Chicken [video]
Honey Sesame Chicken is made with crispy chicken chunks and soaked in the sweet honey-based sauce! This is just one of our many easy chicken recipes for everyday cooking!
Love Chinese takeout food? Make one now by following this recipe, or you can choose from a lot of our other similar recipes like Mongolian Beef, Egg Foo Young, and Sweet and Sour Pork!
Best Crisp Honey Sesame Chicken
Honey Sesame Chicken is something that I prepare when I crave for some Chinese takeout that is not spicy. It is totally enjoyable even with the simplest ingredients without skimping on the flavor! The dish is crispy, crunchy, sweet, and a bit salty, just perfect for weekday dinner.
We always have white meat on hand and that is for a good reason. It is healthful, affordable, easy to cook, and is versatile. Also, you can make a lot of recipes out of it, like this one.
White meat tastes good and tastes even better when cooked Chinese-style! With this recipe, you will no longer have to go to P.F. Chang's or Panda Express!
Serve it over some warm steamed rice and you have your guilty pleasure.
What is Sesame Chicken?
It is fried chicken breast meat in a honey-based sauce that is both sweet and savory. It is highly similar to General Tso Chicken but this one is not as spicy.
Chinese-inspired as it is, it appeals to most Americans even when it is not an authentic Chinese dish. It is sweet and tangy at the same time.
How do you make Honey Sesame Chicken?
Prepare the breading: In a bowl, make the flour mixture by combining flour, cornstarch, salt, and black pepper. In another bowl, beat eggs.
Fry: In a deep frying pan, heat up canola oil. Fry the meat by first dipping into the eggs then into the flour mixture, then, putting in the pan. Then, cook until the chunks are golden brown.
Toss: Make the sauce and toss the cooked meat with it.
Serve: Garnish and serve warm with rice.
What is Sesame Sauce made of:
Just combine the following ingredients in a bowl:
ketchup
rice vinegar
soy sauce
garlic
chili paste
honey
brown sugar
cornstarch
water
sesame oil
sesame seeds
How do you make Baked Honey Sesame Chicken?
Just follow this recipe to cook the crispy chicken chunks and to make the sauce. Then, place them in a baking dish. Cover with the sauce, and then, put in the oven preheated to 325 degrees.
Or, instead of deep-frying, you can bake the white meat. Follow our recipe for oven-baked tenders and it will be perfect with the sauce. Just toss everything together.
Can I Use Chicken Thighs?
Absolutely! I love making this recipe with chicken breasts because it is what I usually have on hand. Also, I tend to go with white meat.
However, making it with thighs is equally delicious. The thighs may need a bit more time to cook if you switch up the meat but it depends on how big the pieces are.
What is the difference between Orange Chicken and Sesame Chicken?
Both dishes sport the same recipe for the breaded crispy white meat. But the sauce for the Orange Chicken has orange juice as the base, no honey, and no sesame oil and seeds.
Is Honey Sesame Chicken bad for you?
It could be, but if eaten in moderation, then, you are all good. This dish is a good protein source and I use the white meat for a leaner portion.
The concern for this dish is that it is deep-fried and that it contains high levels of carbohydrates. For this, you can opt for the baked meat and leave out the breading entirely and lessen the sugars.
How to store leftovers:
Refrigerate: Refrigerate this for 3 to 4 days in an airtight container.
Freeze: You can put this in freezer bags and freeze for up to 4 months.
To reheat: Simply thaw and heat again in the oven.
Make ahead: You can prepare the meat separately and store it separately, too. Then, toss everything together and heat in the oven when needed.
More easy Asian recipes:
Recipe Tips:
Substitute apple cider vinegar to rice vinegar and it will give a nice apple flavor without ruining the taste.
Also, the sauce can be made up to two days before you plan to serve it.
Serve it with vegetables like steamed broccoli, or roasted asparagus for a more balanced meal.
You can use whole, skin-on thighs for this. Just brown each side directly in butter – no need for the breading.
Deliciousness to your inbox
Enjoy weekly hand picked recipes and recommendations