Sweet and Sour Pork Recipe [video]
Sweet and Sour Pork is a popular Chinese takeout made with a sauce of combined sugar, vinegar, and fruit juices. A simple dish that can easily be made at home, and tastes even better than take-out!
If you are a fan of Chinese takeout, try our other recipes like the Moo Goo Gai Pan, Hunan Beef, and Szechuan Chicken.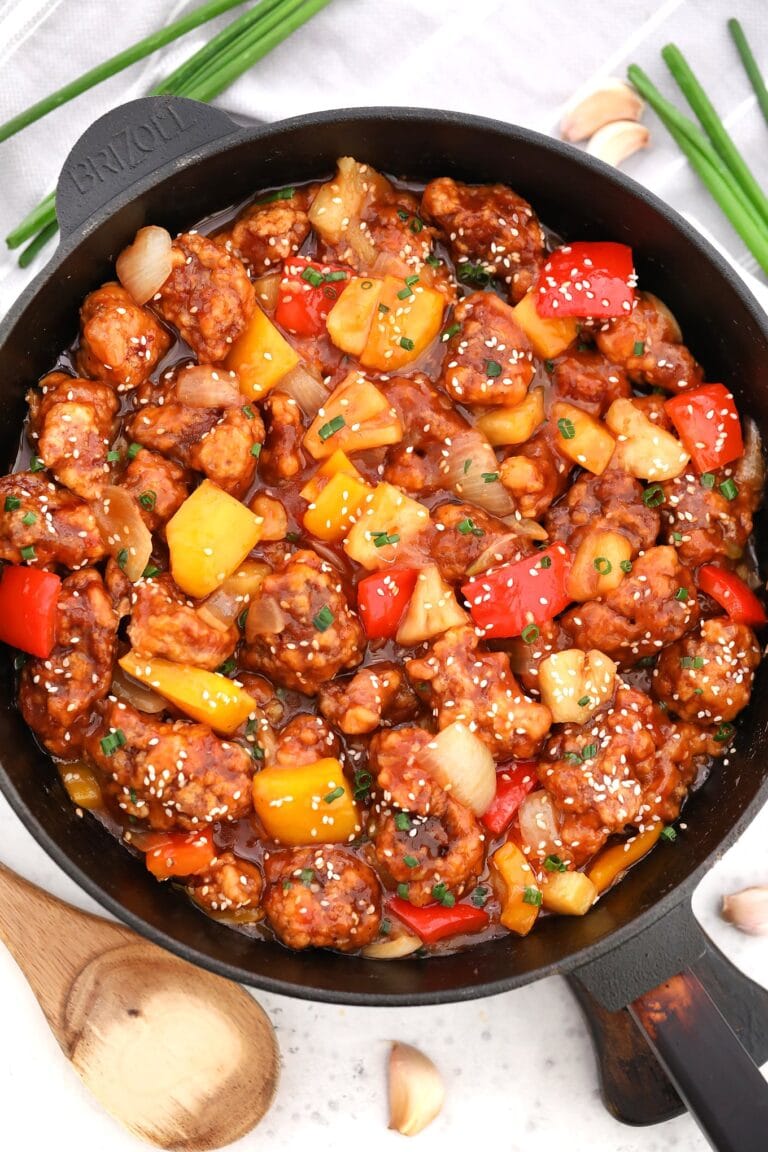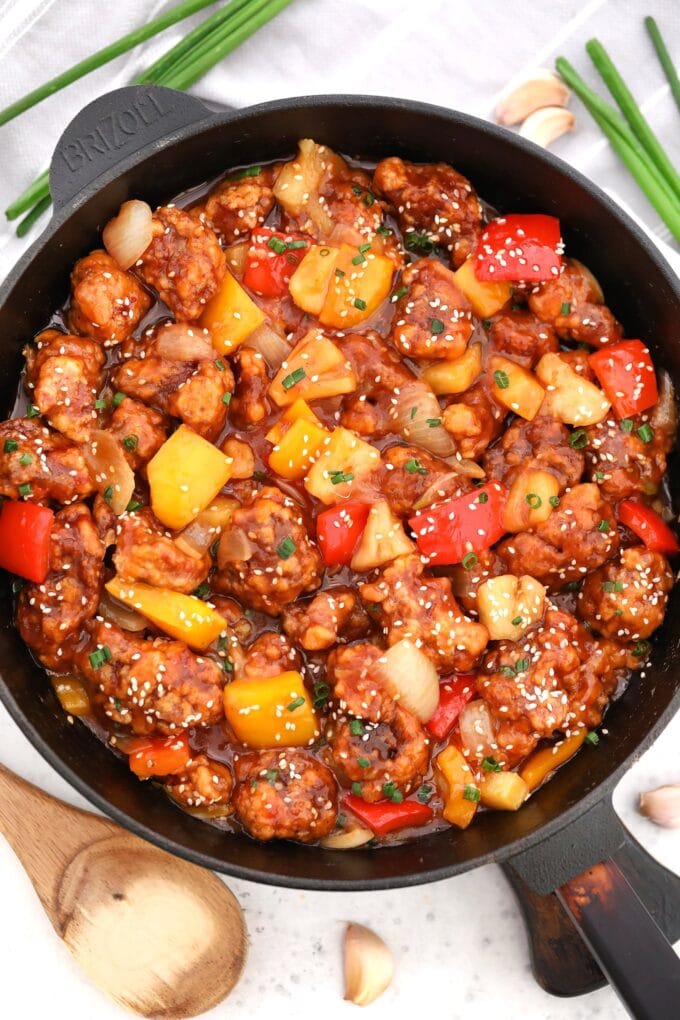 Easy Sweet and Sour Pork
Sweet and Sour Pork is made with chunks of pork that are seasoned, breaded, and perfectly fried. Then, the meat is covered in a flavorful sauce with vegetables. These vegetables add more flavor and savor to the whole dish. In addition, it balances the meat perfectly as it adds a nice taste of tanginess, sweetness, and fruitiness to it.
The meat is perfectly seasoned and complemented with a bunch of vegetables. It pairs well with everything, but we recommend serving it with coconut rice for a complete meal.
With this recipe, you will no longer have to wait in line in Chinese restaurants, or order for delivery. In addition, it is quite cheaper and healthier making it at home on your own. Give it a try, and you will love every single bite of this delicious and colorful dish!
What is Sweet and Sour Pork?
It is a Cantonese-inspired dish that has been adjusted for the American taste. Particularly, it has been commonly prepared with ketchup that is not traditionally Chinese.
In this recipe, bite-sized pork is fried and then, stir-fried together with a red sauce that is both sweet and tangy. The sweetness comes from the sugar, while the tanginess comes from vinegar.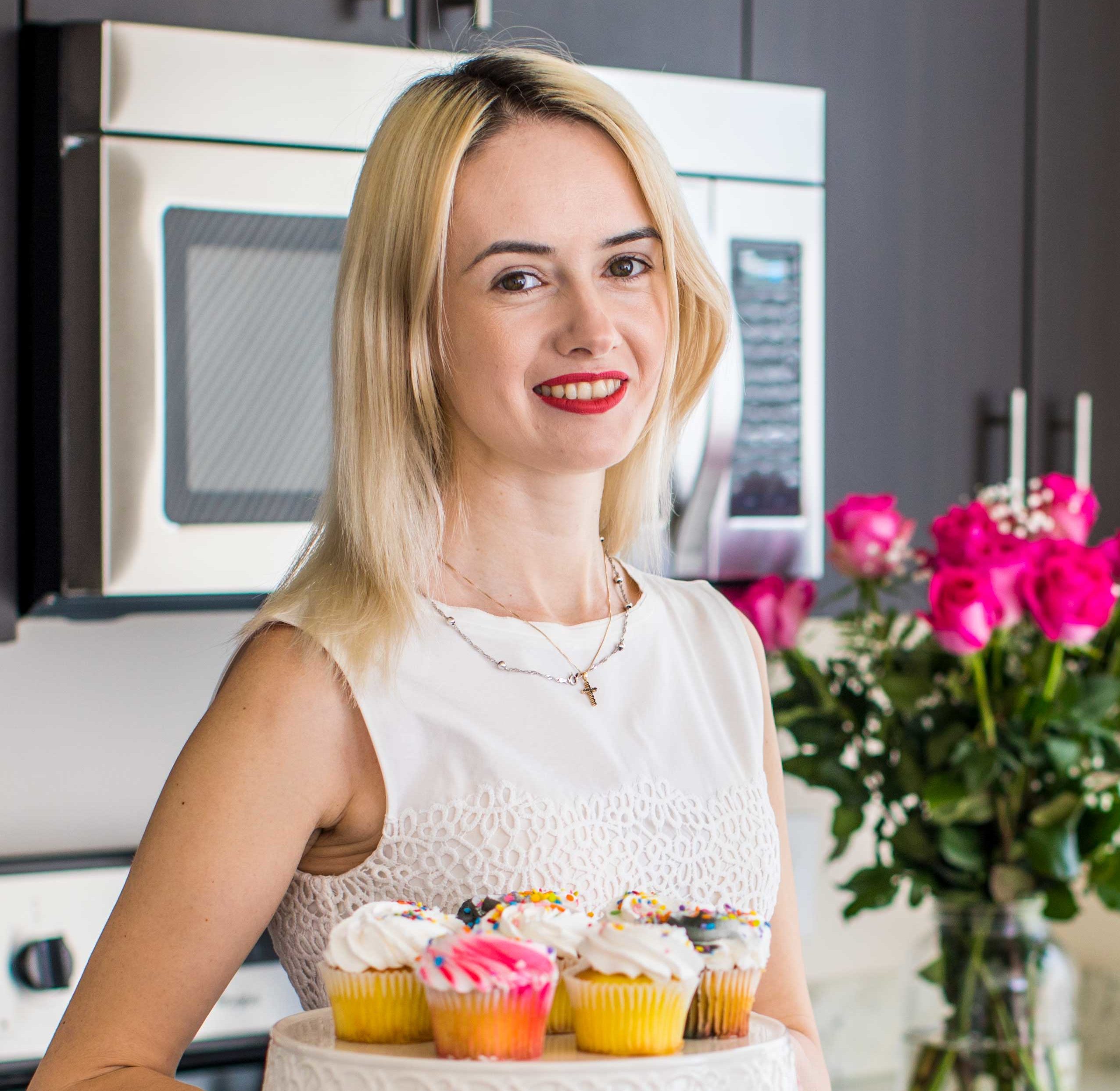 Follow us on Pinterest for more delicious recipes!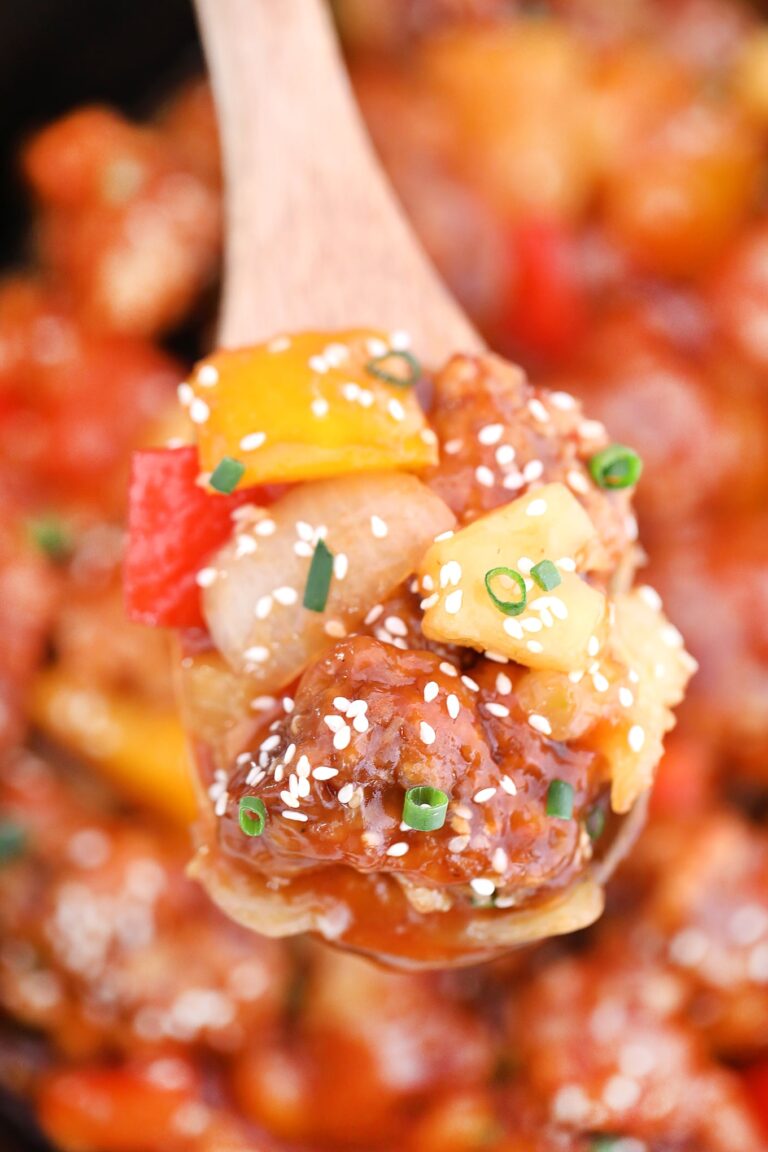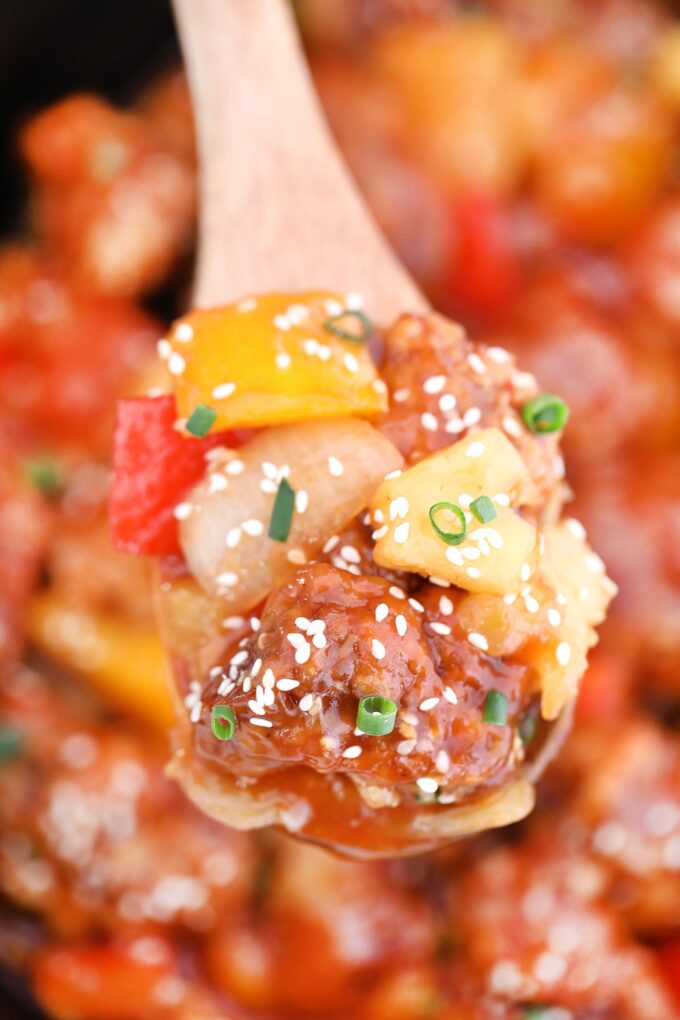 How to make Sweet and Sour Pork?
Prepare the sauce – In a saucepan, mix all the sauce ingredients and whisk until the cornstarch is completely dissolved. Let it boil lightly over medium heat and stir until it is viscous enough to coat the back of a spoon.
Prepare the meat – Heat up two inches of canola oil in a deep-frying pan to medium-high. Make a flour mixture by whisking together flour, salt, and pepper. Beat two eggs and place in a separate bowl. Coat the bite-sized chunks of tenderloin in egg, then, dredge in the flour mixture. Fry the breaded tenderloin until crispy. Work in batches as you go along.
Combine – From the same frying pan that you used to cook the meat, discard most of the oil. Sauté the vegetables and pineapple chunks until tender. Add the sauce and the breaded meat and toss until everything is covered with the sauce.
Serve – Garnish with sesame seeds and green onions and then, serve.
What to serve with Sweet and Sour Pork?
This is perfect with fried or steamed plain Jasmine rice. If you are unsure how to cook the perfect rice, learn how to do it with this instant pot rice recipe. Also, it pairs well with noodles or even soba noodles.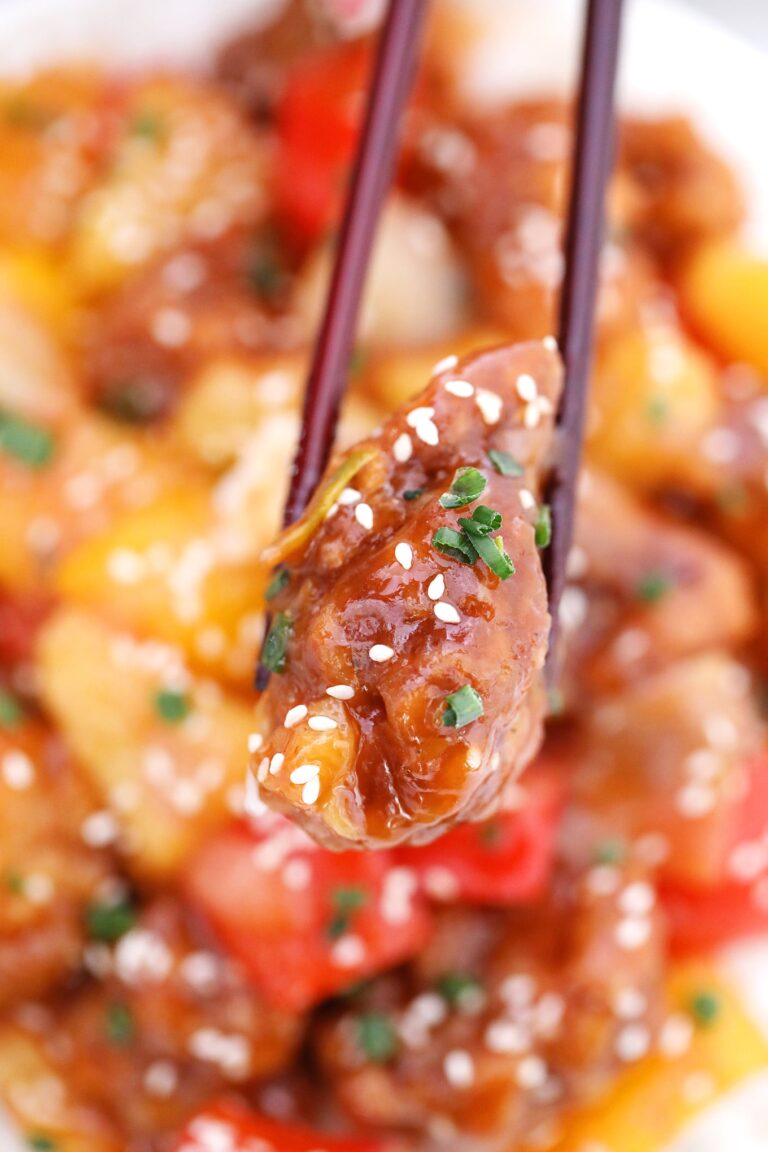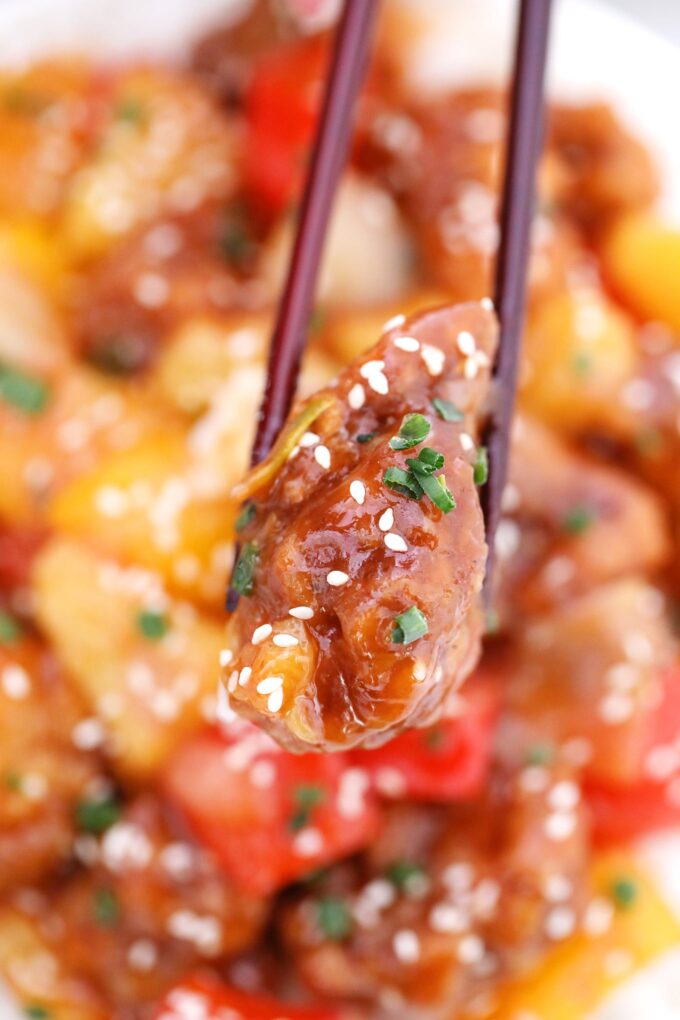 How to make Sweet and Sour Pork Chops?
This recipe works well with chops as well. First, you will have to substitute the chops with tenderloin. Then, season the chops with pepper, and brown each side on a skillet. Once browned, combine them with the sauce. It's that easy!
How to make the meat crispier?
To make the pork crispier, add some cornstarch in the flour mixture. Also, you can skip the eggs in general, and simply coat the seasoned meat with potato starch.
In any case, do not let it cook in the sauce for too long or it will lose the crispness and become soggy.
How to make healthier Sweet and Sour Pork?
By making it at home, you will already end up with a healthier dish. Also, you can skip the batter and deep-frying and just brown your lean tenderloin before mixing with the sauce. Also, you can use fresh pineapples instead of canned ones which usually drown in sugary syrup.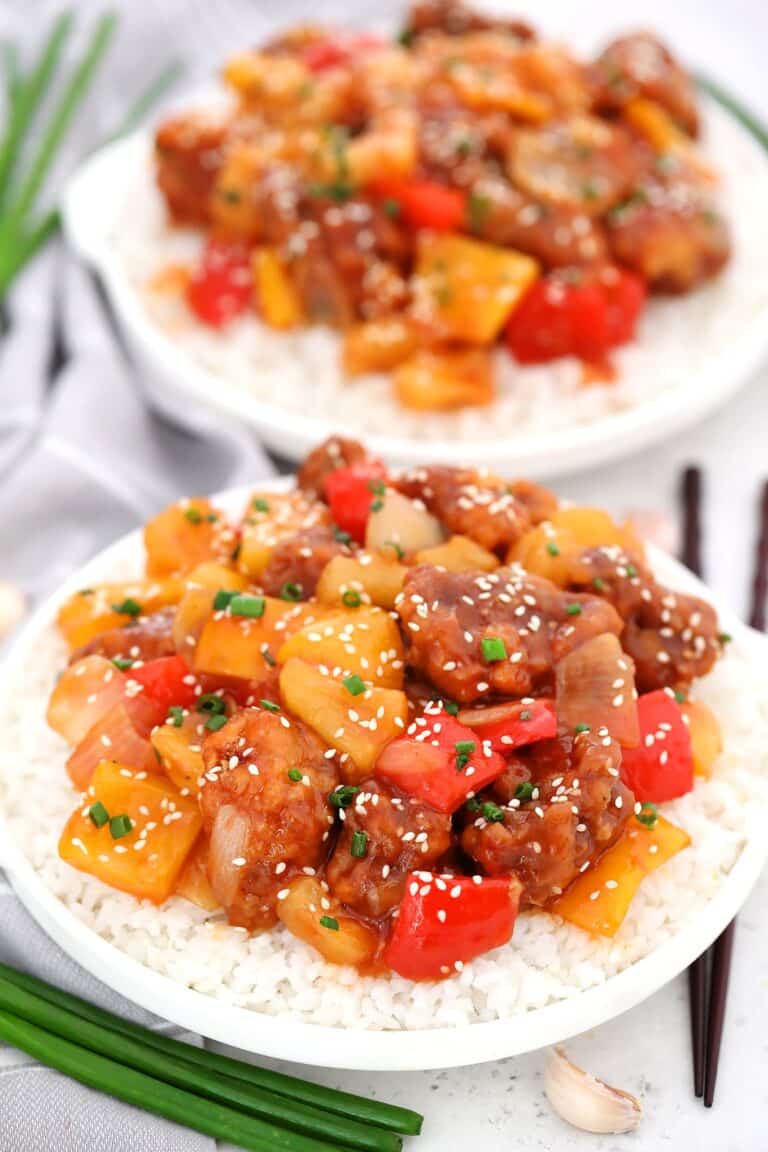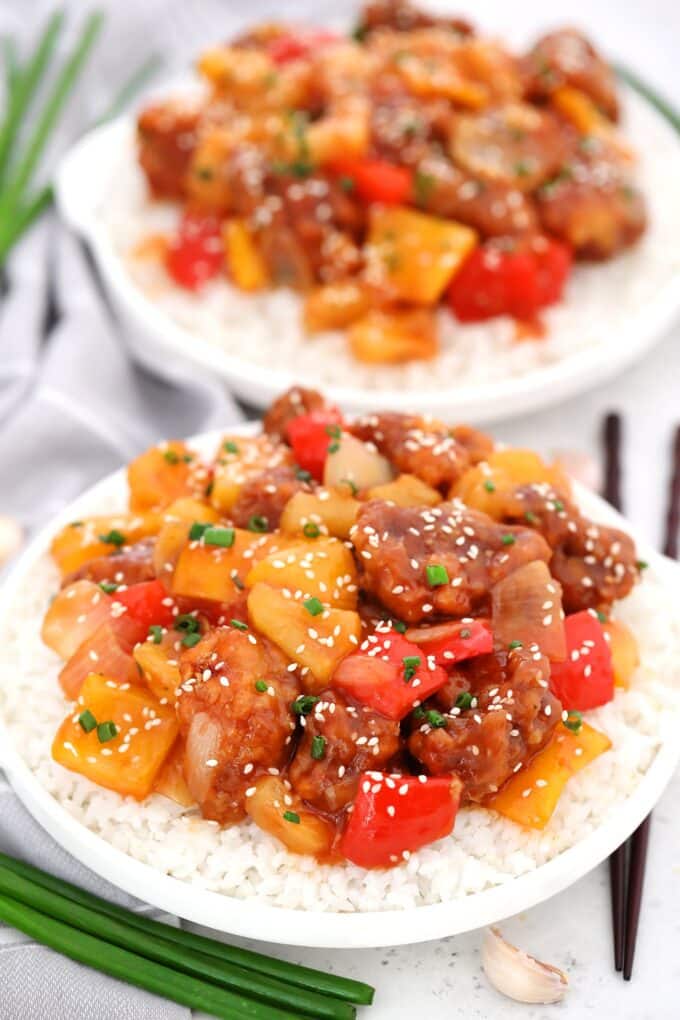 To store leftovers:
Simply put this in an airtight container and refrigerate to keep this for 4 days. In the freezer, it will be okay for even up to 4 months.
When ready to serve, simply bake it in the oven for not more than 10 minutes depending on the amount. The internal temperature of 165 degrees must be reached.
Recipe Tips
Instead of ketchup, you can put tomato paste for a brighter red color and richer flavor. This is totally up to you.
Also, when using canned pineapples, be sure to discard the liquid or else, the sauce will be watery.
You can add some chili sauce for a spicier kick.
Watch Recipe Video:
Save Recipe
Author: Catalina Castravet
Serves: 4 servings
Prep time:

20

minutes
Cook time:

20

minutes
Total time:

40

mins
Ingredients
Sauce:
Garnish:
Instructions
Sauce:
Pork:
Combine:
Calories: 665 Carbohydrates: 109 Protein: 53 Fat: 11 Saturated Fat: 3 Cholesterol: 229 Sodium: 1139 Potassium: 1445 Fiber: 4 Sugar: 59 Vitamin A: 1365 Vitamin C: 89.8 Calcium: 78 Iron: 4.3
Save Recipe
More recipes you might love