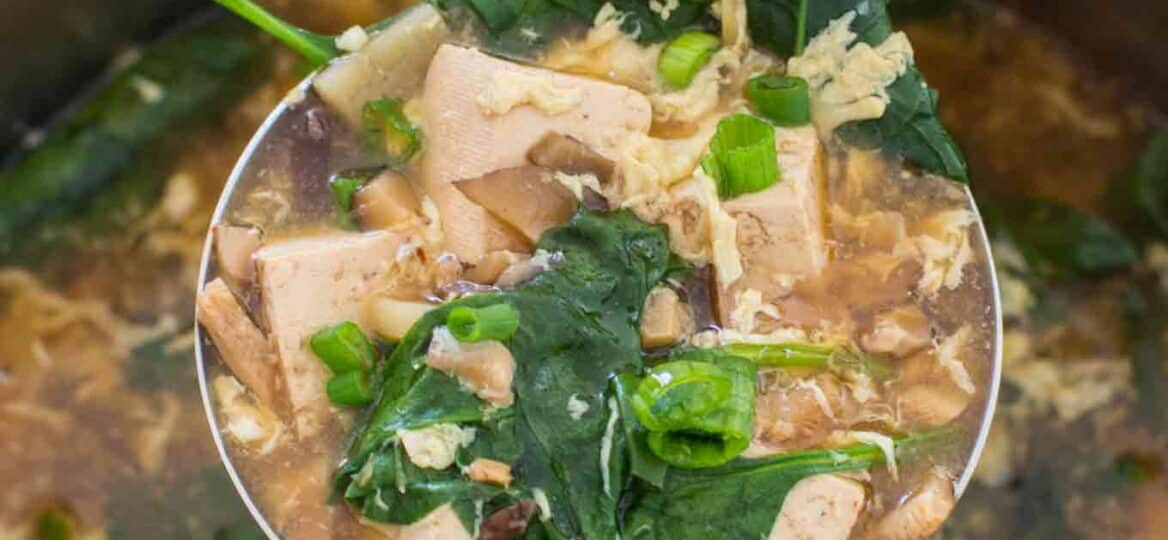 Instant Pot Hot and Sour Soup [VIDEO]
Instant Pot Hot and Sour Soup is delightfully easy to make that will warm your soul with Asian flavors. Healthy, nutritious and incredibly delicious.
Making easy and comfort soups in the Instant Pot is a staple around here, like IP Lasagna Soup, IP Tomato Soup, and IP Baked Potato Soup.
Easy Instant Pot Hot and Sour Soup
Instant Pot Hot and Sour Soup is the perfect soup that will warm up your soul and will make your taste buds extremely happy. The soup may take a long time to make on the stove-top. However, with the Instant Pot on hand, you are literally minutes away from a tasty and soul-warming meal.
I love to order this soup from our local Chinese restaurant, but after making this incredibly easy homemade version, I can't get enough. This soup is like the most authentic take-out hot and sour soup you've ever had, and yet…WAY healthier, quicker and cheaper than a restaurant version.
The beauty of this Instant Pot Hot and Sour Soup is that you add all the ingredients to the instant pot and cook on high pressure for 5 minutes. No dirty dishes, no stirring by the stove-top, just get your favorite magazine and wait for it to cook.
Ingredients needed to make the Instant Pot Hot and Sour Soup
Please see the recipe card for the exact ingredient's measures. Also, I have attached a short step by step video on how to make this recipe. With that said, you will need the following:
How long does Instant Pot Hot and Sour Soup last?
Best to store the soup in the refrigerator for up to 3 days. Also, the vegetables will start to get mushy if it is kept much longer.
How to freeze Instant Pot Hot and Sour Soup?
First, I recommend using quart bags for this soup. Use a cup to transfer the soup from the pot into the bag. Then, squeeze out excess air and seal the bags. The bags can nicely be stored in the freezer for up to 3-4 months.
Also, to thaw the soup, remove it from the freezer the night before serving, or put the sealed soup bag in warm water to thaw it faster.
Heat in a soup pan and simmer for 5-10 minutes.
How many calories are in Hot and Sour Soup?
Apart from being super delicious and flavorful, this dish is on the lighter side. A serving contains about 140 calories. Or, if you want to enjoy a big bowl of spicy-tangy-savory-hearty deliciousness, go ahead, it has about 215 calories.
There are not many Chinese takeout favorites that are this healthy and with so little calories! So enjoy it as much as you can!
Looking for other delicious Instant Pot/Pressure Cooker soups?
If you are looking for some amazing soups to warm up your soul during colder days, check some of our favorites from the list below:
What is a 10 Minutes Natural Pressure Release
A Natural Pressure Release means that the pressure is released gradually. For a Natural Pressure Release, you click on Keep Warm, and wait 10 minutes, after which you open the valve and let any leftover pressure to release.
Another option is to Turn Off/Unplug the pressure cooker, wait 10 minutes and after that open the valve.
A natural release is usually used when cooking soups, meat in a large amount of sauce, pasta or steel-cut oats.
This method prevents any foam from the dish to shoot out through the valve, which can happen during a Quick Pressure Release.
Deliciousness to your inbox
Enjoy weekly hand picked recipes and recommendations