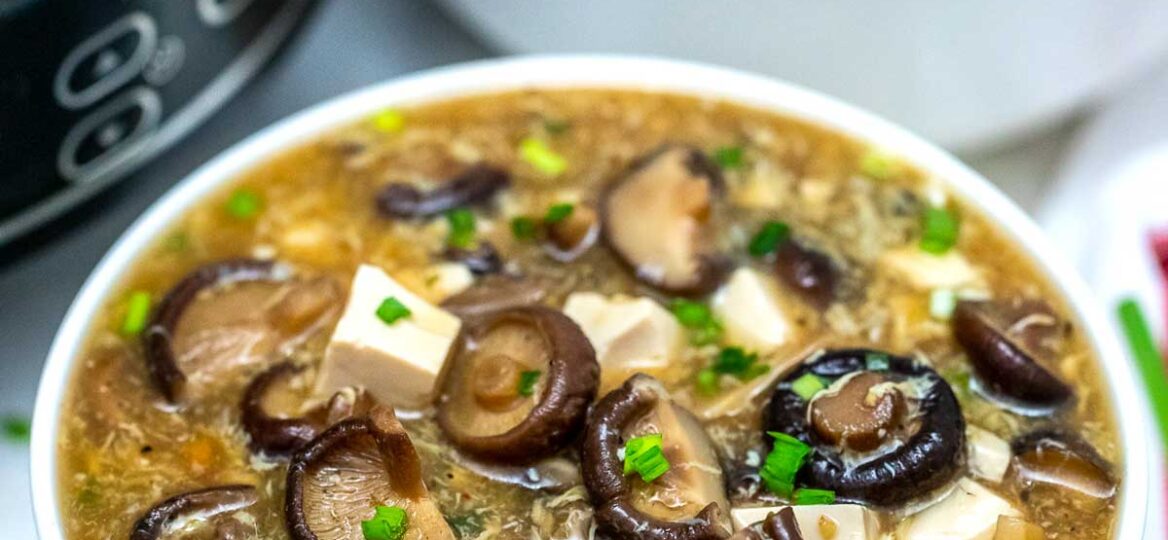 Slow Cooker Hot and Sour Soup
Slow Cooker Hot and Sour Soup is the perfect dish to serve this Chinese New Year! It is hearty, healthy, and easy to prepare, especially for a huge crowd!
The Chinese will celebrate their calendar's turn of the new decade in a few days. And it just reminded me of this delicious soup! It is a nice dish that I like having along with Shrimp Fried Rice, Instant Pot Garlic Sesame Chicken, and Sweet and Sour Pork.
Crockpot Hot and Sour Soup
Preparing Slow Cooker Hot and Sour Soup is easy peasy! The hardest thing about it is stopping yourself from opening the crockpot through the hours of cooking. Leading to dinner, the house smelled amazing as this dish was simmering steadily in the pot.
The name gives it away – it is spicy and perfectly sour at the same time. There are a lot of Chinese dishes out there, but the combination of the flavors in this dish is so appetizing.
As it jumpstarts your meal, prepare to be comforted by the warmth brought about by sipping the tasty broth. Another bonus is that you can set it in the crockpot, and you can forget about it for a while. Just try to avoid the temptation of eating it right away!
It is packed with healthy ingredients and making this at home makes it even healthier. You get to avoid high-sodium ingredients, add or omit ingredients, and it can even be vegetarian.
With its rich umami flavor, no wonder, Have it any day, Chinese New Year or not!
How to make Slow Cooker Hot and Sour Soup
Combine: Add all the ingredients to the crockpot except for the cornstarch slurry and egg.
Cook: Set the crockpot to cook on low for 6 to 8 hours or on high for 3 to 4 hours. If you are feeling impatient and tempted to taste it, go with the high setting.
Thicken: Towards the end of the cooking, you may open and lid and stir in the slurry of cornstarch. Then, you may also drop the egg and stir to form the ribbons.
Serve: Garnish and serve while still warm.
Is Hot and Sour Soup healthy?
Yes! A lot of Chinese food is characterized by the liberal use of oil in stir-fries or whatnot, but not this one. A cup only has about 90 calories which are a steal!
For a hearty soup, you get to feel fuller for longer without worrying about the calories. This is because the ingredients are mostly constituted with vegetables and nutrient-dense ones.
Peppers are also a natural decongestant so if you are looking to clear your sinuses, this is a great dish that will give you instant comfort.
It is also protein-rich with little carbs, but the downside is that it is quite high in sodium. But unless you will be having this all day every day, then, it is still okay. Just keep it in check and use low-sodium broth and soy sauce.
Can I make it on the stovetop?
Sure! It is comparably easy to prepare using the stovetop recipe as well, so you can check that post out.
How to Store it :
Refrigerate: Place Crockpot Hot and Sour Soup in an airtight container and store in the fridge for up to 3 days.
Freeze: Put single portions of it in freezer bags with the air squeezed out. Reheat on the stove after thawing overnight in the fridge.
More delicious soup recipes:
Recipe Tips:
As a rule of thumb, you must allow it to cool completely before storing for food safety purposes. Also, when freezing it, make sure to allow some headspace as this is liquid and will expand as it freezes.
When using firm tofu, make sure to squeeze out any excess moisture. You can do this by wrapping it in absorbent material and putting weight on it for a few minutes.
If you will be using a soft kind of tofu, add it later towards the end of the cooking as it may get mushy.