Creamy Butternut Squash Soup [Video]
Easy Butternut Squash Soup is rich, creamy, full of flavor and satisfying! Make it from scratch right in your kitchen with this easy recipe! Watch the recipe video below and see how easy and festive this dish is!
It is almost Thanksgiving and soups like this are always welcome! The chilly weather makes me crave for it and other fall dishes like the Pumpkin Cheesecake, Crockpot Stuffing, and Blueberry French Toast Casserole.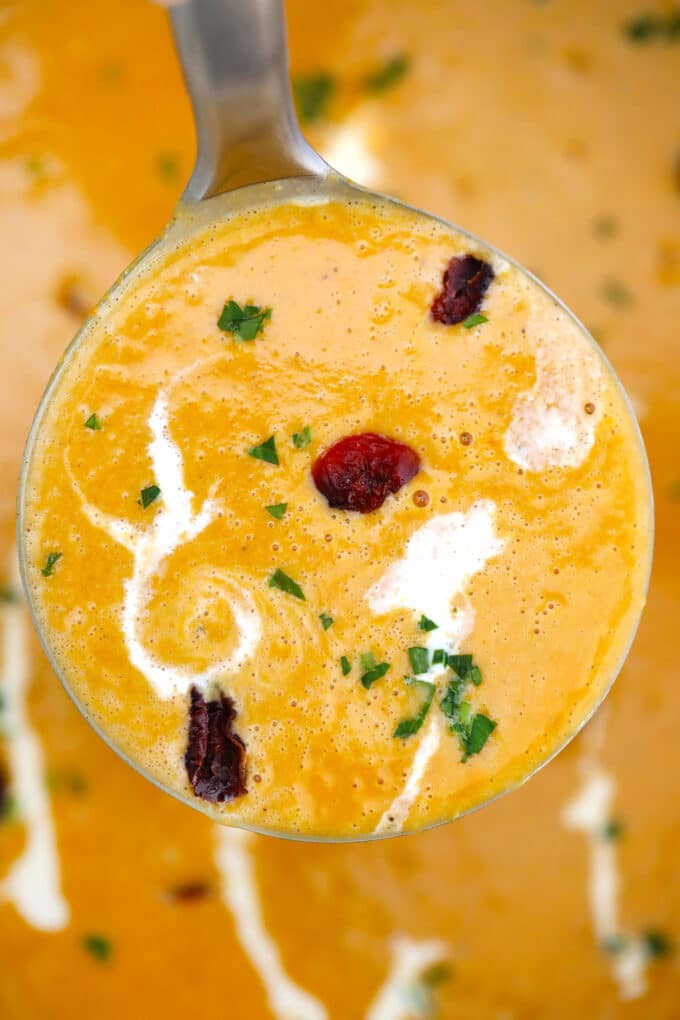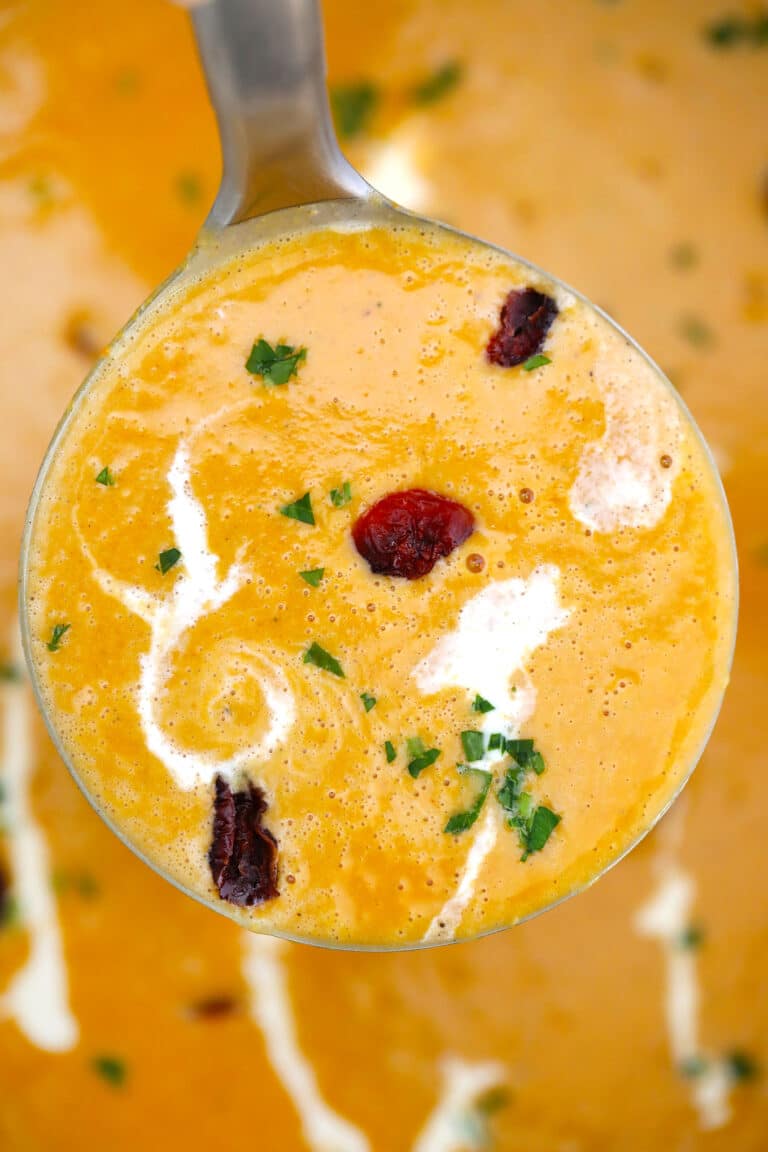 Butternut Squash Soup Recipe
Butternut Squash Soup may seem simple, but the flavors are complex when you taste it. The caramelization of the squash adds depth and the spices make it richer.
The fruit itself is creamy but it is made creamier with the addition of heavy cream. The aromatics make it savory and the toppings add a welcome texture contrast.
The fact that it is homemade makes it seasoned to your preference. You can customize the toppings and add more spices if you want.
And you know everything that goes into it and you can control everything. Ah, the beauty of home-cooking! So, what are you waiting for? Let's get started!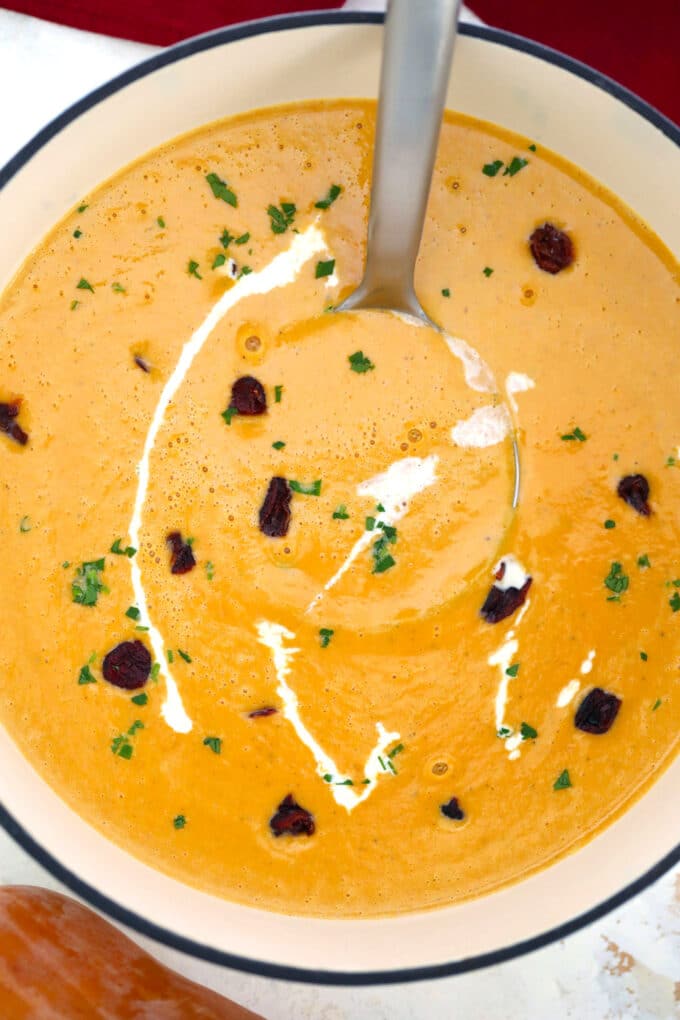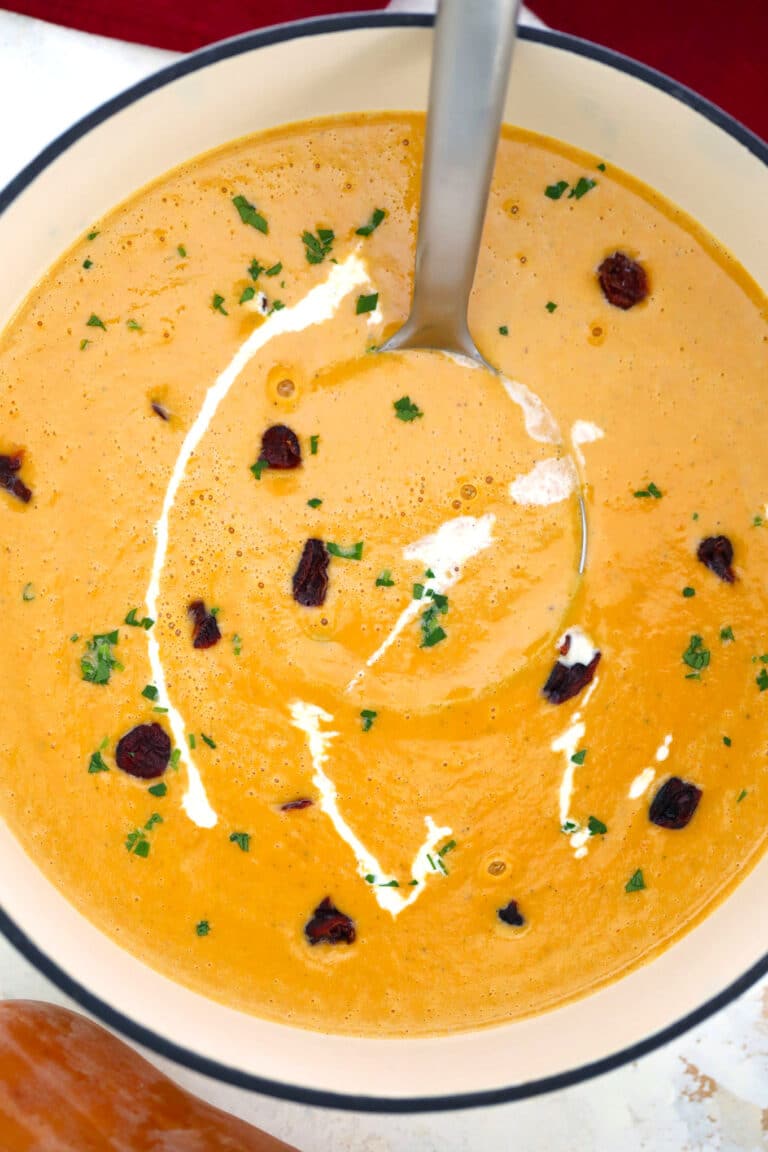 Do you peel butternut squash before making soup?
Yes and no. If you do not want to peel it, then, you can roast it using the same method that I employed in this roasted spaghetti squash recipe. You just have to halve it and cook it directly, so it is much simpler to do. Besides, the skin is rich in nutrients.
But I highly suggest that you do. To make this soup even more amazing you can use roasted butternut squash. Peeling and cutting the fruit into small cubes, arranging them in the baking sheet, and cooking them in the oven may take some time and a lot of effort.
But trust me that it will all pay off in this recipe because the goal is to maximize the surface area that will caramelize. And caramelization as you know it imparts flavor.
How do you make butternut squash soup?
Sauté: In a pot, sauté the aromatics in olive oil. This will take around 5 minutes.
Simmer: Add in the peanut butter, then, add the raw or roasted squash, salt, and broth. Stir everything and allow to boil. Reduce to a steady simmer.
Season: Add the seasonings and the dairy.
Smoothen: Then, using a heat-resistant blender, transfer the soup carefully, and blend until smooth. Once done, put the soup back to the pot to warm up further and season some more if needed.
Serve: Put the toppings, then, serve warm.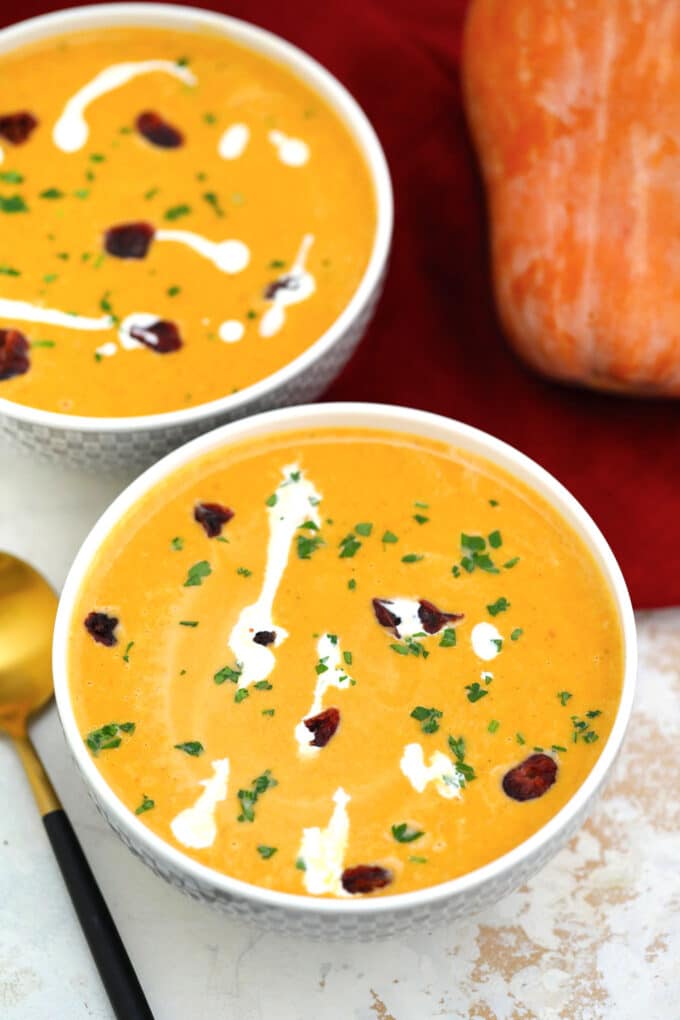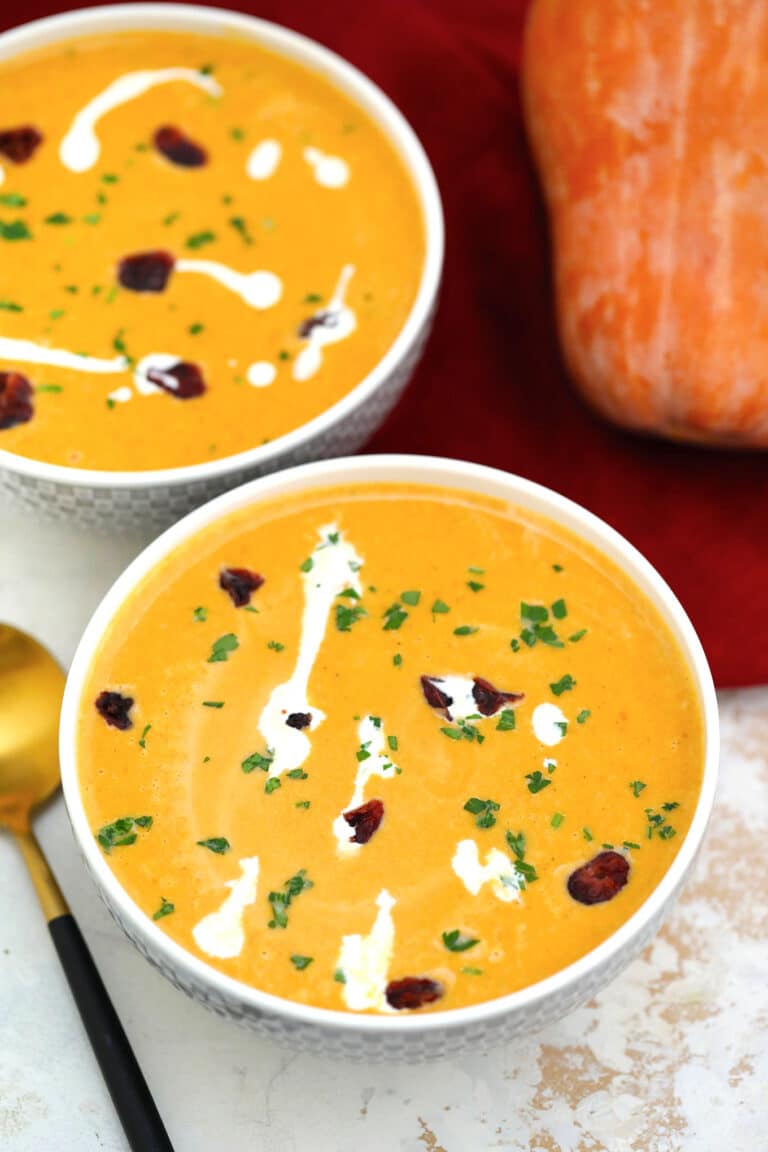 What goes with squash soup?
I like having this with a salad or a good sandwich. Look no further and refer to the following for quick suggestions:
Topping Suggestions:
In this recipe, I used dried cranberries, cilantro, and a drizzle of cream. You can change it up and here are some suggestions:
Cheese: parmesan, goat cheese, or feta
Croutons
Toasted pumpkin seeds
Red chili
Shallot crisps
Chips
Can you make it in advance?
Sure! As you refrigerate it to serve the next day, it may taste even better as the flavors had time to incorporate. You can also roast first, store in the fridge, then, cook the next day.
Or, simply cook everything and refrigerate for up to 5 days. Remember to allow it to cool completely before storing it.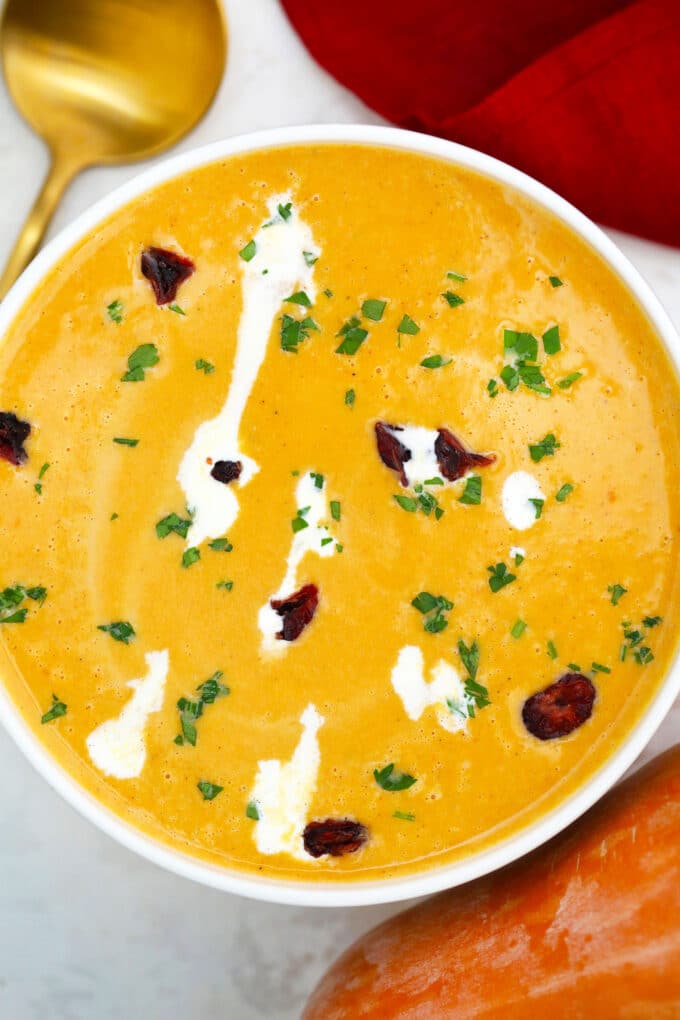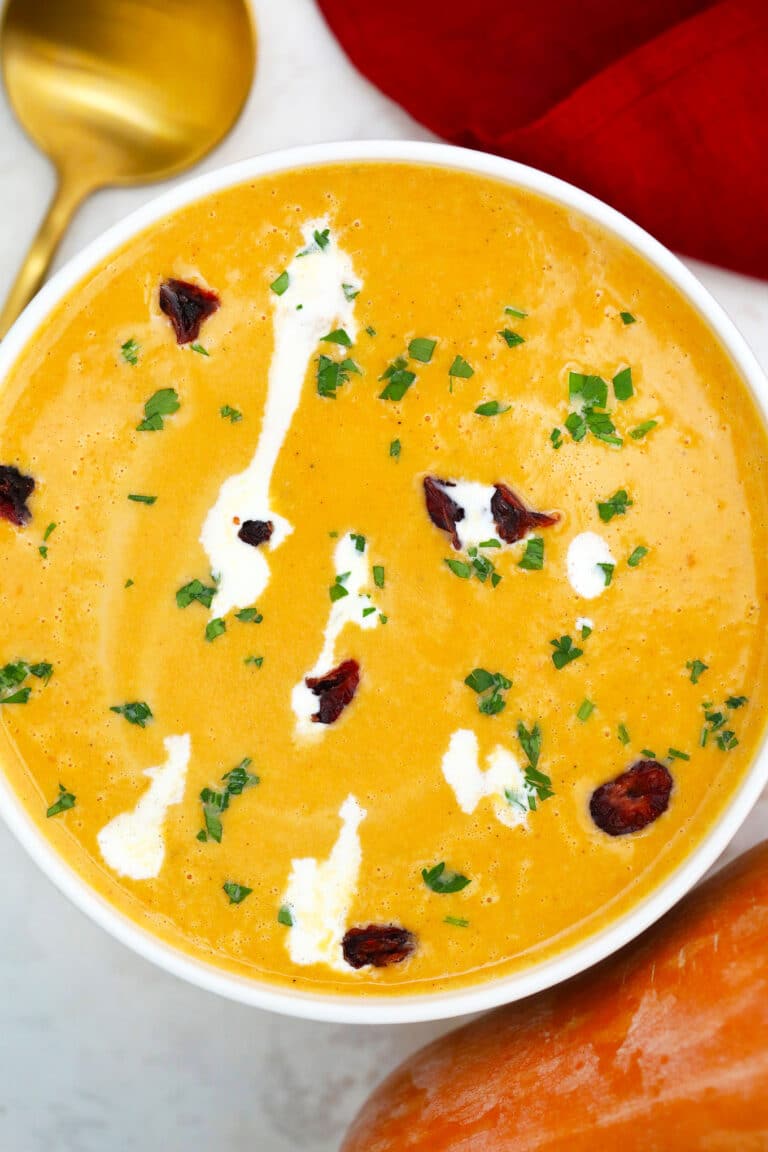 How to Freeze Butternut Squash Soup:
Yes! Let it cool completely then, freeze it in freezer bags with enough headspace to allow expansion of the liquid.
Note though that dairy tends to separate. So, freeze it before adding the dairy. Add the dairy when you reheat it on the stove.
Thaw it first overnight before reheating. Consume it within 3 months.
Recipe Tips:
Be careful when transferring it to the blender and do it in small batches and at a low setting.
Add celery or apple for flavor, or potato to make it creamy even without the cream.
If you want it buttery, you may opt for butter instead of olive oil.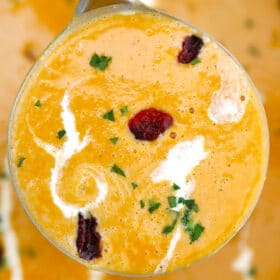 Creamy Butternut Squash Soup
Easy Butternut Squash Soup is rich, creamy, full of flavor and satisfying! Make it from scratch right in your kitchen with this easy recipe!
Save
Share
Print
Pin
Rate
Ingredients
Soup:
2

tablespoons

olive oil

1

sweet onion

(diced)

2

cloves

garlic

(minced)

1

tablespoon

fresh ginger

(grated)

1/4

cup

peanut butter

4

cups

low-sodium vegetable broth

(plus more if needed)

1

cup

heavy cream

6

cups

diced butternut squash

(raw or roasted)

1/2

teaspoon

sea salt

(plus more to taste)

1/4

teaspoon

ground nutmeg

1/3

teaspoon

ground cinnamon

Freshly ground black pepper
Toppings:
Chopped fresh cilantro

Dried cranberries

Drizzle of cream
Instructions
Peel and dice the butternut squash, measure and set aside. If you have time, you can mix it with two tablespoons of olive oil, some salt, and pepper and roast it at 400 degrees F for about 30 minutes. This step will add extra flavor.

In a large pot over medium heat, add the olive oil. Add the onion, garlic, and ginger and sauté for 5 to 6 minutes, until the onion is translucent.

Stir in the peanut butter for about 30 seconds.

Add the cubed squash, salt, and remaining vegetable broth. Stir well until combined.

Bring the soup to a low boil over medium-high heat and then reduce the heat to medium-low. Cover and simmer for 15 to 20 minutes, until the pumpkin is fork-tender.

Add cinnamon, nutmeg, black pepper. Taste and adjust.

Add the cream and stir to combine.

Using a ladle, transfer the soup carefully into a blender, make sure the blender is heat resistant. If needed, do this in batches, careful not to overfill the blender. Blend on LOW speed until completely smooth. You can also use an immersion blender, to blend the soup directly in the pot.

Add the soup back to the pot, taste and adjust for salt and black pepper. If needed, thin out the soup with a bit more broth.

Serve the soup topped with cilantro, dried cranberries and a drizzle of heavy cream.
Video
Nutrition
Calories:
222
kcal
|
Carbohydrates:
27
g
|
Protein:
6
g
|
Fat:
12
g
|
Saturated Fat:
3
g
|
Cholesterol:
4
mg
|
Sodium:
898
mg
|
Potassium:
682
mg
|
Fiber:
4
g
|
Sugar:
10
g
|
Vitamin A:
15282
IU
|
Vitamin C:
32
mg
|
Calcium:
129
mg
|
Iron:
1
mg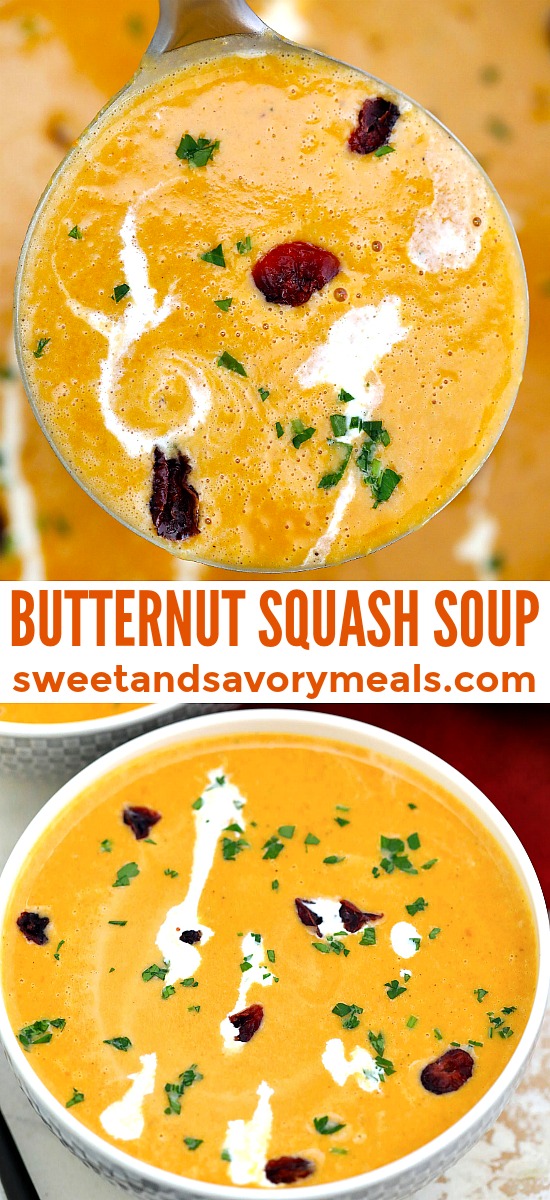 More recipes you might love