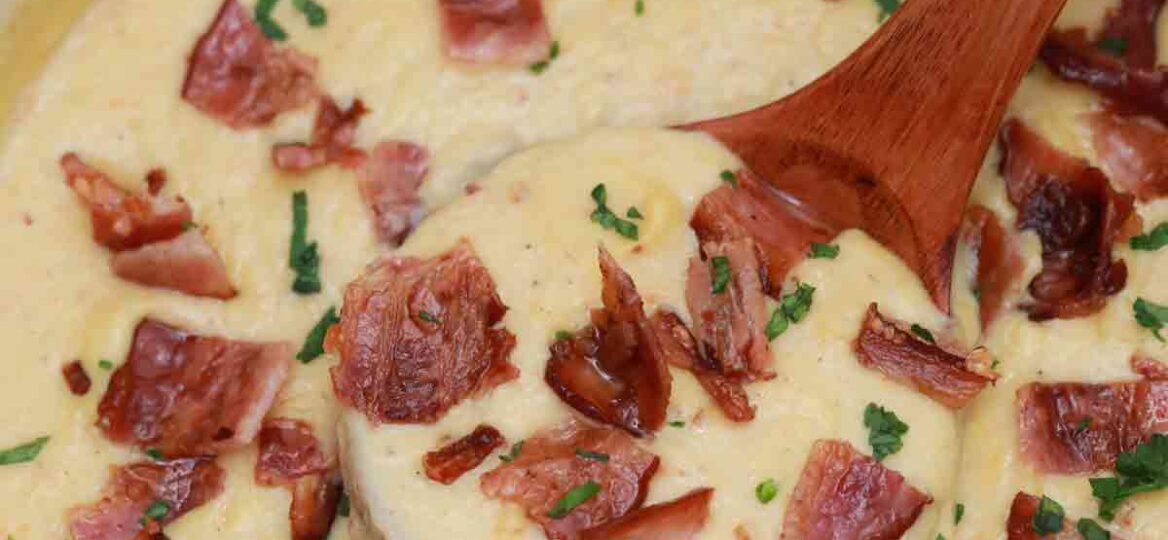 Potato and Cabbage Soup is a rich and hearty combo of creamy potato puree with tender cabbage and lots of crispy bacon on top. So tasty and comforting, you'll find yourself making this year-round.
For a delicious twist, try serving these in fresh-baked bread bowls! You'll also love them with these super fluffy 30-Minute Dinner Rolls or cheesy and savory Olive Bread.
Cabbage Soup Recipe
Potato and Cabbage Soup is made with the simplest pantry ingredients, but it's easily one of our all-time favorite soups. It's perfectly creamy and rich without being too heavy because we puree the soft and flavorful potatoes instead of thickening the dish with just cream. Each bite has tender cabbage and crispy bacon which makes it so hearty.
While this is perfect for cool autumn days and all throughout the winter, it has become a part of our regular menu. Prepare to fall in love with this amazing soup!
Is potato and cabbage soup healthy?
Very. While it's not low carb, the carbs it does have (from the potatoes) are complex ones. This means they will make you feel full for longer, so you can avoid overeating the rest of the day. This dish is also very high in fiber and nutrients thanks to the veggies!
How to core cabbage?
Chop the head in half. Slice a V or triangle shape on either side of the stem to cut it off. You can also chop the head into wedges first, then just slice off the stem at an angle.
Potato and cabbage soup ingredients:
Potatoes: Peeled and cubed into small pieces.
Cabbage: About a quarter of a head, chopped.
Aromatics: Minced fresh garlic and chopped onions.
Vegetables: Chopped stick of celery and chopped carrots.
Olive oil: For sautéing, plus a little more to serve.
Stock: You can use veggie or chicken stock.
Bacon: About 12 strips.
How to make potato and cabbage soup?
Sauté. Stir-fry the onions until a little caramelized and soft. Add the garlic plus carrots and celery, then continue sautéing for 3 mins. Add your cubed spuds and cook over a hard simmer until just beginning to soften. Bring this to a boil after adding your stock and half and half. Continue simmering until everything is fall-apart tender.
Fry. Crisp up the bacon, then slice them into crisp.
Puree. Whisk the creamy potato mixture until smooth.

Add the cabbage. Return the puree into the pan, and stir the cabbage through. Cook for a few mins until the cabbage is as tender as you like.
Serve. Ladle into bowls, drizzle with olive oil, and sprinkle with the crispy bacon strips on top. Enjoy hot.
Recipe variations and substitutions:
Add leeks: Roughly chop the light and green sections of about 4 large leeks, and sauté along with the aromatics.
Include beans: We love this with some white beans! Use the cooked ones in the tin, or make the beans from scratch. You can puree it along with the spuds or stir through after pureeing for a chunkier consistency.
Add meat: For a heartier dish, add some browned and sliced smoke sausages or diced ham. It's also delicious with chopped chicken breast.
Flavor with herbs: You can also add dried Italian herbs, bay leaves, parsley, or oregano for a warm, herb flavor.
Include more veggies: Stir in some kale or spinach at the end! You can also include mushrooms, corn kernels, beans, broccoli, and other vegetables.
Lighter version: Use turkey bacon and skim milk.
Sweet and savory: Replace half the spuds with sweet potatoes.
How do you thicken the cabbage soup recipe?
Our main method of thickening this soup is to puree the potato soup. The starch in the spuds plus the cream creates a thick and luscious consistency.
You can also simmer down the liquid until it's as thick as you like. Or if it's still too runny, mix in some cornstarch or flour slurry and simmer until it thickens up.
Can you freeze it?
Yes, because it reheats beautifully. Divide the leftovers into single-serve portions, and transfer them into individual baggies or containers. Freeze for up to 2 months. To reheat, take however many servings you need. You can heat these up in the microwave, or warm-up on the skillet with a little more stock or water to loosen it up.
More cabbage recipes to try:
Recipe tips:
For a chunkier soup, leave a few bits of potatoes whole.
Cube the potatoes really small, so they become tender faster.
Instead of half and half, you can also use double cream or full-fat milk.

Use floury or starchy spuds like Idaho, Russets, and Yukon Gold.
Deliciousness to your inbox
Enjoy weekly hand picked recipes and recommendations