Apple Cider Braised Cabbage [Video]
Apple Cider Braised Cabbage is caramelized then simmered in a tangy apple cider sauce with butter, bacon, and onions. An easy adaptable low-carb meal that's packed with flavor!
This veggie dish is an excellent addition to any keto menu! For more low-carb meal ideas, add these Italian Chicken Skewers, Brussels Sprouts with Bacon, and Blackened Chicken to your keto or low-carb meal plan.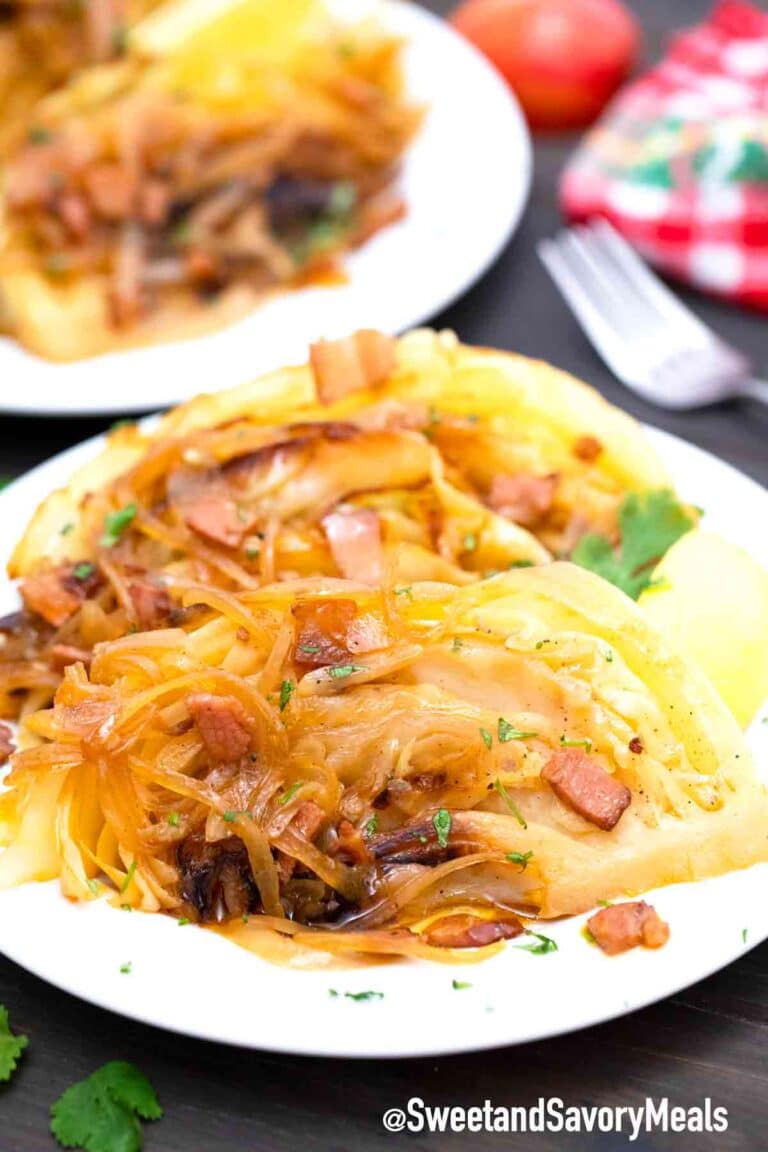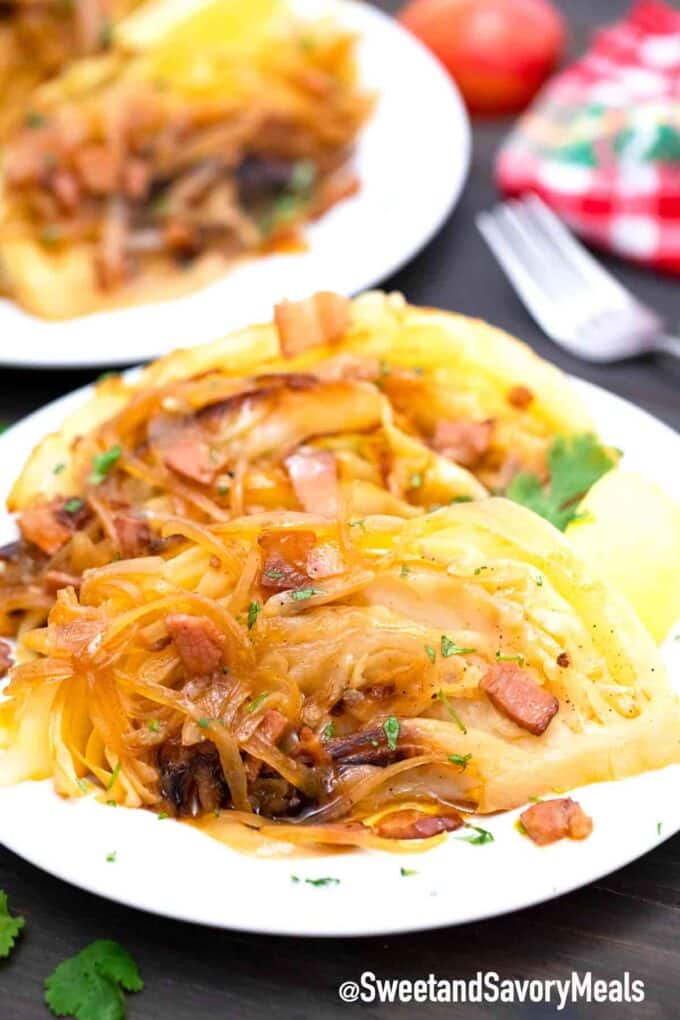 Braised Cabbage Recipe
Apple Cider Braised Cabbage is a fast and delicious side that really highlights this underrated vegetable. The wedges are braised in a tangy apple cider vinegar sauce, flavored with bacon, aromatics, spices, and a touch of brown sugar. The swirl of butter at the end turns the braising liquid into a rich but light sauce.
Aside from being easy and delicious, it's also a very versatile dish. You can serve it as a side to most entrees or eat it as a low-carb main. I love turning it into hearty rice bowls along with Asian dishes like Firecracker Chicken and Crispy Honey Shrimp. Have fun matching it with your favorite dishes!
What is braised cabbage?
It is cabbage wedges seared until slightly caramelized, then slow-simmered in a braising liquid such as broth, water, wine, or in the case of this recipe, seasoned apple cider vinegar.
During the cooking process, all the spices and seasonings in that braising liquid get infused into the wedges while tenderizing them. It's the same method used to make the best pot roasts and carnitas!
Is cabbage healthy?
Yes! It's one of the healthiest foods you can add to your daily meals. For one, it has a ton of fiber that can improve digestion. It's also loaded with vitamins and minerals. This vegetable has also been linked to a healthier heart, clearer skin, lower blood pressure and cholesterol, and reduced inflammation.
On top of that, it's also excellent for weight loss because it's filling but low in calories and carbs. In fact, it's one of the ingredients in my popular Instant Pot Weight Loss Soup!
How to make Apple Cider Braised Cabbage?
Sear the wedges. Brown the wedges, cut side down, in hot oil. Set aside.
Make the braising liquid. Sauté the bacon until it renders fat, then brown the onion in the grease. Add the garlic and the rest of the spices and seasonings, followed by the apple cider vinegar. Reduce in half before adding the cider.
Cook. Arrange the veggies on top of the reduced cider liquid, the cover. Braise for about 20 mins until tender. Transfer the wedges to a plate and keep warm with foil.
Finish the sauce. Continue boiling the leftover liquid until thick, then melt the butter into the sauce.

Serve. Plate up the wedges with sauce on top. Enjoy hot!
Recipe Variations:
Use red cabbage: For a burst of color, use red instead of green for the dish.

Add nuts: Crunchy walnuts add a nice layer of texture to the tender veggies.
Include apple slices: Infuse the dish with more apple flavor by braising thin apple slices along with the veggies. You can also use thinly-sliced pears.

Add cheese: Crumble some blue cheese on top.
Include more vegetables: Braise the wedges along with some thin slices of carrots and broccoli.
Make it Low-Carb: for this make sure you skip the brown sugar, or use a brown sugar substitute and also sugar-free apple cider!
What goes with Apple Cider Braised Cabbage?
You can serve it with a huge array of entrees, from seafood to all types of meat! Enjoy it as a side to Maple Soy Grilled Salmon, Grilled Pork Skewers, Balsamic Chicken, and Crispy Baked Chicken Legs. You can also turn it into a simple bowl meal by spooning it over rice, then adding some shredded rotisserie chicken or sliced sausages on top.
How to store Apple Cider Braised Cabbage?
If you have leftovers, make sure they've completely cooled down before you transfer them to a baggie or an air-tight container. This will keep well in the fridge for up to 3 days.
You can also freeze the dish for longer storage. Again, cool down the leftovers first before transferring them to a freezer bag. Once frozen, you can store it for up to a month.
To reheat, microwave until hot. You can also slow-thaw it in the fridge for a few hours, then heat it up in a skillet with a splash of water to loosen it up.
More Homemade Cabbage Recipes to Try:
Recipe Tips:
When chopping up the wedges, don't take out the core. Without the stem, the wedges will fall apart.
You can use red cabbage instead of green for a more colorful side dish.
Don't have apple cider vinegar? White wine or lemon juice will do in a pinch.
Save Recipe
Apple Cider Braised Cabbage
Apple Cider Braised Cabbage is caramelized then simmered in a tangy apple cider sauce with butter, bacon, and onions.
Author: Catalina Castravet
Serves: 6 servings
Prep time:

20

minutes
Cook time:

1

hour
Total time:

1

hr

20

mins
Nutrition information
Calories: 255 Carbohydrates: 22 Protein: 4 Fat: 17 Saturated Fat: 6 Trans Fat: 1 Cholesterol: 23 Sodium: 191 Potassium: 367 Fiber: 3 Sugar: 16 Vitamin A: 400 Vitamin C: 44 Calcium: 64 Iron: 1
Save Recipe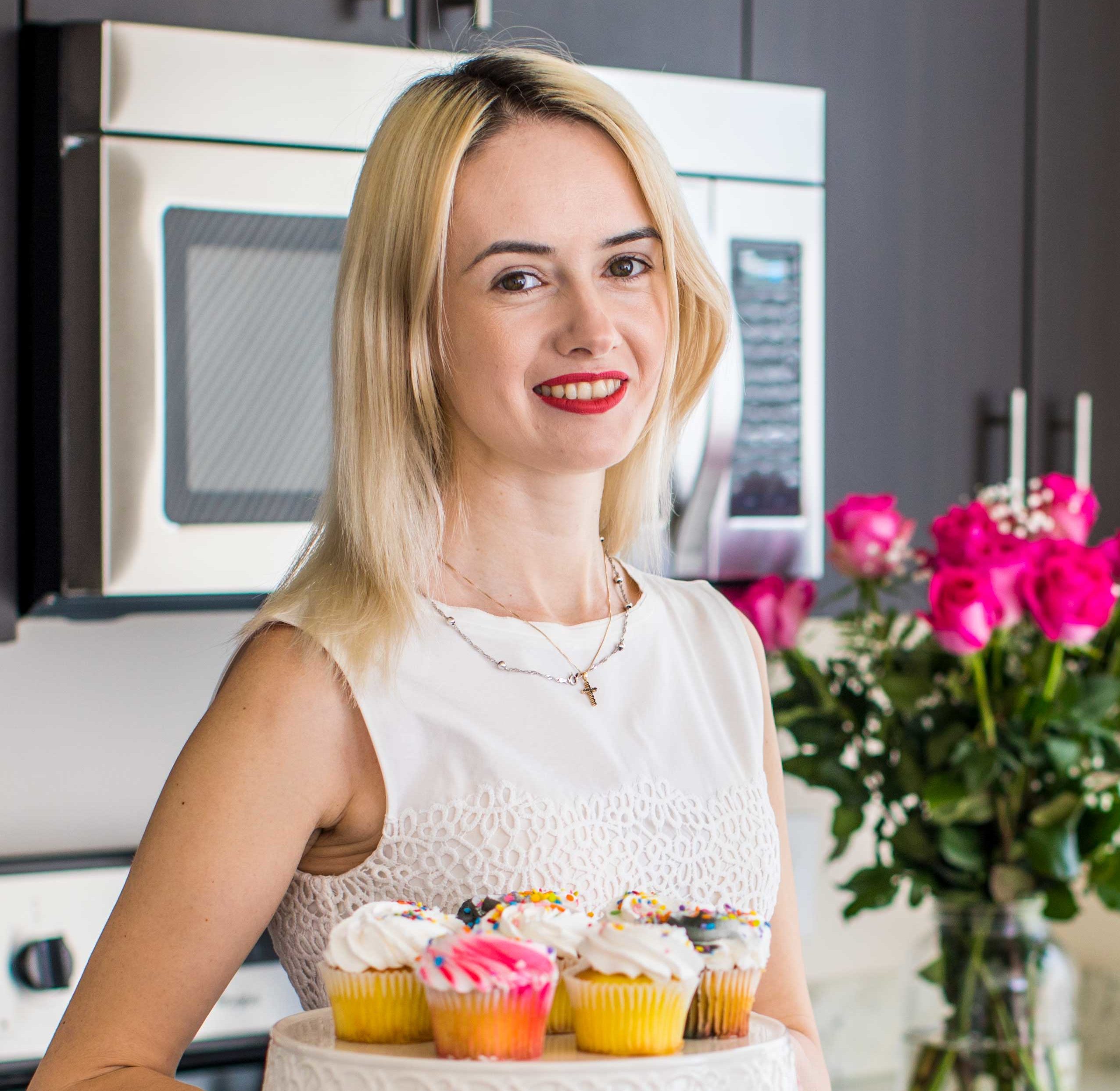 Follow us on Pinterest for more delicious recipes!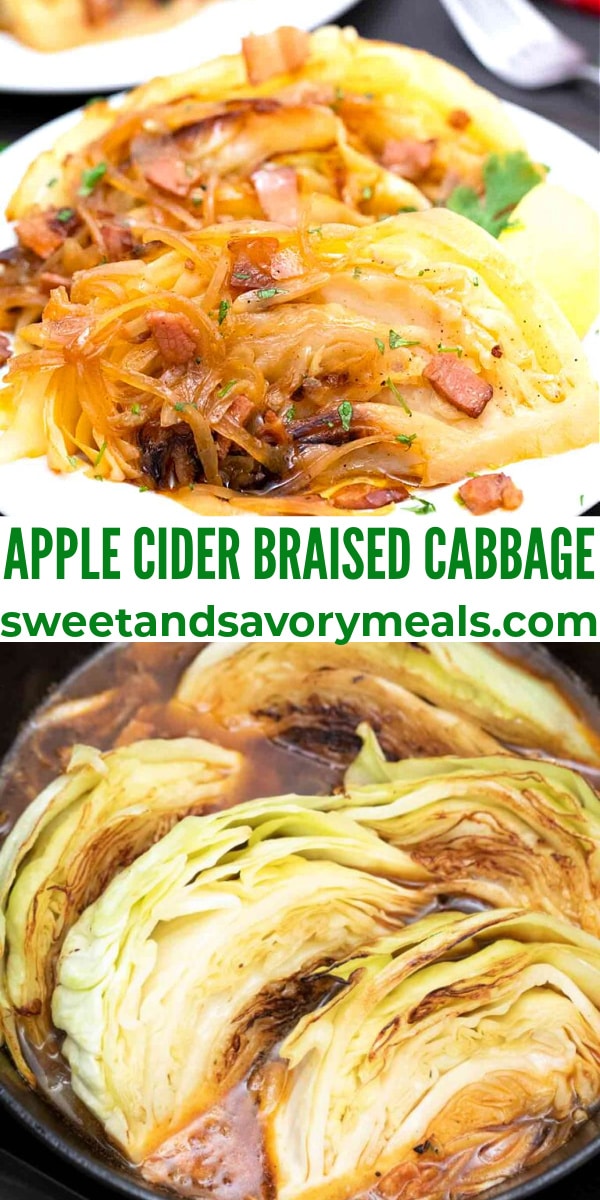 More recipes you might love