Instant Pot Balsamic Chicken [Video]
Instant Pot Balsamic Chicken thighs and drumsticks are drenched in a zesty, spiced balsamic sauce with honey and herbs. A dish that tastes gourmet but only takes 10 minutes to cook in the Instant Pot!
Love the sophisticated taste of balsamic vinegar? It's the star ingredient in my delicious Balsamic Pot Roast and Balsamic Pork Tenderloin! You also learn how to make the Perfect Balsamic Glaze and drizzle it all over your salads, cheeses, meat dishes, and more.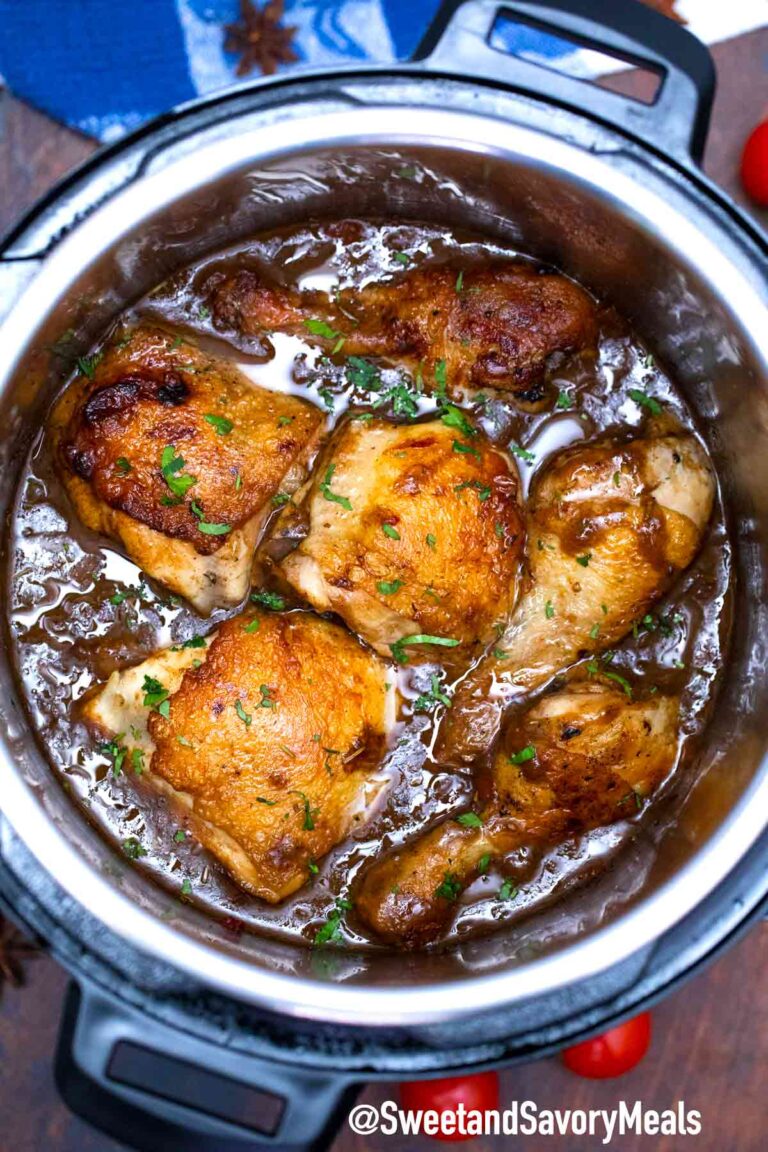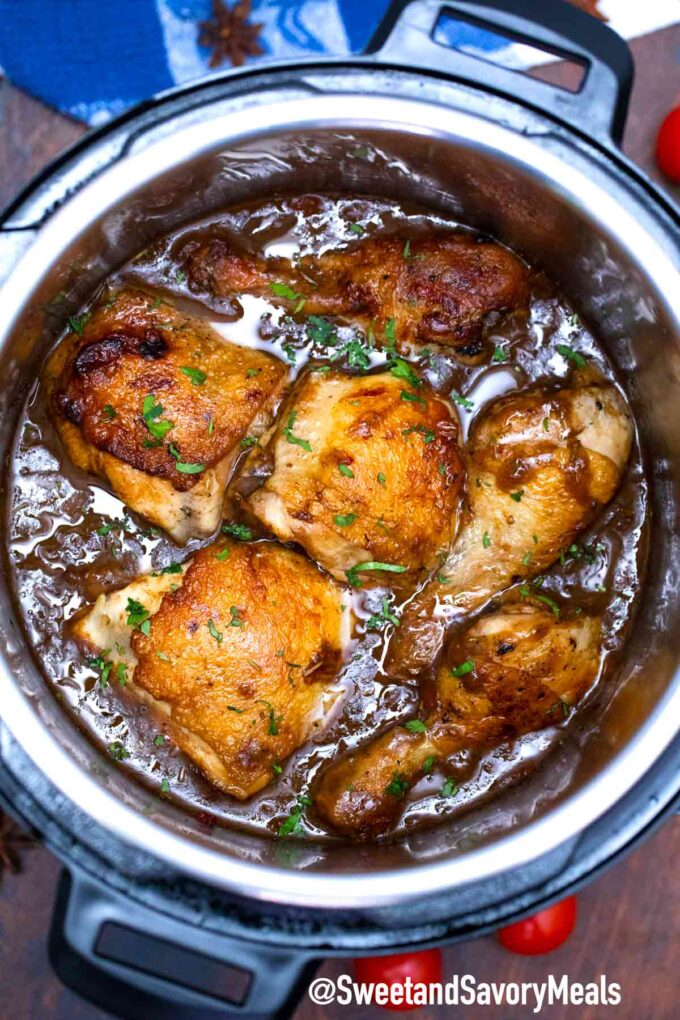 Pressure Cooker Balsamic Chicken
Instant Pot Balsamic Chicken is going to be your NEW favorite recipe for busy nights! The thighs and drumsticks always come out juicy and moist, guaranteed. The caramelized balsamic sauce is unbelievably complex with a blend of cinnamon spices, molasses and honey, and various herbs.
Because we're making it in the Instant Pot, you can make it an hour before dinner and still have time to spare!
This dish tastes so fancy, no one will guess how easy it is to make. Get ready for the rave reviews when you serve this to your family and guests!
How long does it take to pressure cook chicken?
It depends on the size and type of cut you're using, whether they have bones or not, and if you're using them from frozen or thawed. But as a general rule, you'll need:
15 to 20 minutes for a whole bird, sliced into pieces
Around 30 minutes for an entire bird, cooked whole
10 to 15 minutes for wings
8 to 10 minutes for breasts
10 to 12 minutes for thighs
22 to 30 minutes for quarters
10 to 30 minutes for drumsticks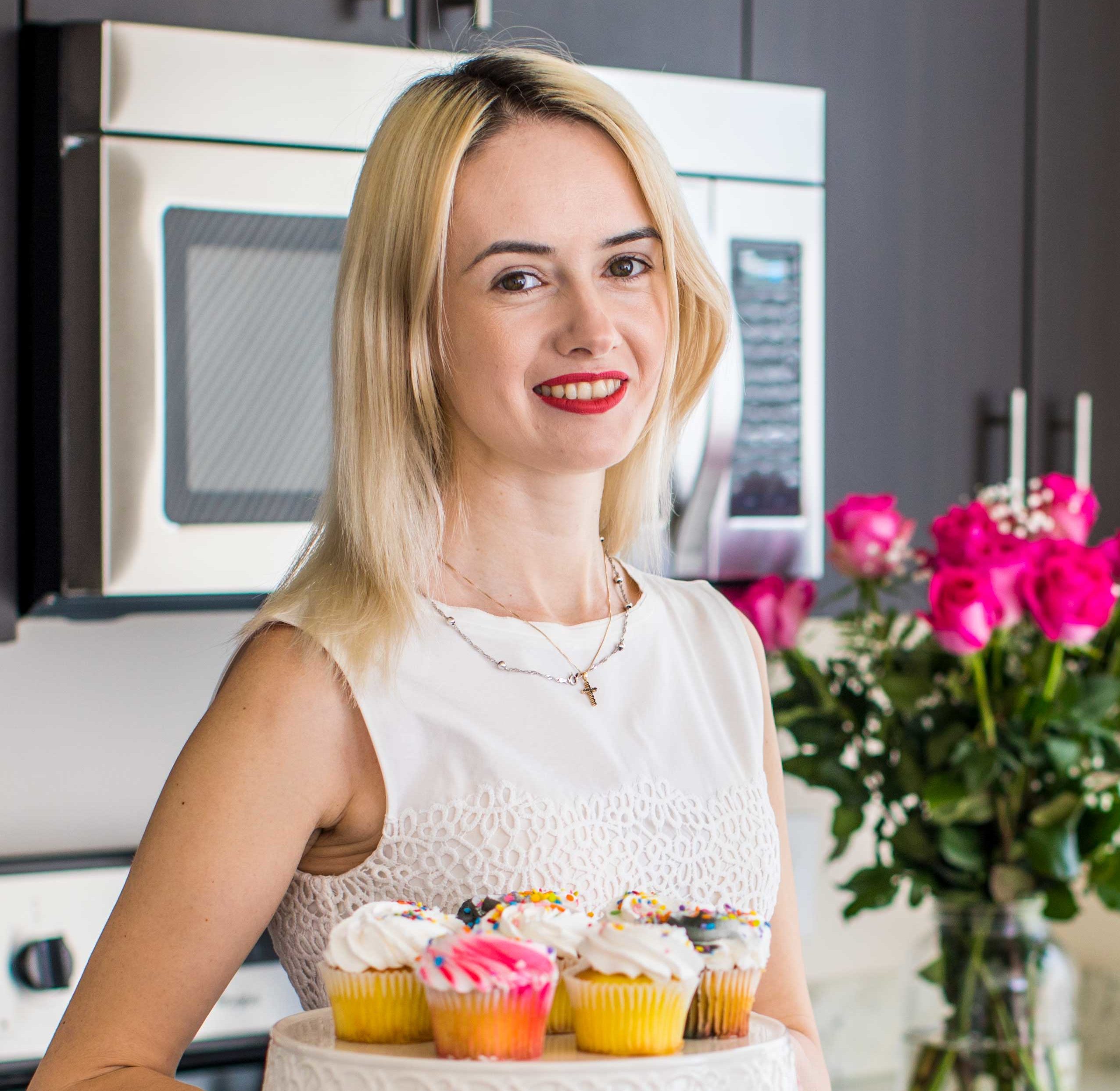 Follow us on Pinterest for more delicious recipes!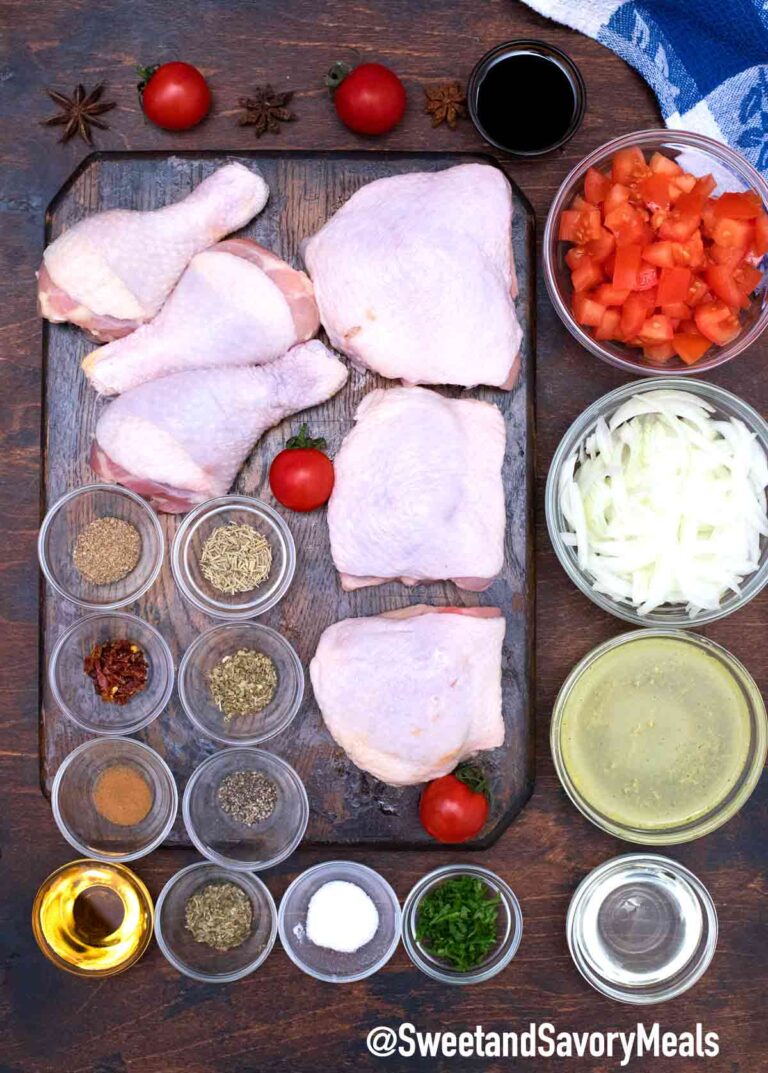 How do you make Instant Pot Balsamic Chicken?
Sear the drums and thighs. Dry them as well as you can, then season. Set the IP to Sauté and brown all the pieces in oil until every side is nice and golden. Move to a plate.

Sauté. In the same pot, stir-fry your tomato and onions until they soften up.

Make the balsamic glaze. Combine, then pour in the IP along with the broth.

Cook. Arrange the drums and thighs on a trivet inside the IP. Cook on High Pressure for 10 minutes. Vent the pressure quickly when done.

Serve. Enjoy hot with a sprinkle of fresh parsley.
Recipe Variations:
Use boneless breasts: Set the IP to about 8 minutes depending on the size of the meat.
Use maple syrup instead of honey: Adds tasty caramel notes to the sauce!
Add veggies: Throw in some big chunks of carrots and potatoes (or sweet potatoes) for a complete, one-pot meal.
Top with cheese: Yes, you read that right! Sprinkle some shredded mozzarella just before serving for a cheesy finish.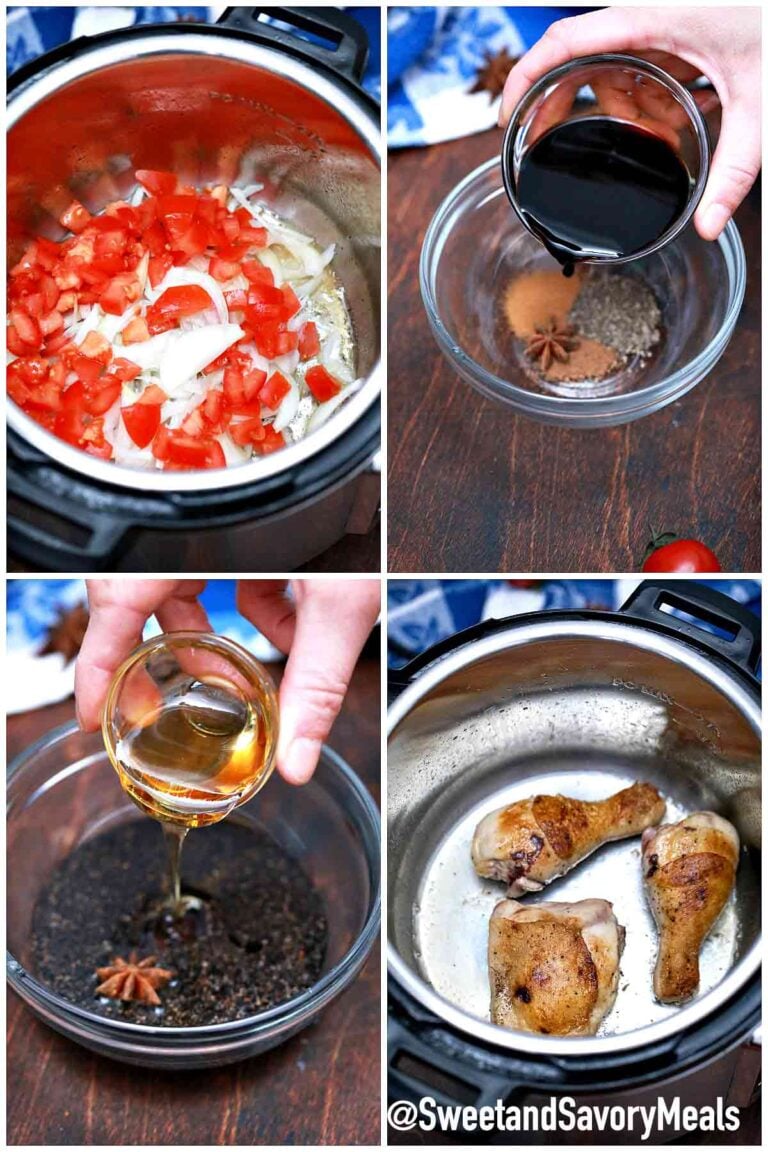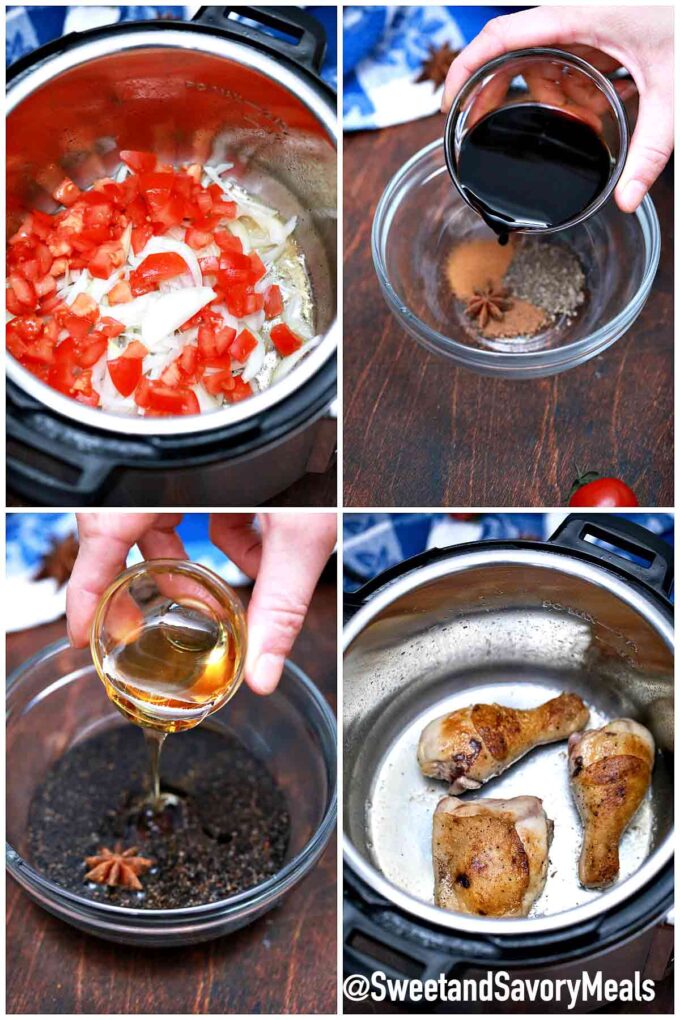 What is a trivet and why do I need one?
It keeps the food above whatever liquid you have in the pot. Therefore, the food cooks evenly through steam instead of getting boiled in the liquid.
What is a steamer basket?
This IP accessory is typically used for vegetables so that the steam cooks the veggies without submerging them in liquid.
Why does my instant pot doesn't come to pressure?
One of the most common reasons is that you simply forgot to seal the vent, so always double-check that.
There may not be enough liquid as well, which means your IP can't build up pressure and steam. If there's liquid, it may be too thick. You may have overfilled the pot as well.
The IP also has a safety feature called the "Burn Notice." If you forget to deglaze the bottom after searing an ingredient, the pot will issue this notice and prevent the IP from pressurizing.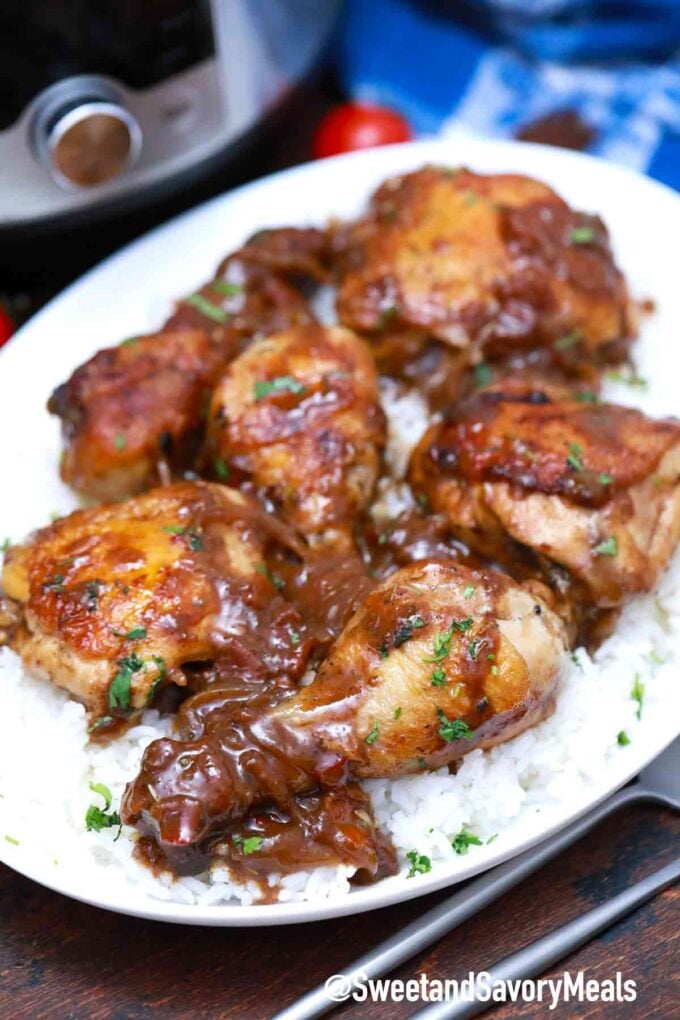 Can you make Instant Pot Balsamic Chicken with frozen chicken?
Yes, but you won't have those flavorful bits from searing the meat. Don't worry, it's still amazing even if you cook from frozen! Skip the browning, make the sauce, place the frozen drums and thighs right on the trivet, and cook.
What is the difference between natural and quick release?
With the natural method, you don't do anything. Literally. The IP automatically releases pressure once the timer is done, so all you need is to wait.
Quick-release means you do it yourself. Carefully move the valve to the "Venting" position to let out the steam.
How to store:
Once all the leftovers have cooled down, transfer to a tightly-sealed container. Refrigerate and consume within 3 days.
How to freeze:
Transfer the cooled leftover to freezer-friendly storage or bag. Freeze for 3 months. To reheat, thaw overnight and microwave until hot.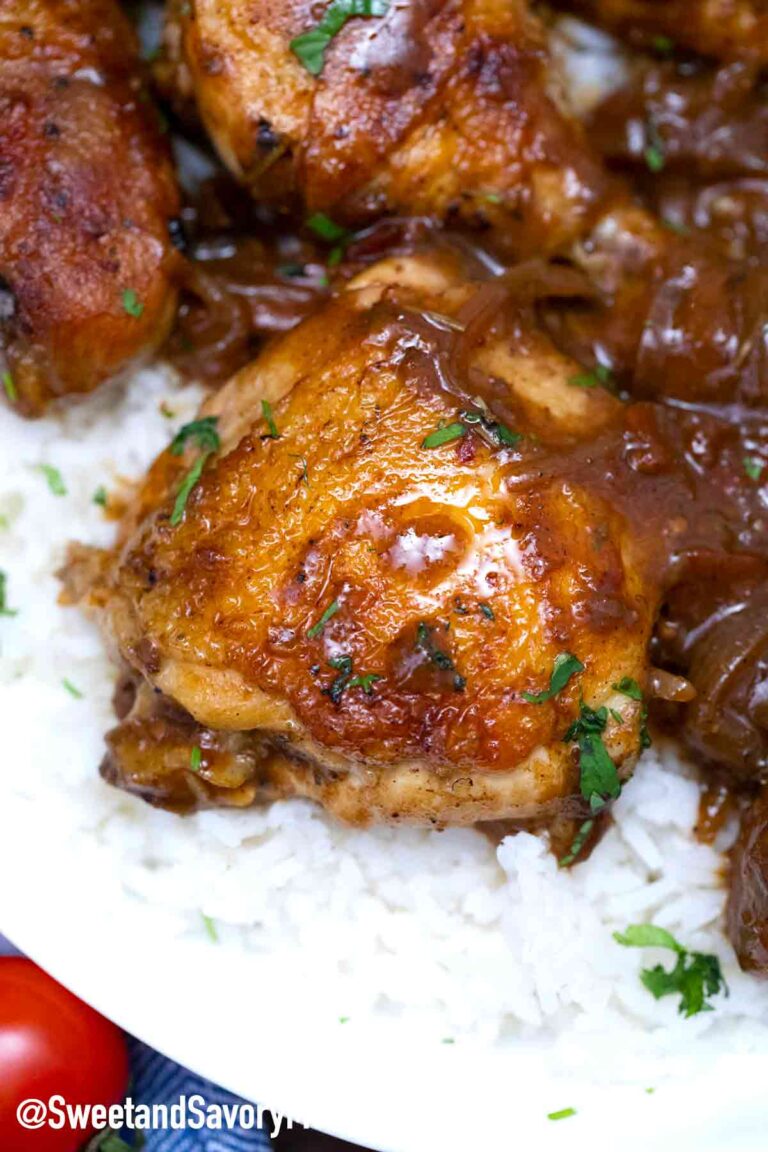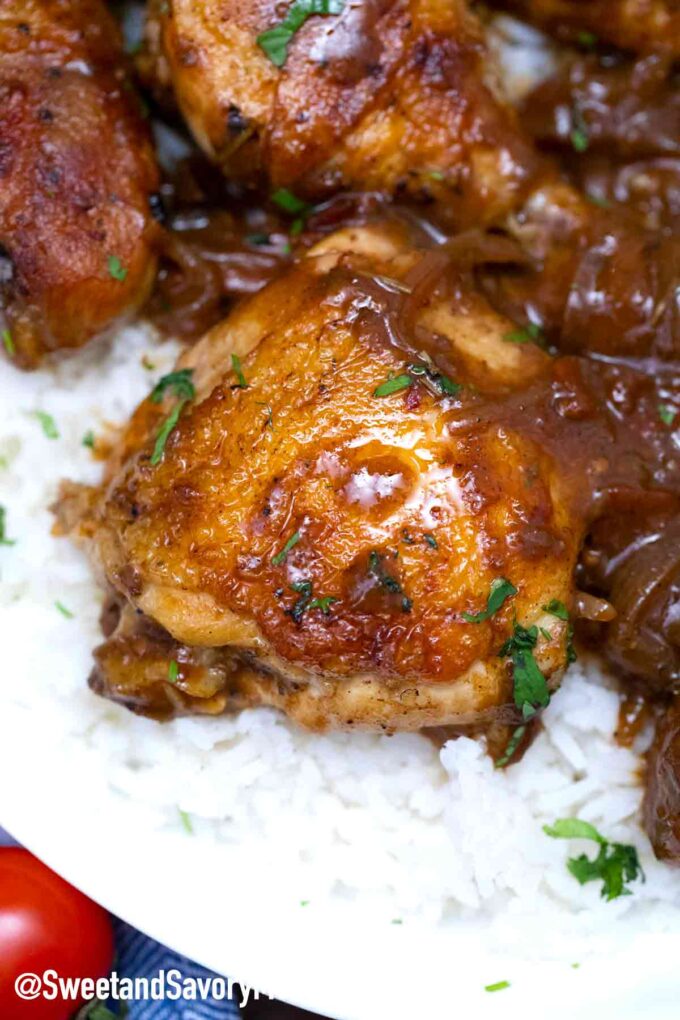 More Instant Pot Chicken Recipes:
Recipe Tips:
Serve this with rice, mashed cauliflower for a low-carb meal, roasted veggies, or a light salad!
Use stock made from scratch for better flavor.
Deglaze the bottom of the pan completely to prevent the Burn notice.
Save Recipe
Instant Pot Balsamic Chicken
Instant Pot Balsamic Chicken thighs and drumsticks are drenched in a zesty, spiced balsamic sauce with honey and herbs.
Author: Catalina Castravet
Serves: 6 servings
Prep time:

20

minutes
Cook time:

10

minutes
Total time:

30

mins
Ingredients
Balsamic Sauce:
Instructions
Sauce:
Cook:
Nutrition information
Calories: 295 Carbohydrates: 17 Protein: 17 Fat: 18 Saturated Fat: 4 Cholesterol: 90 Sodium: 169 Potassium: 412 Fiber: 1 Sugar: 14 Vitamin A: 389 Vitamin C: 6 Calcium: 43 Iron: 2
Save Recipe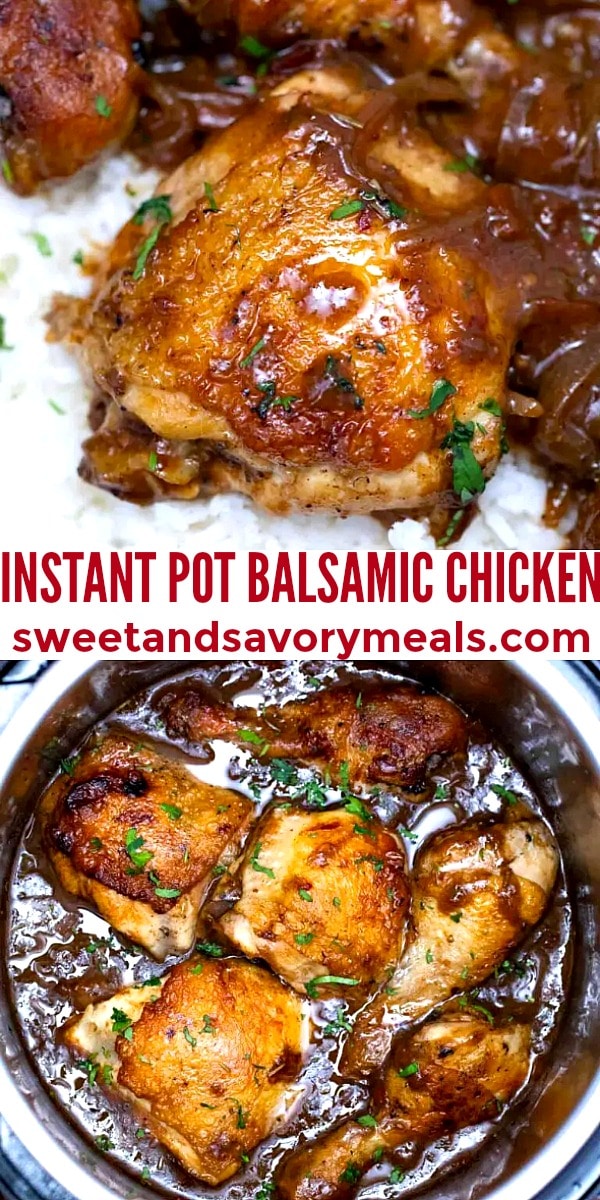 More recipes you might love
Categories: