Instant Pot Butter Chicken
Instant Pot Butter Chicken is buttery, creamy and very aromatic, also very quick to prepare! The trusty IP makes it easier and faster to enjoy!
I love chicken dishes and this has just become one of my favorites! For more similar recipes, feel free to try out my recipe for Chicken Tortilla Soup, Chicken Enchilada Casserole, and Takeout Style Chicken Fried Rice.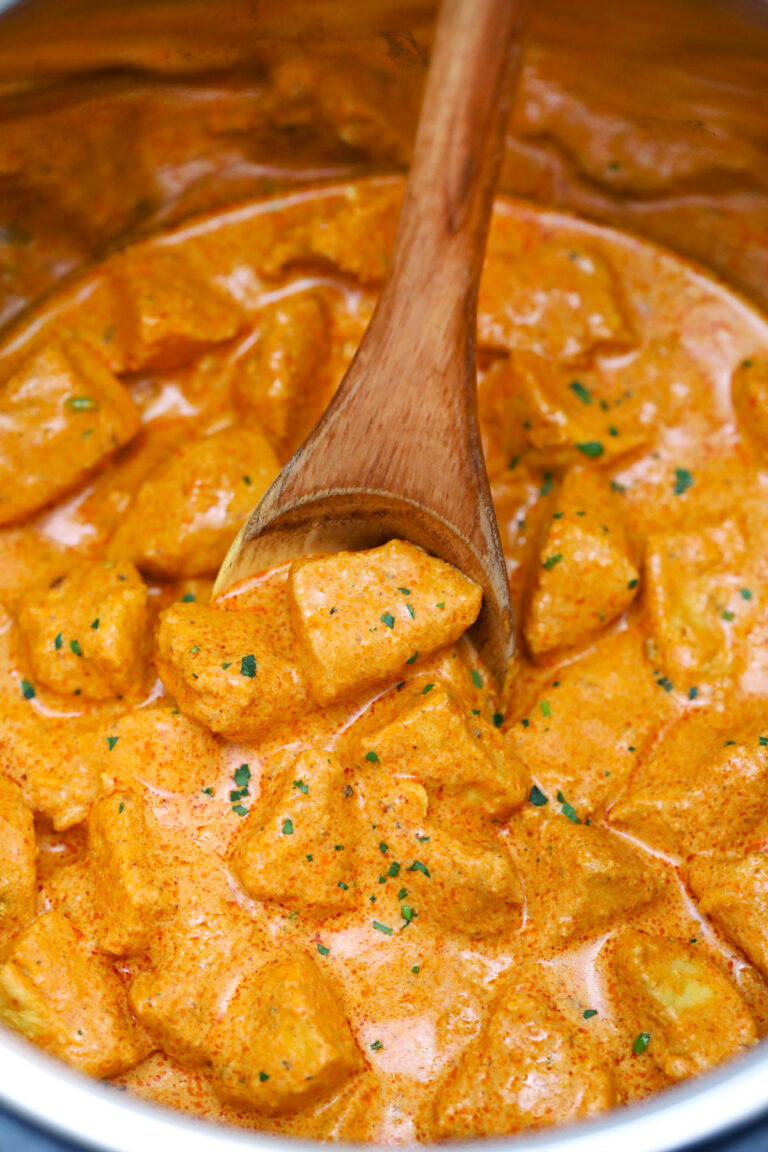 Pressure Cooker Butter Chicken Recipe
Instant Pot Butter Chicken is a great dish to make in the pressure cooker to hasten things up when putting together a meal. Homecooking can get overwhelming but with recipes like this, you will want to prepare more meals on your own!
Surely, this dish has become a favorite in restaurants all over the world. And with this easy recipe, you can bring restaurant-quality meals to your dining table at home in minutes!
I like the creaminess of the sauce that suits the tender meat well. And did you know that this dish was born out of pure luck? It just so happened that leftover meat was mixed with other leftover tomato gravy sauce and it tasted good.
It started in a restaurant in Delhi, India, and the rest is history! Now, with this easy recipe, you can enjoy it at your home conveniently.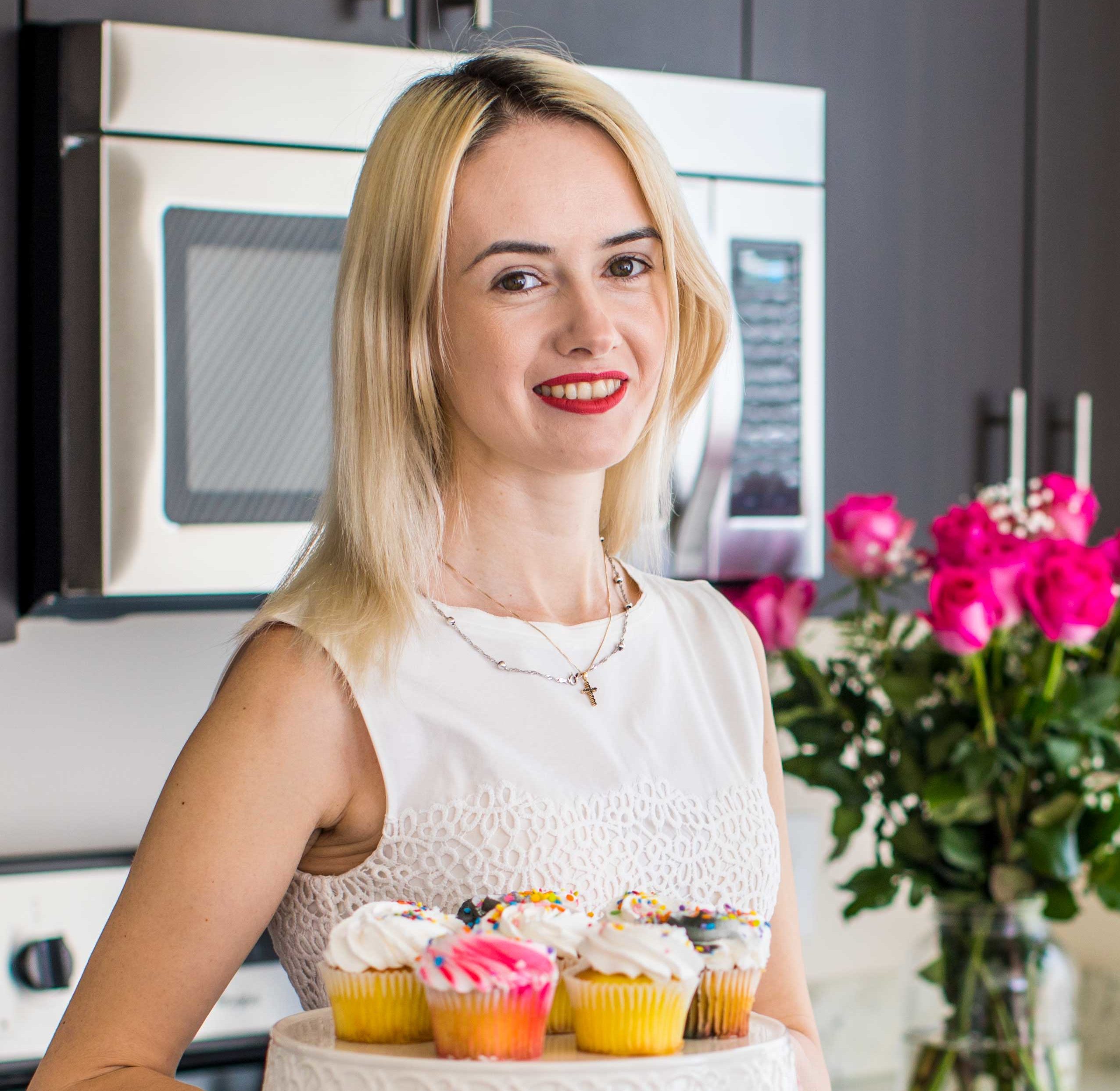 Follow us on Pinterest for more delicious recipes!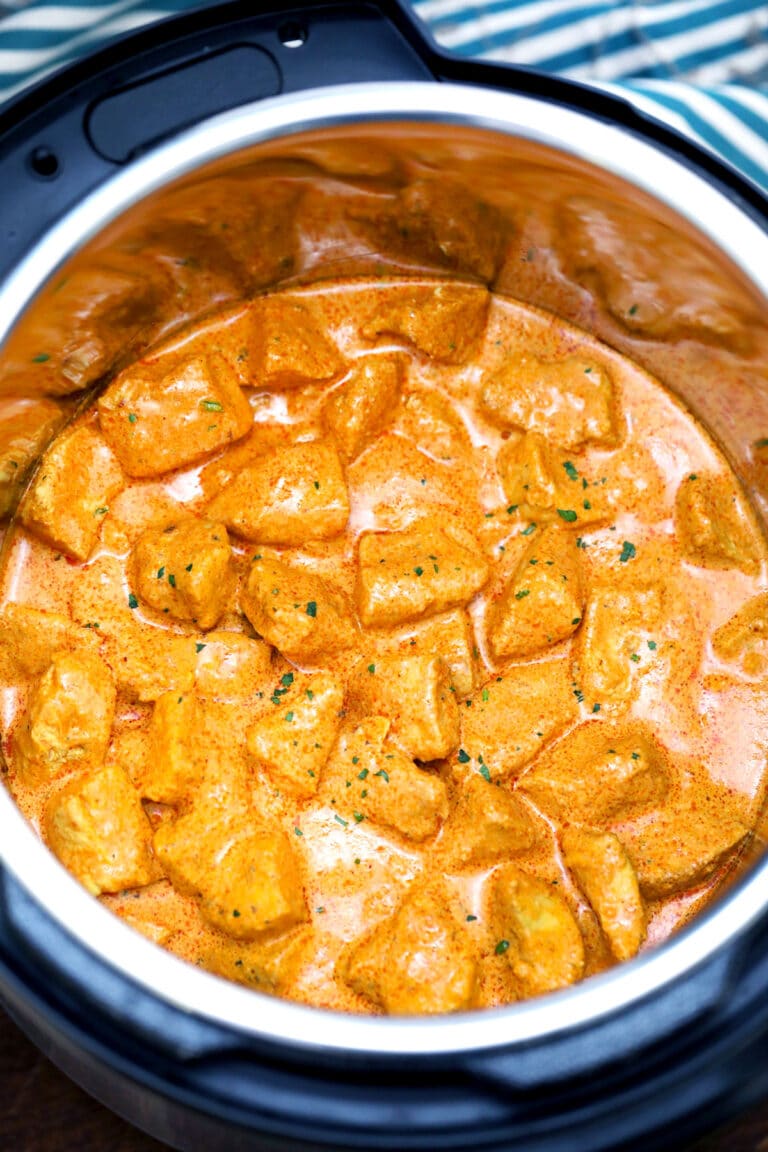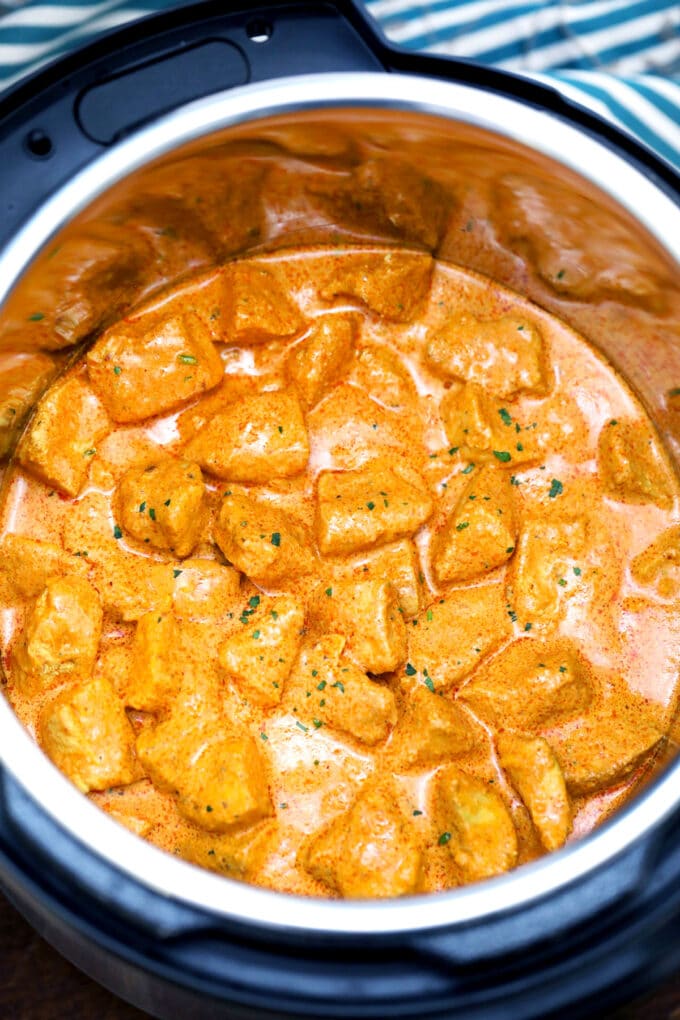 Why is it called Butter Chicken?
The name of this dish is derived from the actual butter that is used in the gravy base. Along with cream and lots of spices for flavor, butter constitutes the sauce that drowns the meat.
In turn, it tastes buttery and a lot lighter than the spicier version of tikka masala. Nonetheless, this viand makes for a great dinner option served alongside rice.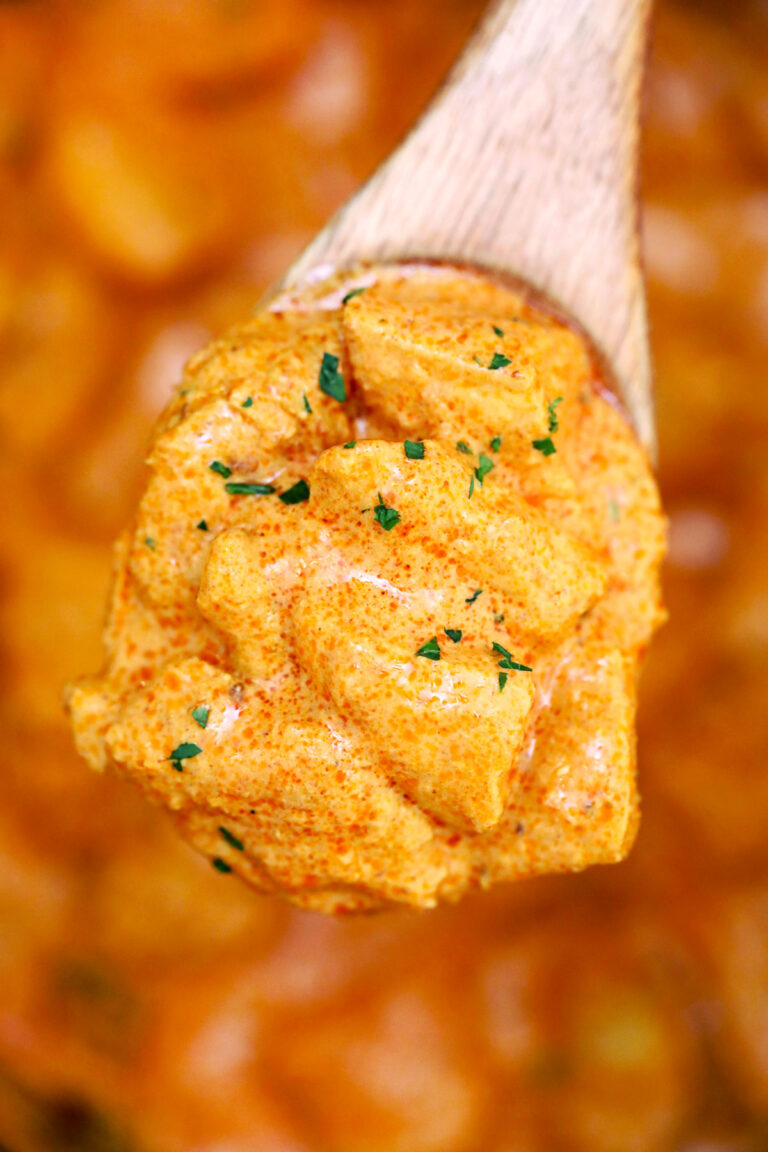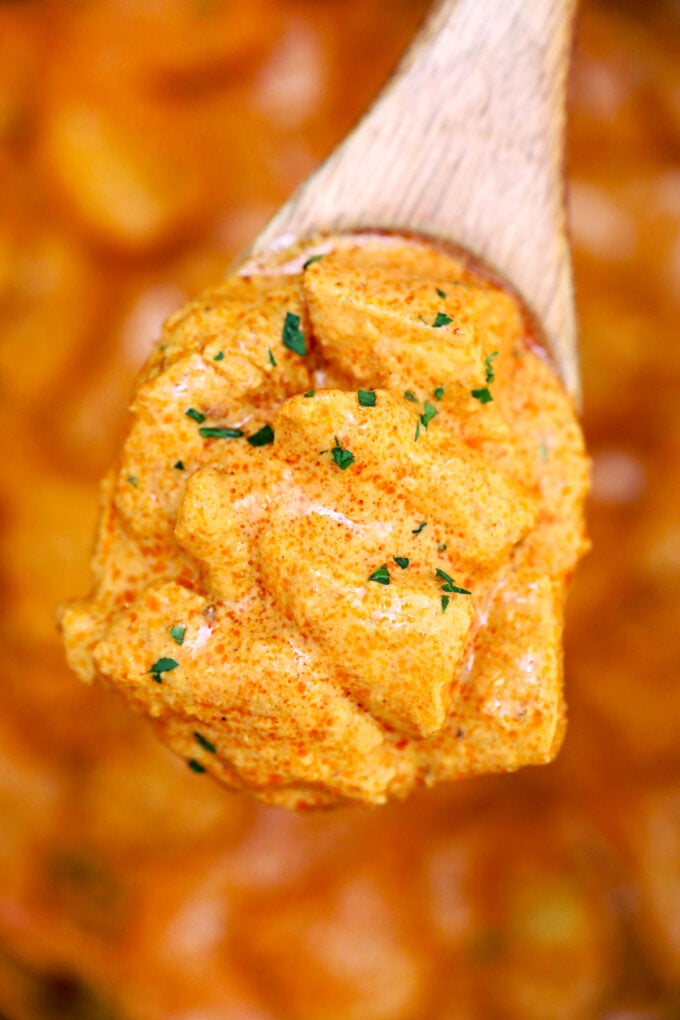 How to Make Instant Pot Butter Chicken:
Marinate: Marinate the chicken for maximum flavor and tenderness.
Sauté: Using the sauté function of the IP, sauté the chicken, onion, garlic, and aromatics to bring out more of the flavors and aroma that these aromatics have.
Cook: Combine all of the ingredients in the IP except for the cream. Then, set the IP according to the instructions in the recipe card near the end of this post. Note that with pressure-cooking, the meat will be so tender that browning it separately is not a must. Once done, release the pressure to allow you to open the lid.
Add the dairy: Set again to sauté mode, then, stir in the cream.
Serve: Serve with cilantro on top.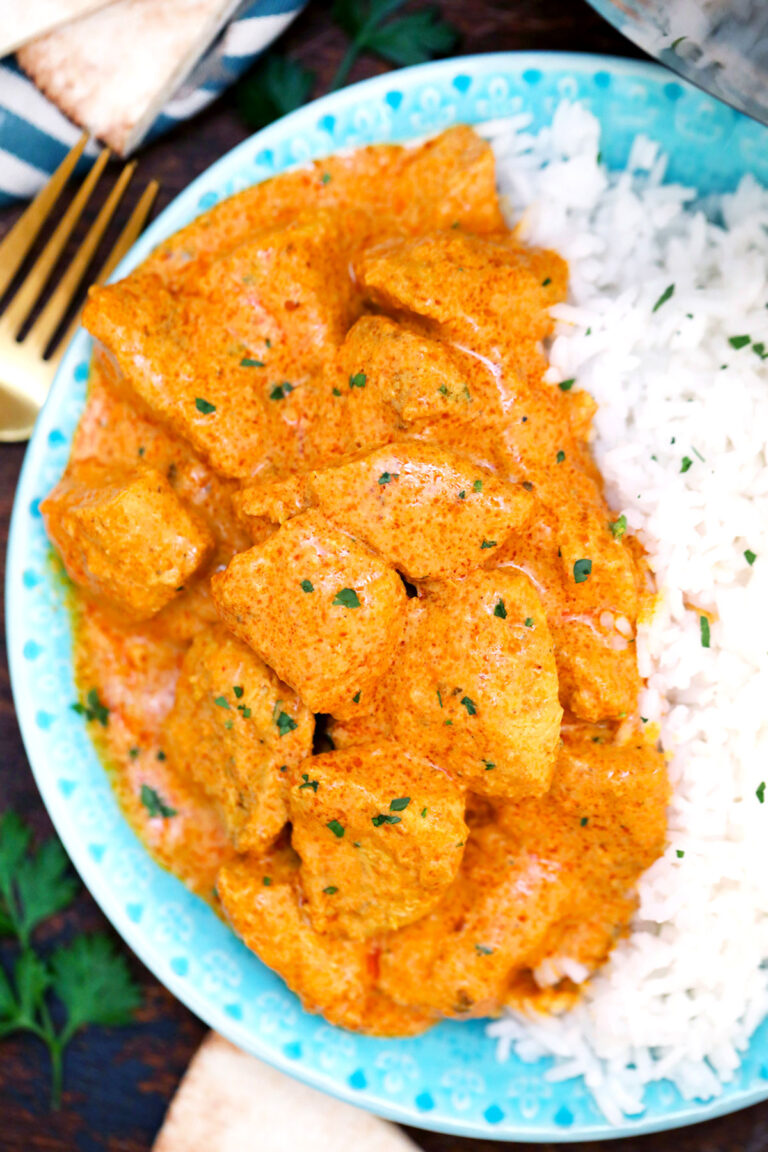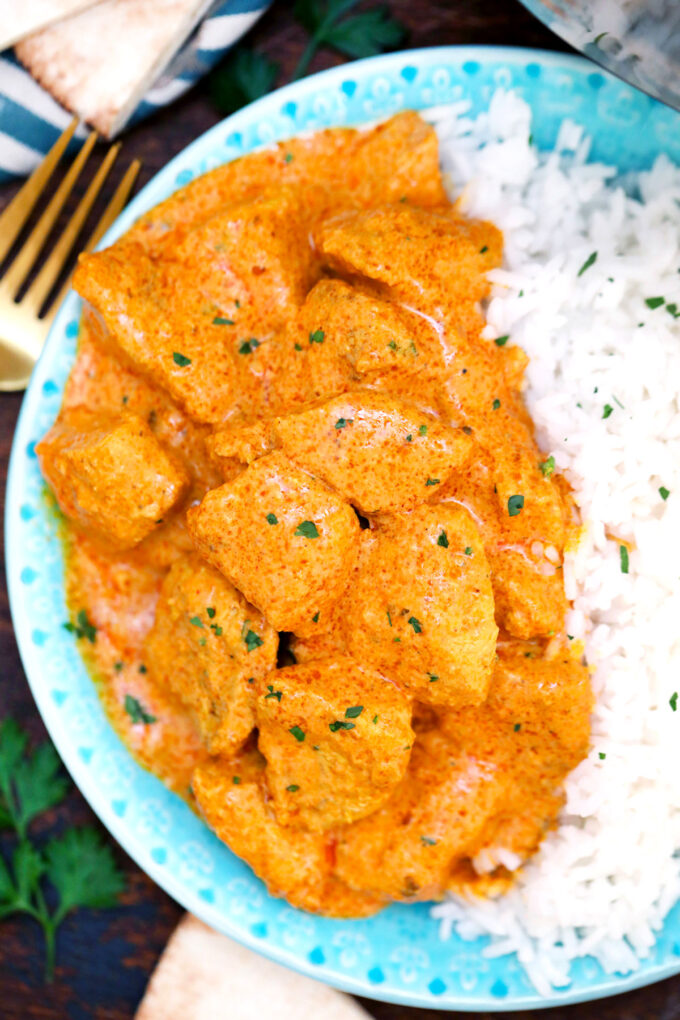 More Instant Pot recipes:
You can use the IP to cook appetizers, side dishes, main dishes, and even desserts! Check out my other recipes utilizing this handy kitchen equipment:
Can you freeze Instant Pot Butter Chicken?
Yes! This freezes well and it can stay good for up to 3 months. Just put it in freezer bags. To reheat, simply thaw in the fridge, then, heat on the stove.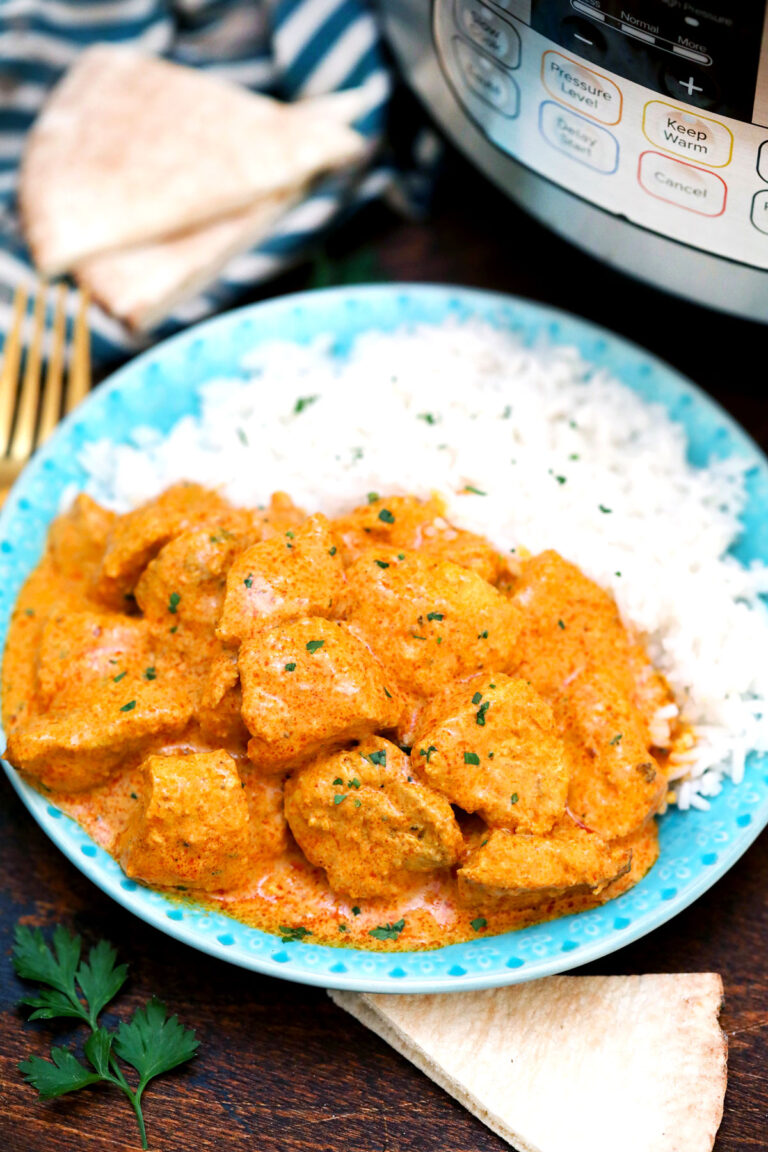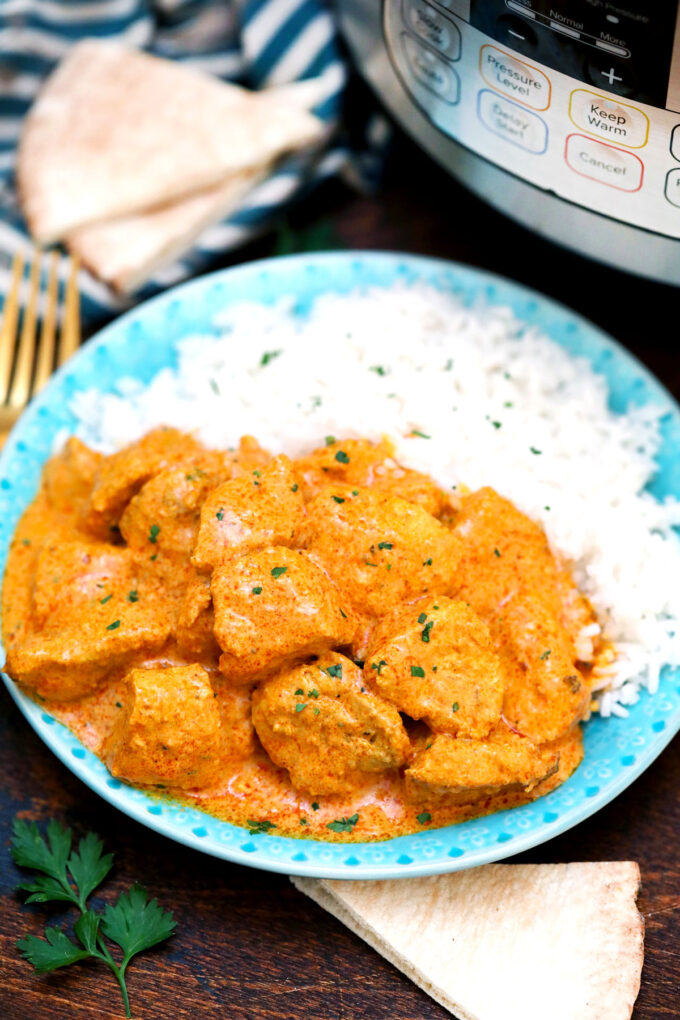 Recipe Tips:
Since this dish freezes well, go ahead and double the batch. Serve one batch immediately then, freeze the other for later. Also, pack leftovers in individual serving portions so you will not have to thaw the whole batch when you reheat later.
If you want to lessen the calories, use coconut milk in place of the cream.
Aside from rice and naan, you can also serve this with mashed cauliflower.
Since we are using the Instant Pot for this, then, cooking it with frozen chicken is not a problem. The only downside is that the cooking time may take longer.
You may add chicken broth, but, if it turns too watery, you can mix a little bit of flour with the cream when you add it towards the end of the cooking.
Save Recipe
Instant Pot Butter Chicken
Author: Catalina Castravet
Serves: 6 servings
Prep time:

50

minutes
Cook time:

10

minutes
Total time:

1

hr

10

mins
Ingredients
Chicken Marinade:
2 lbs chicken breasts (or thighs cut into 2-inch cubes)
1 cup plain Greek yogurt
1 tablespoon fresh minced ginger
4 cloves garlic (minced)
1 tablespoon garam masala
1 teaspoon turmeric
1 teaspoon ground cumin
1 teaspoon red chili powder
1 teaspoon paprika
1 teaspoon of salt
Sauce:
2 tablespoons olive oil
2 tablespoons butter
1 large onion (diced)
5 cloves garlic (minced)
1 tablespoon ginger (minced)
1 teaspoon ground cumin
1 teaspoon garam masala
1 teaspoon paprika
1 teaspoon red chili powder
1 tablespoon sugar
14 oz tomato sauce
1 1/4 teaspoons salt (or to taste)
1 cup evaporated milk
1/2 cup heavy cream
Cornstarch Slurry:
2 tablespoons cornstarch
1/2 cup water
Instructions
Chicken Marinade:
In a bowl combine chicken pieces with all of the MARINADE ingredients, cover with plastic wrap and let marinate for 30 minutes or overnight in the fridge.
Sauté:
Click on Sauté function, select High, and when it displays Hot add the olive oil to the IP.
Sauté the chicken in the hot oil in batches, until browned, 2-3 minutes per side. Set aside on a plate and cover with foil.
Add 1/4 cup of water to the pot and scrape any bits that stuck to the bottom.
Sauce:
Add the butter and melt it, add onion, garlic, ginger, cumin, garam masala, paprika, red chili powder, and sugar. Season with salt and saute for 2-3 minutes, until the onion is soft.
Add back the chicken to the pot.
Add the tomato sauce and evaporated milk.
Stir to combine.
Cancel Saute.
Cook:
Cover with the lid, lock it, seal the valve.
Cook on High Pressure for 10 minutes, followed by a 10 minutes Natural Pressure Release, after which do a Quick Release.
Remove the lid.
Set again to sauté mode, then, stir in the cream.
If the mixture is too watery, mix 2 tablespoons cornstarch with 1/2 cup of water and add the slurry to the pot.
Stir and cook for 2-3 minutes.
Adjust for salt and spiciness.
Serve with cilantro, naan and rice.
Calories: 382 Carbohydrates: 18 Protein: 41 Fat: 16 Saturated Fat: 3 Cholesterol: 108 Sodium: 1524 Potassium: 928 Fiber: 2 Sugar: 12 Vitamin A: 1058 Vitamin C: 8 Calcium: 98 Iron: 2
Save Recipe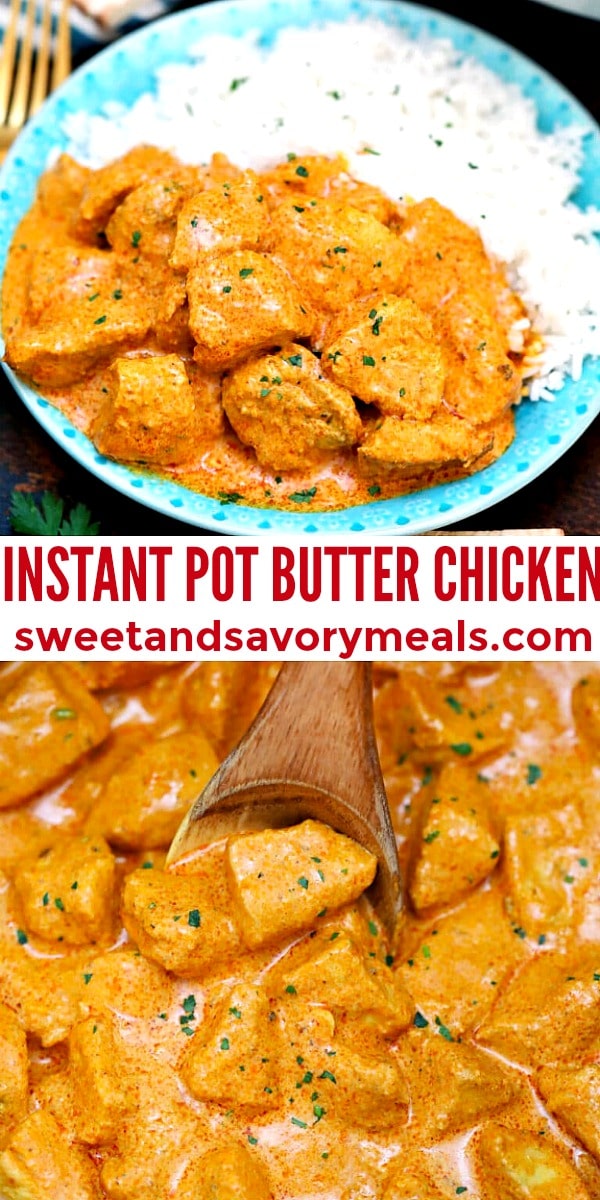 More recipes you might love