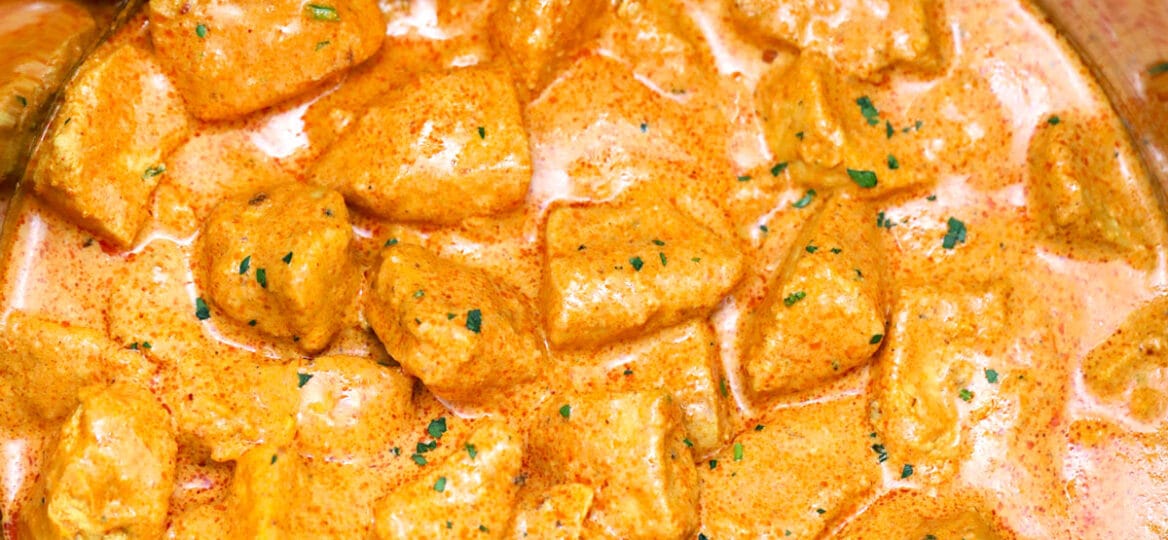 Instant Pot Butter Chicken [Video]
Instant Pot Butter Chicken is buttery, creamy and very aromatic, also very quick to prepare! The trusty IP makes it easier and faster to enjoy!
I love chicken dishes and this has just become one of my favorites! For more similar recipes, feel free to try out my recipe for Chicken Tortilla Soup, Chicken Enchilada Casserole, and Takeout Style Chicken Fried Rice.
Pressure Cooker Butter Chicken Recipe
Instant Pot Butter Chicken is a great dish to make in the pressure cooker to hasten things up when putting together a meal. Homecooking can get overwhelming but with recipes like this, you will want to prepare more meals on your own!
Surely, this dish has become a favorite in restaurants all over the world. And with this easy recipe, you can bring restaurant-quality meals to your dining table at home in minutes!
I like the creaminess of the sauce that suits the tender meat well. And did you know that this dish was born out of pure luck? It just so happened that leftover meat was mixed with other leftover tomato gravy sauce and it tasted good.
It started in a restaurant in Delhi, India, and the rest is history! Now, with this easy recipe, you can enjoy it at your home conveniently.
Why is it called Butter Chicken?
The name of this dish is derived from the actual butter that is used in the gravy base. Along with cream and lots of spices for flavor, butter constitutes the sauce that drowns the meat.
In turn, it tastes buttery and a lot lighter than the spicier version of tikka masala. Nonetheless, this viand makes for a great dinner option served alongside rice.
How to Make Instant Pot Butter Chicken:
Marinate: Marinate the chicken for maximum flavor and tenderness.
Sauté: Using the sauté function of the IP, sauté the chicken, onion, garlic, and aromatics to bring out more of the flavors and aroma that these aromatics have.
Cook: Combine all of the ingredients in the IP except for the cream. Then, set the IP according to the instructions in the recipe card near the end of this post. Note that with pressure-cooking, the meat will be so tender that browning it separately is not a must. Once done, release the pressure to allow you to open the lid.
Add the dairy: Set again to sauté mode, then, stir in the cream.
Serve: Serve with cilantro on top.
More Instant Pot recipes:
You can use the IP to cook appetizers, side dishes, main dishes, and even desserts! Check out my other recipes utilizing this handy kitchen equipment:
Can you freeze Instant Pot Butter Chicken?
Yes! This freezes well and it can stay good for up to 3 months. Just put it in freezer bags. To reheat, simply thaw in the fridge, then, heat on the stove.
Recipe Tips:
Since this dish freezes well, go ahead and double the batch. Serve one batch immediately then, freeze the other for later. Also, pack leftovers in individual serving portions so you will not have to thaw the whole batch when you reheat later.
If you want to lessen the calories, use coconut milk in place of the cream.
Aside from rice and naan, you can also serve this with mashed cauliflower.
Since we are using the Instant Pot for this, then, cooking it with frozen chicken is not a problem. The only downside is that the cooking time may take longer.
You may add chicken broth, but, if it turns too watery, you can mix a little bit of flour with the cream when you add it towards the end of the cooking.