Chicken Enchilada Casserole [Video]
Chicken Enchilada Casserole has all the Mexican flavors of the enchilada minus the long prep time! It is a hearty and savory dish that makes delicious leftovers!
The Mexican cuisine is so rich and flavorful that I cannot just get enough of it! This recipe is just an addition to the long list of Mexican recipes that I have including Carne Asada, Sofritas, and Refried Beans!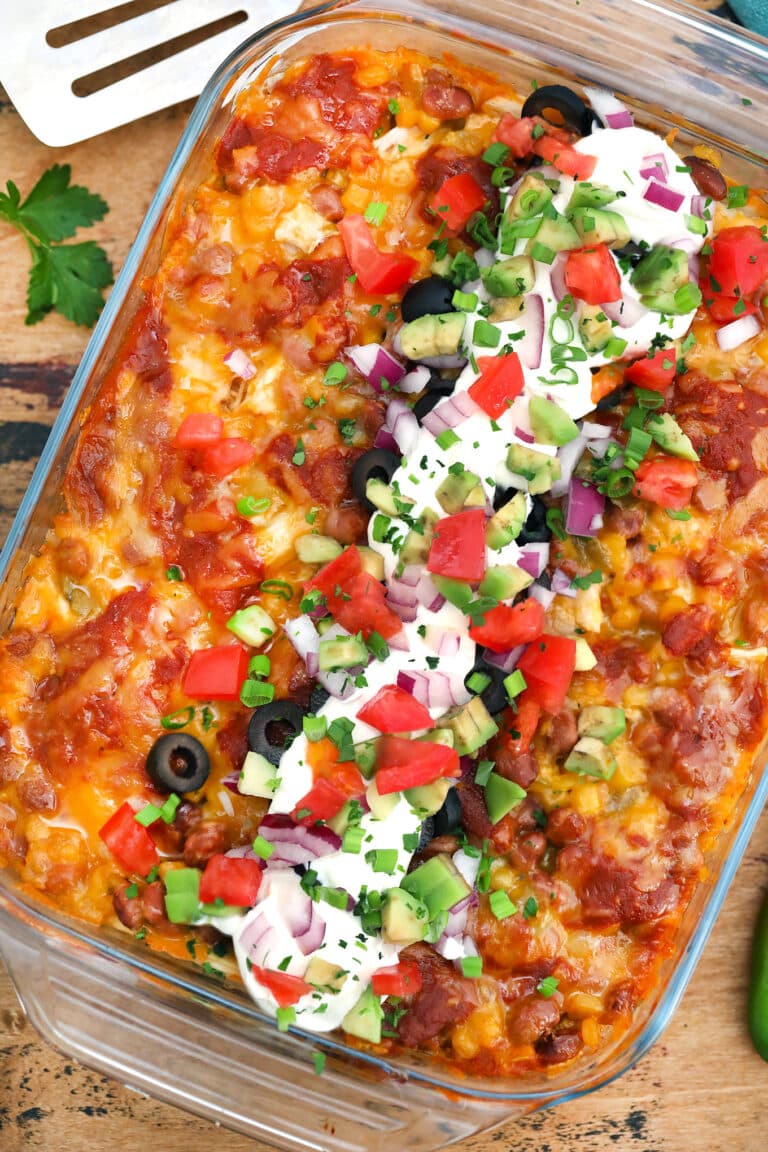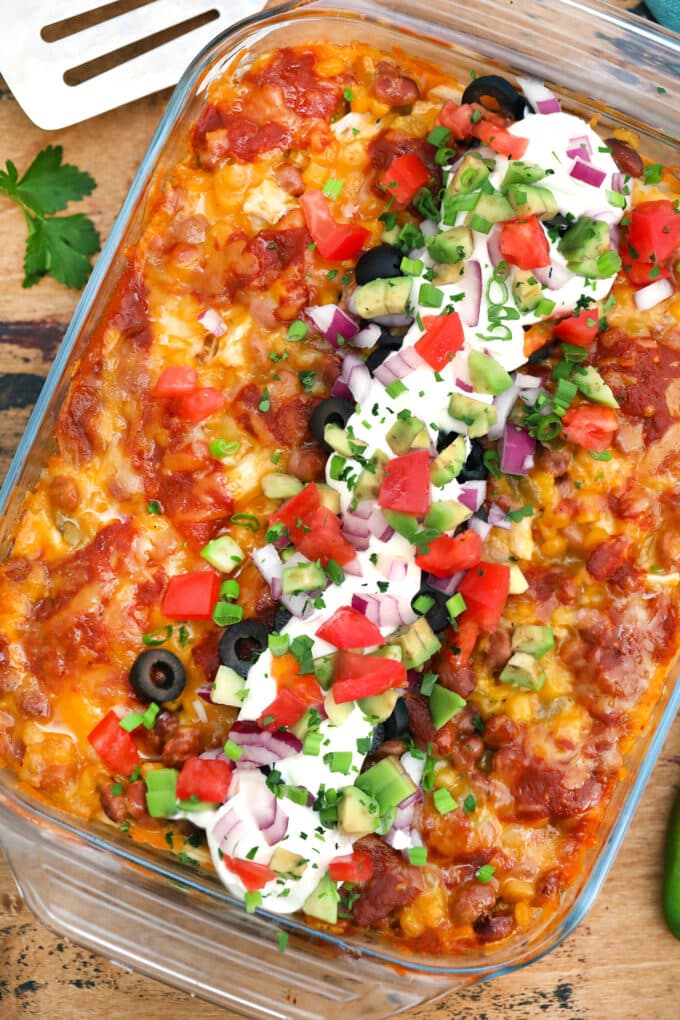 Chicken Enchilada Casserole Recipe
Chicken Enchilada Casserole has carbs, protein, and fiber in it. It is a full meal on its own and that makes this dish a mainstay in our rotation. Such a great dinner option!
This dish is made with layers of tortillas, shredded chicken breast, and the special homemade enchilada sauce. It is cheesy, spicy, and colorful, too!
And this casserole version is a lot easier to make than the classic one. With this, you only layer the ingredients. This is perfect for when you lack time to roll individual tortillas!
I made this not a long time ago when sudden visitors came. Quickly popped it in the oven for 30 minutes, and by the time my guests and I were hungry, it was ready!
How to Make Chicken Enchilada Casserole?
Check out the short recipe video tutorial attached. The general steps are as follows:
Preheat the oven: Set it to 350 degrees Fahrenheit. Lightly grease the baking dish, too.
Prep the bean mix: Add the green chiles, corn, and beans to a bowl and mix.
Layer: Spread the sauce on the bottom of the baking dish. On top of the sauce, place 6 halves of tortillas in a single layer. Then, add another layer of chicken, bean mix, sauce, and cheese. Repeat to up to about 3 layers and then put one last layer of tortillas on top and pour the remaining sauce and cheese.
Bake: Spray non-stick spray on foil and use it to cover the baking dish. Bake, then, uncover and bake again to melt the cheese.
Serve: Allow it to rest for about 5 minutes. Garnish and then, serve.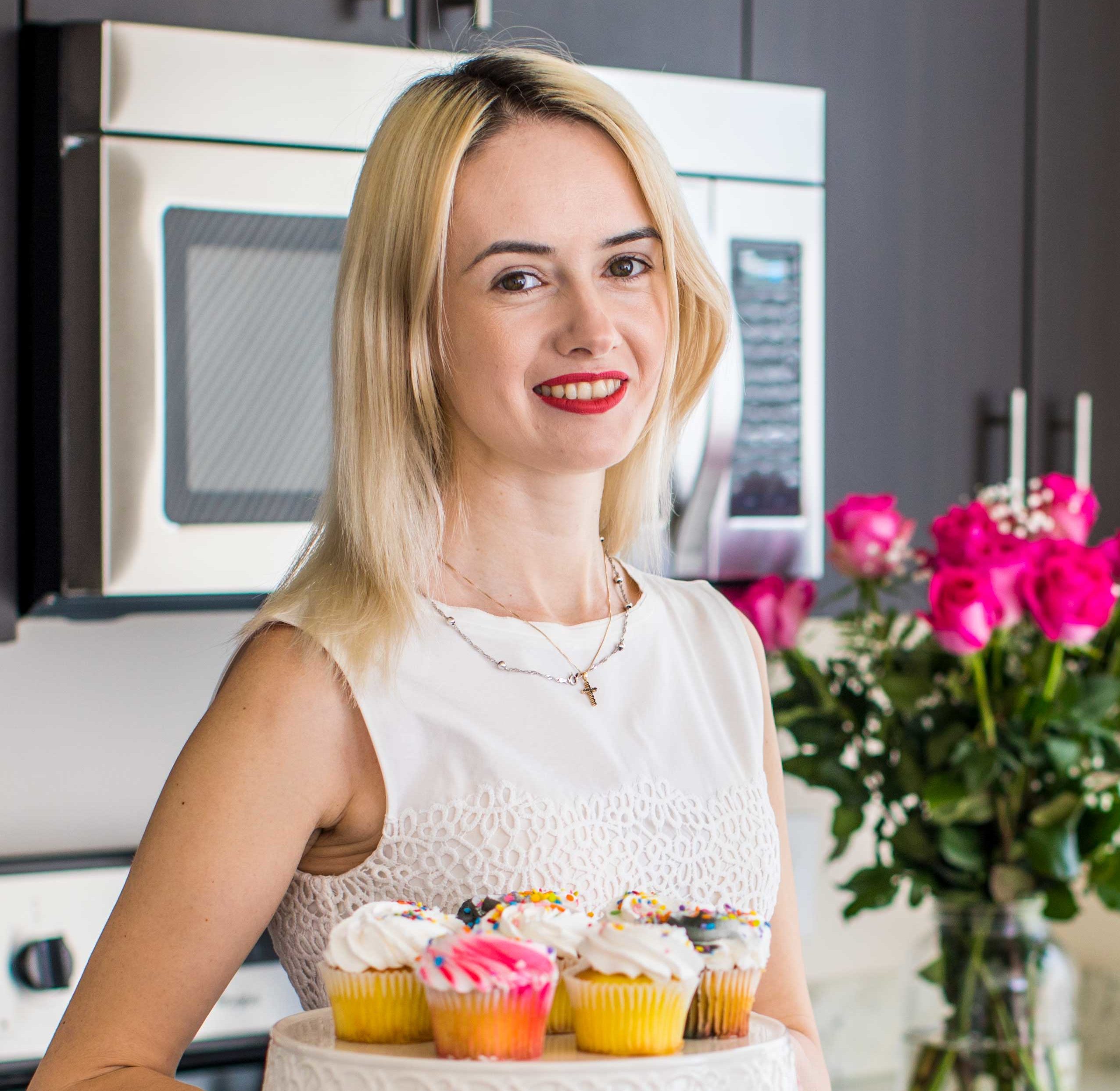 Follow us on Pinterest for more delicious recipes!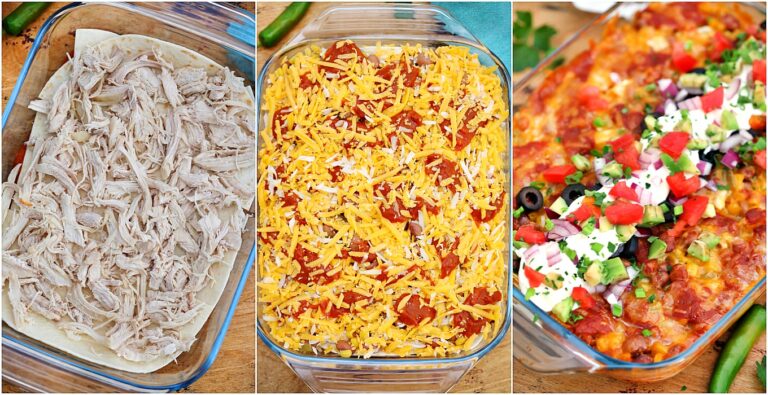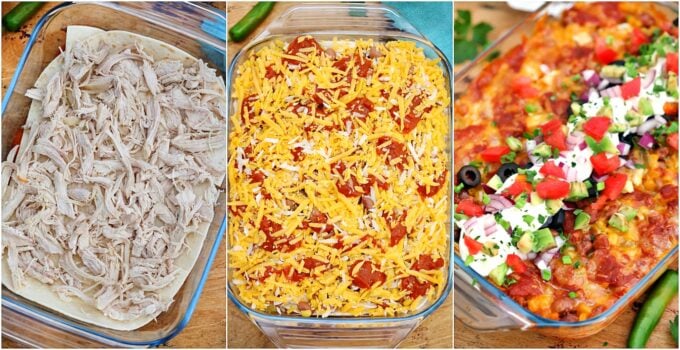 How long do you bake Chicken Enchilada Casserole?
It only takes around 30 minutes to bake the casserole but remember to uncover it so that the cheese on top will melt and brown nicely. Allot another 5 minutes or so after before serving so that it firms up.
How to make homemade enchilada sauce?
For me to never run out of this sauce, I make my own homemade version. True enough, once I started making this at home, I never bought those jarred ones sold in stores.
It is easy to make and the flavor is phenomenal. This homemade enchilada sauce recipe yields up to 4 cups which is more than enough what the casserole recipe needs.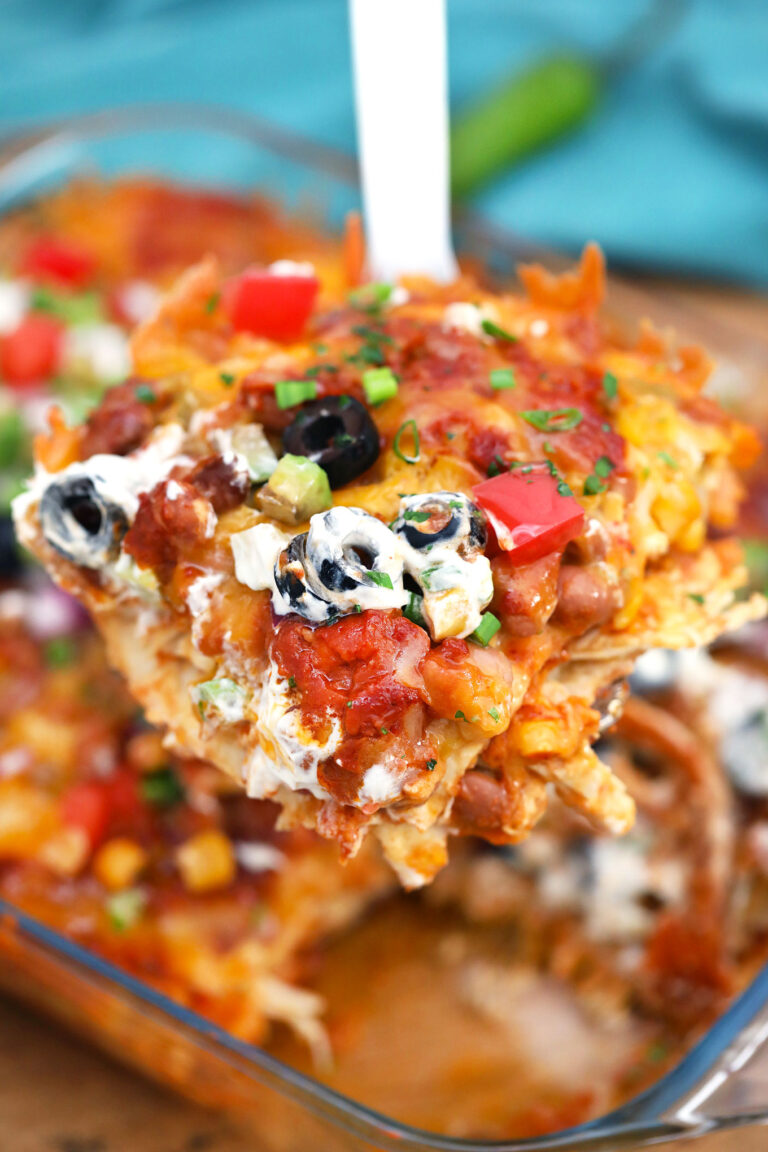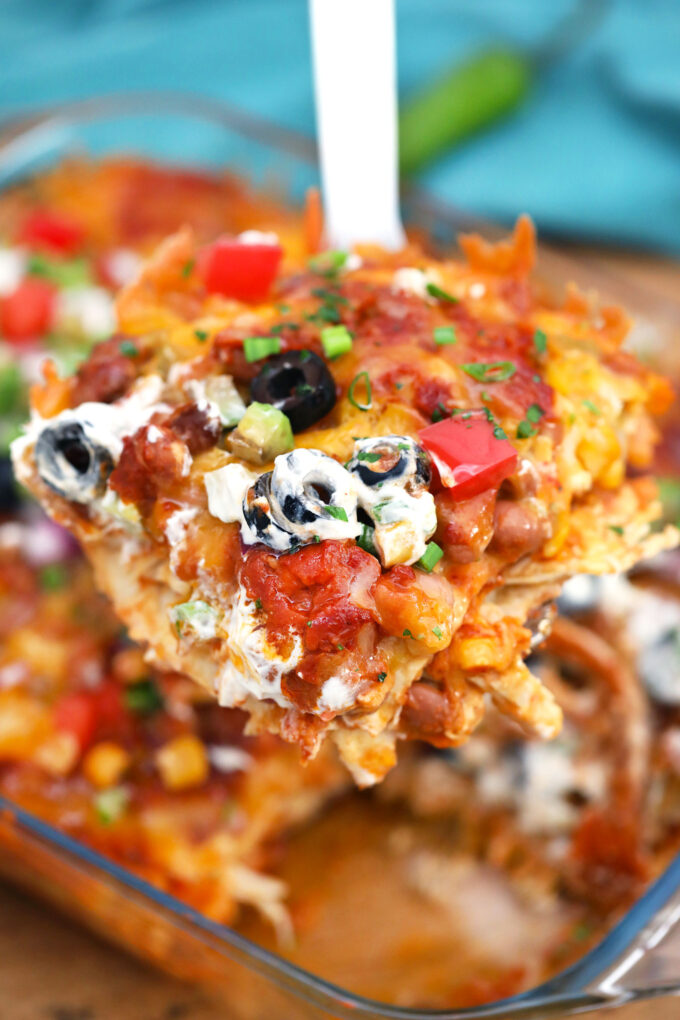 Possible Variations:
Meat: Instead of the chicken breasts, you may opt for ground turkey, beef, or, even go meatless. You can simply leave it out or substitute it with tofu.
Beans: Pinto beans are in the ingredient list but feel free to use refried ones, black ones, or any combination of these.
Cheese: I used Mexican blend cheese in this but feel free to use Monterey Jack, cheddar, mozzarella, panela, cotija, or any kind that you like.
How to Store:
Refrigerate: Place in airtight containers and refrigerate for up to 2 days.
Freeze: The tortillas may get soggy as you freeze it but if that does not bother you, then, freezing it is an option to extend the shelf life to at least 3 months. Simply secure it with foil.
To reheat: Just bake it again as per the instructions but add around 10 to 15 minutes baking time since it came from the fridge. If frozen, thaw it first for at least 24 hours before reheating.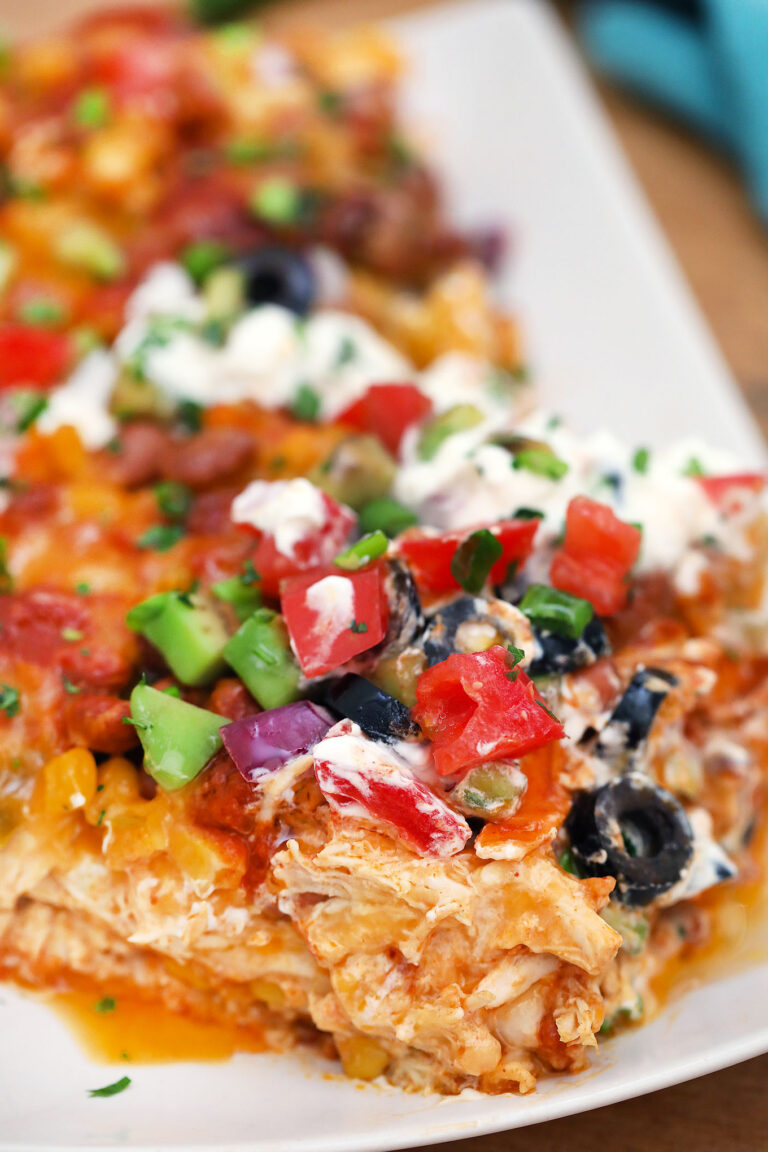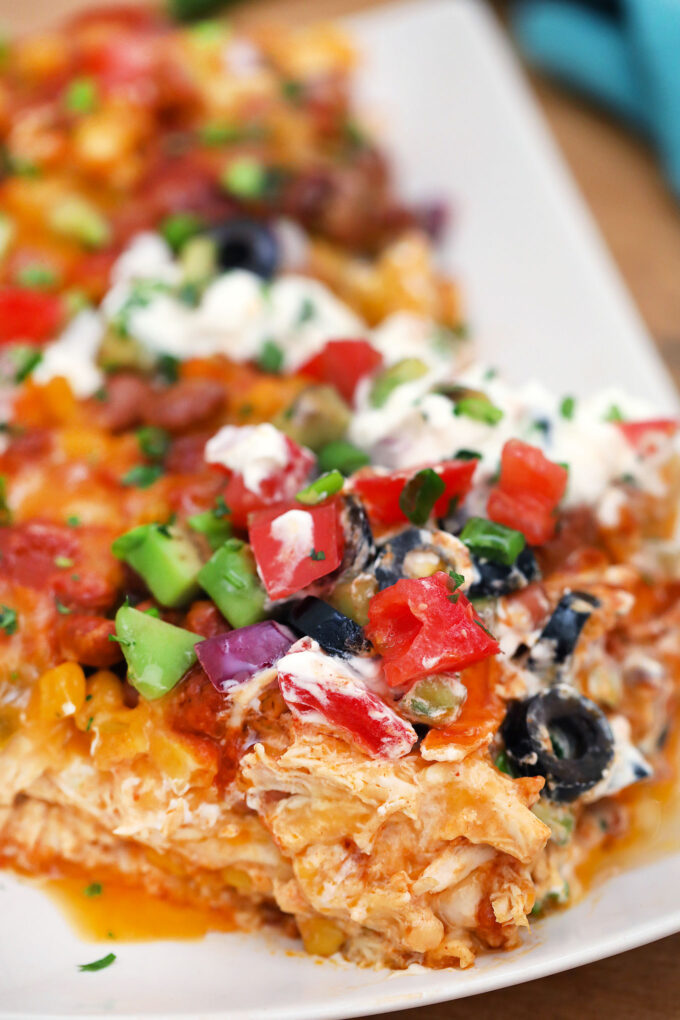 Recipe Tips:
You may use leftover or rotisserie chicken and do not be restricted to using breasts, other parts are okay, too.
Corn tortillas will result in a crumbly texture while flour ones tend to be chewier. Choose what you think is best for this though our family loves the corn tortillas as we find it to be more flavorful.
Top it with cilantro, sour cream, red onions, or guacamole!
Save Recipe
Chicken Enchilada Casserole
Author: Catalina Castravet
Serves: 9 servings
Prep time:

30

minutes
Cook time:

30

minutes
Total time:

1

hr
Ingredients
12 small tortillas (cut into halves - corn or flour)
3 cups cooked and shredded chicken breast
3 cups cheddar cheese (shredded)
2 15- ounce cans pinto beans (rinsed and drained)
4 ounce can diced green chiles
8 ounce can whole kernel corn (drained)
3 cups red enchilada sauce (store-bought or homemade)
Cooking spray
Garnishes:
Olives
Sour cream
Red onions
Cilantro
Green onions
Avocado
Tomatoes
Instructions
Preheat oven to 350 degrees F.
Coat a 9x13 inch baking dish with cooking spray and set aside.
In a medium bowl mix green chiles with beans and corn.
Spread 1/2 cup of enchilada sauce over the bottom of the baking dish. Layer 6 halves of tortillas over the sauce so that the bottom of the pan is covered.
Layer 1/3 of the chicken, 1/3 of the bean and chile mix, 2/3 cup of the cheese and 1/2 cup of enchilada sauce over the tortillas.
Place the second layer of tortillas on top and layer 1/3 of the chicken, 1/3 of the bean mix, 2/3 cup of the cheese and 1/2 cup enchilada sauce over the tortillas.
Repeat this process one more time for the third layer.
Place the remaining tortilla halves on top and spread the remaining enchilada sauce over the tortillas.
Sprinkle the remaining 1/2 cup cheese over the top.
Cover with foil that's been sprayed with cooking spray and bake for 30 minutes. Uncover and bake for an additional 5-10 minutes or until cheese is melted and browned.
Let sit for 10 minutes to firm up, then top with preferred garnishes and serve.
Calories: 408 Carbohydrates: 51 Protein: 35 Fat: 7 Saturated Fat: 4 Cholesterol: 48 Sodium: 841 Potassium: 378 Fiber: 10 Sugar: 8 Vitamin A: 621 Vitamin C: 2 Calcium: 297 Iron: 4
Save Recipe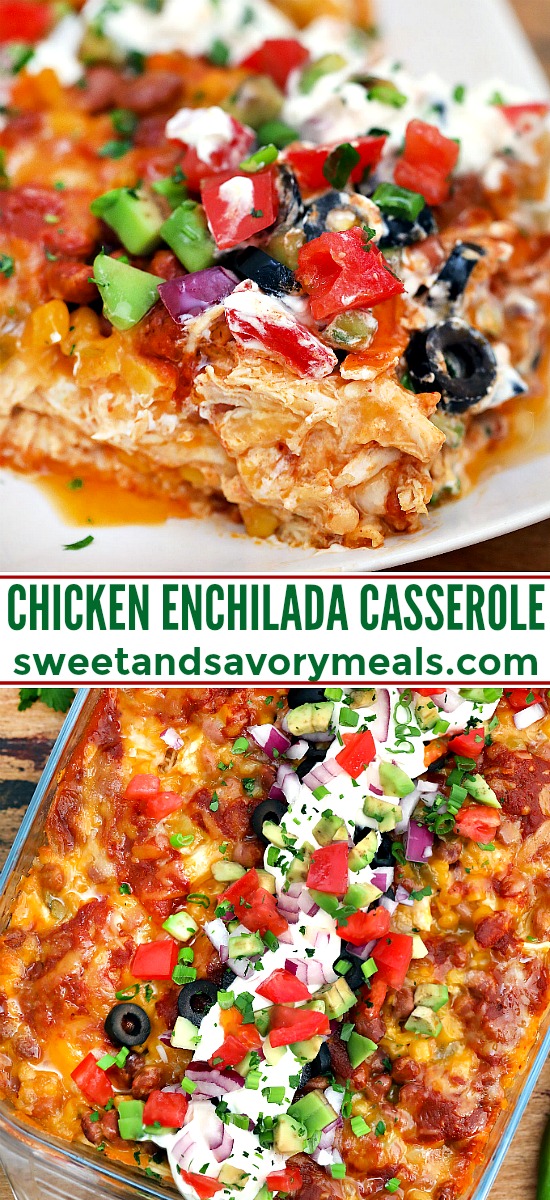 More recipes you might love