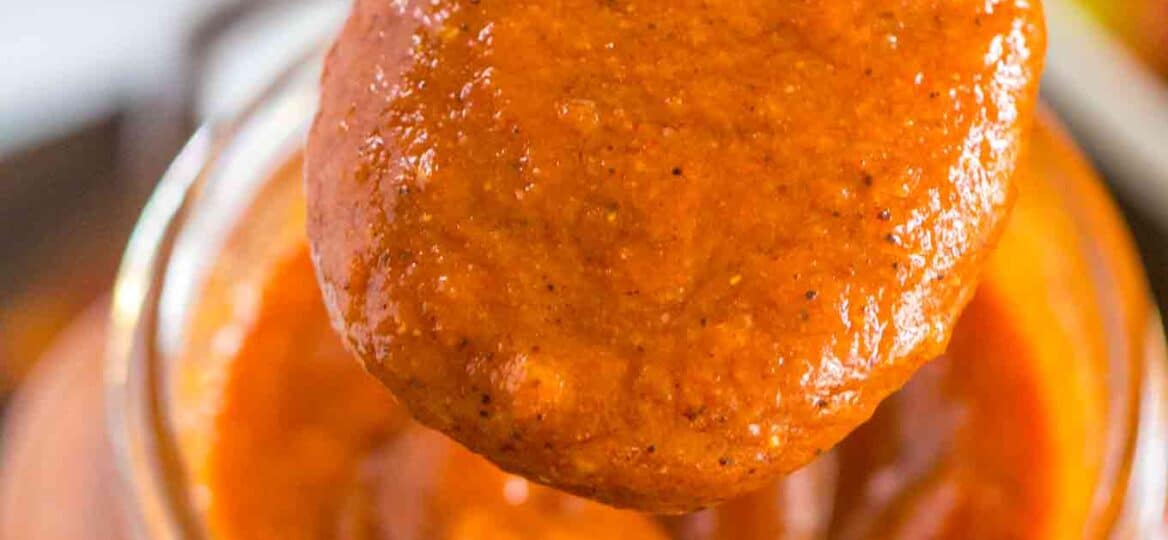 Perfect Enchilada Sauce [Video]
Enchilada Sauce made at home can be just as bold and flavorful as at your favorite Mexican restaurant. This recipe is simple to make and comes together in less than 15 minutes. Check out the recipe step by step video below.
A great homemade Enchilada Sauce will go a long way, and can basically be used in lots of recipes. This sauce is great for beef, fish, pork or even veggie enchiladas. It can also be used for dipping with some chips or veggies. We use the sauce a lot in our main dishes such as Chicken Enchilada Pasta, BBQ Chicken Enchiladas, or over a Turkey Meatloaf. Once you start making this quick homemade recipe, you will never buy a jarred version ever again!
Easy Enchilada Sauce
Enchilada Sauce is the epicenter of any Mexican dish. We love Mexican inspired dishes, and every time we have the occasion to eat at an authentic Mexican place, this sauce is always on the table. Having experienced many variations of this recipe, we decided to present our favorite one here.
A great enchilada sauce can make or break a dish, so it's important to prepare it right. The secret to good and flavorful recipe starts with quality ingredients, and a good tomato sauce is key. Also, the dried spices bring bold flavors into the sauce, which are sautéed in oil umami-rich tomato paste.
A good stock is essential as well since it forms the base of the sauce. You can use chicken or vegetable broth, and it should be added after you make a simple roux of flour and oil. To thicken the sauce, you will need a full three tablespoons of each. Similarly, a gluten-free flour blend will perfectly work for this recipe.
The final kicker is a tiny splash of vinegar, which boosts the flavors greatly in this recipe. By making it at home, you can experience the flavors in detail and can adjust based on your preferences. Also, unlike the canned version of it this homemade sauce is free of unnecessary processed ingredients and MSG, so you are guaranteed to enjoy a delicious and healthy recipe.
What ingredients are in Enchilada Sauce?
vegetable oil
flour
ground chili powder
tomato sauce and tomato paste
water, vegetable broth or chicken broth
ground cumin
garlic powder and onion powder
regular paprika or smoked paprika
brown sugar, optional but it balances the flavor nicely
salt
apple cider vinegar
How to make the best Enchilada Sauce?
Start by heating oil in a skillet over medium-high heat.

Then, and flour and chili powder, and stir together. Instantly reduce heat to medium, and cook the flour-chili blend until lightly brown, stirring constantly to prevent from burning. It only takes about 1 minute to cook it.

Gradually stir in tomato sauce, tomato paste, chicken broth, cumin, garlic powder, onion powder, paprika, brown sugar, and vinegar into the flour and chili powder mix until smooth.

Continue cooking over medium heat approximately 8-10 minutes, or until thickened slightly. If it is too thick, add more water or broth, a little at a time.

Season to taste with salt.
Is red chile sauce the same as enchilada sauce?
They are basically the same sauces since they both are based on red chiles. The variation might come on whether one is using tomato base or not, as sometimes the enchilada sauce is made without tomato sauce. But in general, the two sauces are very similar.
Is red enchilada sauce spicier than green?
In general, the sauce color depends on the kind of chiles used. In the case of the green one, the base is made out of green chiles, while in the red sauce, is made of red chiles. Also, red chiles are usually spicier than green chiles, and hence the red sauce, in general, is spicier.
But this is also dependent on the type of chilies. You can also adjust the spiciness level by reducing or increasing the chilis in it.
More delicious homemade sauces:
How long does the enchilada sauce last in the fridge?
Best to store it in an airtight container or mason jar in the fridge for up to 5-6 days. If stored for over a few days, it is best to shake it well before consumption.
Can I freeze it?
Absolutely! This recipe can easily be frozen in a sealable plastic container for up to 3 months. When ready to use, just thaw overnight in the fridge. Also, do not forget to shake it well before consuming.