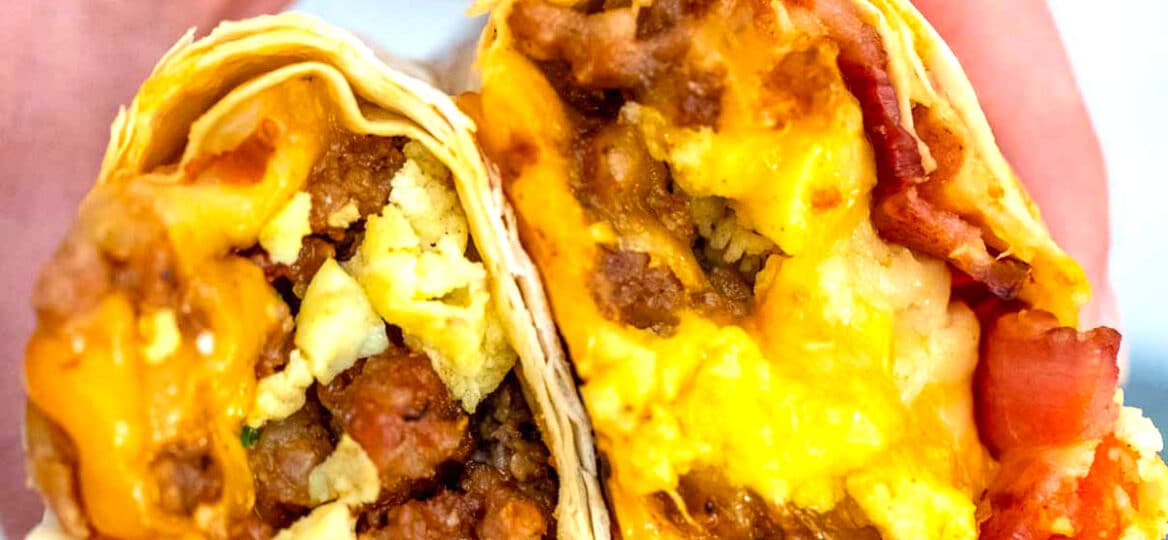 Sausage Egg and Cheese Breakfast Burrito [Video]
Sausage Egg and Cheese Breakfast Burrito is the perfect grab-and-go meal loaded with eggs, sausage, bacon, and cheese, all wrapped in a flour tortilla! This protein-fueled breakfast is not just tasty, but freezer-friendly, too!
Looking for more recipe ideas to start your morning right? Enjoy the delicious layers of my Homemade Yogurt Parfaits, indulge in a Peanut Butter Nutella Danish, and fill your tumbler with my green and refreshing Spinach Smoothie!
Homemade Breakfast Burrito Recipe
Sausage Egg and Cheese Breakfast Burrito is the ultimate answer to hectic mornings. No need to skip breakfast when you can grab these cheesy, meaty burritos and heat them in a snap!
I filled my recipe with all the breakfast favorites— scrambled eggs, hearty bacon and sausage, and gooey cheese. The flour tortillas make them into a hand-held portable meal that's a delicious hit with both kids and adults.
On top of that, these burritos are great for meal prep. Make a huge batch at the start of every week, and store them in the fridge. To heat up, toast it in a pan or oven if you have time, or toss it in the microwave for a couple of minutes if you're in a rush.
What goes into SECBB?
I chose breakfast items that are popular with even the pickiest eaters. Bacon, eggs, and sausage, plus cheddar cheese and mozzarella cheese, are the essential ingredients. I also add tomatoes during assembly and some hot sauce for serving.
Feel free to tweak this recipe according to your taste. Add jalapenos, use other types of proteins and cheeses, add beans and greens— go crazy with your version!
How to make Sausage Egg and Cheese Breakfast Burrito
Cook the bacon. Cook until crispy and drain on paper towels.
Prepare the sausage. Brown them with the onion, garlic, paprika, salt, and pepper.
Scramble the eggs. Add half and half, whisk, then cook in a bit of butter until curds form.
Assemble. Lay down a tortilla, then fill the center with a bit of the bacon, sausage, and eggs. Add cheese and tomatoes. Roll up, and serve with your chosen condiments like hot sauce.
Recipe Variations:
This original recipe is the perfect jumping board to make your variations! Try these out to start:
Bulk it up with my golden, crispy Hashbrown Recipe.
Watching your calories? Cut out the bacon, and swap with chicken or turkey sausage. Just use the egg whites, and don't use half and half.
Add some salsa for a tangy kick.
Toss in some veggies for a healthier burrito! Some great mix-ins are spinach and bell peppers.
Go vegan with some scrambled tofu, vegan cheese, black beans, and avocado.
Experiment with your cheese combinations. Try out Monterey Jack cheese, smoked mozzarella, sharp cheddar, and other flavorful cheeses.
Best tortillas to use for a breakfast burrito?
I prefer large, white flour tortillas because it's easier to fit all the fillings inside. The flavor is also simple enough not to overpower the ingredients.
Although, you may use a corn tortilla if you prefer. Just make sure it's big enough to accommodate the amount of filling you're planning to put inside.
Can I make them ahead?
I highly recommend you do so! There are days when I make breakfast burritos solely for meal prep. They won't lose their texture or freshness even after a few days in the fridge. You can also store them for up to a month or more if you have a big enough freezer!
How to freeze breakfast burritos:
Make the recipe.
Cool all the burritos completely.
Wrap tightly in foil and place inside freezer bags.
Freeze for one to three months.
Recipe Tips:
Don't start with a cold tortilla! To avoid your burritos from splitting, heat them up quickly in a microwave or a skillet before rolling.
If serving immediately, you can toast the burritos on a skillet or in an oven.
Don't overstuff your burritos.
Feel free to dip it into this delicious homemade alfredo sauce. It is super yummy!
Drain oil and moisture from your fillings to avoid soggy burritos.