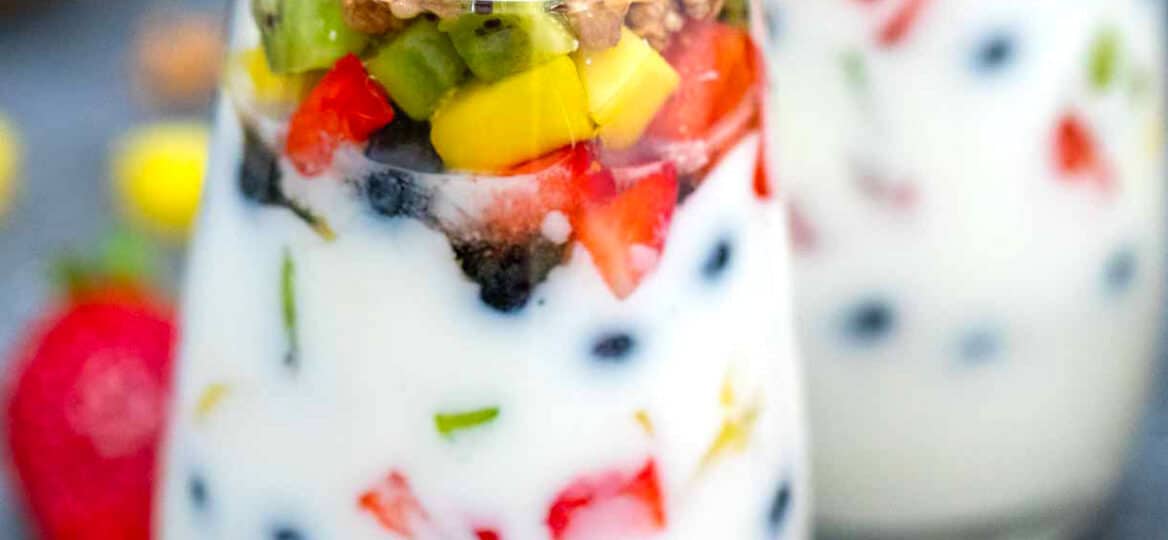 Homemade Yogurt Parfaits [Video]
Yogurt Parfaits boast beautiful layers of creamy yogurt, crunchy granola, and fruits. Endlessly customizable, they taste as fantastic as they look. Grab for a quick breakfast, or as a light snack!
Looking for more breakfast recipes? Treat yourself to a wonderful morning with this zesty Cheesecake Oatmeal, or my fluffy, golden Brioche French Toast. For something savory, this Sausage Breakfast Casserole is a protein-packed way to start the day!
Healthy Yogurt Parfaits Recipe
Yogurt Parfaits prove how easy it is to enjoy a healthy and tasty breakfast. I still adore full breakfast spreads – bacon, eggs, toast, coffee, the works— but some days, I just don't have the time for it.
With my super easy recipe, you'll never have to miss breakfast again. I love how the tangy, creamy yogurt balances out the sweet fruits. The granola adds more fiber and crunch, with coconut flakes for additional texture.
If you're going to have a really busy week, you can add this recipe to your breakfast meal prep rotation. Just grab and go before you walk out the door! Excellent for breakfast, and equally delicious for a snack or dessert!
What are parfaits?
The parfait we know today originated as a frozen dessert from France. The French created it by making a custard-like puree out of egg, cream, syrup, and sugar, then freezing the concoction.
The American version refers to layers of cream, fruit, cake, and other ingredients served in a tall, clear glass. The dessert is usually topped with whipped cream. For my recipe, I kept those gorgeous, colorful layers but made a healthier version.
What is the difference between parfait and yogurt?
A parfait is a term for the dish with layers of ingredients. Yogurt is one possible ingredient for a parfait.
Are yogurt parfaits healthy?
This recipe is much healthier than its cream-based counterparts. The best thing about this homemade recipe is that you control every ingredient. Adjust the type and quantity of ingredients if you're watching your calories.
For instance, use low-fat plain, and avoid the flavored versions because they generally have more sugar. You may also use fresh fruits instead of canned since the latter tend to have more sugar as well. For the granola, check the ingredient list and select one with less fat and sugar.
How to make homemade yogurt parfaits
Prepare. Measure out and slice the ingredients.
Make yogurt mixture. Stir the honey and vanilla into the yogurt.
Layer. Get a clear mason jar, and create alternating layers of yogurt and fruit.
Serve. Top with granola, coconut flakes, and serve.
What type of yogurt is best:
I prefer the whole milk, organic plain version because of the light yet creamy texture. However, feel free to use your favorite kind for this recipe. Go with dairy free, low-fat, flavored, or even Greek for a thicker consistency and more protein. Sub with frozen if you're serving the parfait for dessert!
What is the best granola to use:
I recommend using the classic granola mix the first time you make this recipe, so you can get familiar with the base flavors. From there, you can start getting creative with the mix-ins.
Best fruits to use:
I like using fresh as much as possible, especially when I'm serving these to guests. Firm fruits like strawberries, blueberries, and raspberries work really well to keep those layers together, and they also have bold, beautiful colors.
Frozen fruits tend to thaw and create a syrup that can stain the layers. If you're not particular about aesthetics, frozen is perfectly and a great way to add sweetness.
How long does it last?
They generally last in the fridge for about three days, so plan accordingly if using for breakfast meal prep.
Can you make them ahead of time?
Absolutely! Layer the yogurt and fruits, but only add the granola right before serving so it doesn't get soggy.
Recipe Tips:
For maximum crunch, add the granola at the very end.
Experiment with your mix-ins: go tropical with mango and peaches, add some cinnamon, treat yourself with peanut butter and chocolate chips— seriously, go wild!
If serving a crowd, consider parfait buffet: set out topping options, and let them construct their own versions.
Deliciousness to your inbox
Enjoy weekly hand picked recipes and recommendations