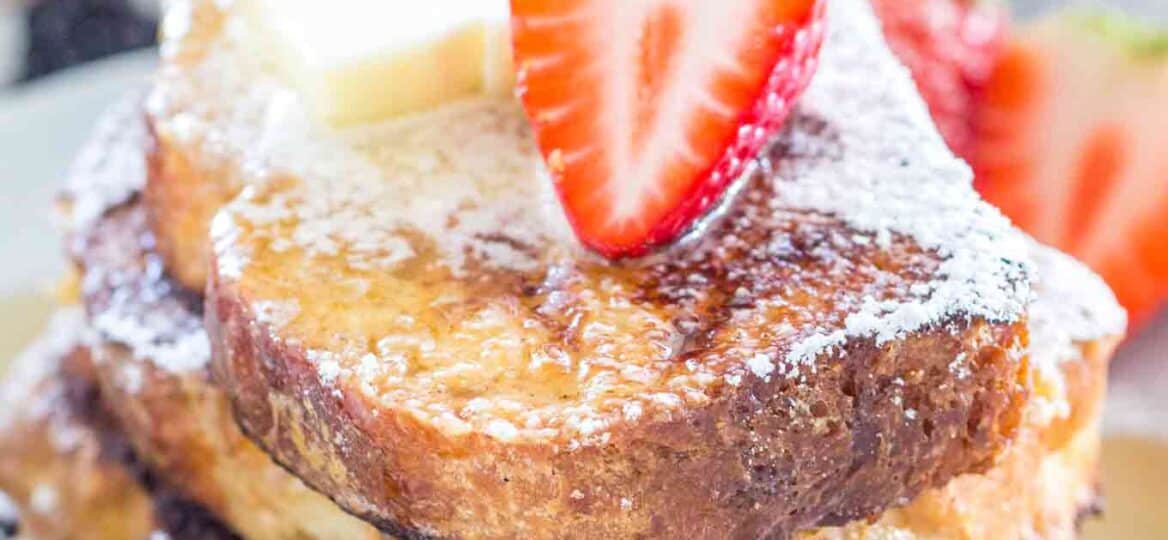 Brioche French Toast [Video]
Brioche French Toast is buttery made with brioche bread, sugar, cinnamon, eggs, and cream. It is the best and easiest French toast recipe you can make at home. Perfect for breakfast during any day of the week, especially when served with some butter and maple syrup.
We love making French toast and using the Brioche bread instead of regular bread, this recipe is guaranteed to win you over. This is the best French toast recipe you can get! I used Homemade Brioche Bread which I proudly cooked during this week. However, the store-bought version works perfectly here and is just as delicious. We also have Chocolate Chip Banana Bread as another great sweet breakfast option.
Easy Brioche French Toast
Brioche French Toast is hands down one of my top favorite sweet breakfast dishes to make. The French toast is super easy to make, and thanks to the brioche bread, it tastes incredibly good. The Brioche French Toast is dipped in a homemade batter and cooked to golden brown perfection. As a result, the toast is puffy and incredibly delicious.
For best results, you want to use firm bread, one that can stand up to a good soak in egg and cream. However, the bread shouldn't be too firm, because frying it will make it extra tough. So you want to avoid that. We slice the bread and then dip it in simple cinnamon and nutmeg scented batter before frying. We finish it off with some butter and maple syrup. Similarly, you can serve the toast with fresh berries, honey or whipped cream.
WHAT IS BRIOCHE?
Brioche is a classic French bread that is made of flour, yeast, with high egg and butter content. Brioche can be shaped in a variety of forms, such as a rectangular loaf, round boule, or in its most recognizable form a fluted muffin like a roll.
IS BRIOCHE BREAD SWEET?
In its traditional form, the Brioche Bread is usually on the sweeter side. Due to high butter and egg content, the bread is very soft and very fine. It also has a golden color after baking, and in some ways, it resembles texture-wise the Italian panettone a bit.
What is the best bread for French Toast?
We love Brioche Bread, and for this reason, we think it is the ultimate bread for the perfect French toast. It is an ideal bread to use, because it is rich, buttery, fluffy, which is perfect for most amazing French toast. Similarly, we love Challah bread.
Both types are buttery and on the sweeter side, that makes them a nice foundation for the French toast. When buying the bread from the store, make sure to cut it thicker (3/4″ to 1″ thick slices). This way it will be sturdy enough to withstand being dipped into a batter.
How do you stale bread for French toast?
If you have fresh bread on hand and want to stale it quickly, I recommend you slice the bread and bake in the oven on a wire rack for about 8 minutes each side at 300 F. This prevents excess moisture in the bread while keeping the bread's flavor.
How to make a custard batter for Brioche French Toast?
The Brioche French Toast batter is made with eggs, cream or milk, granulated sugar, vanilla, ground nutmeg, and cinnamon (optional). The secret is to whip the custard well together, so the eggs are completely mixed into the cream. You can use a bowl with a whisk, a fork, or the entire mixture can be whipped in a blender. For a sweeter taste, adjust the sugar accordingly.
What are the best toppings to use for Brioche French Toast?
For topping the Brioche French Toast we love to use butter, maple syrup, and powdered sugar. Similarly, great toppings will be fresh berries, honey, a dollop of whipped cream or ice cream, sprinkles, caramel, Nutella, or sliced banana.
What to Serve with Brioche French Toast?
This delicious toast is a great option on its own for breakfast. However, if you want to indulge yourself with a full breakfast spread, you can pair it with some bacon, sausage, fried eggs, roasted potatoes, or a fruit salad.
Deliciousness to your inbox
Enjoy weekly hand picked recipes and recommendations