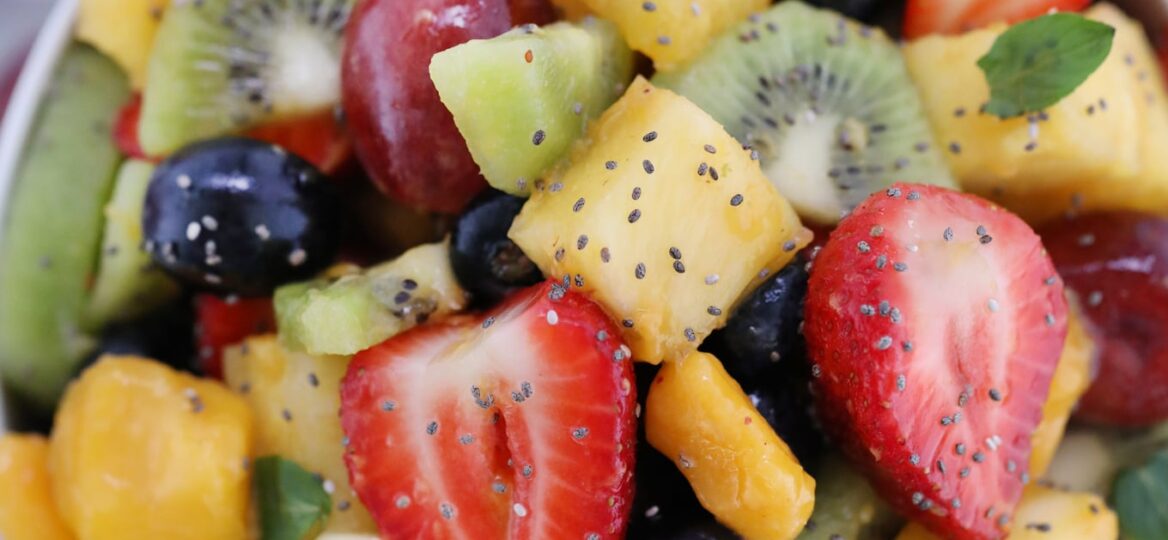 Fruit Salad with Honey Lime Dressing [video]
Fruit salad is fresh in taste and colorful to look at, made with ripe fruits and a honey-lime poppy seed dressing. Take this easy recipe and you will never make a refreshing, sweet salad in any other way ever again.
Looking for a fresh salad to introduce during the summertime? Try making Creamy Grape Salad and Easy Cucumber Salad, these are both great recipes to make for when you are in the mood for something super light and flavorful.
Fruit Salad with Honey Lime Dressing
Fruit salad is one of my absolute favorite dishes to eat when it starts to warm up outside. I love making large batches of this so that I can have it in my refrigerator at all times.
This is so incredibly easy because all you have to do is cut up the fruit and add some drizzles of lime, honey, vanilla extract, and poppy seeds and you are on your way to eating a delicious, healthy dessert.
No one says that this has to be strictly a dessert food, but I like to eat this as a dessert to any meal really. By eating this after my main meal I find that I feel better about myself knowing I ingested a bunch of fruits rather than ice cream.
This dish is perfect for the summertime, with all of the fruits being in season, they will taste so lovely. Not to mention the sweet taste that the dressing adds.
Is fruit salad healthy?
This dish is very healthy and rich in vitamins. With all-natural ingredients and no preservatives, it will be a much healthier alternative to ice cream or chocolate. This will also satisfy the sweets cravings that many of us have.
Keep in mind, that fruits are naturally rich in sugar and carbohydrates, so if you are on a low-carb diet, this might not be the best choice. Just limit yourself to a smaller serving.
How to serve Fruit Salad?
I love eating this dish and sitting outside in the sun soaking it up. It makes me feel very tropical when I eat this. The zesty lime surprise really does something to my taste buds every time I take a bite.
Make it this way and your taste buds will be just as pleasantly surprised and appeased every time you take a spoonful. I find that the best way to get the full experience of the salad is by letting the fruits soak in the juices for a few hours.
Don't fret if you do not have any time for the flavors to imbibe. This dish will still be just as delicious no matter how long the fruits soak up the dressing.
I also like to add some freshly chopped mint leaves and also a dollop of whipped cream on the side.
Best Fruits for Fruit Salad:
Berries
Kiwi
Pineapple
Mango
Grapes
Oranges
Cantaloupe
How do you make fruit salad dressing?
Start by gathering lime zest, lime juice, honey, orange juice, poppy seeds, and vanilla extract.
Place all of these ingredients in a medium-sized bowl and mix them together
This dressing will allow for a nice and sweet taste, but also be extremely healthy at the same time.
How do you keep fruit salad from turning brown?
The fruits should not turn brown. By adding the lime into the salad, it will help the fruits not change color. The acidity inside of the lime keeps the fruits from darkening.
How do you store fruit salad?
Storing this dish is extremely easy. Simply take the appropriate size container and place the leftovers inside. Place the container in the refrigerator when finished.
Do you use fresh or frozen fruits in a fruit salad?
I find that using fresh fruits is better than frozen. This is because they are easier to cut and also I think that they taste better. There is nothing wrong with using frozen ones. However, I believe that frozen fruits are better for using in smoothies rather than salads.
More salad recipes:
How do you make a creamy fruit salad?
By adding a simple vanilla yogurt, will make the salad creamy and will still make it taste very good.
Summer Fruit Salad
Ingredients
Salad:
2

cups

blueberries

1

cup

raspberries

2

cups

red grapes

2

cups

blue grapes

or black grapes

3

cups

strawberries

halved

3

kiwi

sliced

2

mango

diced

3

cups

pineapple

cut into chunks
Dressing:
Zest of 1 lime

Juice of 1 lime

1/3

cup

honey

2

tablespoons

orange juice

1

teaspoon

poppy seeds

1

teaspoon

vanilla extract

Garnish:

Mint leaves
Instructions
Combine all the dressing ingredients in a small bowl. Stir to combine.

Add all the fruits to a large bowl, pour the dressing, gently toss to combine.

Garnish with mint leaves and serve or refrigerate.
Deliciousness to your inbox
Enjoy weekly hand picked recipes and recommendations