Creamy Grape Salad Recipe [video]
Creamy Grape Salad is a sweet fruit salad with several kinds of seedless grapes, cream cheese, and chopped pecans, perfect for a light dessert. With crisp grapes and a sweet creamy sauce, you will never look at grapes the same way again.
Are you looking for more salad recipes? How about this sweet and delicious Berry Cheesecake Salad made from raspberries, blackberries, and blueberries? And our Red, White, and Blue Cheesecake Salad is simply amazing with strawberries, blueberries, and cheesecake pudding mix.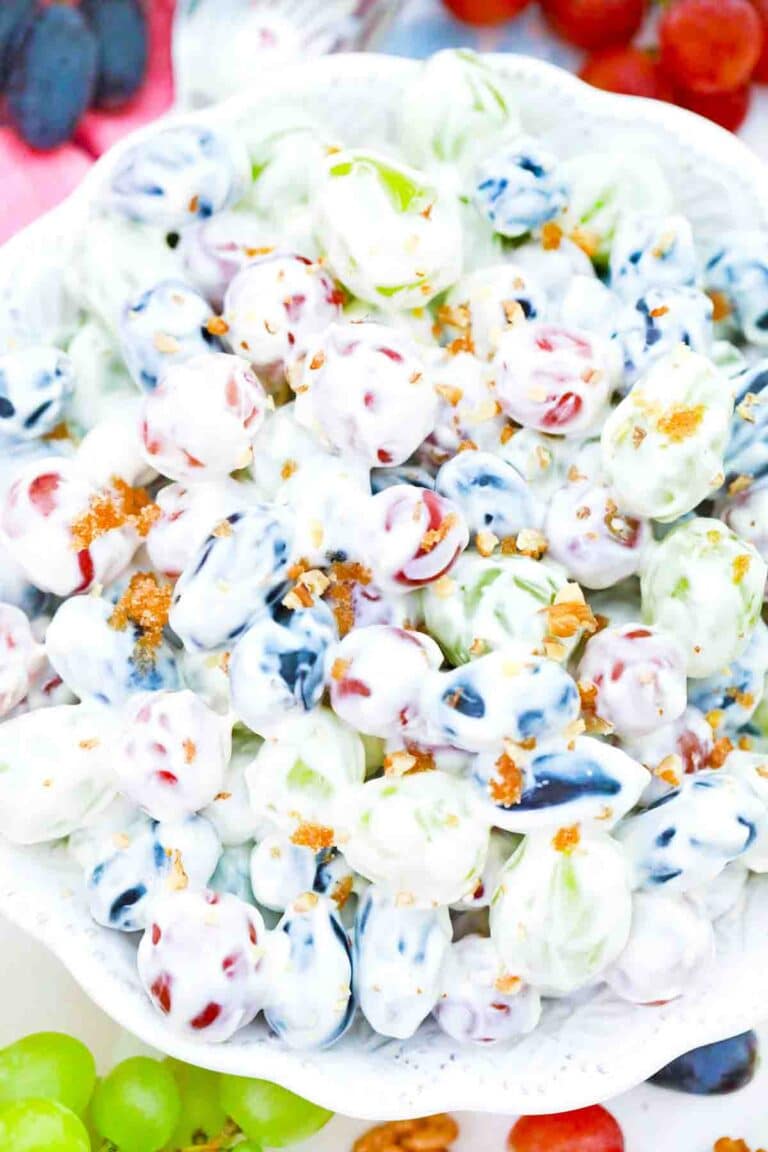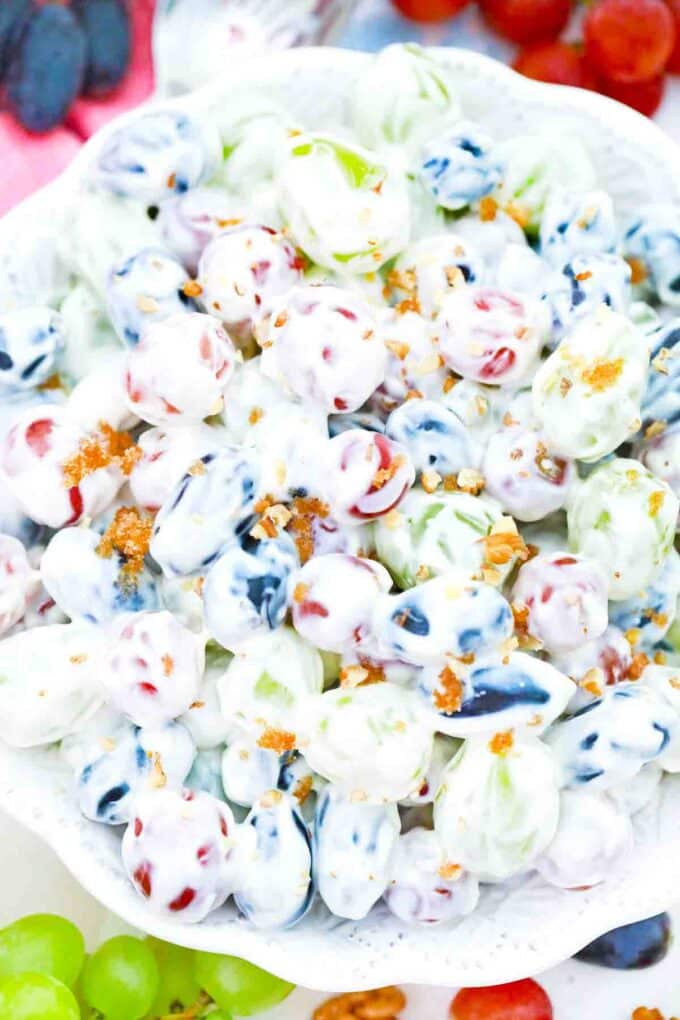 Grapes were brought to the US over 300 years ago by Spanish explorers. Americans and Europeans started cultivating their own varieties over the years. In fact, there are more than 8,000 varieties of grapes. The two main ones you will find at your grocery store are European and American. And with so many colors and types, you could try a new grape every day for the next several years and not run out.
This amazing creamy grape salad is the best thing that has ever happened to salad! The crunchy pecans meld perfectly with the absolutely delicious creamy goodness of the cream cheese-sour cream mixture.
You may notice the similarity to the grape salad at Chicken Salad Chick. But ours is much better because it has all the fresh ingredients. This easy recipe is so fast and simple, you can make a grape salad in minutes for breakfast, a side dish for lunch, a healthy dessert, or a snack any time.
We have plenty of free recipes from sweet to savory. This pineapple cucumber salad with bell peppers and seasoned with maple syrup, soy sauce, and chili sauce is a unique way to get your fruit and vegetables. For a deliciously sweet and crunchy dessert, try our buttery pecan pie bars with roasted pecans, brown sugar, and maple syrup.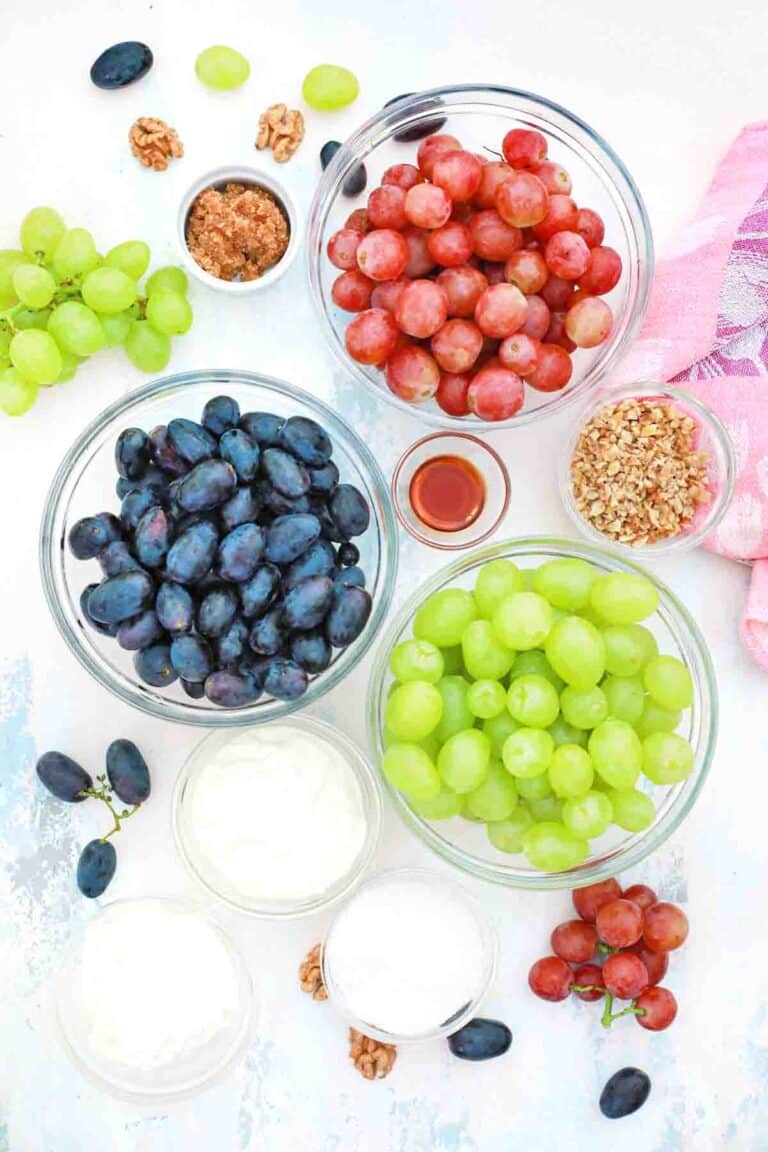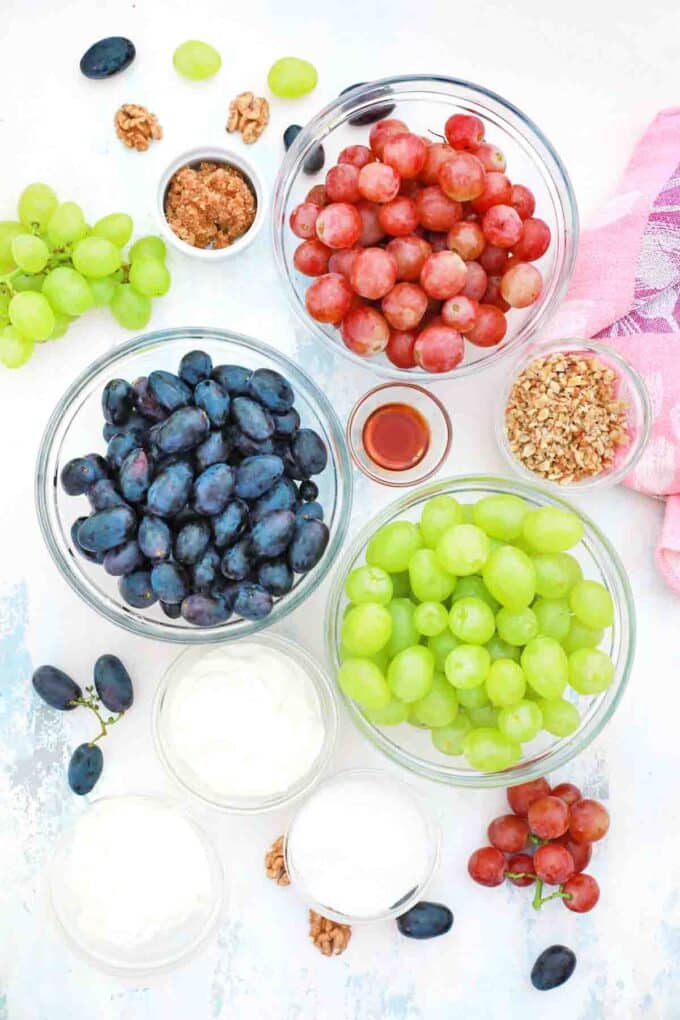 Ingredients needed:
To make this easy creamy grape salad recipe, all you need besides grapes are a few basic ingredients. After gathering these items, scroll down to our recipe card at the bottom of the page for the exact measurements and instructions.
Seedless blue or black grapes
Seedless green grapes
Seedless red grapes
Cream cheese: Softened to room temperature.
Chopped pecans or walnuts
Granulated sugar
Brown sugar: Dark or light brown sugar will both work in this recipe.
Sour cream
Vanilla extract
How to make creamy grape salad from scratch?
Mix the creamy dressing: First, in a large mixing bowl, beat softened cream cheese, sour cream, sugar, and vanilla extract until smooth. You can use a hand mixer, electric mixer, or stand mixer for this step to make it easier.
Add grapes: Then, gently fold in the blue, red, and green grapes until they are evenly coated in the cream cheese mixture.
Chill the salad: Next, cover the bowl with plastic wrap and put it in the fridge to chill for at least an hour, but preferably overnight.
Serve creamy grape salad: Before serving, transfer to a serving bowl and add brown sugar and pecans or walnuts on top.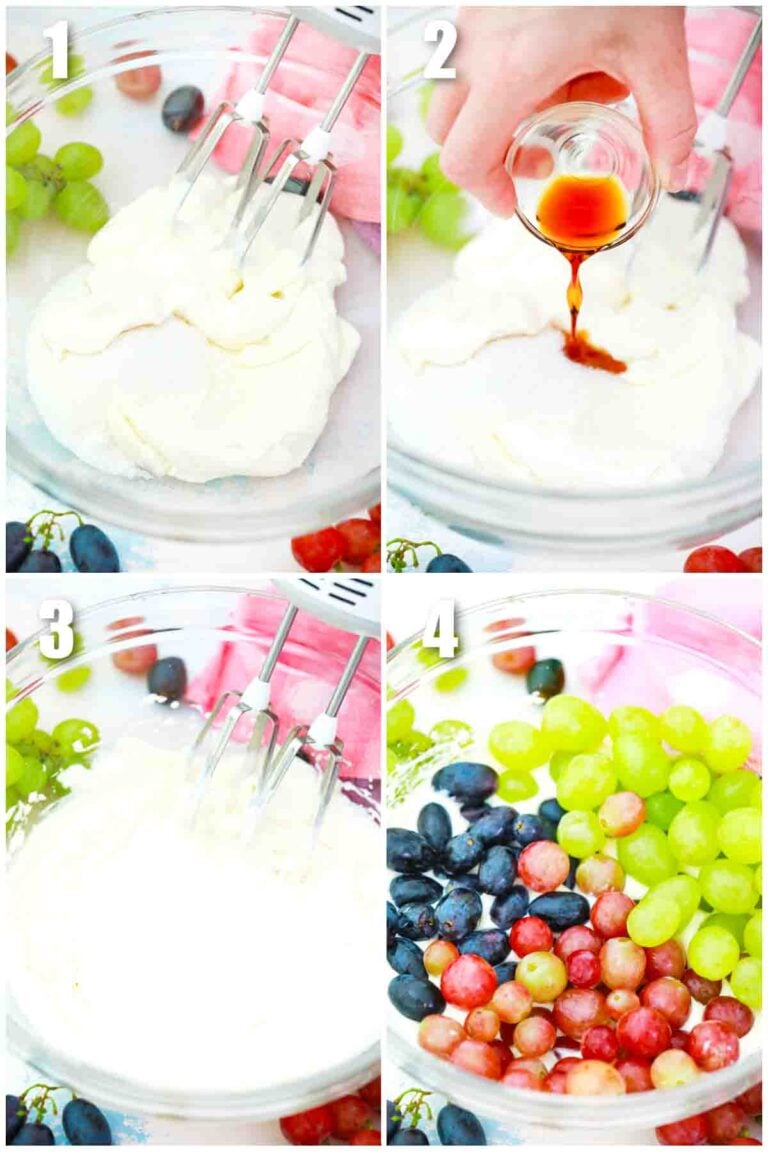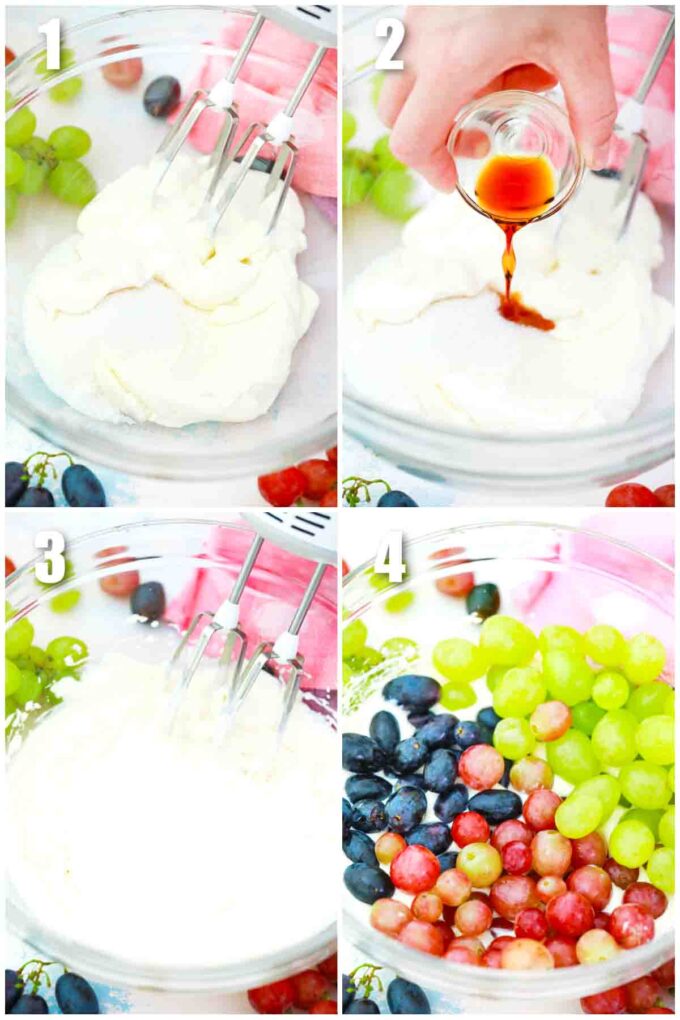 Recipe variations:
Yogurt: You could substitute Greek yogurt for sour cream for less fat and fewer calories.
Toasted pecans: For a nuttier flavor, use toasted pecans for the topping.
No white sugar: Instead of white sugar, you can use all brown sugar for fewer calories and a richer flavor.
Add more fruit: You do not have to stop at grapes. Feel free to add your favorite fruits to this sweet creamy salad. Some of the popular ideas are strawberries, blueberries, and raspberries.
Add some veggies: Another way to eat this delicious salad is with some veggies like chopped celery, carrots, or broccoli.
Other extracts: Instead of vanilla extract, try other flavors such as almond, maple, or coconut.
Other cheese: For a lighter cream dressing, try mascarpone cheese instead of cream cheese and sour cream.
Add meat: Another way to make this grape salad is with crumbled bacon or diced chicken.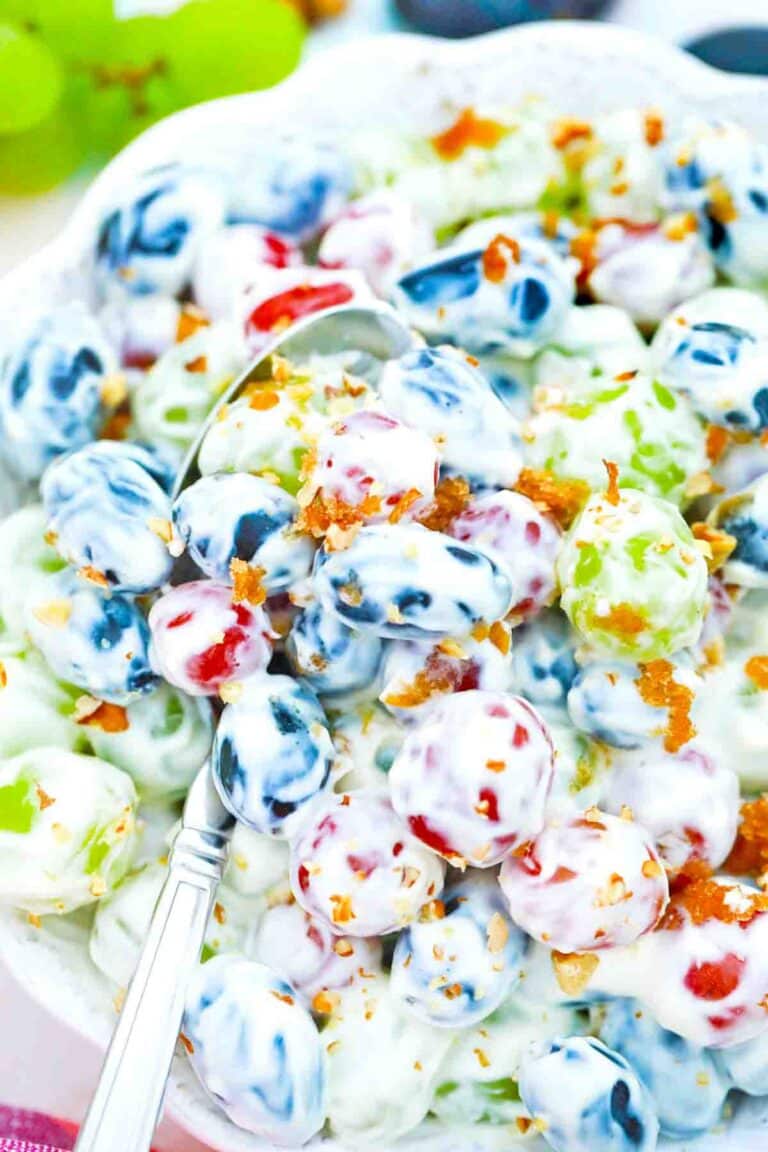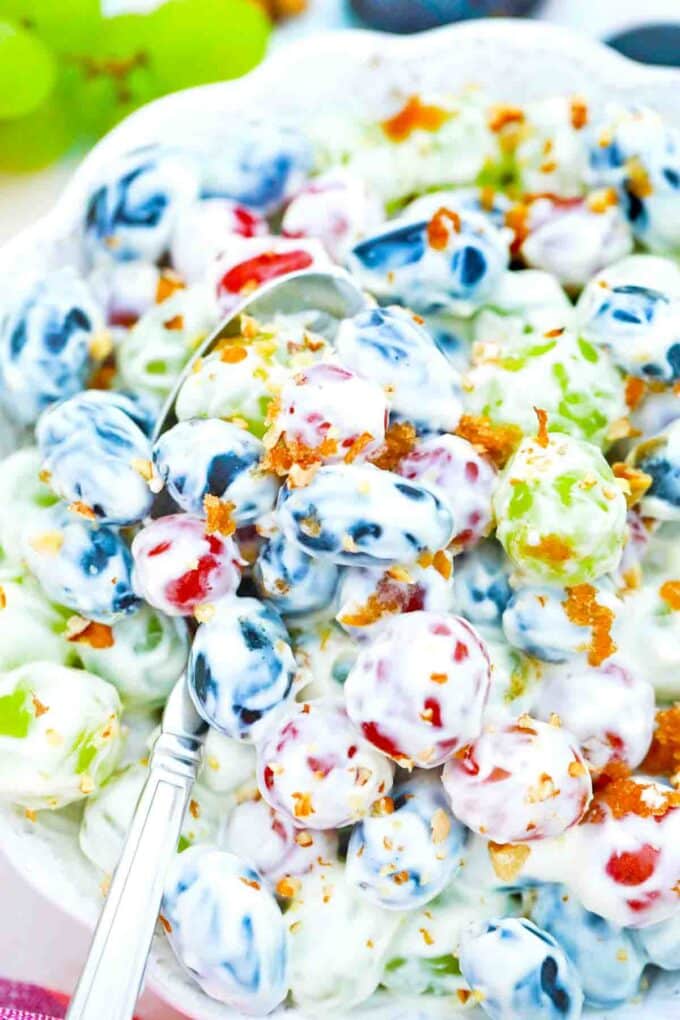 How to serve:
This is the perfect recipe to bring to summer BBQs or your next family get-together instead of the typical fruit salad. A large bowl of this salad is sure to be a crowd-pleaser with its firm grapes, crunchy nuts, and creamy dressing.
And with very little prep time, you can whip it up at the last minute for surprise guests. Try one of these awesome serving suggestions or share one of your own in the comments below.
Sprinkle some crushed graham crackers on top of your grape salad for a bit more sweetness and crunch. But do not add these until you are ready to serve, or they will get soggy.
For an even sweeter grape salad, drizzle some salted caramel sauce on top before serving.
Another delicious topping for this sweet and creamy grape salad is chopped Heath bars or some other kind of crunchy candy bar.
For a sweet and light salad, add a dollop of our homemade whipped topping.
A sprinkle of toasted coconut would also be a tasty addition.
Use leftovers to make another kind of fruit salad. For instance, you could mix it with this honey lime fruit salad for a delicious twist.
You could also use leftovers to add to a smoothie.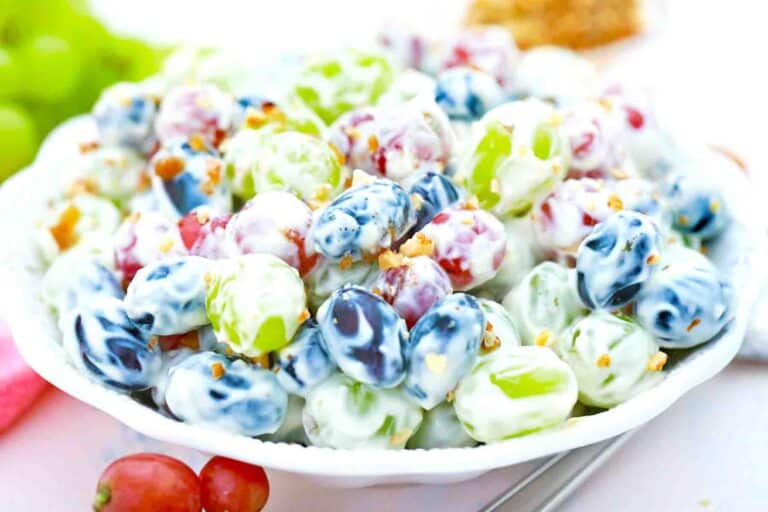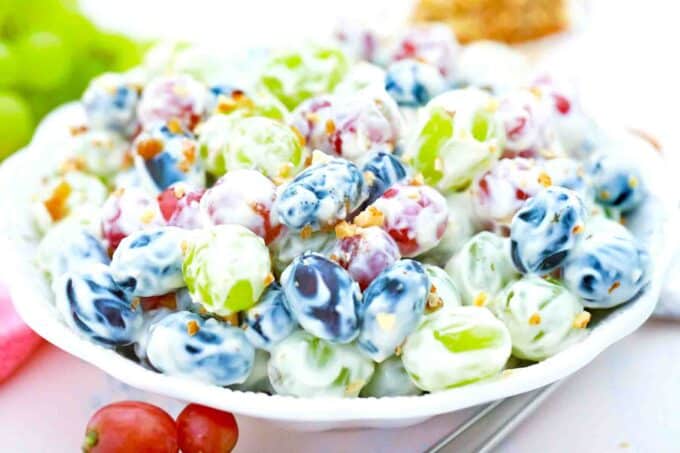 Frequently asked questions
How do I prepare the grapes?
The best way to do it is to wash the grapes all together in a strainer. Then, remove all of the stems, making sure you get even the small ones on top of each grape. These could become a choking hazard if swallowed by a child. Then, after washing, let them dry on a paper towel while you make the cream cheese mixture.
How can I make this dish healthier?
Instead of 1 cup sour cream, you can use half that and half plain greek yogurt when you mix together the cream cheese and other ingredients for the dressing. Also, if you are worried about calories and fat, use low-fat cream cheese. It will not be as creamy but it will still be delicious.
How do I soften the cream cheese quickly?
If you did not plan ahead, don't worry. It has happened to all of us. You do not have to wait an hour for your cream cheese to soften. Just pop it in the microwave (without the wrapper) for 15 to 30 seconds. Or leave it in the wrapper and place it in a warm bowl of water for about 15 minutes.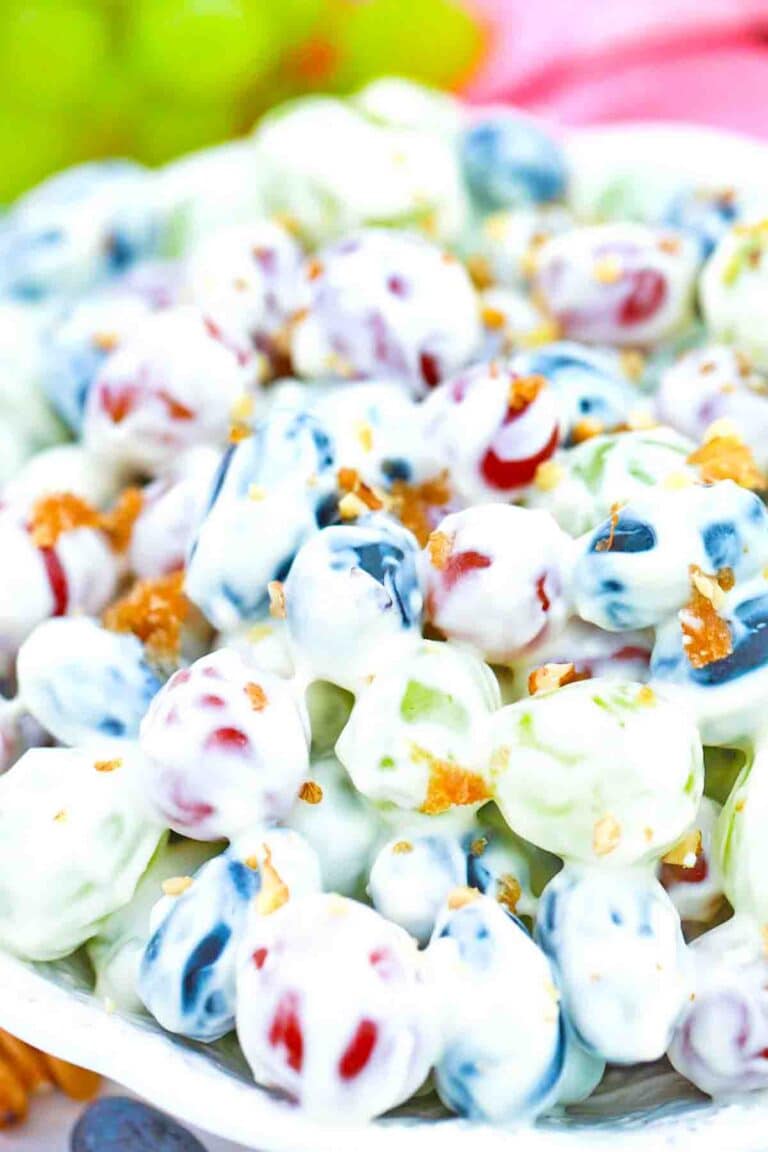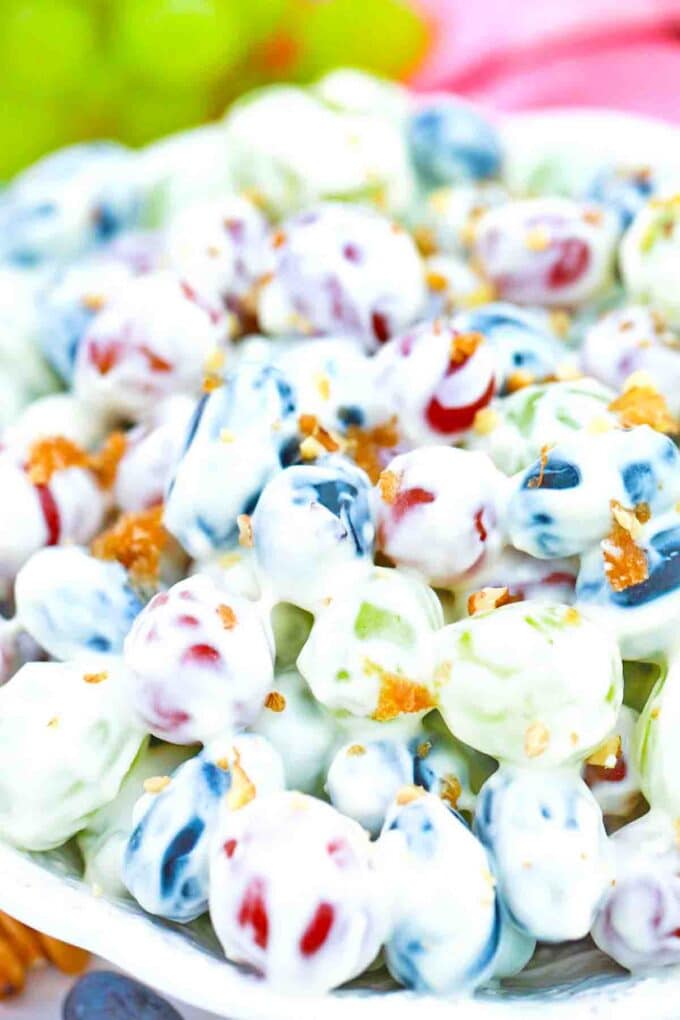 What is the nutritional information in this recipe?
Each serving of this grape salad has 276 calories, 42 grams of carbs, and 12 grams of fat with 5 grams being saturated fat. There is also 27 milligrams of cholesterol, 78 milligrams of sodium, and 26 grams of sugar in each serving.
On the plus side, one serving includes 3 grams of protein, 443 milligrams of potassium, and 4 grams of fiber as well as 1 milligram of iron, 92 milligrams of calcium, 3.4 milligrams of vitamin C, and 435 units of vitamin A.
How to store leftovers:
Store: You can refrigerate your leftover creamy grape salad in an airtight container for up to a week.
Freeze: If you still have leftovers after a few days, you can freeze them for three to four months.
Thaw: Be sure to thaw your leftover grape salad in the fridge overnight for best results.
Recipe tips:
Make sure the cream cheese is softened to room temperature or your dressing will be lumpy.
If you will be serving young children or the elderly, cut the grapes in half. Whole grapes can be a choking hazard to some.
Similarly, if the grapes are large cut them in half or in quarters to make them easier for everyone to eat.
You should also consider making a separate batch of creamy grape salad without nuts for those who may have trouble chewing them.
Do not add any of the toppings until you are ready to serve. That way they will stay crispy and crunchy.
Make sure you choose firm grapes. You do not want the soft ones because they will get mushy.
The longer you refrigerate your grape salad, the better it will be. Consider making it the night before you plan to serve it.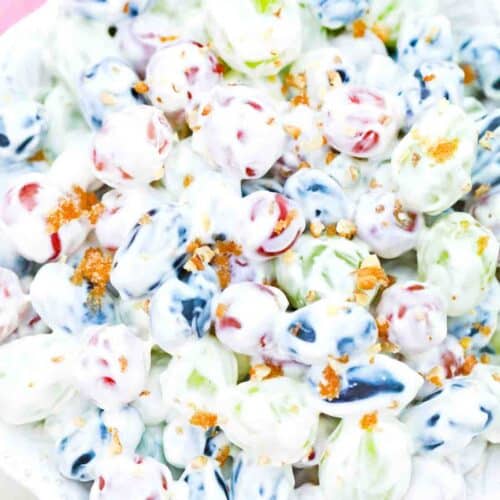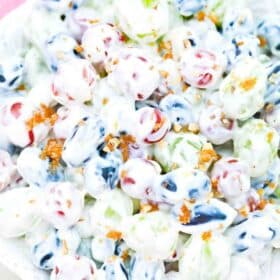 Creamy Grape Salad
Creamy Grape Salad is a sweet fruit salad with several kinds of seedless grapes, cream cheese, and chopped pecans, perfect for a light dessert.
Save
Share
Print
Pin
Rate
Ingredients
1

package

(8 ounces) cream cheese

(softened to room temperature)

1

cup

sour cream

1/3

cup

sugar

1/4

cup

brown sugar

1

teaspoon

vanilla extract

4

cups

seedless red grapes

4

cups

seedless green grapes

4

cups

seedless black grapes

(or blue grapes)

½

cup

chopped pecans

(or walnuts)
Instructions
In a large bowl beat cream cheese, sour cream, white sugar, and vanilla extract until smooth.

Add grapes and gently fold in until evenly coated in the creamy sauce.

Cover the bowl with plastic wrap and refrigerate for at least one hour or overnight.

Before serving, sprinkle grape salad with brown sugar and chopped pecans or walnuts.
Nutrition
Calories:
276
kcal
|
Carbohydrates:
42
g
|
Protein:
3
g
|
Fat:
12
g
|
Saturated Fat:
5
g
|
Cholesterol:
27
mg
|
Sodium:
78
mg
|
Potassium:
443
mg
|
Fiber:
4
g
|
Sugar:
26
g
|
Vitamin A:
435
IU
|
Vitamin C:
3.4
mg
|
Calcium:
92
mg
|
Iron:
0.8
mg
More recipes you might love