Pecan Pie Bars are sweet, nutty, crunchy and buttery! Serve this American favorite dessert at your Thanksgiving and Christmas gathering! Watch the video tutorial below and see how easy and delicious these are!
It is the pecan season! Hence, it is time for this recipe that is just one of the many recipes that you can make with these delicious nuts. Here are other suggestions for this versatile ingredient: Classic Waldorf Chicken Salad, Texas Sheet Cake, and Creamy Grape Salad.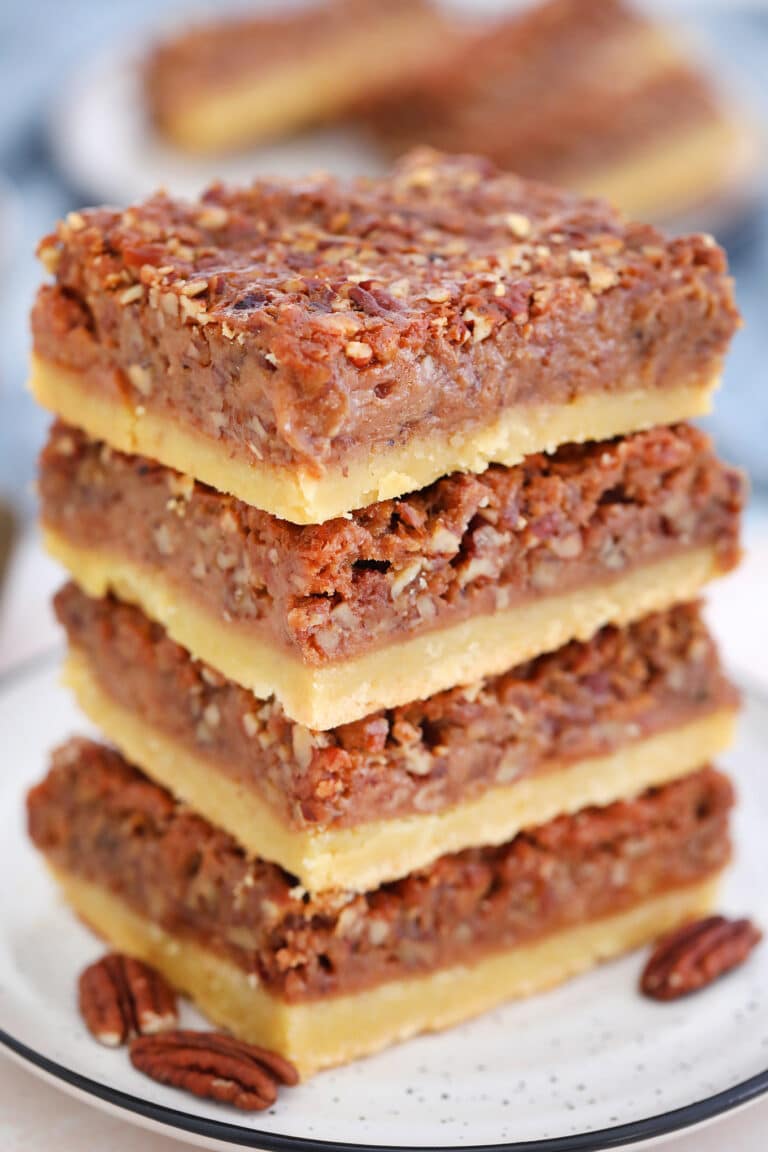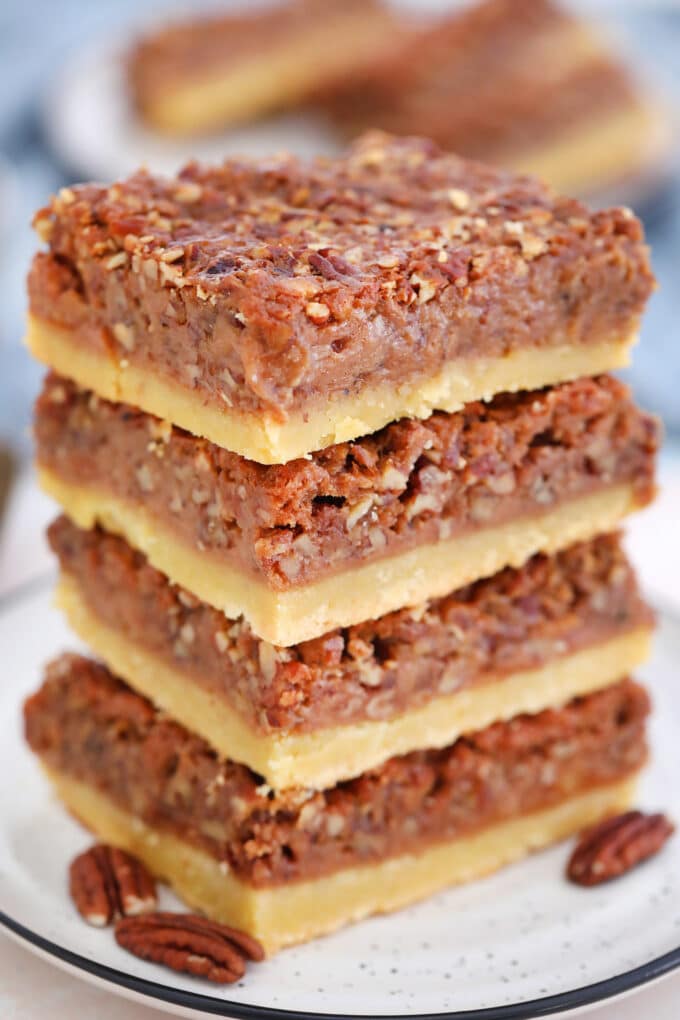 Easy Buttery Pecan Pie Bars
Pecan Pie Bars are easier to make compared to the pie version. With the nutty topping, you would not worry about your dessert cracking or falling.
Hence, this recipe is ideal especially if you are preparing it for a gathering. Making one huge batch and cutting it up into small squares makes this recipe great for individual servings.
I like how the gooey topping complements the soft shortbread layer underneath. And I love the crunch that nuts bring into this dish.
It may be sweet, but for me, the sweetness complements the other flavors. Although you can find pecans all-year-round, they are in season during fall, which makes this a great Thanksgiving dessert. Make one now!
What is "Pecan Pie Bars"?
This dish is an easier version of the pie. The shortbread crust is the foundation of this dessert. On top of that, you will find a chewy and sweet layer of the nuts held together by a thick mixture of sugar, syrup, eggs, and butter.
This classic American dessert is popular in the South where the nut has been cultivated by the Native Americans thousands of years ago.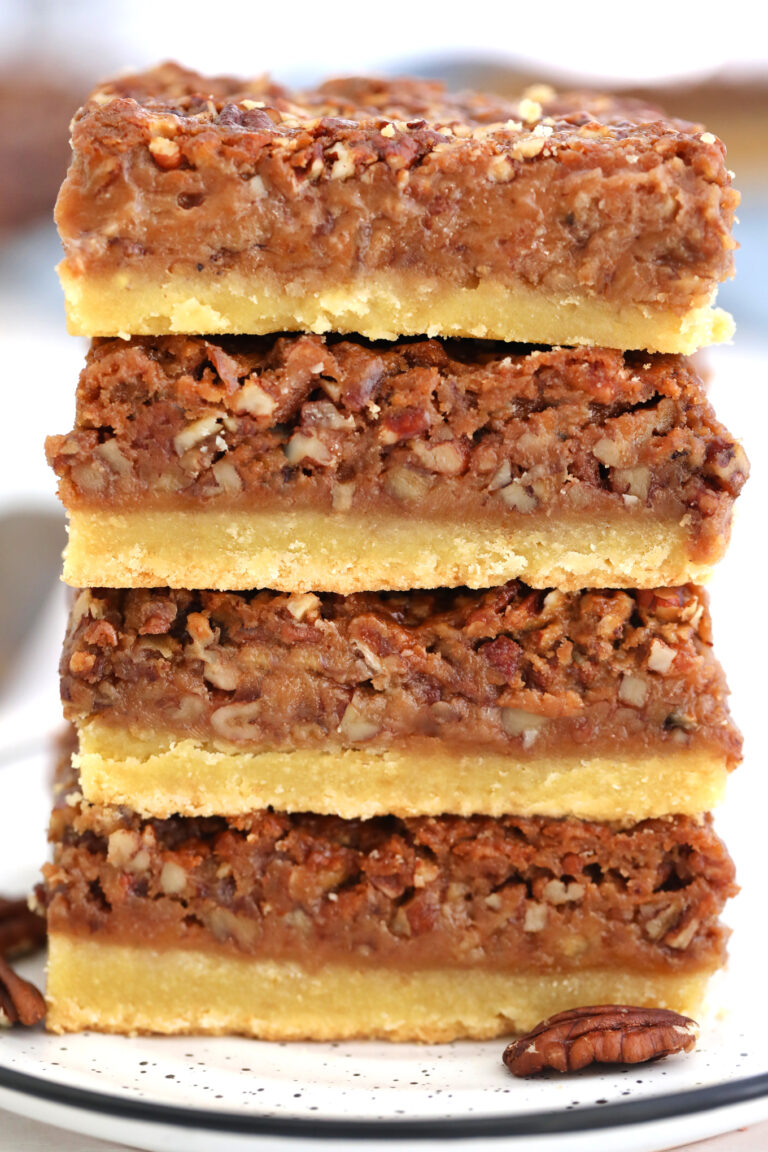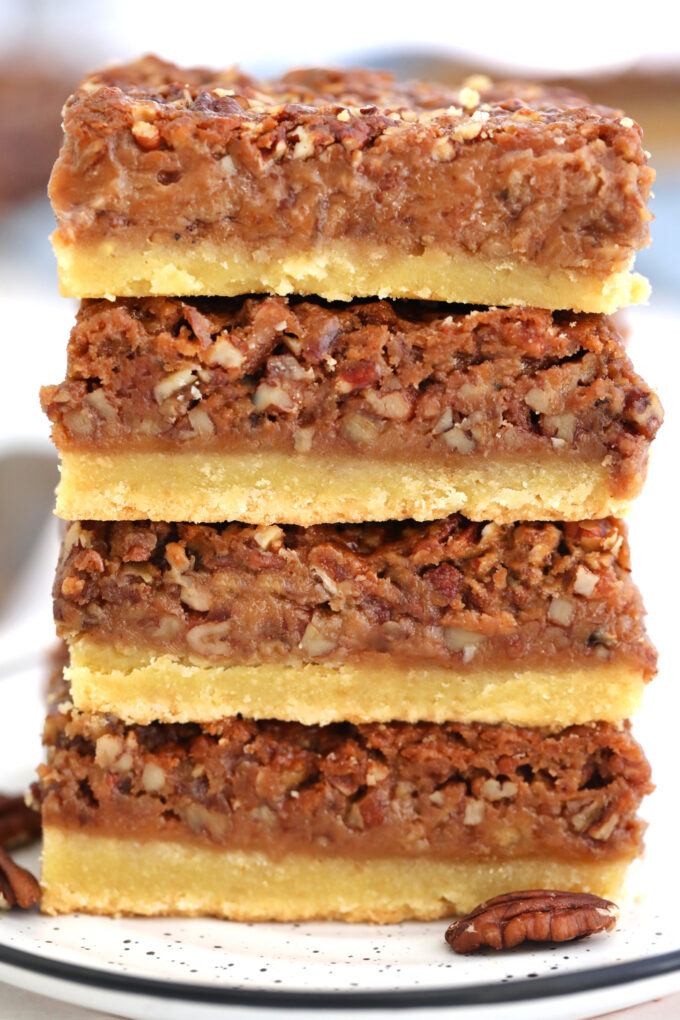 What is a shortbread crust?
It is the crust that is used for this recipe. It is made with a mix of sugar, flour, and butter and pressed into a pan. In this recipe, the crust is made with the following ingredients:
unsalted butter
granulated sugar
eggs
vanilla extract
all-purpose flour
baking powder
kosher salt
How to make Pecan Pie bars?
Prepare for baking: Preheat it to 350 degrees Fahrenheit.
Make the crust: Using a mixer, combine the butter and the sugar. Then, add in the other ingredients until combined. Press the mixture against the walls of a baking pan and since this would be very sticky, lightly flour the dough and your hands. Pre-bake the crust for about 15 minutes until set. Then, set aside to cool.
Cook the topping: In a saucepan, heat the mixture of brown sugar, cornstarch, and salt. Then, beat in the rest of the topping ingredients except for the nuts and vanilla extract. Cook on low, until it thickens to a pudding-like consistency, for about 5 to 10 minutes. Then, remove from heat and whisk in cold butter. Add in the pecans and vanilla extract.
Bake: Pour the topping over the crust. Bake for about 25 to 30 minutes, then, allow it to cool. Wrap, refrigerate, and then, cut into bars and serve.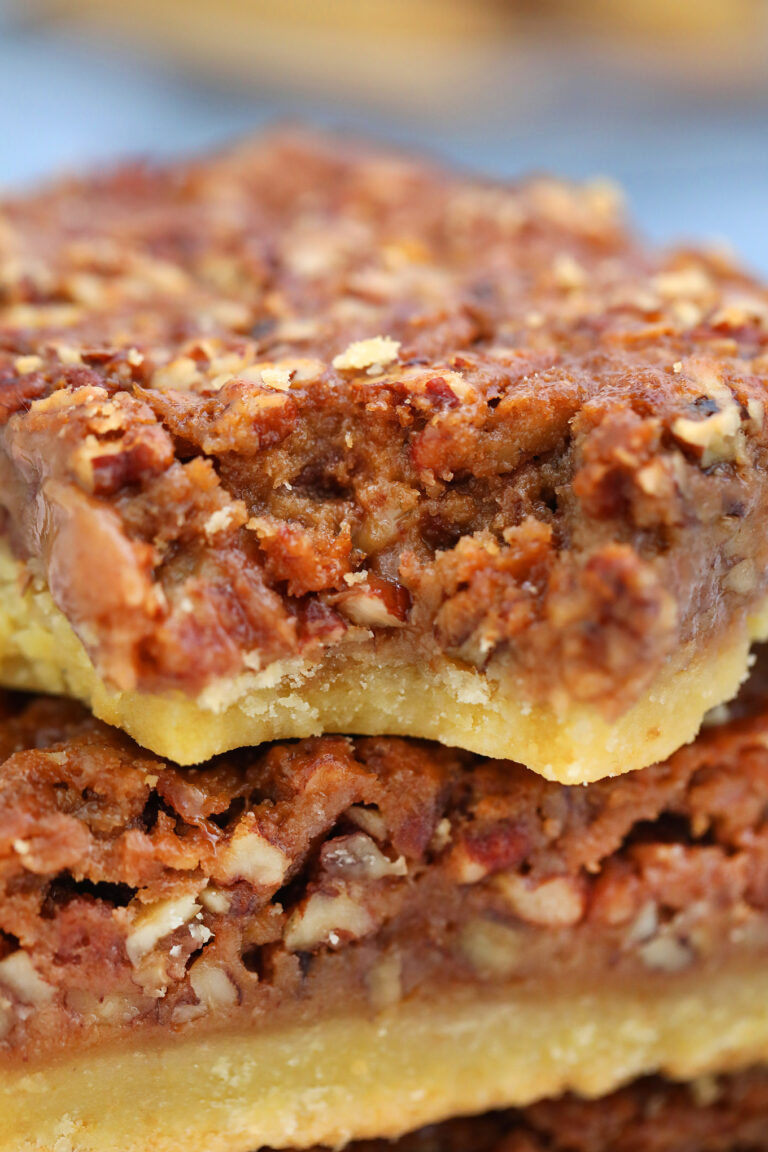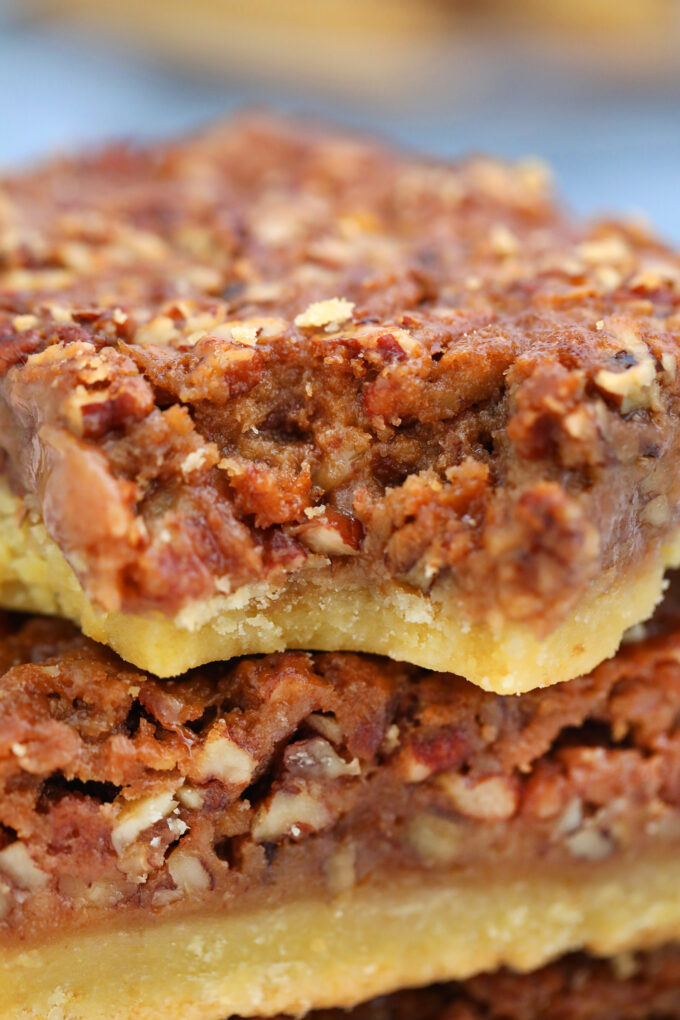 Can you substitute pecans with walnuts?
Yes, in most recipes, these nuts are interchangeable. Each of the two resembles the other in texture and flavor. Both kinds will provide the same crunch and similar nuttiness, but the pecans are more creamy, buttery, and a bit sweeter.
How to make pecan pie bars without corn syrup?
You can use maple syrup in place of corn syrup.
Can you make Pecan Pie Bars ahead of time?
Yes! You even need that extra time to allow the toppings to set and firm up before cutting.
It also keeps well in the fridge and the freezer, so, you can make these a few days in advance.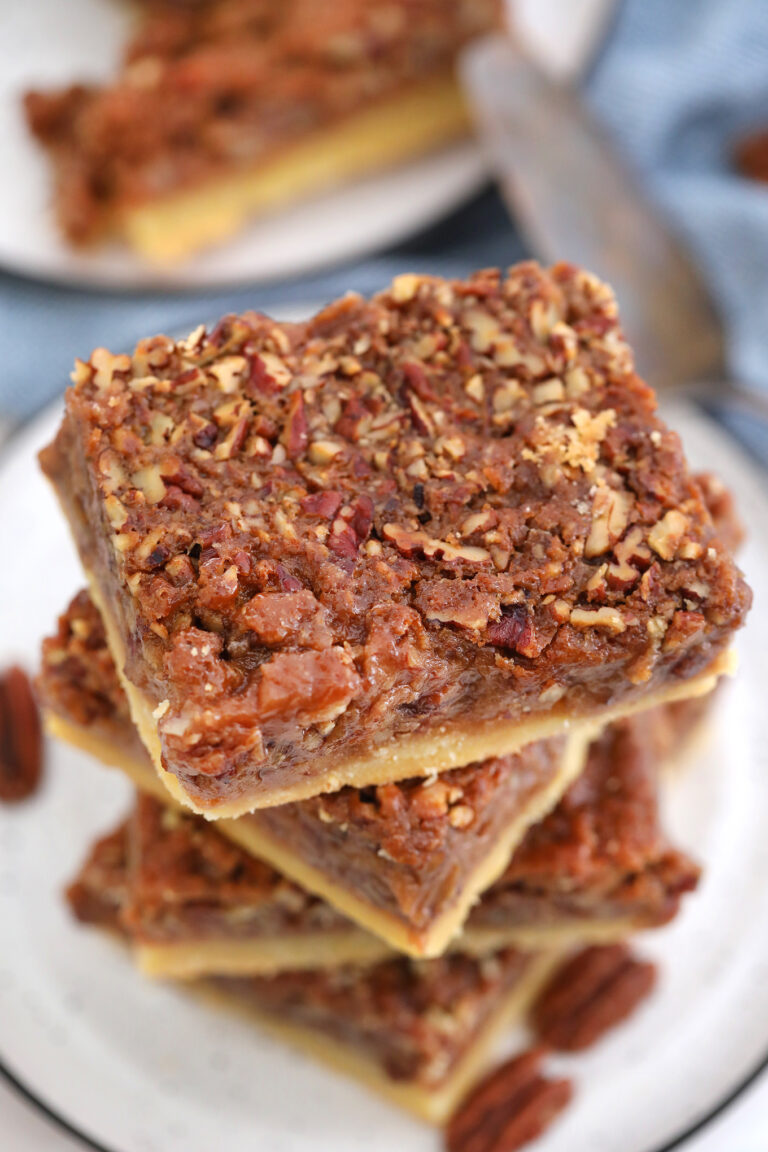 How to Store Pecan Pie Squares:
Refrigerate: Wrap the bars and keep them in the fridge for about 4 days.
Freeze: Put the pieces in a freezer bag with parchment paper placed in between layers. Freeze them for up to 2 to 4 months.
Pecan Pie Bars Recipe Tips:
You can add chocolate chips to the toppings.
For a gluten-free version, simply replace the flour with gluten-free flour.
You may put parchment paper in the pan before pressing in the crust for easier clean-up.
Other delicious pecan desserts: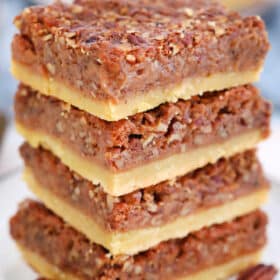 Buttery Pecan Pie Bars
Pecan Pie Bars are sweet, nutty, crunchy and buttery! Serve this American favorite dessert at your Thanksgiving and Christmas gathering!
Save
Share
Print
Pin
Rate
Ingredients
Crust:
1 1/4

cups

unsalted butter

(room temperature)

1/3

cup

granulated sugar

2

large eggs

1

teaspoon

pure vanilla extract

2 1/4

cups

all-purpose flour

1/4

teaspoon

baking powder

1/8

teaspoon

kosher salt
Topping:
1

cup

unsalted butter

1

cup

light corn syrup or maple syrup

1 1/4

cups

light brown sugar

(packed)

1/2

cup

cornstarch

4

egg yolks

1/2

cup

heavy cream

1

pound

pecans

(roasted and chopped)

1/8

teaspoon

salt

1

teaspoon

vanilla extract
Instructions
Preheat the oven to 350 degrees F.
Crust:
Beat the butter and sugar until light and fluffy, approximately 3 minutes.

Add the eggs and the vanilla and mix well.

In a large bowl, sift together the flour, baking powder, and salt.

Mix the dry ingredients into the batter on low speed until just combined.

Press the dough evenly into an ungreased 9x13-inch baking pan, if the dough is too sticky, sprinkle lightly with flour. Bake for 15 minutes, until the crust is just set. Allow to cool, otherwise, when you add the filling it may let the crust.
Topping:
In a small bowl, add brown sugar, cornstarch and salt, whisk to combine.

Place a saucepan over low medium heat, add the sugar mixture to it.

Whisk in the egg yolks quickly, maple syrup and cream, until smooth. Stir continuously and bring to a simmer.

Reduce heat to low and cook until the mixture thickens like a pudding, 5-10 minutes. Stirring occasionally.

Remove from heat. Stir in the cold diced butter until fully melted.

Fold in roasted, chopped pecans and vanilla extract.

Pour over the crust, trying not to get the filling between the crust and the pan. Bake for 25 to 30 minutes, until the filling, is set.

Remove from the oven and allow to cool fully. Refrigerate until cold, for about 4-6 hours. Cut into bars and serve.
Nutrition
Calories:
884
kcal
|
Carbohydrates:
73
g
|
Protein:
8
g
|
Fat:
65
g
|
Saturated Fat:
25
g
|
Cholesterol:
185
mg
|
Sodium:
381
mg
|
Potassium:
351
mg
|
Fiber:
5
g
|
Sugar:
46
g
|
Vitamin A:
1273
IU
|
Vitamin C:
1
mg
|
Calcium:
141
mg
|
Iron:
3
mg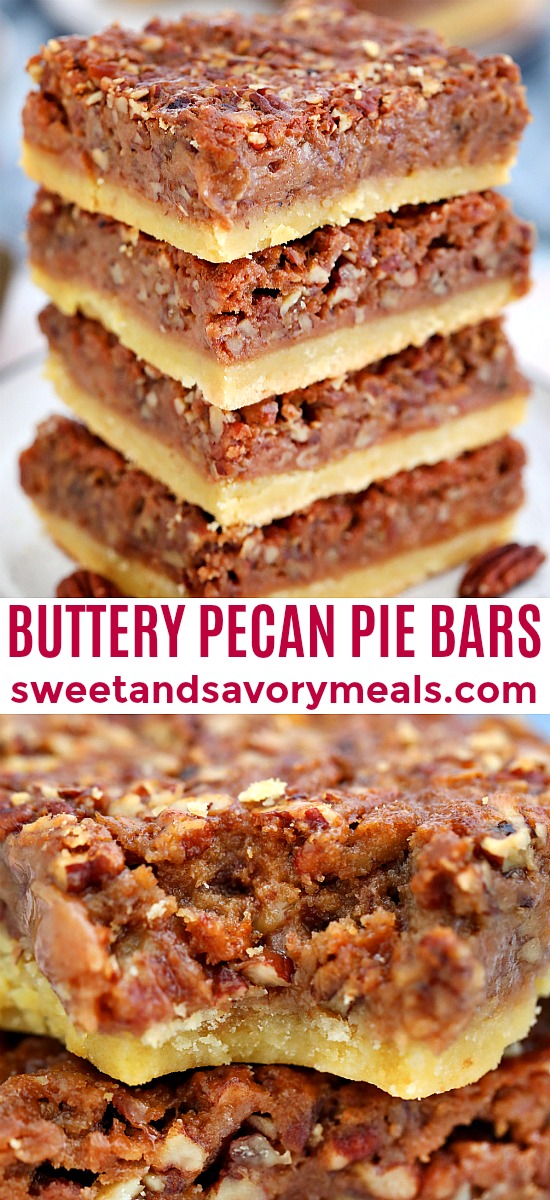 More recipes you might love