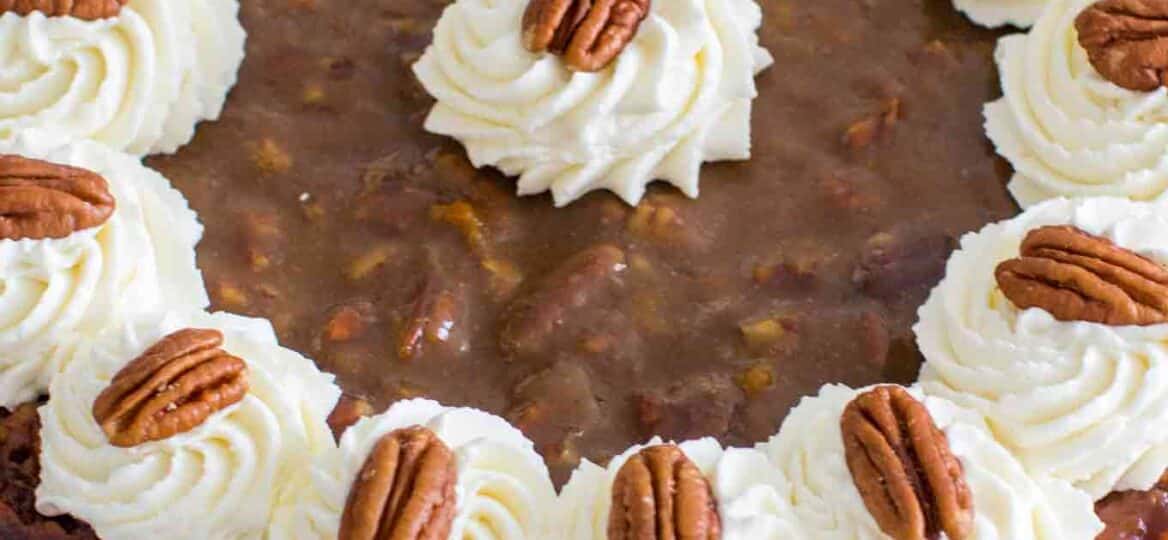 Best Pecan Pie Cheesecake Recipe [Video]
Pecan Pie Cheesecake has a layer of rich and creamy New York cheesecake, sandwiched between two thick layers of pecan pie filling. This is the best treat to celebrate the autumn season!
Cheesecakes are one of our favorite desserts to make and eat. In my opinion, once you master the baking of cheesecake, there is no turning back! You will see how easy they are to make if you follow my tips from this New York Cheesecake Recipe.
This beautiful dessert is the latest addition to my holiday collection, next to mega-popular Pumpkin Cheesecake Bars, Pecan Pie Pumpkin Cheesecake, and Instant Pot Pumpkin Cheesecake.
Tasty Pecan Pie Cheesecake combines two of my all-time favorite desserts: pecan pie and New York cheesecake. This recipe is fairly simple to make, you just have to plan as there is a lot of chilling in between. If you are patient, you will end up tasting one of the richest, creamy, and flavorful desserts.
This delectable treat marries the rich flavors of traditional pecan pie with the creamy luxury of cheesecake, resulting in a dessert that is a true celebration of indulgence and taste. What I love the most about this recipe is that it has lots of crust. The cheesecake filling and the pecan topping make this the best Pecan Pie Cheesecake out there.
I am a huge fan of how this turned out, the chewiness and crunchiness of the pecan pie filling work amazing with the creaminess and tanginess of the New York cheesecake. If you don't have time to make the bottom and top pecan pie filling layer, you can make the bottom one only. Simply, use all the pecan pie filling. You will see, that if you make this for your next gathering, people will line up to ask you the recipe.
With the Pecan Pie topping, you don't have to worry about cheesecake cracks, as it covers everything perfectly so you can have a stress-free baking session. Try this delicious holiday dessert for your next Thanksgiving dinner!
Follow us on Pinterest for more delicious recipes!
Ingredients needed:
FOR THE CHEESECAKE CRUST YOU WILL NEED:
Graham crackers crumbs

Pecans
Brown Sugar
Butter
10 1/2 inch springform pan
FOR THE NEW YORK CHEESECAKE LAYER YOU WILL NEED:
Cream cheese

Sugar

Flour
Eggs

Heavy cream

Sour cream

Vanilla extract
How to make the best homemade Pecan Pie Filling?
Homemade pecan pie filling is very easy to make and tastes so much better than the canned version. To make the Pecan pie layer, you will need the following ingredients:
3 cups roasted pecans, chopped
1 1/2 cup dark brown sugar
1/2 cup cornstarch
½ teaspoon salt
6 egg yolks, room temperature
1 1/2 cup dark corn syrup or dark maple syrup
1 cup cream, lukewarm
8 tablespoons unsalted butter, cold
Directions:
First, mix brown sugar, cornstarch, and salt. Then, add the mixture to a saucepan over low-medium heat.
Next, whisk in egg yolks, dark corn syrup, and cream. Stir and simmer.
Remove from heat, and stir in cold butter until fully dissolved.
Lastly, fold in chopped roasted pecans.
If you decide to only make the bottom layer of pecan pie filling, add the whole mixture to the prepared crust, bake, and chill. Now, since the cheesecake layer, will be the top layer, preferably bake the cheesecake using a water bath to avoid cracks. In case your cheesecake cracks, here are some great tips on How to Fix a Cracked Cheesecake.
How to bake the Pecan Pie Cheesecake in a water bath?
First, wrap the outside of the springform pan in a double layer of foil, covering the bottom and sides of the pan, you need to cover the sides only from outside. This is done to prevent the cheesecake from water leaking in. If using a baking pan for the springform for the cheesecake, you can skip this step.
Set the prepared pan in a large roasting pan that is deep enough to add water to it. Then, pour HOT water into the roasting pan, about halfway up the sides of the cheesecake pan.
Next, transfer to a pre-heated oven and bake, until the center jiggles slightly like Jell-O and the sides are puffed and a light golden brown. The residual heat will cook the center of the cheesecake. If the cheesecake doesn't wobble a bit in the center, it means it has been over-baked, and most likely will crack.
Lastly, cool the cheesecake in the oven with the door slightly cracked for one hour. After which transfer to a wire rack to cool completely.
Transfer to the fridge for 6 hours or overnight.
Can I use a store-bought crust for Pecan Pie Cheesecake?
Yes! To save time, feel free to use a store-bought crust. However, making your crust from scratch can add a personal touch and enhance the flavor of the dessert. Therefore, if you have some time on hand, I would highly recommend making your crust!
Do the pecans need to be toasted?
No! You can use raw pecans. However, I prefer to use toasted pecans because they give a more deep and delicious flavor to the dessert.
Can I make a no-bake version of Pecan Pie Cheesecake?
Yes, you can create a no-bake version by using a no-bake cheesecake filling and preparing a stovetop pecan pie filling that is then poured over the cheesecake layer. This avoids the need for baking the entire dessert.
How to slice the pie?
First, run a long, sharp thin-bladed slicing knife under hot tap water or dip it into a glass of hot water before slicing the cheesecake.
Then, wipe the knife clean and run it under hot water before making another cut, because cheesecake bites will stick to it.
An easy, mess-free way to cut even slices is to use cheese wire or unflavored dental floss. This method can be easily used on cheesecakes baked in a springform pan. Clean the bits that stuck to the wire/floss before every cut.
How to store the Pecan Pie Cheesecake?
To store: You can cut into smaller slices and store each slice in an airtight container. Similarly, you could store the whole cake carefully in the fridge for up to 5 days.
To freeze:
You can freeze the cheesecake BEFORE you top it with whipped cream or just remove the whipped cream.
First, make sure the cheesecake has fully cooled and is refrigerated for at least 6 hours.
Then, wrap cheesecake bars tightly with aluminum foil or plastic freezer wrap, or place them in a heavy-duty freezer bag.
Properly stored, it will maintain the best quality for about 2 to 3 months.
More holiday desserts:
Recipe tips:
Prepare Your Ingredients: Before you begin, make sure all your ingredients are at room temperature. This ensures smooth blending and prevents lumps in the cheesecake batter
Keep a close eye when baking: When baking it, make sure to keep a close eye on your cheesecake so as not to overpack it.
Use a Water Bath: To prevent cracks in the cheesecake layer, consider using a water bath (bain-marie) during baking. As suggested above, the water bath helps maintain a consistent baking temperature and prevents the cheesecake from cooking too quickly around the edges.
Avoid Overmixing: When making the batter, mix until just combined. Overmixing can introduce excess air into the batter, leading to cracks during baking.
Cool Gradually: After baking, turn off the oven and crack the door open slightly. Let the cheesecake cool slowly in the oven for about an hour. This gradual cooling helps prevent the cheesecake from sinking or cracking due to sudden temperature changes.
Slice When Cold: For clean and neat slices, cut the cake when it's fully chilled. Also, dip a sharp knife in hot water before each cut to achieve smooth slices.
Pecan Pie Cheesecake
Ingredients
Crust:
2

cups

graham cracker crumbs

1

cup

pecans

ground

2

tablespoons

brown sugar

1

stick

(1/2 cup) unsalted butter

melted
Pecan Pie Filling:
3

cups

pecans

roasted and chopped

1 1/2

cup

dark brown sugar

1/2

cup

cornstarch

1/2

teaspoon

salt

6

egg yolks

room temperature

1 1/2

cup

dark corn syrup or maple syrup

1

cup

heavy whipping cream

lukewarm

8

tablespoons

unsalted butter

cold and diced

2

teaspoon

vanilla extract or bourbon
Cheesecake Layer:
3

packages

8 oz each cream cheese

room temperature

1

cup

white granulated sugar

2

tablespoons

flour

1

teaspoon

vanilla extract

2

large eggs

room temperature

1/4

cup

heavy whipping cream

room temperature

1/2

cup

sour cream

room temperature
Whipped Cream:
2

cups

heavy whipping cream

cold

1/2

cup

white granulated sugar
Instructions
Crust:
Lightly coat a 10 1/2 inch springform pan with baking spray and set aside.

Add the "Crust" ingredients to a large bowl and stir until well combined.

Press the mixture into the prepared pan. Using a measuring cup, press the crust and try to line the sides about 2 inches up the pan edges.

Refrigerate or best freeze for at least 20 minutes.
Pecan Pie Filling:
Preheat oven to 325 degrees Fahrenheit.

Adjust the top rack to be positioned in the middle of the oven.

If not using canned pecan pie filling, follow the below instructions to make your own.

In a small bowl combine brown sugar, cornstarch and salt, whisk to combine.

Place a sauce pan over low medium heat, add the sugar mixture to it.

Whisk in the egg yolks, dark corn syrup or maple syrup and cream, until smooth. Stir continuously and bring to a simmer.

Reduce heat to low and cook until the mixture thickens like a pudding, 5-10 minutes. Stirring occasionally.

Remove from heat. Stir in cold diced butter until fully melted.

Fold in roasted, chopped pecans and vanilla extract or bourbon.

Transfer HALF of the mixture to the prepared graham crust. Set aside the other half.

Cover pan with foil and bake for 20 minutes.

Remove from oven, discard foil cover and let it cool to room temperature on a wire rack. Once cooled, transfer to the fridge for about 20-30 minutes for the mixture to settle.
New York Cheesecake Layer:
Adjust the top rack to be positioned in the middle of the oven.

Make sure all the ingredients are at room temperature before you begin.

In the bowl of a stand mixer or in a large bowl using a hand mixer, beat cream cheese and sugar until light and fluffy on medium-low speed.

Add the rest of the ingredients from the "Cheesecake Layer" list and continue beating until well combined and creamy. Scrape the sides and bottom of the bowl with a spatula.

Remove springform pan from the fridge and pour the cheesecake batter mixture on top of the pecan pie filling. Level the top with a spatula.

Transfer to the freezer for about one hour, until the cheesecake layer is hard enough to pour the pecan pie filling on top of it.
Top Pecan Pie Layer:
Once the cheesecake layer has settled, remove from the freezer and add the remaining pecan pie filling on top of it.

Level the top with a spatula.
Bake:
Preheat oven to 350 degrees Fahrenheit.

Read the post for "water bath" tips if you want to bake the cheesecake using a "water bath". This should be done if you decide to use the whole pecan pie filling for the bottom layer.

Bake in the preheated oven at 350F for 30 minutes, reduce heat to 325F and bake for another 30 minutes.

Turn oven off and prop open oven door and leave the cheesecake to cool in the oven for one hour.

Transfer cheesecake to a wire rack to cool completely, after which transfer to the fridge for at least six hours or better overnight.
Whipped Cream:
Add cream and sugar to a large bowl.

Using a hand mixer or stand mixer, whisk on slow - medium speed, gradually increasing to high speed. Mix until soft peaks form and the whipped cream holds its shape.

Add the whipped cream to a pastry bag, fitted with a star piping tip and pipe it onto cheesecake right before serving.