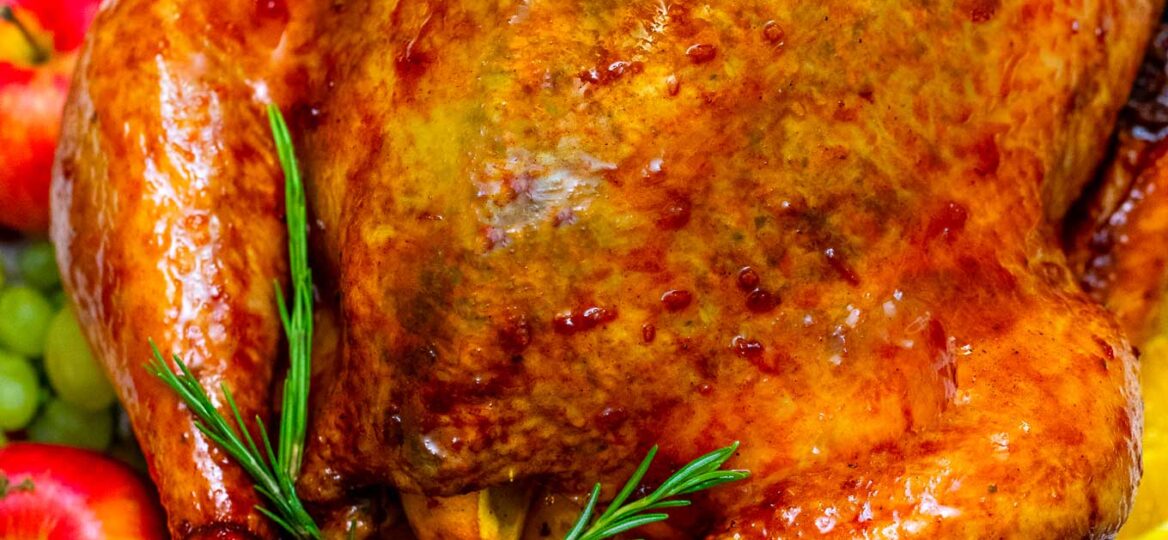 Perfect Oven Roasted Turkey [Video]
Oven Roasted Turkey is a tender and juicy, high-protein main dish that you can serve for Thanksgiving! Unlock the secret to how to perfect it with this simple recipe!
We have a lot of Thanksgiving recipes to choose from and this one tops the list! And when you cook it, prepare the best sides for it like the Creamy Mashed Potatoes, Cranberry Sauce, and Classic Pumpkin Pie!
Oven Roasted Turkey Recipe
Oven Roasted Turkey has always been a part of almost every American household during a Thanksgiving dinner party. Placed at the center of the table, it is the highlight of every family's dinner menu!
What makes this bird practical is that it is bigger than the common chicken and that makes it ideal to serve at a big gathering. With the same effort, you get to feed a huge crowd.
Have you ever wondered why we eat this bird on Thanksgiving? There is no concrete evidence that this dish was indeed served at the "First Thanksgiving" dinner as early as the 1600s.
But what's sure is that this dish is superb! I like how tender the meat is, not dry at all, and the skin is crispy and flavorful! Learn the basics in this post!
Is turkey meat healthy?
Yes! It is a high-protein food that can help you build up muscles and feel fuller for longer. This can greatly affect your diet as it can lessen your overall food intake.
It has vitamins and minerals, too, like B-vitamins, niacin, choline, selenium, and zinc. It has no carbs but it is rich in fat, especially the skin.
The white meat parts have fewer calories compared with dark meat. So, if you are watching your calories, you should know that the breast and wings are the better options for you.
You must note though that when buying it, always check the package and look for the leanest ones. It is better to avoid processed ones altogether, turkey meat or otherwise.
How to choose a turkey for roasting?
Certain factors affect your choice and it greatly depends on your personal preference. But, as a guide, it is best to consider the following:
Fresh or Frozen: Fresh birds must be available at most 2 days before you cook it, so, frozen ones might be your best bet to give you time freedom. Note though that defrosting it must be started way ahead of your cooking schedule, say, one day for every 4 pounds. Here is a guide for safe thawing.
Size: Your planning depends on size, too. For each person, allocate 1 1/2 pounds. So, for a group of 10, a 15-pounder bird is enough.
Kind: Heritage turkey has a smaller breast, bigger legs, and more flavorful than the regular breed. Self-basting ones are already with added marinade while kosher already has salt; so, if you have a recipe to follow, you might have to skip these ones when shopping. Organic ones are healthier than most but this is more expensive.
How to make Oven Roasted Turkey:
Follow the easy steps below. Also, feel free to watch the short step by step recipe tutorial attached above.
Prepare the bird: Wash it thoroughly and then, dry it thoroughly, too.
Brine: You can choose to wet-brine or dry-brine your bird. Read this for the perfect dry brined turkey recipe.
Roast: Preheat the oven at 425 degrees Fahrenheit. Arrange the aromatics and vegetables and pour a cup of water or chicken broth. Place the bird at the center with the breast-side facing downwards and pop it in the oven. Roast for an hour, then, flip it. Lower the temperature to 325 degrees Fahrenheit and roast the other side for another 2 to 2 1/2 hours for a 16-pounder bird.
Serve: Once cooked, serve but allow it to rest before slicing.
At what temperature do you cook a turkey?
Different recipes will give you different values, but the standard and safe internal temperature must be met. Check at the thickest areas of the bird using a thermometer and it must read at least 165 degrees Fahrenheit.
How to know when your Oven Roasted Turkey is done?
It is done when you have reached the internal temperature of about 160 to 165 degrees Fahrenheit. During resting after you have taken it out of the oven, it will still cook. The temperature will still increase some more, so, no worries about taking it out at 160 degrees Fahrenheit.
How to Store Oven Roasted Turkey:
Refrigerate: Make sure to cool it and refrigerate it within two hours after cooking. Slice the parts and put them in an airtight container. Refrigerate for one to two days.
Freeze: Debone and slice the parts, and store single portions in freezer bags or heavy-duty aluminum foil. Then, freeze for up to one month. If it is with gravy or broth, it can freeze for up to 6 months.
Oven Roasted Turkey Recipe Tips:
Cranberry sauce is the perfect sauce for this dish.
If you have leftovers, turn them into Crack Turkey Pinwheels.
We also have a great recipe for an oven-roasted turkey breast that you can check out if you do not want to serve a whole bird.
Other Thanksgiving Recipes: