Loaded Sweet Potato Casserole Recipe [VIDEO]
Sweet Potato Casserole is loaded with creamy sweet potatoes and topped with toasted pecans and mini marshmallows. This is a classic and traditional side dish for Thanksgiving and Christmas dinner.
Casserole recipes are popular during the holiday season because they are filling and easy to make. This is by far, my favorite Thanksgiving side dish. It always gets rave reviews and I have been making it for about a decade. If you want more sides to pair with your Roasted Turkey, then try this Green Bean Casserole and this Easy Crockpot Stuffing.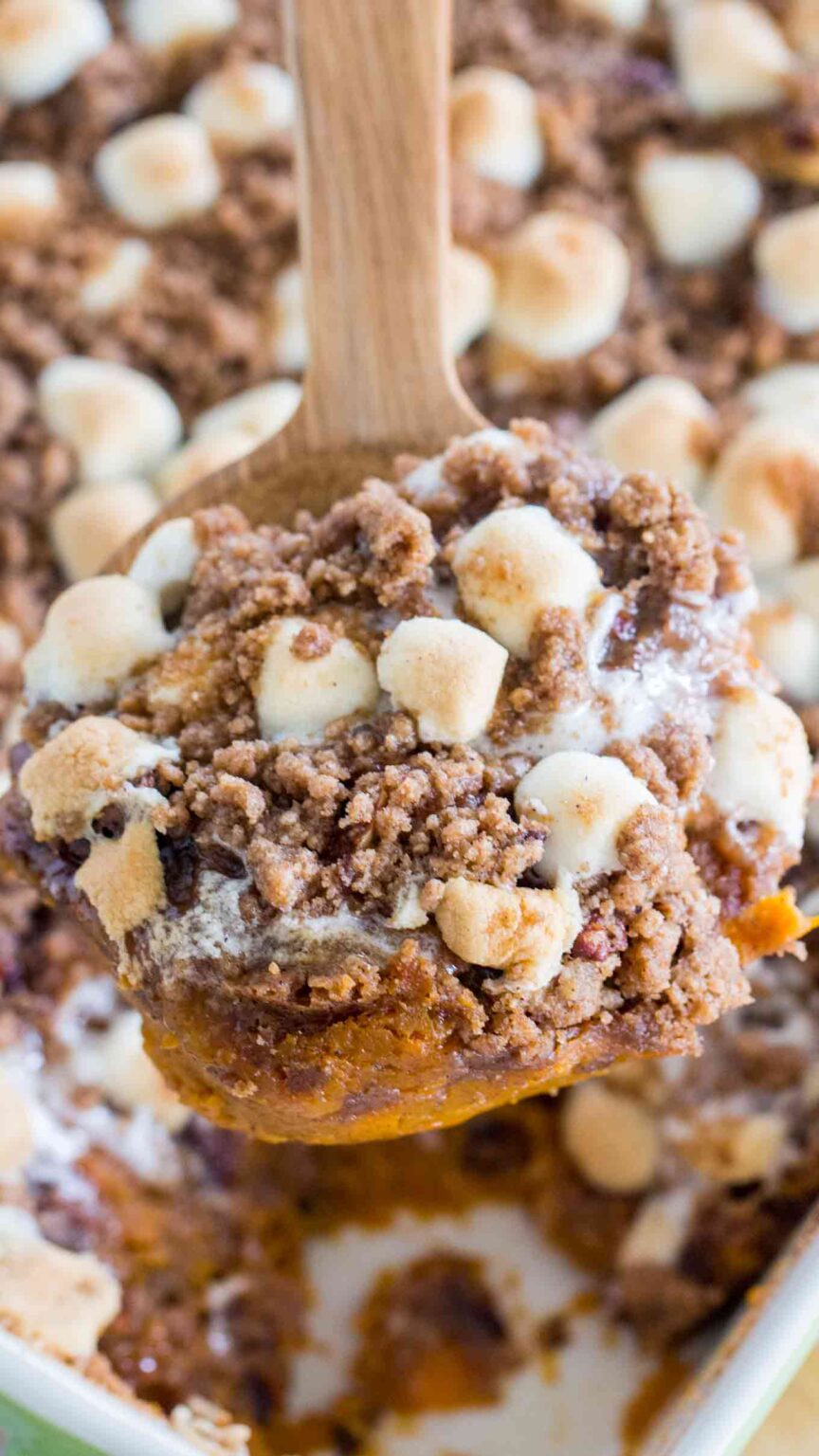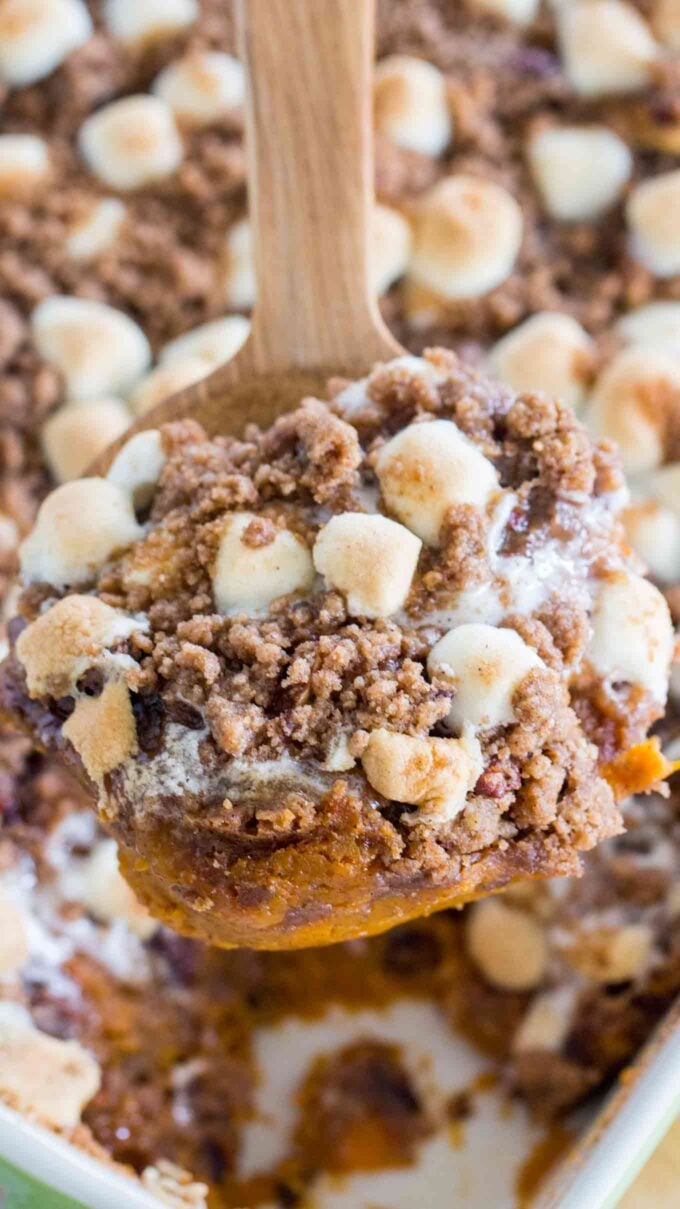 A dessert-like side dish
When it comes to the Thanksgiving dinner menu, this Homemade Sweet Potato Casserole with marshmallows and crunchy pecans is always on the list. When else do you get to eat basically a dessert and call it a side dish? It is similar to Sweet Potato Souffle, but it has a fluffier texture and is also creamier.
There are many variations of this casserole floating out there, however, once you try this one, you won't need any other recipe ever. This casserole is loaded, in a good way. The potatoes are boiled and mashed, blended with some brown sugar, nutmeg, and cinnamon to elevate the fall flavors.
The best part of this dish is the brown sugar cinnamon filling. Also, it is a delicious, mid-layer of cinnamon goodness. The crunchy topping paired with sweet marshmallows is another highlight of this casserole. It's very comforting, and it tastes even better with a cinnamon filling and buttery cinnamon pecan topping!
A true holiday staple, that is perfect for Thanksgiving, Christmas, or Easter!
What is Sweet Potato Casserole?
This is a traditional, North-American side dish that is usually served during Thanksgiving dinner. The casserole consists of mashed sweet potatoes, usually blended with brown sugar, topped with a streusel topping, pecans, and marshmallows.
The dish tastes sweet, almost like a dessert. It is a classic recipe during the holiday season, and it blends perfectly with oven-roasted turkey or other meats.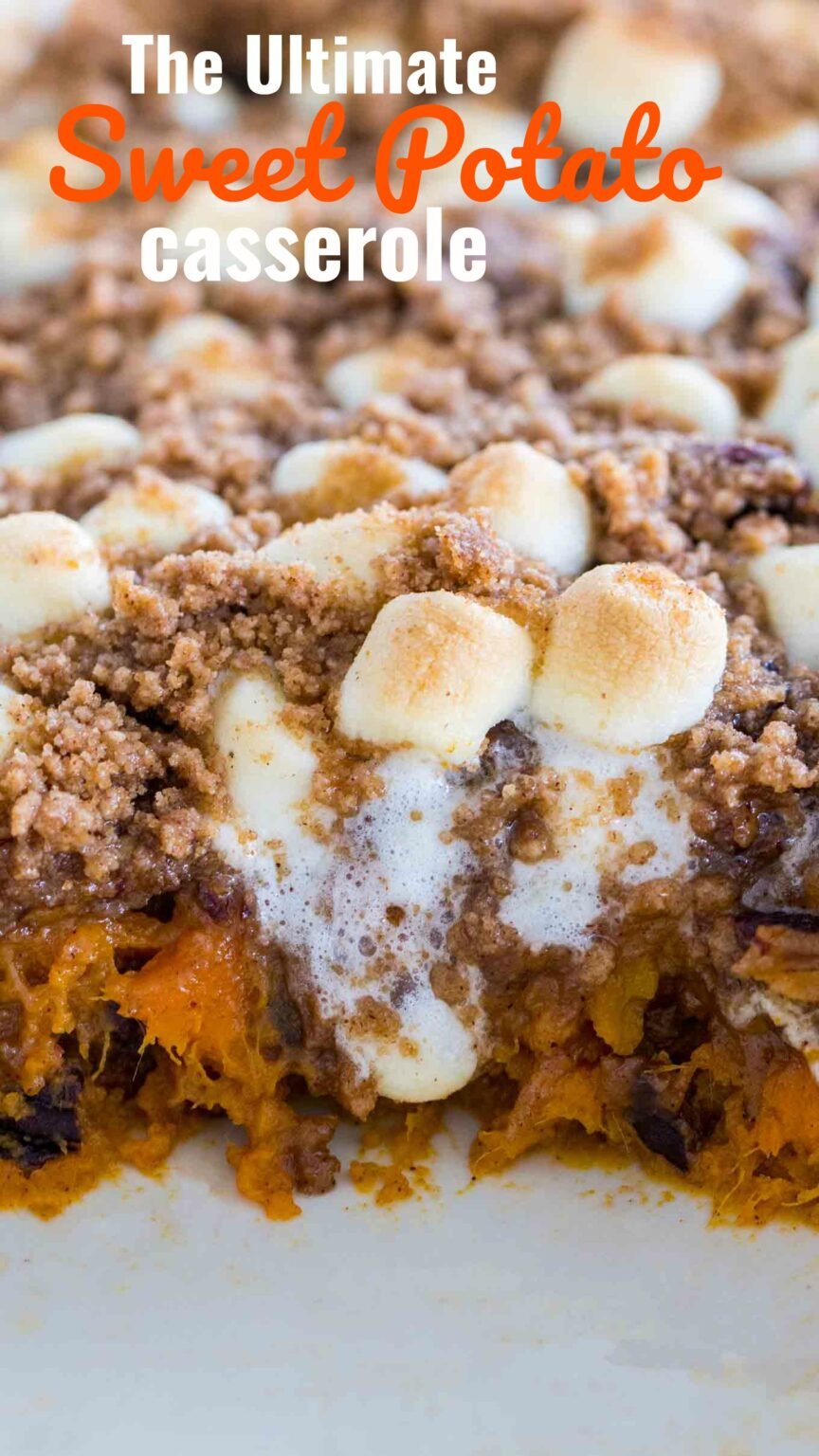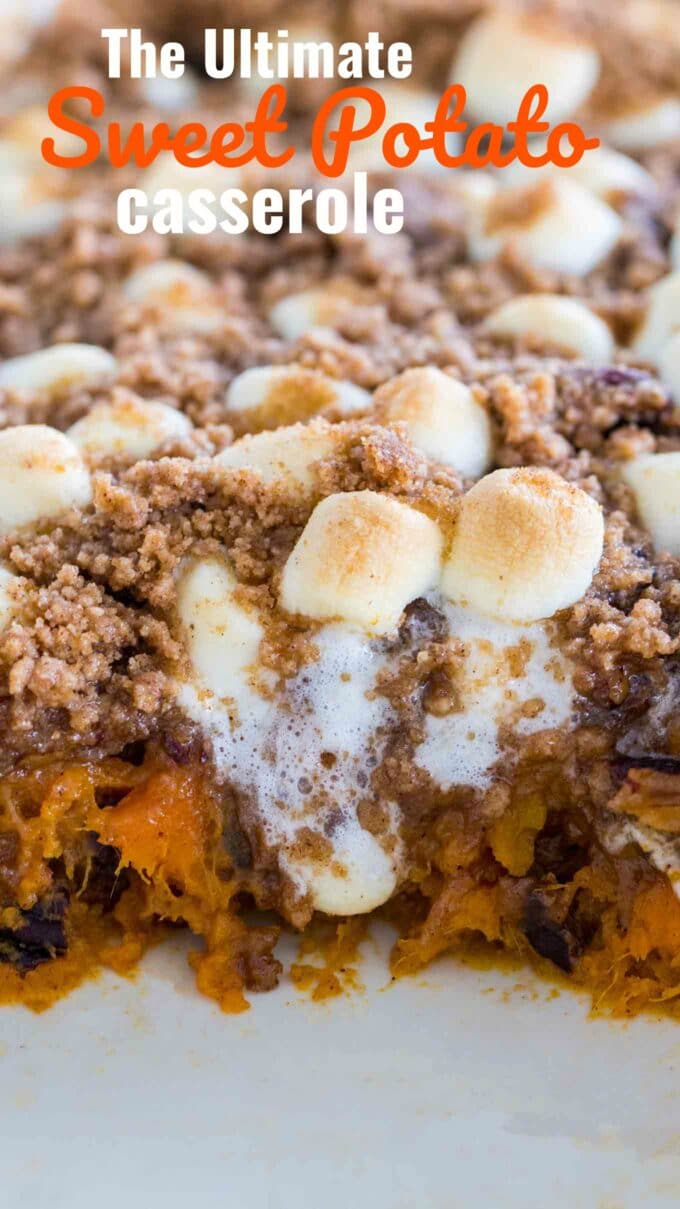 Ingredients Needed:
Fresh Sweet Potatoes: Pick the ones which have no root growing off of them.
Brown sugar: It adds a nice touch of sweetness to it.
Pecans: They add a nice crunchy texture to the whole dish.
Egg: It helps the casserole fluff up.
Unsalted butter and milk
Vanilla extract: This is optional and can be omitted. However, I tend to use it because I love the aroma and extra flavors it adds to it.
Cinnamon and nutmeg: For a true holiday spirit 🙂
Salt
All-purpose flour
How to make Sweet Potato Casserole?
Watch the short video tutorial attached as it will guide you better through the cooking process. The general steps are as follows:
Cook the potatoes – I prefer to peel and cube the sweet potatoes prior to boiling. This cuts down on the cooking time. Once cooked, mash them using a potato masher or hand mixer. Then, set aside.
Toast the pecans – Next, preheat the oven to 350 degrees f. Measure two cups of pecans lay them on a baking sheet, and toast in the oven for a few minutes. Check on them often to not burn them. Toasting the pecans is optional, but it will add more flavor to the dish.
Prepare other ingredients – while the potatoes are cooking, gather the ingredients for the casserole. In a large bowl, add flour brown sugar, and cinnamon. Then, add butter to it, and mix the ingredients together. Set aside.
Make the sweet potato mixture – In a separate bowl, add the mashed potatoes, roasted pecans, brown sugar, 2 large eggs, melted butter, vanilla, cinnamon, nutmeg, and salt. Pour some milk on top and mix together till the texture is consistent.
Assembling – Combine all the ingredients and layer them into the prepared casserole dish.
Bake – Lastly, bake it for 20-30 minutes until golden brown. Remove from oven and cover with foil to keep it warm. Spray the foil first with baking spray, to avoid marshmallows sticking to it.
Other ways to adapt this recipe:
Substitute the pecans with walnuts or hazelnuts.
Instead of brown sugar, feel free to use maple syrup.
Add some homemade cranberry sauce, and sprinkle it with some orange zest.
Swap the sweet marshmallows with brown sugar streusel or pecan streusel for an extra crunchy topping!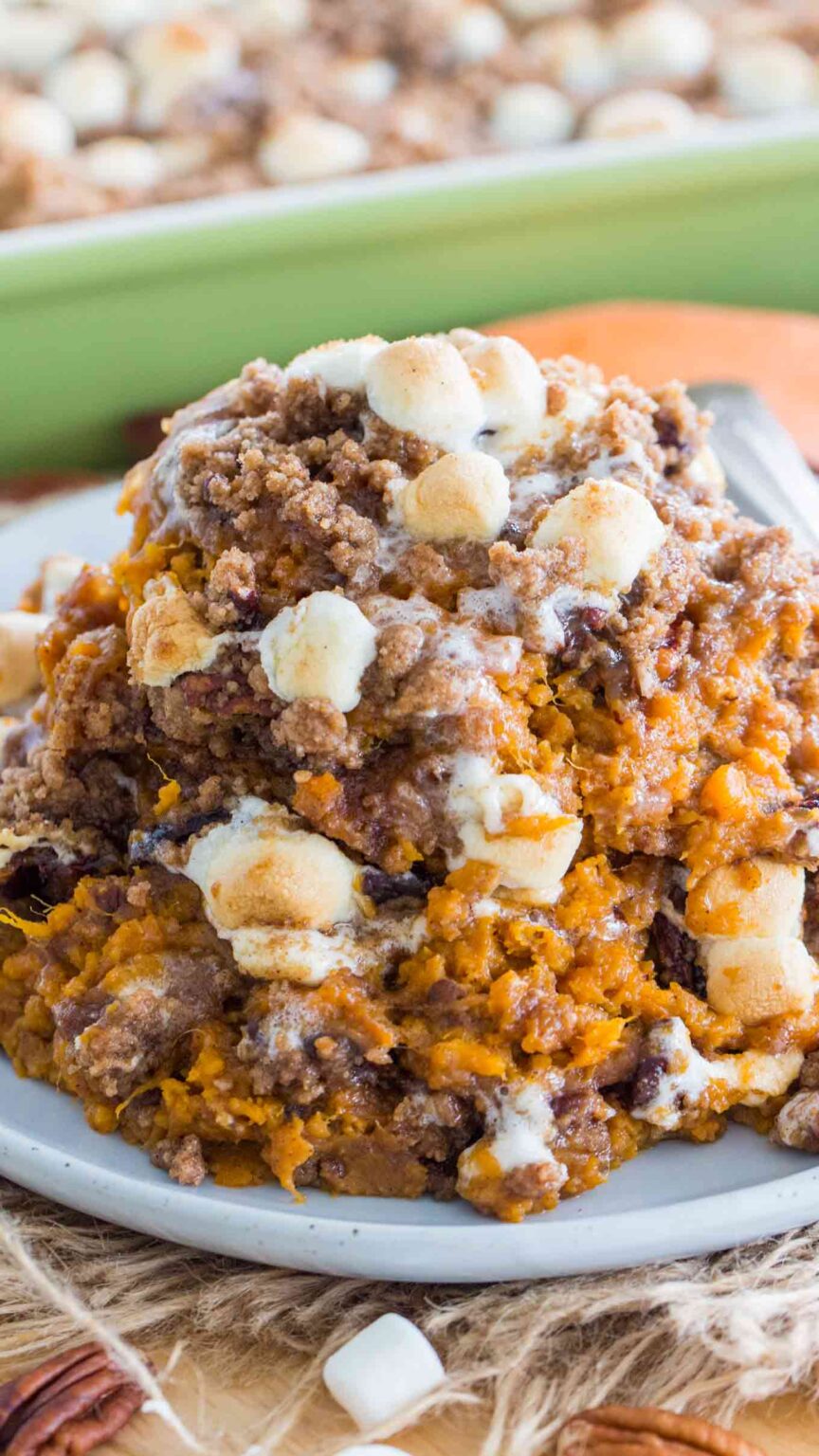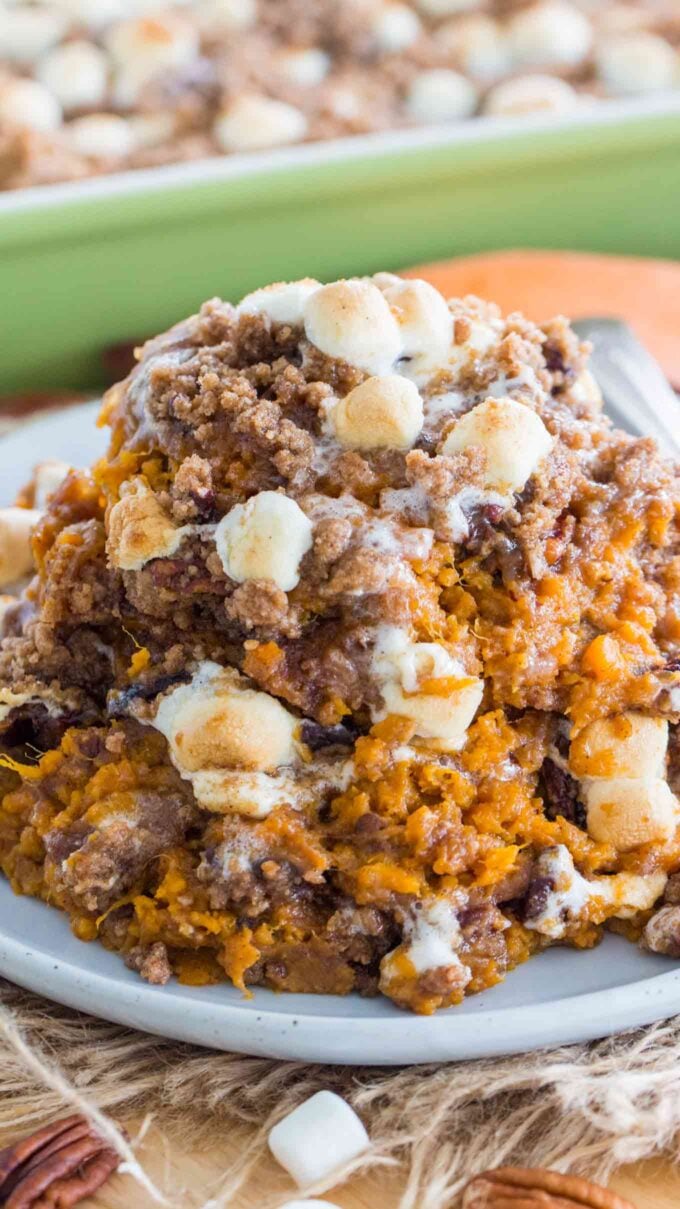 Preparing the sweet potatoes
There are a few ways you can cook the potatoes quickly and easily.
The traditional way is to quickly peel and cube them into smaller pieces. Then, boil the potatoes in a large pot for about 20-25 minutes, until fork tender.
Alternatively, you can microwave sweet potatoes. In only 7 minutes they are ready to go. So, if you are short on time, this is a great alternative.
In addition, feel free to cook sweet potatoes in the Instant Pot, or you can oven-bake them at 400 degrees f for about 30 minutes.
Feel free to pick your preferred method of cooking them. Once cooked, use a potato masher to mash them. Also, if you prefer them even smoother, then use a food processor or hand mixer to make them fluffy.
Are sweet potatoes healthy?
Absolutely! According to WebMD, Sweet potatoes have plenty of nutritional benefits. They are a good source of beta-carotene, Vitamin A, C, D, calcium, iron, potassium, and many others.
In addition, they contain plenty of fiber and are good for your reproductive system and organs like the heart and kidney.
But above all, they are delicious and are a perfect way to be incorporated into your healthy eating.
Making it ahead of time
The beauty of this casserole is that you can make it a few days in advance and refrigerate it.
You can choose to just assemble it, wrap it tightly in plastic wrap and bake when ready. However, if you do refrigerate it before baking, we would suggest removing it from the fridge at least 30 minutes prior to baking.
Also, you can bake it first, and let it fully cool. Then, wrap tightly in plastic wrap and refrigerate it for up to 2 days. Cover with foil and warm it up in the oven before serving.
What to serve with it?
Because this is such a traditional and classic holiday dish, it goes well as a side with various meats, fish, and salads. We love to pair it with: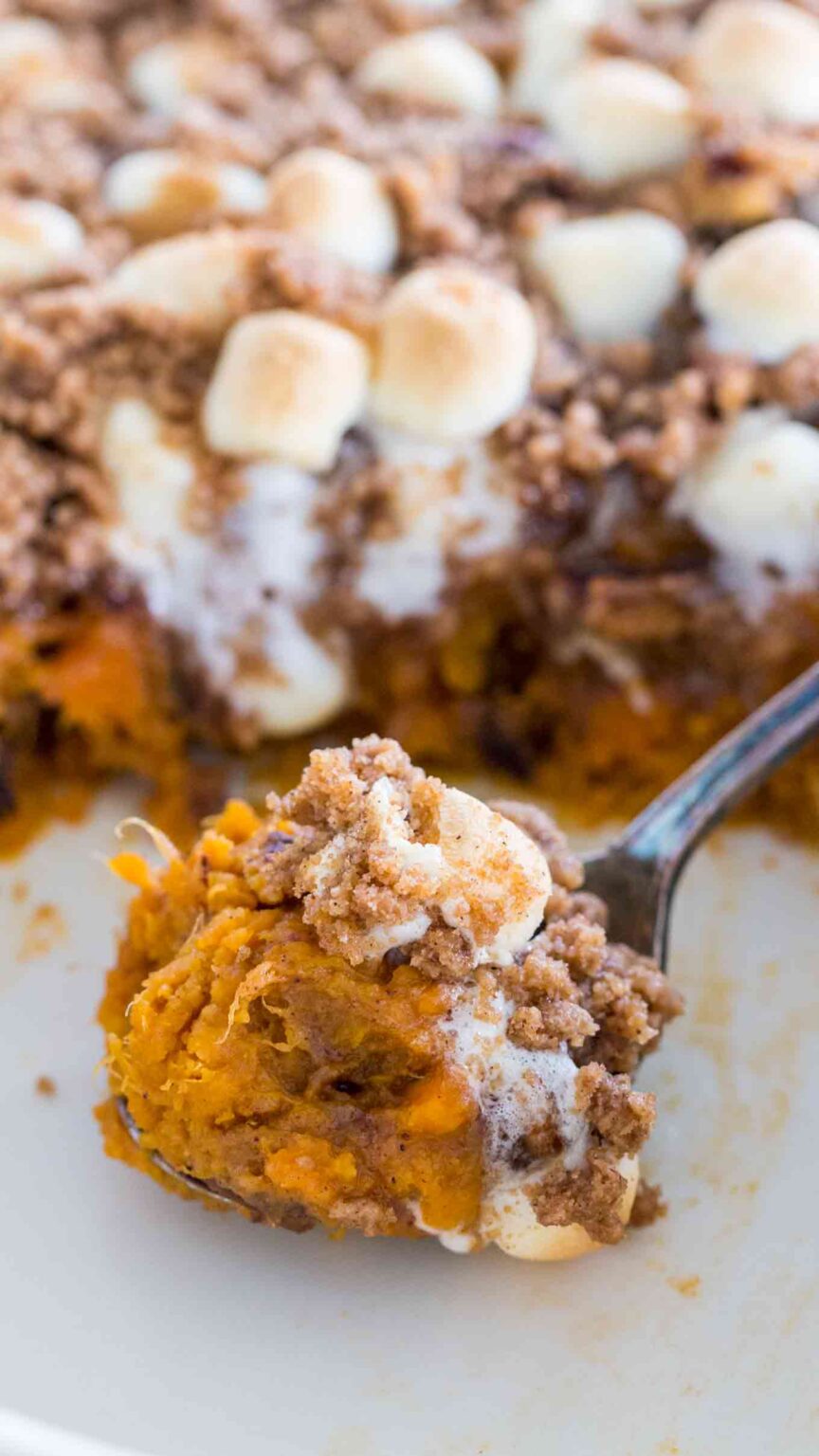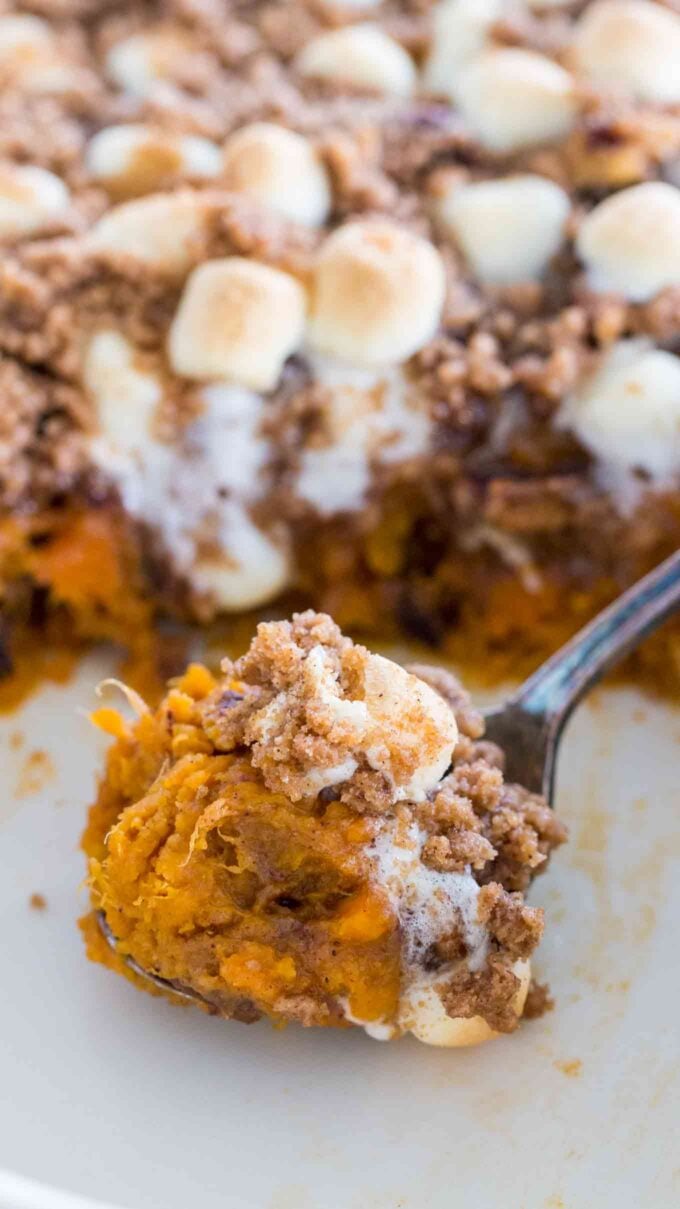 How to store leftovers?
Refrigerate the leftovers in shallow airtight containers or resealable plastic bags. Also, if kept in the baking dish, cover tightly with plastic food wrap. Properly stored, the casserole will last for 3 to 5 days in the refrigerator.
How to freeze uncooked Sweet Potato Casserole?
Assemble the casserole and make sure it's not warm.
Skip the marshmallows, they should be added right before baking for best results.
Lay a sheet of plastic wrap or aluminum foil directly on top of the casserole and wrap it tightly in a few layers.
Then, freeze it for up to 3 months.
Thaw overnight before baking.
To freeze it cooked:
First, cool the casserole to room temperature.
Then, wrap it tightly with plastic wrap or aluminum foil.
Freeze for up to 3 months.
Thaw overnight before heating up in the oven or the microwave.
More Sweet Potato favorites:
Cooking tips:
To save some calories, you could swap the milk with almond milk or coconut milk. In addition, use vegan butter instead of regular butter.
I love using vanilla extract as it adds plenty of flavors. However, if you are not a fan, simply skip it.
Also, decrease the sugar amount by half if you want a more savory side dish.
Using canned yams will also work, but the texture will not be as fluffy. Also, they are quite wet, so omit the milk from the ingredients list. Drain them, and follow the same steps described.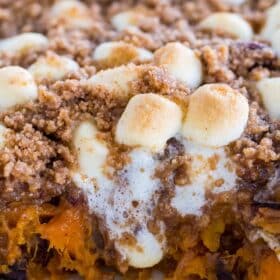 Loaded Sweet Potato Casserole
Sweet Potato Casserole is such a classic and traditional dish. Elevated and made even better with a cinnamon filling and buttery cinnamon pecan topping.
Save
Share
Print
Pin
Rate
Ingredients
For the Potatoes:
3

lbs

sweet potatoes

(peeled and diced)

1/2

cup

brown sugar

1

cup

pecans

(chopped and toasted)

2

large eggs

(lighly beaten)

1/2

cup

milk

(room temperature)

1/4

cup

unsalted butter

(melted)

1

teaspoon

vanilla extract

1

teaspoon

cinnamon

1

teaspoon

nutmeg

1/2

teaspoon

salt
Cinnamon Filling:
6

tablespoons

unsalted butter

(softened)

1

tablespoon

cinnamon

1

cup

all purpose flour

1

cup

packed brown sugar
Pecan Topping:
1

cup

pecans

(toasted and chopped)

2

tablespoons

flour

2

tablespoons

brown sugar

1/4

cup

unsalted butter

(melted)

1 1/2

cup

mini marshmallows
Instructions
Preheat oven to 350 degrees F.

Butter or spray with baking spray a 9x13 inch casserole or baking dish. Set aside.

Add 2 cups of pecans to a baking sheet and roast for a few minutes. Watch closely to not burn them. Remove from oven, cool, and roughly chop.
Cook the Potatoes:
Peel, cube, and wash sweet potatoes. Add the cubed potatoes to a dutch oven or large saucepan. Cover with water and bring to a boil. Boil for about 15 minutes, when pierced with a fork, the potatoes should be tender.

Drain cooked sweet potatoes, mash, and set aside to cool off a bit.
Cinnamon Filling:
While the potatoes are cooking, in a small bowl, using a fork mix together the softened butter, flour, sugar, and cinnamon until soft crumbs form. Set aside.
Pecan Topping:
Combine all the ingredients from the "Pecan Topping" section except marshmallows. Stir and set aside.
Sweet Potato Layer:
Combined the slightly cooled mashed potatoes with the ingredients from the "For the Potatoes" section: brown sugar, melted butter, 1 cup chopped pecans, lightly beaten eggs, milk, salt, vanilla, cinnamon, and nutmeg. Stir to combine until smooth.
Assembling the Casserole:
Add half of the mashed sweet potatoes mix to the prepared pan, distribute evenly and smooth the top with a spatula.

Sprinkle half of the Cinnamon Filling mixture on top of the mashed potatoes.

Add the remaining sweet mashed potato filling, distribute evenly and smooth the top with a spatula.

Sprinkle the Pecan Filling mixture on top of the mashed potatoes.

Sprinkle the mini marshmallows if using.

Sprinkle the remaining Cinnamon Filling mixture on top.
Bake:
Bake for 30 minutes, until the filling is hot and the topping has browned.

If the marshmallow starts to brown too quickly, spray some foil with baking spray and cover the casserole, greased side down, careful to not touch the toppings.

Serve warm.
Nutrition
Calories:
783
kcal
|
Carbohydrates:
103
g
|
Protein:
8
g
|
Fat:
40
g
|
Saturated Fat:
15
g
|
Cholesterol:
95
mg
|
Sodium:
458
mg
|
Potassium:
810
mg
|
Fiber:
9
g
|
Sugar:
57
g
|
Vitamin A:
24875
IU
|
Vitamin C:
4.4
mg
|
Calcium:
176
mg
|
Iron:
3.5
mg
More recipes you might love