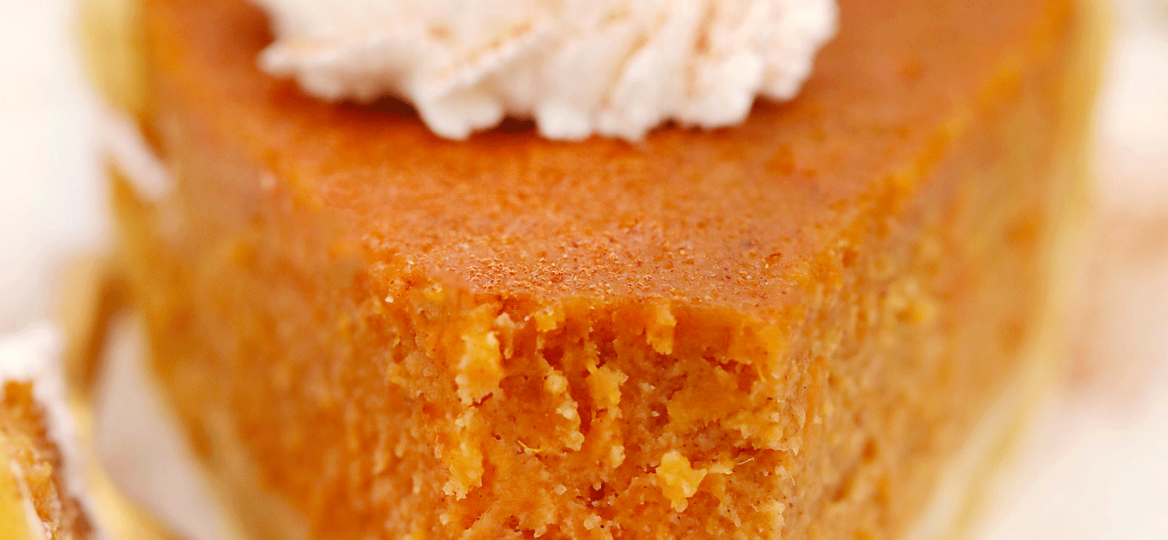 Sweet Potato Pie Recipe [Video]
Sweet Potato Pie has a buttery crisp crust and creamy filling with nutmeg, cloves, ginger, and cinnamon. This is the perfect dessert to enjoy for Thanksgiving and Christmas.
If you are looking for other delicious desserts to make for the upcoming holidays, make sure to also check Sweet Potato Bread, Pumpkin Cheesecake Bars, and Best Homemade Apple Pie.
Classic Sweet Potato Pie
When it comes to the Thanksgiving season, this is our favorite dessert to make. It tastes super good and smells very inviting! In addition, this is a very easy recipe to follow and is guaranteed to win you over! Once you try it, you will want to make it again and again. It's that good!
I am very particular when it comes to meal preparation for Thanksgiving, and I always like to make plans way ahead of time. This year, instead of serving the classic Pumpkin Pie, I decided it would be nice to prepare some yummy homemade Sweet Potato Pie to level up our celebration.
Delicious sweet potatoes make the dessert different yet still very traditional. Since it is not as common as pumpkin pie, I can make many batches to give out as gifts to family and close friends. You can do that too by following the easy instructions in our recipe!
What is Sweet Potato Pie?
This is a classic holiday dessert, usually served during Thanksgiving in the Southern part of America. It is a type of pie that has no crust on the top.
What does homemade Potato Pie taste like?
This dessert is very delicious! Sweet potatoes are naturally sweet, so you can expect the pie to be sweet-tasting.
If you are more familiar with pumpkin pie, imagine a sweeter version with more texture when eaten. That is because both pies basically use the same ingredients, and cooked practically the same way.
Is Sweet Potato Pie served better hot or cold?
Personally, I prefer to eat it cold and I would often put whipped cream on top of my pie. However, some of my friends and family members like it best when it is served warm. It all depends on your preference, and therefore, there is no right or wrong way to enjoy it!
Which is healthier Sweet Potato or Pumpkin Pie?
Sweet potatoes have much more sugar and calories than pumpkins. However, they also contain more fiber, protein, and nutrients.
Having said that, Pumpkin Pie is definitely the better option for people who are watching their calorie intake. But, hey, if you will be eating dessert on a holiday, maybe you can forget your diet for a day or two, or simply eat the dessert in moderation.
What is Sweet Potato Pie made of?
It mainly uses canned milk, sugar, and eggs. To spice up the flavor, we use nutmegs, cloves, ginger, and cinnamon.
How do you make the best Sweet Potato Pie?
For exact steps and recipe measures, please check the recipe box below. Also, watch the video tutorial for step-by-step instructions.
Prepare the crust. Combine ingredients like salt, sugar, flour, and cold butter using a food processor. Then, add water to the dry mixture little by little to make the dough moist enough but still not sticky. Divide it into two and form two disks by flattening it. Then, make sure to cover it properly with plastic wrap before putting in the fridge for at least one to two hours.
Prepare the filling. First, work on the potatoes by boiling them until they become super soft. Once they are ready, peel the skin off, slice into large chunks, and put it in a mixer. Next, add the rest of the ingredients into the mixer and wait until everything becomes super smooth.
Start baking. Meanwhile, take the dough from the fridge, lay it out nicely into a circle on a pie dish, and smooth it using your hands. Add the previously prepared filling into the crust. Then, put it in the oven to start baking at 350 degrees Fahrenheit. Make sure to cool down the pie at room temperature for at least an hour before serving or putting in the fridge.
Can you use store-bought sweet potato puree?
Yes, it is possible to make the dessert with store-bought puree. However, it should be your last option. I personally recommend making the filling from scratch. By using fresh potatoes, you can control the amount of sugar and also the sweetness level of the dessert.
Recipe Variations
Most people would eat this with whipped cream or vanilla ice cream, but you can actually use any of your favorite toppings like marshmallows or even meringue!
You can also make different versions of this pie by making it vegan, spiced, or gluten-free.
How to store Sweet Potato Pie?
Remember that you can only store the baked pie in the fridge for a maximum of 5 days. You have to loosely cover it with a plastic wrap before leaving it in the fridge.
To freeze it, make sure to double wrap it with a plastic cover. Then, use aluminum foil to cover it again before finally putting it in a freezer bag. It will last for a few months.
More homemade sweet potato recipes:
Recipe Tips
I find it better to bake the potatoes instead of boiling them. This is because they would usually turn out sweeter than usual!
Also, feel free to add some orange or lemon zest into the filling as added flavor.
If you don't like the taste of ginger, simply remove it from the ingredients.
Deliciousness to your inbox
Enjoy weekly hand picked recipes and recommendations