Best Homemade Apple Pie Filling [Video]
Homemade Apple Pie Filling is easy to make and can be used in plenty of desserts, like homemade apple pie, and it tastes so much better than the canned version. Watch the short video tutorial attached below and see how simple this recipe is!
With fall on the horizon, there are plenty of apples around. Make this easy recipe and enjoy the filling in Pies, Danish, or simply scoop it on your favorite ice cream!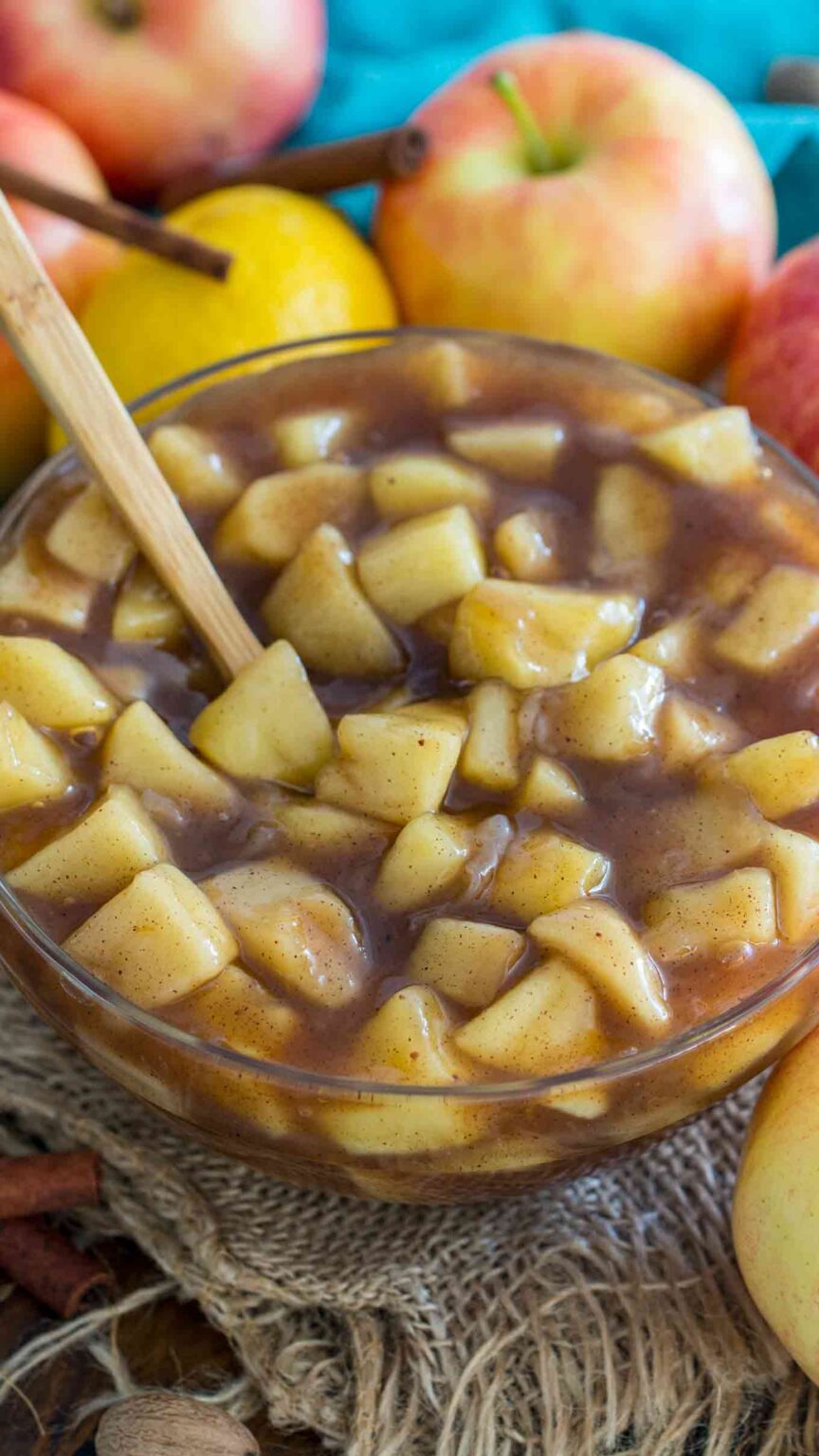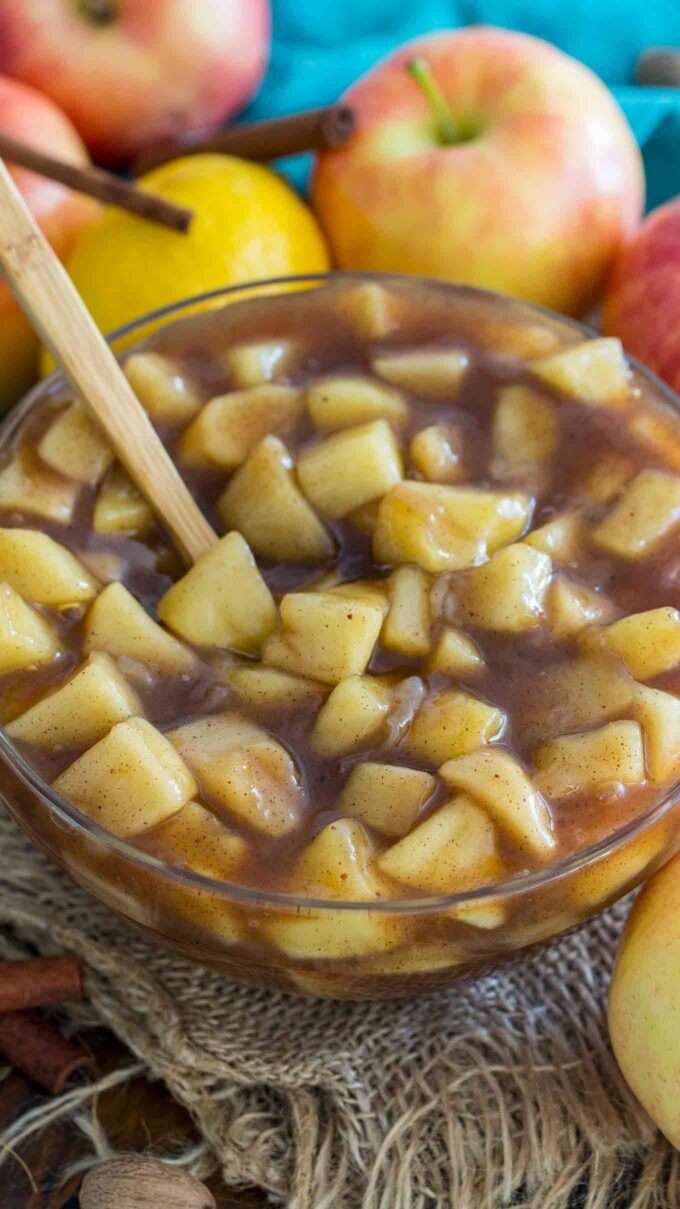 Easy Apple Pie Filling
This Homemade Apple Pie Filling is very easy to make, it will take you only about 30 minutes. The homemade version tastes so much better than the canned, store-bought one. Also, it is healthier as you can control the ingredients, and know for sure what is used.
I love recipe shortcuts, and I personally buy and use a lot the canned version. Sometimes you can't beat the convenience. However, if you have time, and want to try your hands to make your own apple pie filling, this recipe is perfect for you.
The Apple Pie Filling is sweet, flavored with classic fall spices, like cinnamon, cloves, and nutmeg. I also added some brown sugar to it. It gives it that rich caramel color and it combines with the soft apples so well. This filling is not only great in pies, but you can also use it on toast, cakes, or top it over ice cream.
What do you need to make Homemade Apple Pie Filling:
This recipe is pretty easy and ready in about 30 minutes, you will need only a handful of ingredients and spices:
Apples – use your favorite apples.
Lemon juice – to prevent apples from browning.
White and brown sugar – if you a looking for a lighter in the color filling, replace the brown sugar with white sugar.
Cinnamon, nutmeg, cloves, allspice – to add delicious fall flavors.
Water
Cornstarch – acts as a thickening agent and it cuts down in time, otherwise to thicken the filling you would need more sugar and the cooking time would be much longer.
Butter – this is optional to use, but it gives a nice aroma to the filling.
How do you prepare apples for apple pie filling?
Wash, clean, and cut them: you have to wash and peel the apples. After that, you have to core them and either slices them or dice them. Whichever you prefer more. I like to cut mine into 1-inch chunks, so they maintain their shape and texture better.
Squeeze some lemon on top: After you diced the apples, add them to a large bowl and squeeze one lemon over top. Also, you can drizzle with some store-bought lemon juice, stir to combine. This is done to avoid the apples from turning brown.
How do you make homemade apple pie filling?
This is one of the easiest recipes you can make.
Simply, start by adding the sliced apples, brown sugar, and butter to a saucepan, and cook over medium heat.
Then, and spices with some cornstarch to thicken everything up. It takes just minutes to put together. The best part is that you can make it in advance and store it in the fridge for later use.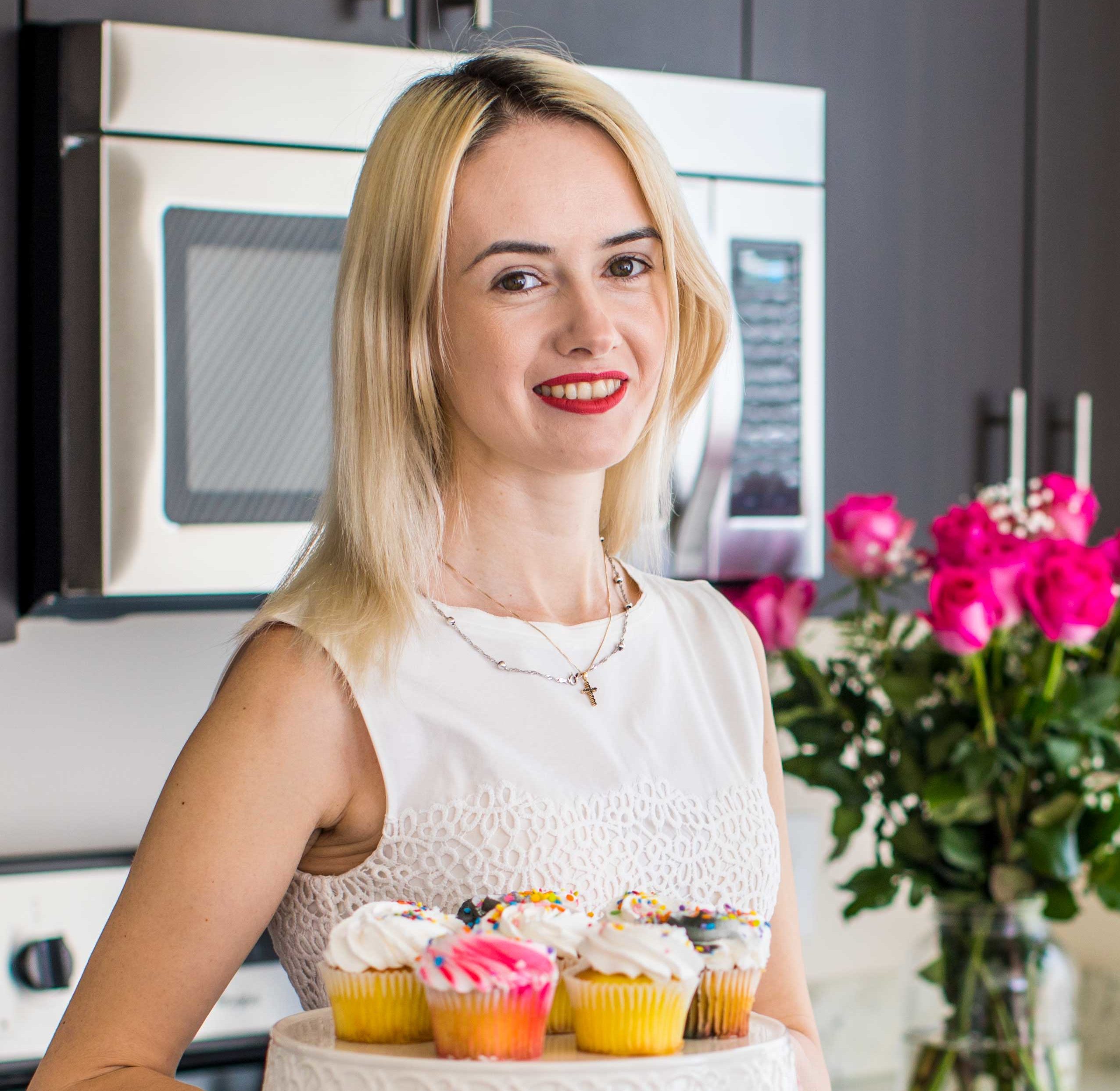 Follow us on Pinterest for more delicious recipes!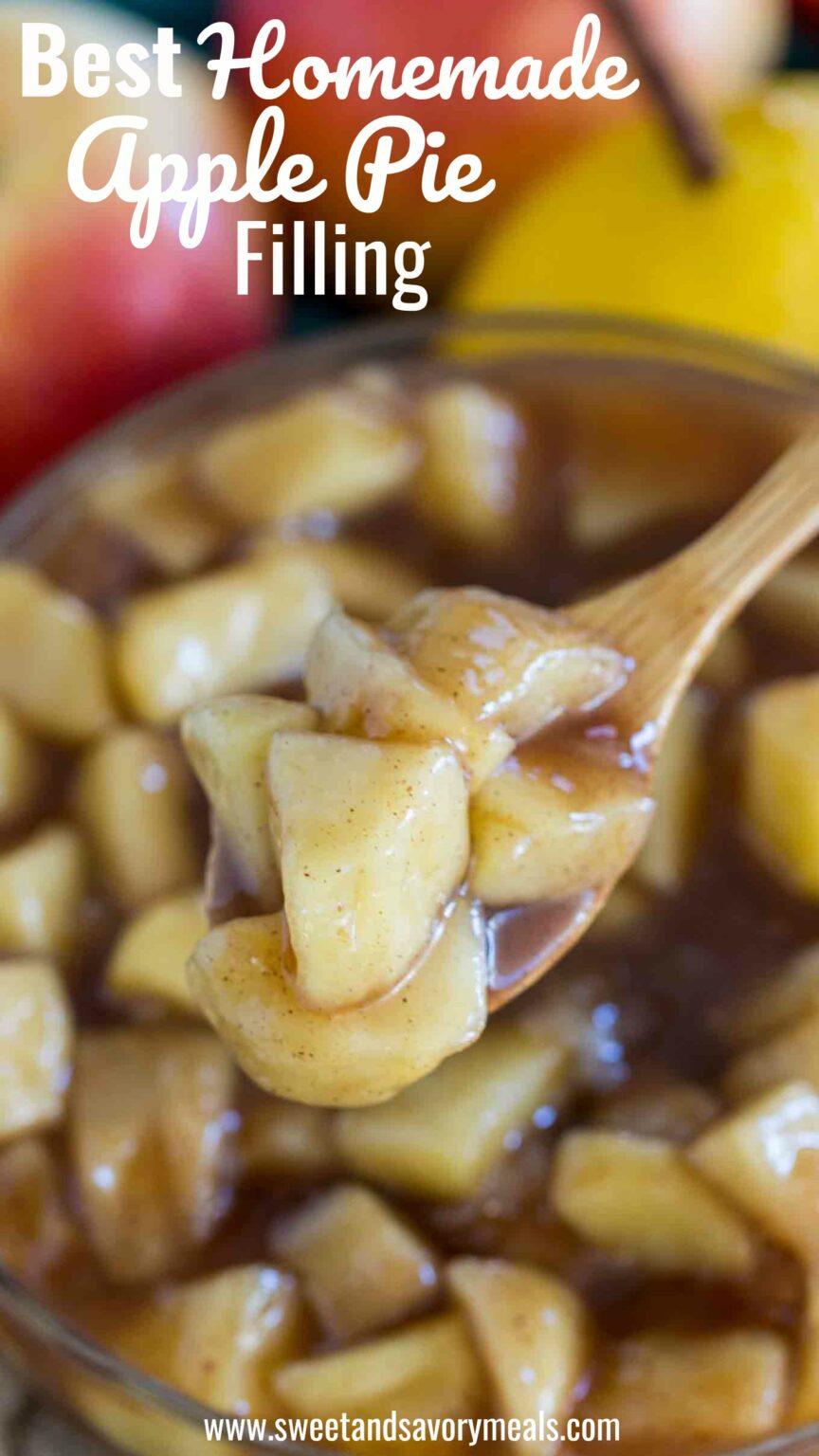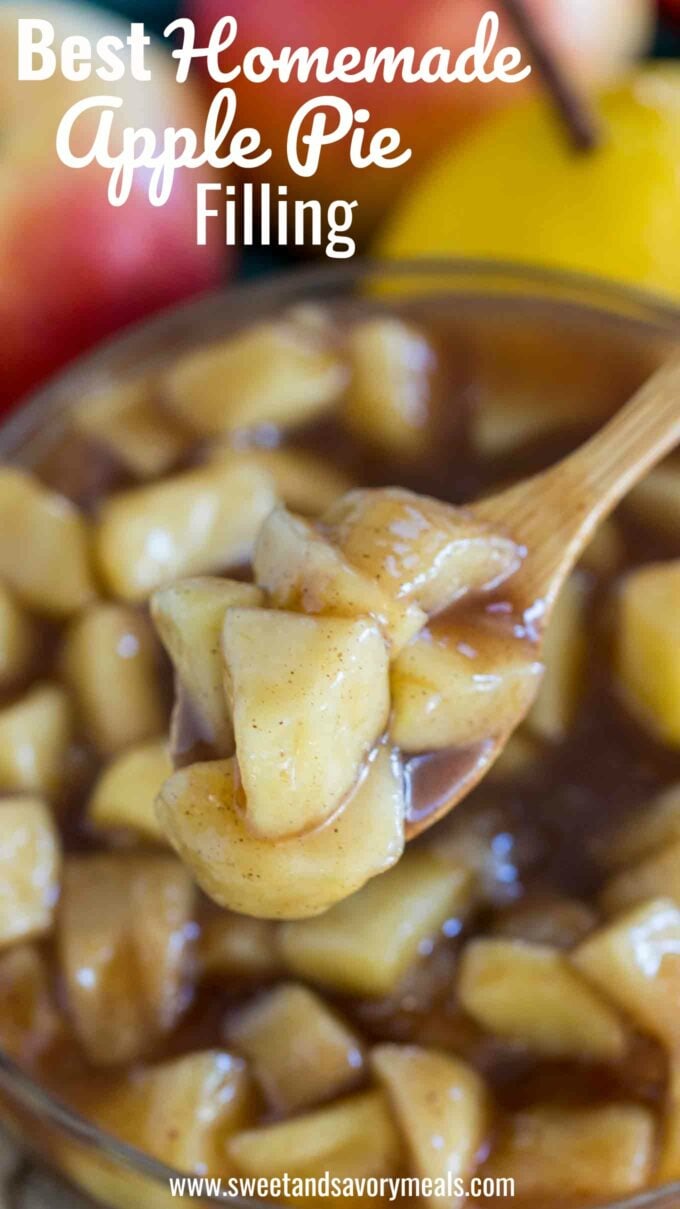 What kind of apples should be used to make apple pie filling?
Technically you can use any apples, but I prefer to stick to widely available Gala, Fuji, Red Delicious, or Golden Delicious, or a mix of these. Honeycrisps, Granny Smith, and Melrose are also delicious options. As a rule of thumb, for the best pie, choose a mix of sweet and tart apples, to have the best of both worlds.
How to water bath can Homemade Apple Pie Filling:
After you peel, core, and slice the apples, it is preferred to blanch them for 1 minute in hot boiling water. This is to ensure that the apples will be cooked through.
Transfer to a bowl, drizzle with lemon juice, and add the lemon zest if using. Please follow the recipe instructions from the recipe card.
Prepare the boiling water canner. Heat 2-3 (2 cups each) jars in simmering water until ready for use, but do not boil. Make sure the leads are clean.
Ladle the hot apple pie filling into the hot jars leaving about 1-inch headspace. Look for air bubbles and remove them, wipe the rim, and jar clean. Center lid on the jar and apply band until fit is fingertip tight.
Process jars in a boiling-water canner for 25 minutes.
Remove jars and completely cool, preferably on a cooling rack.
Check lids for seal after 24 hours, they should not flex up and down when the center is pressed.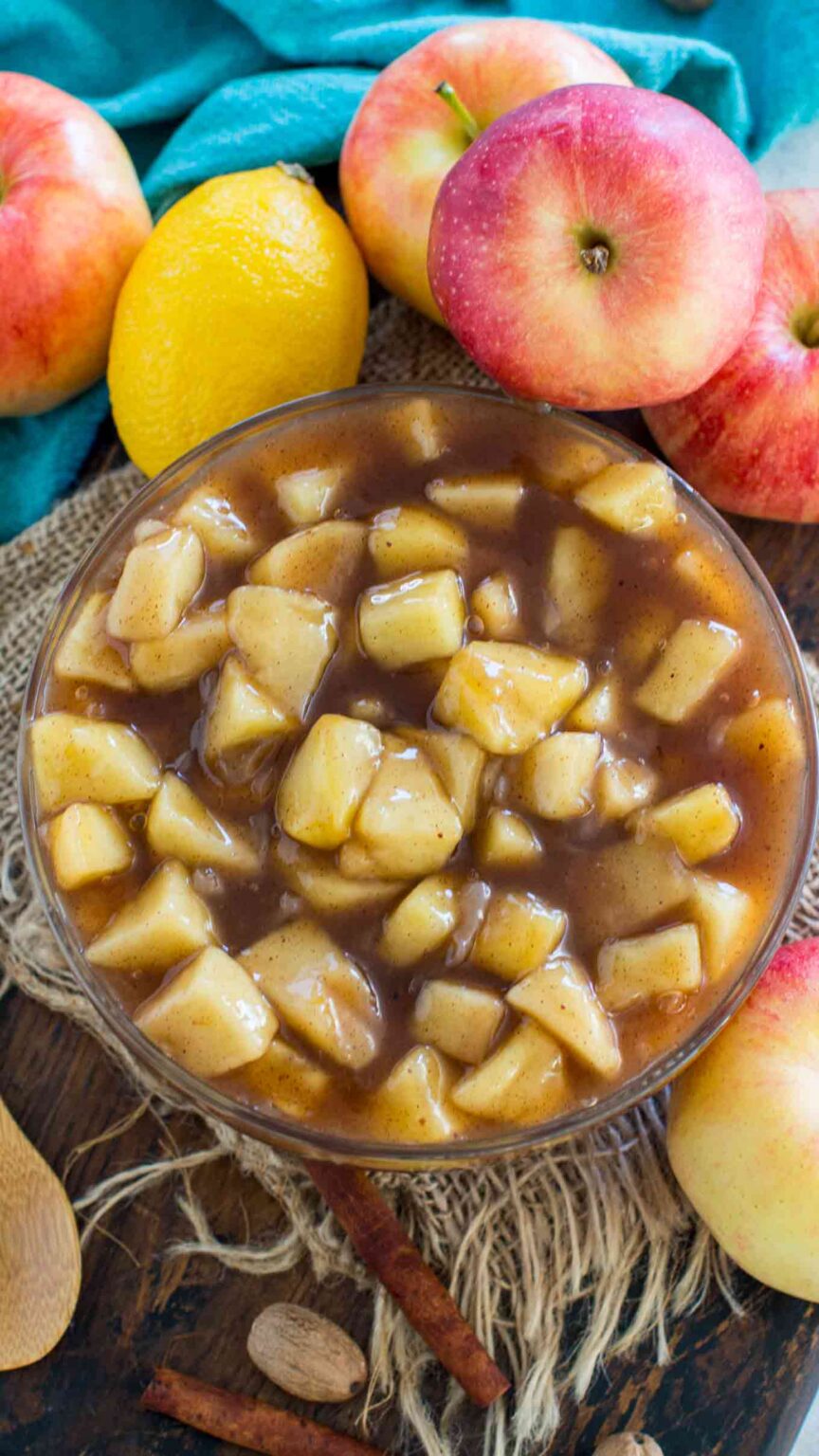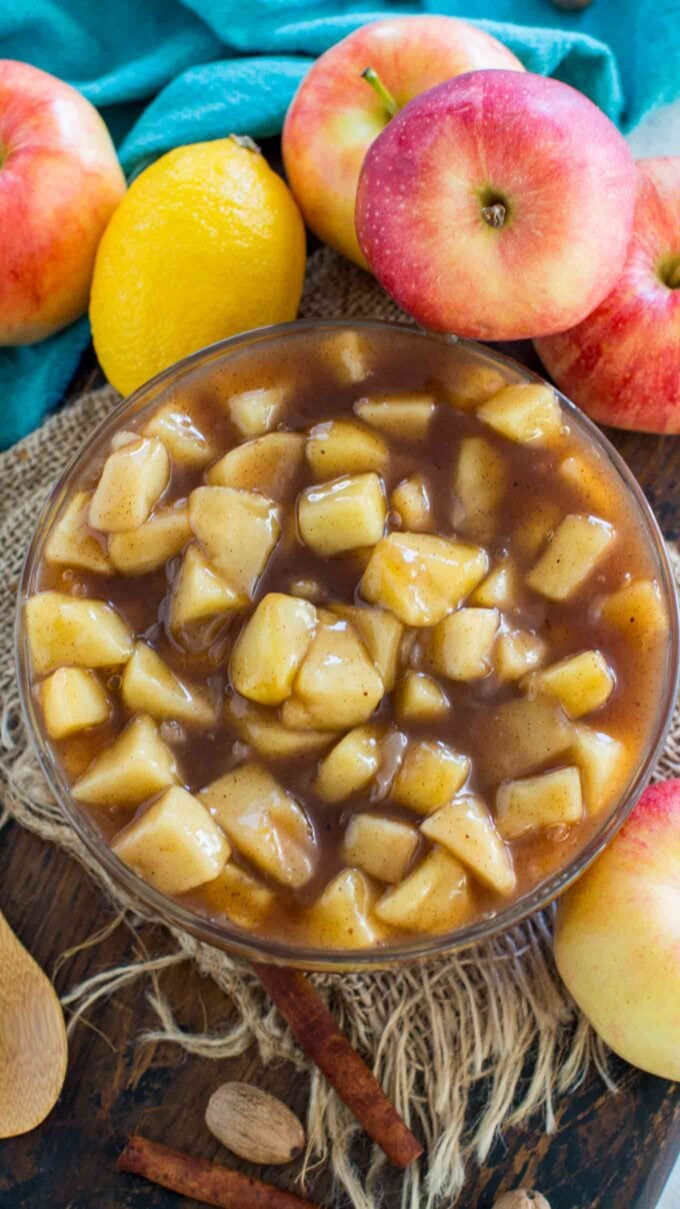 How to store Homemade Apple Pie Filling?
Let the filling cool to room temperature first. Then, transfer it to jars or to an airtight container and store in the fridge for 10-14 days.
How to Freeze it?
First, cool it to room temperature. Then, add it to an airtight container, or freezer gallon bags (lay them flat in the freezer). You can freeze the filling for up to nine months with minimal loss of flavor.
How to thaw Apple Pie Filling?
When ready to use, remove it from the freezer, and transfer it to the refrigerator to thaw gradually for 24 hours, or you can add it to a saucepan and heat it up.
If you decide to heat it up, and the filling is too watery, mix 2 tablespoons of cornstarch with 2 tablespoons of water in a small bowl until fully dissolved and add the slurry to the apple pie filling.
Stir to combine, and let it simmer for 2 minutes until it thickens. When the filling will cool off it will thicken more.
Recipe Tips:
I prefer to cut the apples into about the same size. This way it cooks uniformly and at the same rate.
Feel free to substitute some ingredients. For example, you can add vanilla extract to it. Similarly, butter is optional and can be omitted. It adds a nice creamy flavor to the dish, so use as you desire.
Some people prefer making this recipe without cornstarch. However, by using the cornstarch, the filling will thicken and have the right texture and consistency. But feel free to skip it if not a fan.
I love using butter because it adds a lot of taste and flavor to the filling. However, you can omit it if you prefer.
Looking for more Apple Desserts this fall? Check these out:
Save Recipe
Best Homemade Apple Pie Filling
Homemade Apple Pie Filling is easy to make and can be used in plenty of desserts, like homemade apple pie, and it tastes so much better than the canned version.
Author: Catalina Castravet
Serves: 9 cups
Prep time:

15

minutes
Cook time:

15

minutes
Total time:

30

mins
Nutrition information
Calories: 218 Carbohydrates: 56 Protein: 0 Fat: 0 Saturated Fat: 0 Cholesterol: 0 Sodium: 75 Potassium: 162 Fiber: 3 Sugar: 46 Vitamin A: 65 Vitamin C: 12 Calcium: 26 Iron: 0.3
Save Recipe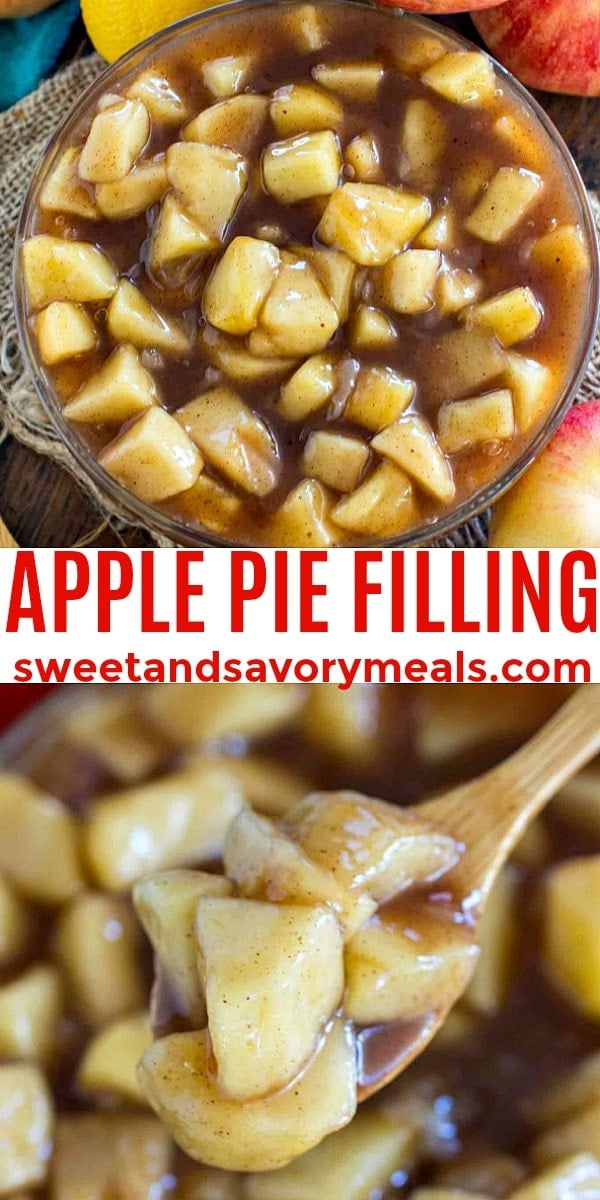 More recipes you might love
Categories: