Apple Pie Caramel Cheesecake [Video]
Apple Pie Caramel Cheesecake is the holy grail of desserts! Every slice is loaded with layers of crunchy graham crust, creamy caramel cheesecake, apple pie topping, plus luscious whipped cream and caramel sauce. It's the best homemade fall dessert to enjoy with friends and family.
I have a serious sweet tooth, which means I'm crazy about desserts! Try my Strawberry Tiramisu for a fruity twist on the classic. Looking for a fun project with the kids? Bond over baking with these Easy Twix Cookies! Finally, try my Pumpkin Bread for a dose of autumn spices.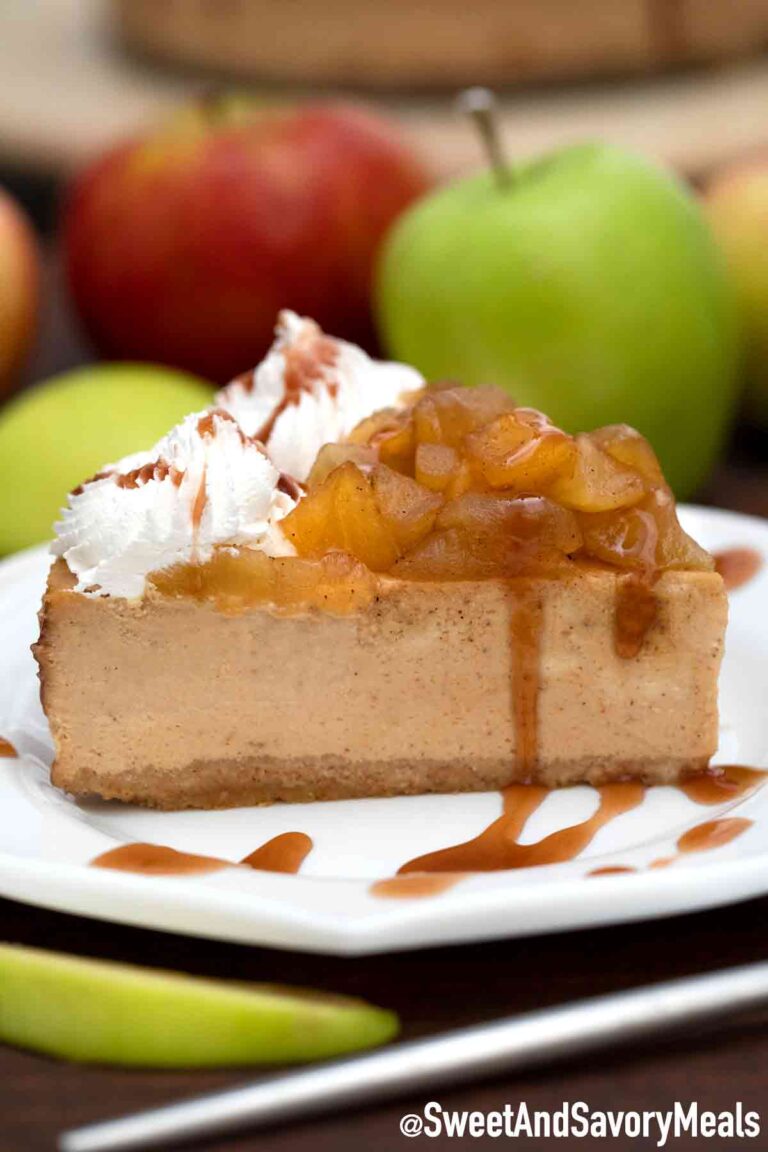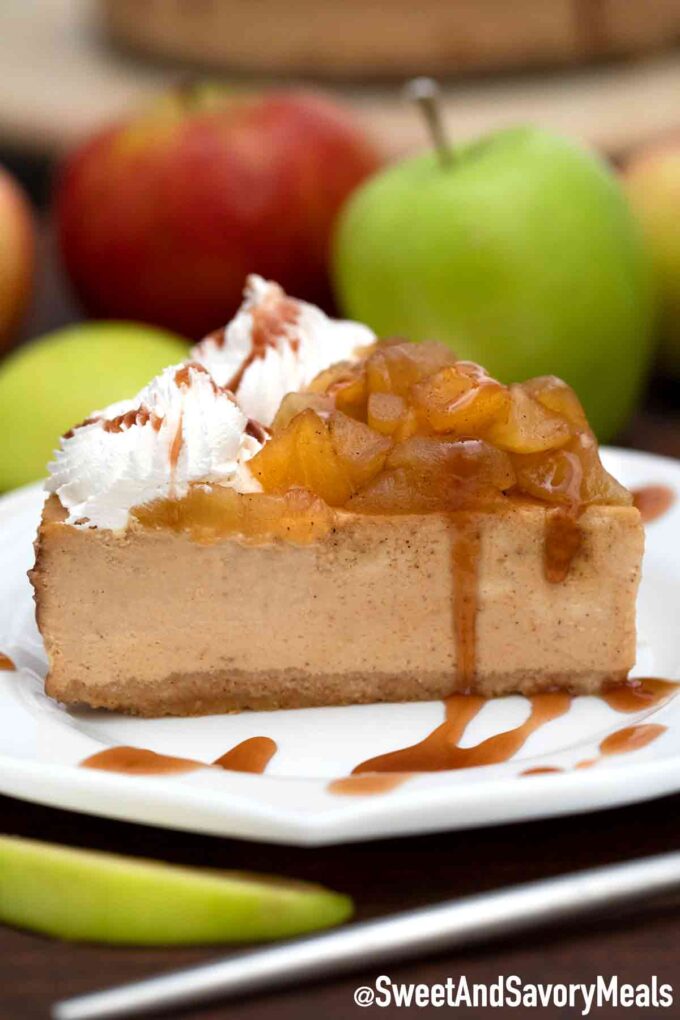 Apple Pie Cheesecake Recipe
Apple Pie Caramel Cheesecake is just over-the-top fabulous! The idea came to me one day when I was craving cake, apple pie, and caramel at the same time. Instead of making three separate recipes, I tried combining all those flavors in one.
The result is this heavenly dessert that hits all the right spots! Each layer adds something special. You've got that buttery, spiced graham crust that adds crunch. Then, we add dulce de leche to the cheesecake layer because you can never have enough caramel!
The fruit topping tastes exactly like apple pie— sweet, spiced, slightly tart, and with a nice, crisp bite. The final layer is fresh whipped cream drizzled with more homemade caramel sauce. The only hard part is waiting for it to firm up before you take a bite!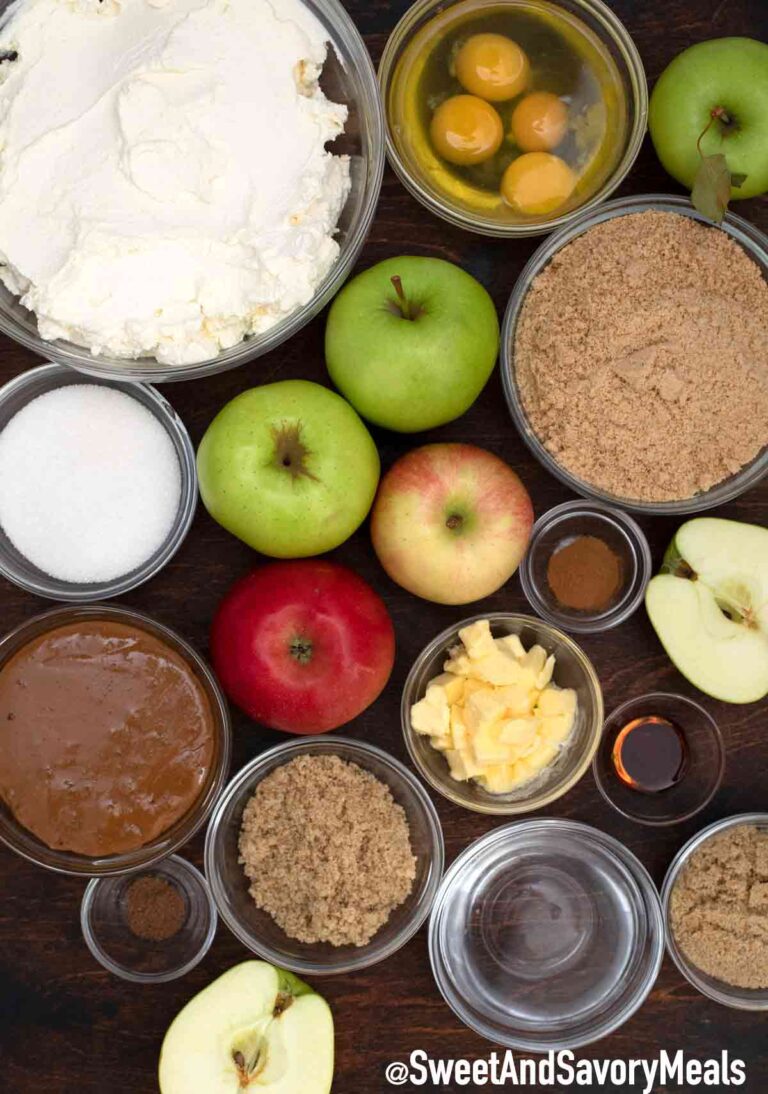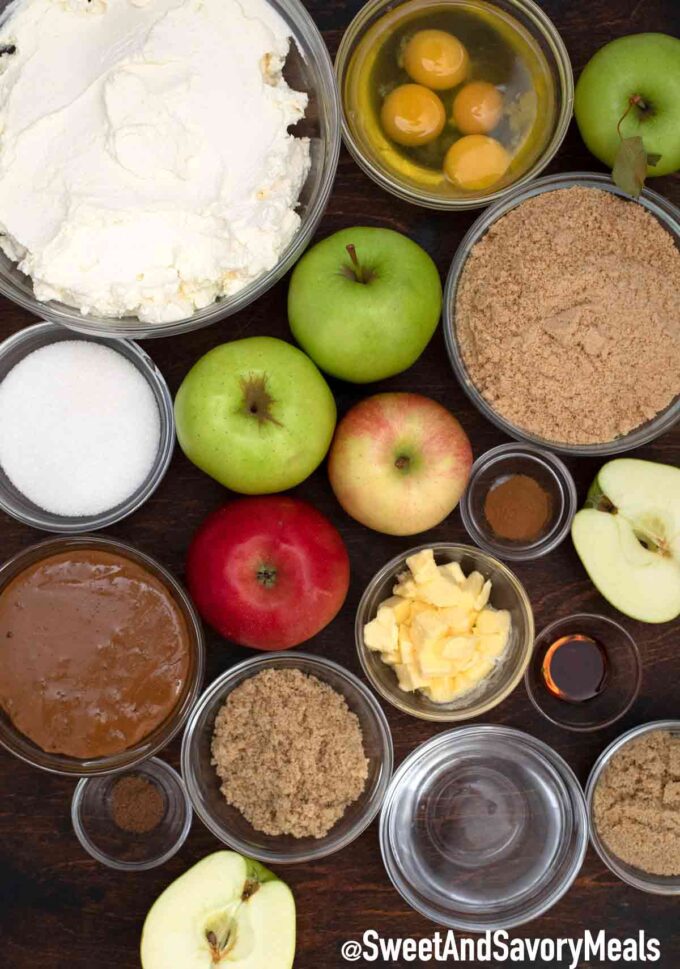 How to make Caramel Apple Cheesecake?
Despite having several layers, this recipe is beginner-friendly. I promise! The key is to prepare all the ingredients so they're ready when you need them. You should never let batter sit – bake it as soon as it's done for the best texture.
Let me walk you through the process, layer by layer:
LAYER 1: The Crust
Process the graham crackers into fine crumbs. Combine this with the butter and spices. Press into the pan as firmly as you can.
LAYER 2: The Cheesecake Filling
Beat the cream cheese with the cinnamon, vanilla, egg, and sugar until smooth. Next, mix in the dulce de leche. Pour the filling into the crust.
Bake in a water bath for up 2 hours until just about set.
Then, cool it inside the oven (turn off heat) for one hour. Make sure the door is cracked open slightly.
Afterward, cool in room temp for a few hours.
Chill overnight in the fridge.
LAYER 3: The Apple Pie Topping
Cook down your diced fruit, sugar, water, and spices until the fruit is tender and the liquids are reduced.
Refrigerate to cool.
LAYER 4: The Fresh Whipped Cream
Whip the chilled cream until you get stiff peaks. You can easily make whipped cream at home, or use a store-bought one. Set aside.
Assemble all the layers:
Pipe the cream around the edges of the cake first. Next, fill the middle with the pie topping. Then, drizzle with this Caramel Sauce or Keto Caramel Sauce.
You can certainly use store-bought, but homemade tastes so much better and it takes less than 15 minutes!
Serve:
Serve the dessert with additional whipped cream and caramel sauce on the side.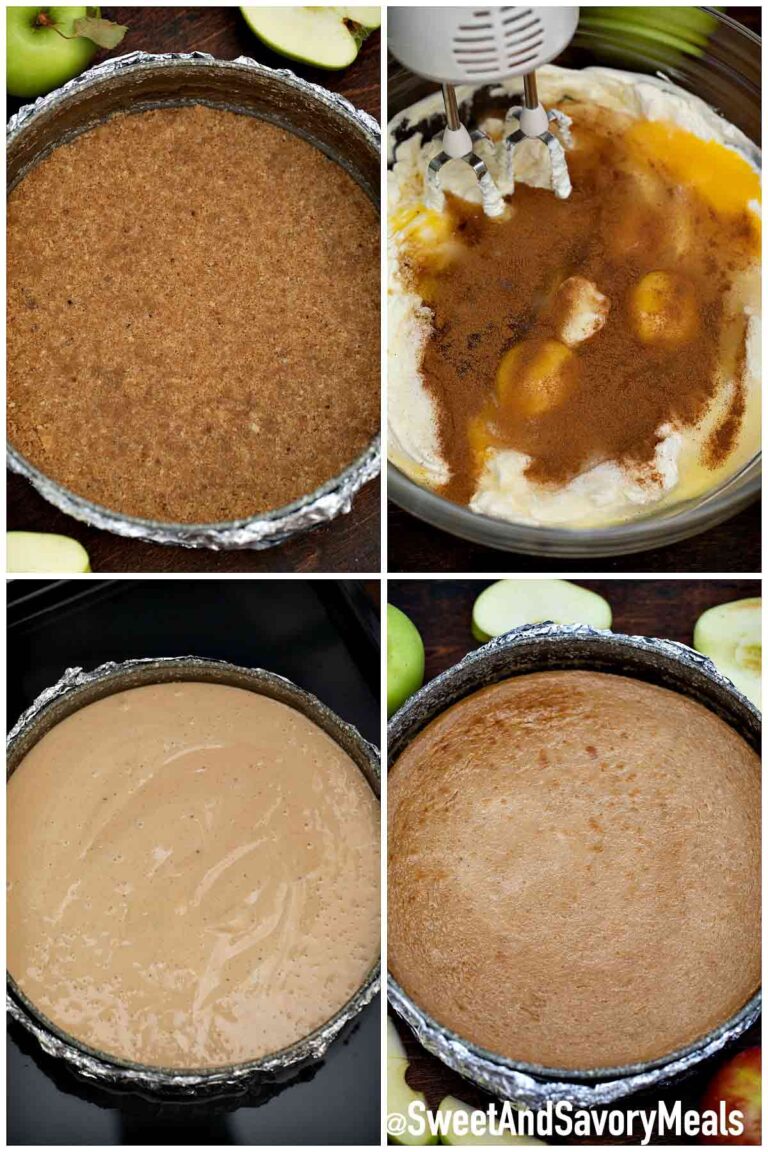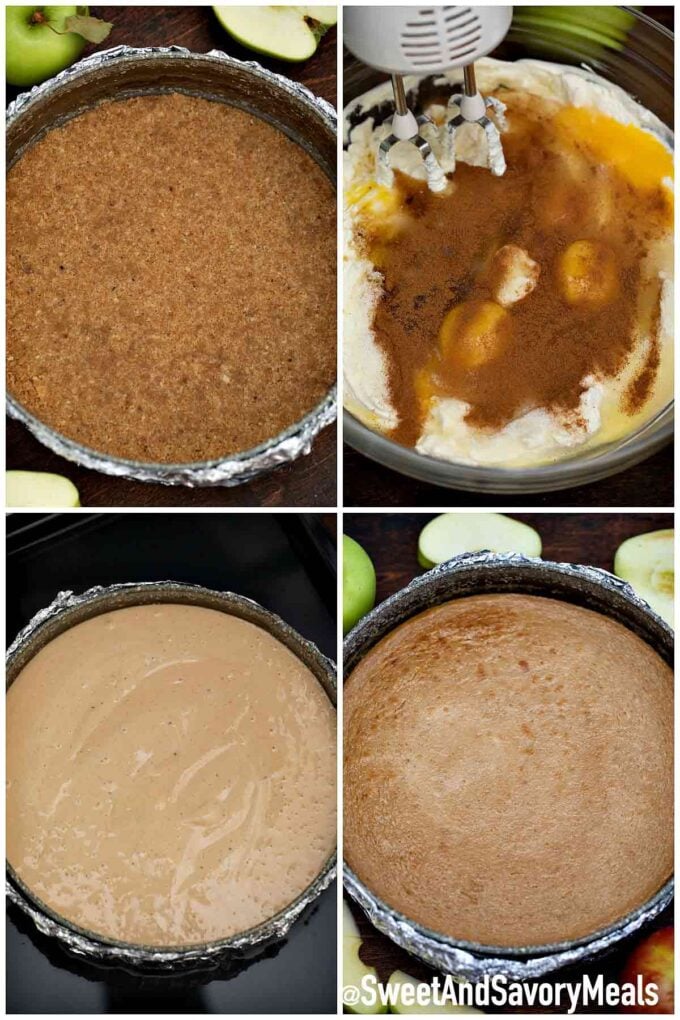 Best apples to use:
Anything you like, really. Use your favorite apples for making the apple pie. However, I like using Granny Smith, Honeycrisps, and Golden Delicious because of their tart sweetness. They also hold up really well to heat without turning into mush.
Do I have to do the water bath?
For this recipe, yes. The moisture from the water bath, aka Bain Marie, prevents overbrowning, cracking, and falling in the center.
If you don't want to use a water bath, you can try my no-bake cheesecake, fat bombs, and bar desserts instead.
Do I Have to Use Room Temperature Cream Cheese?
Yes! Take out the block a couple of hours before using it. This helps it incorporate better and easier with the rest of the batter ingredients.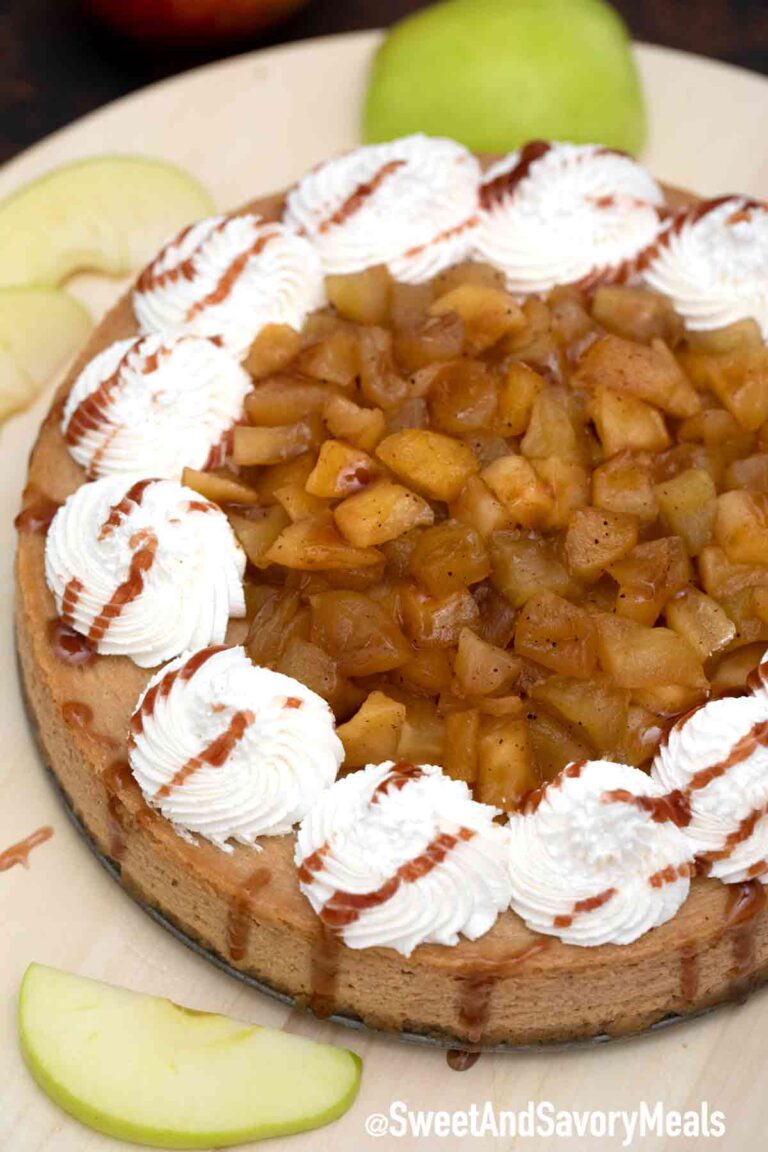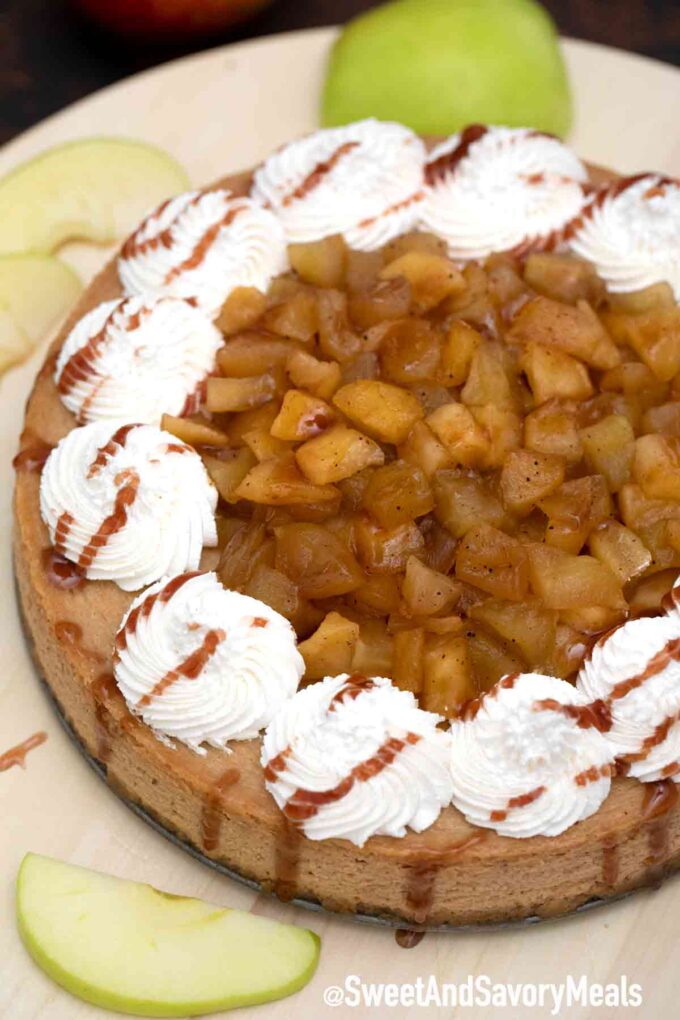 Best toppings for Apple Pie Caramel Cheesecake:
Aside from whipped cream, you can also top this with:
Chocolate sauce
Streusel
Your favorite nuts
Nutella
Dark cocoa powder
Can you make Caramel Apple Cheesecake in advance?
Yes. You actually need to make this a day or two ahead of when you plan to serve it because it needs to be chilled overnight. It tastes better this way because the flavors have to come together. You can refrigerate it for up to 6 days.
You can also mix the components in advance. Pre-mix the crust and apple pie topping, and store in the fridge inside an airtight bag. Chill your cream until ready to use. Follow the recipe as instructed on the day you're making it.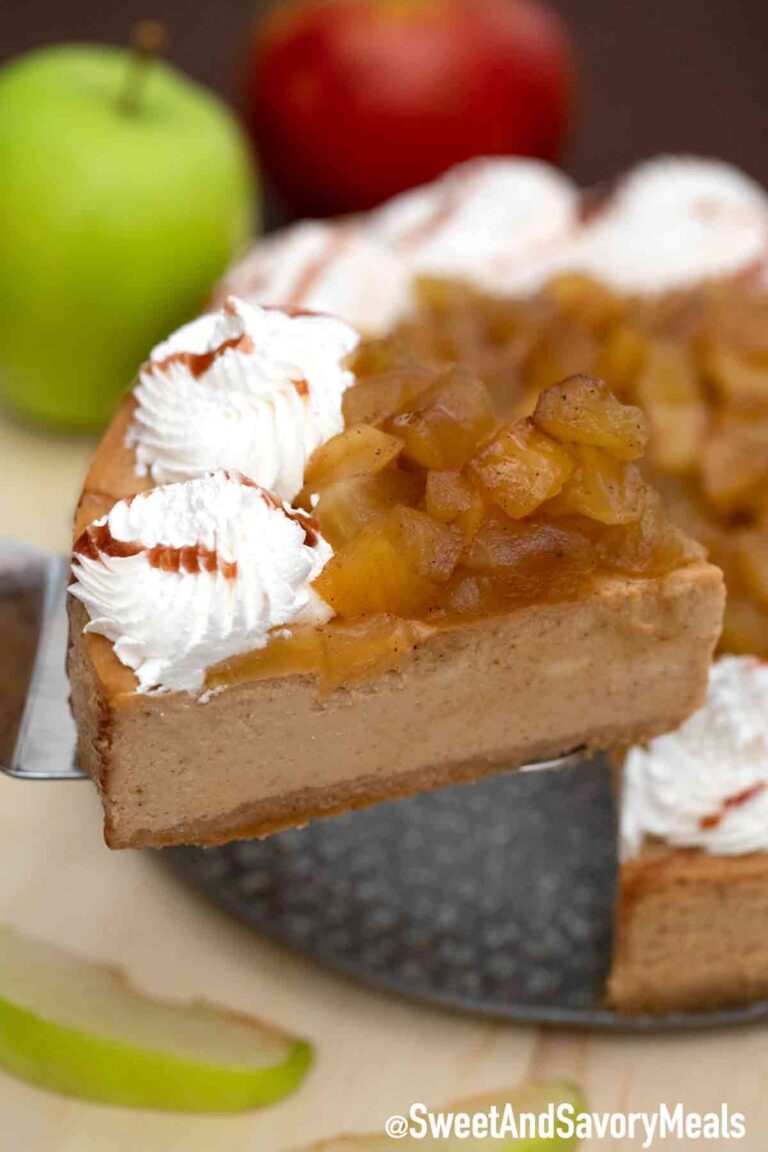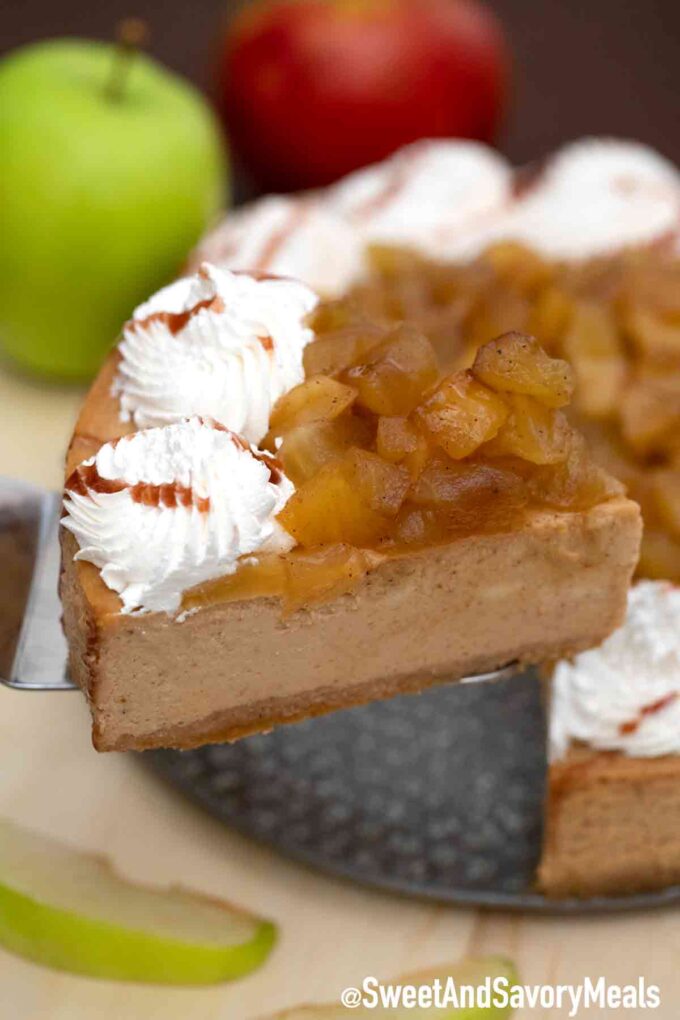 More delicious cheesecake recipes: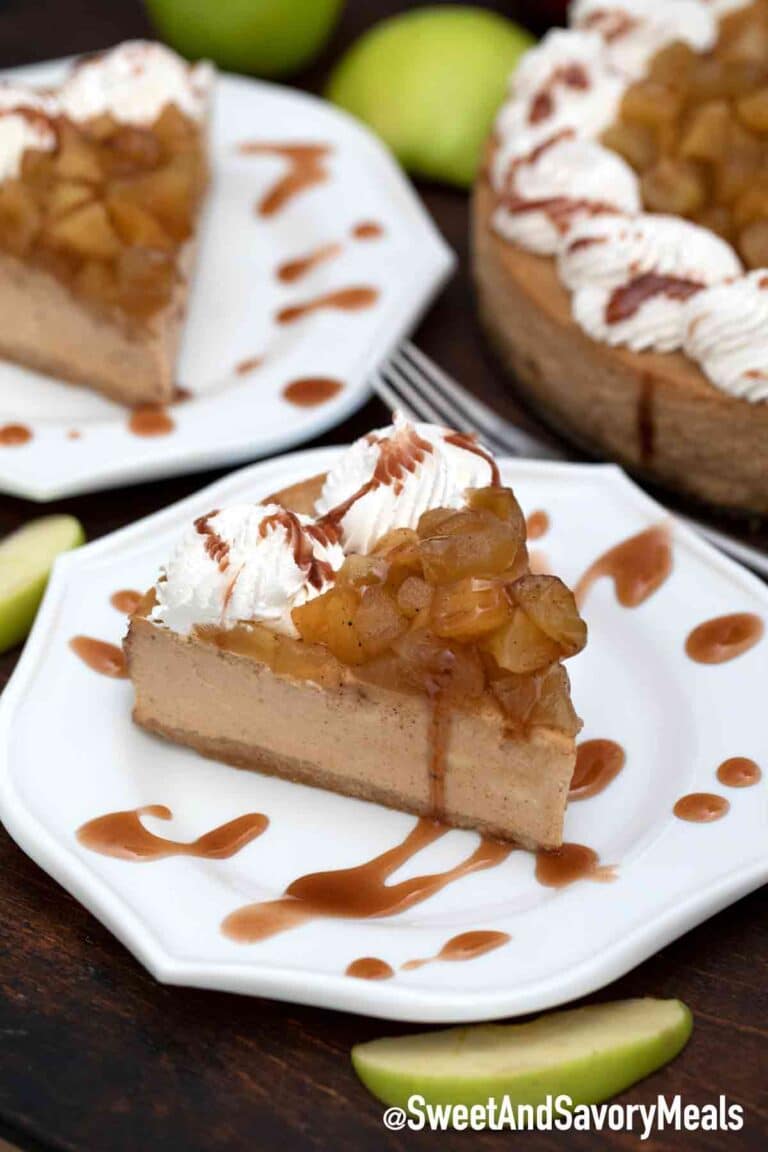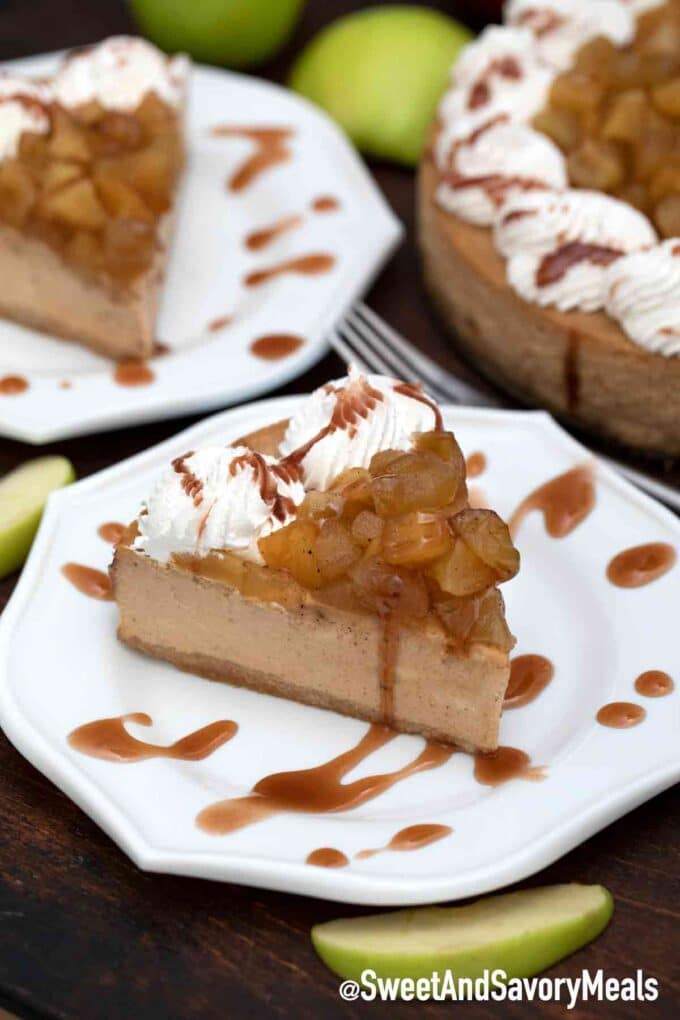 Apple Pie Caramel Cheesecake Recipe Tips:
For clean slices, use floss.
Use a springform pan to make it easy to take out the baked dessert.
Also, wrap the pan with two foil layers to prevent the water bath from seeping in.
Don't have graham crackers? Use gingersnaps!
Bake only until the center is slightly jiggly.
Don't take it out immediately from the oven, because the center will fall.
Chill your cream well before whipping. Otherwise, the stiff peaks won't form.
Apple Pie Caramel Cheesecake
Apple Pie Caramel Cheesecake is the holy grail of desserts! Every slice is loaded with layers of crunchy graham crust, creamy caramel cheesecake, apple pie topping, plus luscious whipped cream and caramel sauce.
Save
Share
Print
Pin
Rate
Ingredients
CRUST:
2

cups

graham cracker crumbs

1/4

cup

unsalted butter

(melted)

1/2

teaspoon

cinnamon

1/4

teaspoon

nutmeg
CHEESECAKE:
40

oz

cream cheese

(softened to room temperature)

1/2

cup

white granulated sugar

1/4

cup

brown sugar

1

teaspoon

vanilla

4

large eggs

(room temperature)

1/2

teaspoon

cinnamon

13-

oz

can dulce de leche
APPLE PIE TOPPING:
4

large apples

(peeled, cored and diced)

1/2

cup

water

1/2

cup

white granulated sugar

1/2

cup

brown sugar

1

teaspoon

vanilla

1/2

teaspoon

ground nutmeg

2

teaspoons

ground cinnamon
WHIPPED CREAM:
1

cup

heavy cream

(chilled)

1/4

cup

confectioner's sugar

1

teaspoon

vanilla

Caramel Sauce
Instructions
CRUST:
Wrap the bottom and sides of a 9-inch springform pan tightly with foil, to protect any water from seeping into the pan.

Mix the graham crackers in a bowl with melted butter, cinnamon, and nutmeg.

Press the mixture into the bottom of the pan and just 1-inch un the sides.
CHEESECAKE:
Place the softened cream cheese into the bowl of a stand mixer. Beat on medium speed for 3-4 minutes, scraping down the sides and bottom a few times, beat until the cream cheese is smooth.

Next, add in the sugars, eggs, vanilla, cinnamon, and beat again for 3 to 4 minutes, scraping down the sides and bottom once, until the mixture is creamy and lump-free.

Add the dulce de leche and mix again for 1 minute.

Pour the cheesecake batter into the prepared pan.

Place the cheesecake pan into a large baking dish and add about 1-inch of hot water.

Bake for 1 hour and 45 minutes to 2 hours, until the center of the cheesecake, is just about set but still slightly wobbly. Once done baking, turn off the oven and crack the oven door a few inches. Cool the cheesecake in the oven for about 1 hour. After that remove from the oven and let it fully cool at room temperature, before chilling it overnight.
APPLE PIE TOPPING:
Add the apples to a large sauté pan over medium heat, with the water, sugars, cinnamon, and nutmeg.

Bring the mixture to a simmer and cook for about 20 minutes, stirring often.

Once the apples are tender and the liquid reduced, remove the mixture from heat and cool at room temperature before refrigerating for a few hours or overnight.

Store in an airtight container in the refrigerator.
WHIPPED CREAM:
Add the chilled heavy cream into a mixer bowl, add the confectioner's sugar and vanilla.

Whisk on medium to high speed for about 4-5 minutes, until stiff peaks form.

Transfer into a pastry bag fitted with a star tip.

Pipe dollops of the whipped cream along the edges of the chilled cheesecake, then add the apple pie filling into the center. Drizzle caramel sauce over the top.

Slice and serve.
Nutrition
Calories:
575
kcal
|
Carbohydrates:
73
g
|
Protein:
13
g
|
Fat:
26
g
|
Saturated Fat:
15
g
|
Cholesterol:
141
mg
|
Sodium:
726
mg
|
Potassium:
466
mg
|
Fiber:
3
g
|
Sugar:
58
g
|
Vitamin A:
942
IU
|
Vitamin C:
3
mg
|
Calcium:
242
mg
|
Iron:
1
mg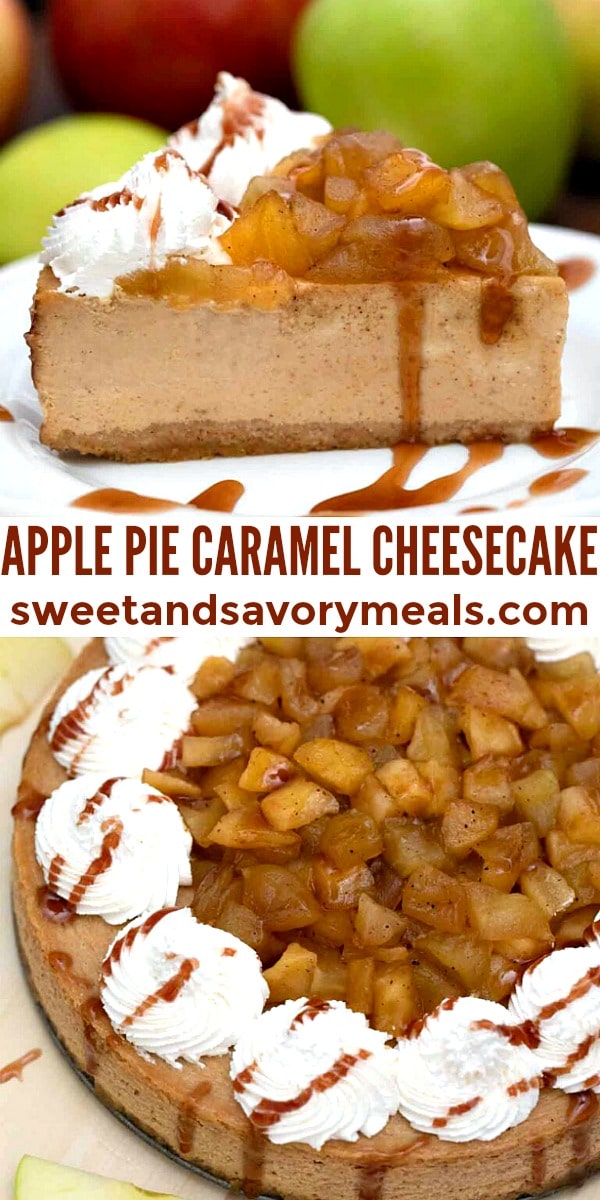 More recipes you might love