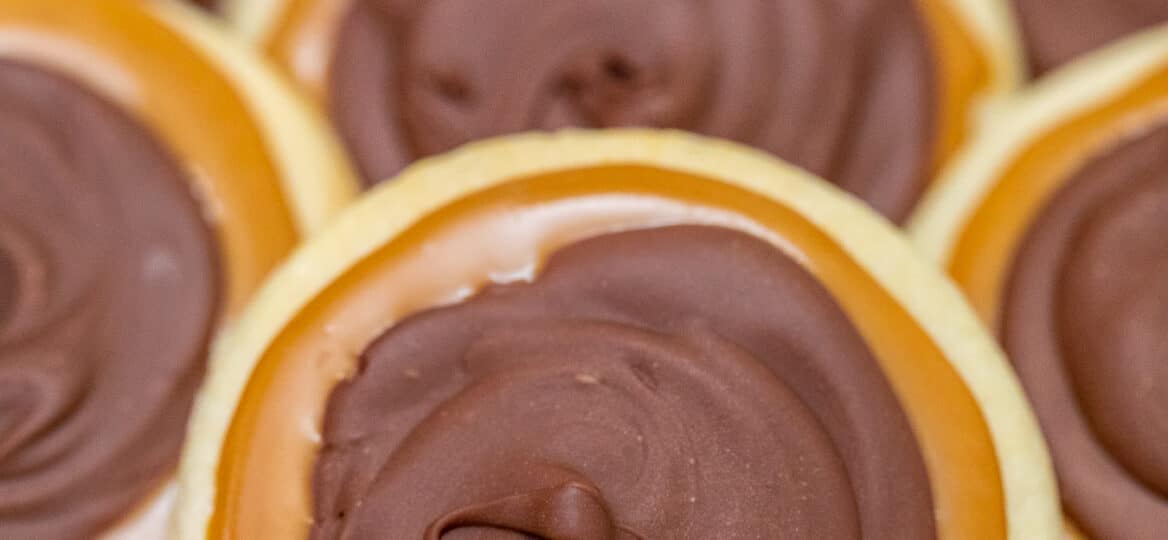 Easy Twix Cookies [Video]
Twix Cookies prove that chocolate and caramel always go well together! These flavors, as well as the cute presentation, make this dessert a great gift to friends!
This dessert is just one of the countless cookie recipes that I have alongside Pudding Mint Chocolate Chip, Cinnamon Cream Cheese, and Flourless Peanut Butter Cookies!
Easy Twix Cookies Recipe
Twix Cookies are made with a shortbread base topped with a layer of caramel under a layer of chocolate. They remind me of the biscuit sticks brand after which this dessert was named.
The brand has been around for so many years now. It was first put on shelves in American stores in 1979 and it has no sign of slowing down. This recipe is proof that people just can't get enough of the famous chocolate bar!
The imperfect swirl of chocolate adds a nice homemade touch to this dessert. And the caramel is a nice surprise as you bite into it. Biting through the shortbread simply reminds you of the original candy bar.
Moreover, I like how easy it is to make this dessert and you can even make it in advance for when you get too busy over the holidays.
How to Make Twix Cookies:
Make the caramel: This is an easy one, just combine the caramels and heavy cream and microwave. After that, stir to combine.
Prep for baking: Preheat the oven as prescribed in the recipe card.
Make the dough: In a bowl, mix the fat and sugar then, mix in the wet ingredients. Mix in the dry ingredients well. Then, roll the dough until it is only about half an inch thick or less. Use a cookie cutter to cut out small circles out of the dough.
Bake: Put in the oven for about 6 to 8 minutes until puffy. Then, put the cookies on a wire rack.
Put the toppings: Spread the caramel on top of each cookie then, refrigerate for 10 to 15 minutes until set and cold. Melt the chocolate chips then, spread over the first layer and then, cool again to set.
Can you make them in advance?
Yes, you can! You can bake and store them to serve later. They keep well in an airtight container for 5 days.
You can store the unbaked dough well in advance as long as kept in the freezer for 3 months. Or, if not, it can stay for 3 days in the fridge. When ready to serve, just form, bake, and decorate!
Can you freeze Twix Cookies?
Yes! Even the unbaked dough can be frozen for 3 months. You can do the same thing with the cooked ones.
But do so before putting the toppings as the cookie itself may get watery if the caramel will condense. Then, when ready to serve, simply thaw and then, decorate.
Recipe Tips:
What I use for this recipe is my homemade recipe, but you can also simply melt store-bought caramel in milk using the microwave.
Do not overbake as it will dry out too much. If the sides are set and puffy and started to brown, then, they are ready to take out of the oven.
If you are fond of caramel desserts, learn how to make the keto caramel sauce at home!