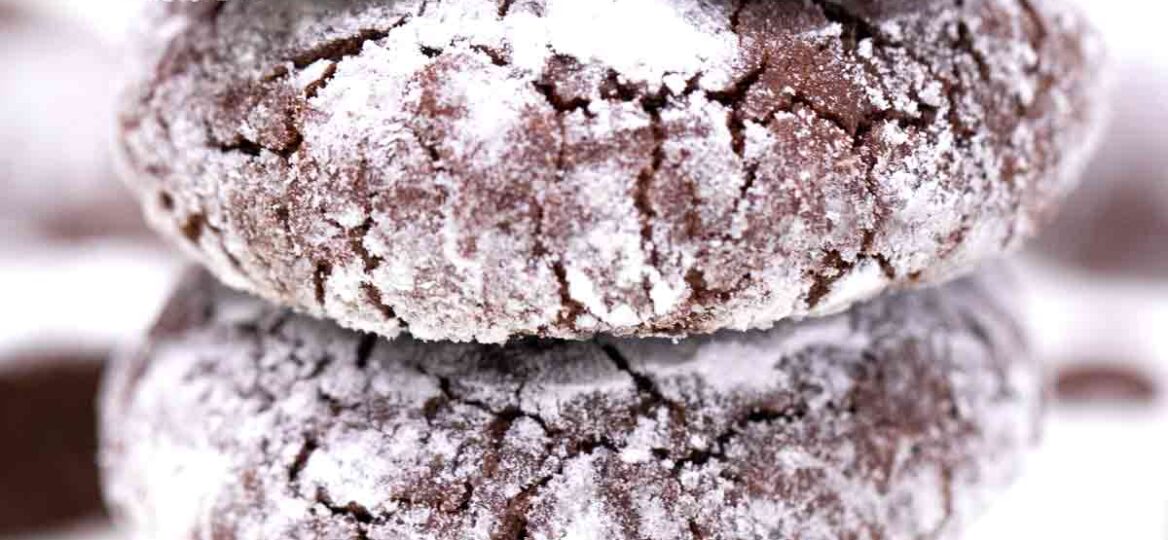 Chocolate Crinkle Cookies [Video]
Chocolate Crinkle Cookies taste like the fudgiest, most decadent brownies, but in cookie form! Dusted with snow-white powdered sugar, these will steal the show on any Christmas dessert platter.
The chilling time means you have to wait for a bit. However, it's the perfect opportunity to do more holiday baking! Complete your Christmas dessert spread with dulce de leche Alfajores, Red Velvet Cake, and Cinnamon Cream Cheese Cookies.
Chocolate Cookies Recipe
Chocolate Crinkle Cookies are insanely chocolatey with a heavenly fudge-like middle. They're so delicate with the powdered sugar layer but also have a nice and crunchy cookie crust. Such a fun baking project too— making them is one of our favorite ways to bond as a family!
These treats are a holiday essential at our home. Their white, crinkly tops look so much like a snowy Christmas day. Aside from enjoying them ourselves, I also love giving these away as edible holiday gifts. These black and white treats look really elegant in a tin or a pretty box! Best of all, everybody loves these incredibly chocolatey cookies. Awesome not just through the holidays, but any day of the year!
What is a Chocolate Crinkle Cookie?
They're chocolate cookies with an icing sugar coating. The ideal texture is a very fudgy and tender center with a crispy surface.
What's so unique about these treats is that the balls of raw dough are coated in a thick layer of powdered sugar right before baking. In the hot oven, the dough forms dark "crinkles" running through the white sugar powder. They turn out to look so beautiful and elegant!
What do crinkle cookies taste like?
Like the fudgiest, richest brownies you've ever had! They have a very deep chocolate taste thanks to the combo of unsweetened cocoa and chopped chocolate.
The texture is phenomenal too— really tender and chocolatey in the center, covered with a thin and crunchy crust. The powdered sugar adds another layer of texture and sweetness that makes these treats so addicting.
How do you make Chocolate Crinkle Cookies?
Mix. Stir the cocoa together with the sugars, melted chocolate, and oil. Add one egg at a time, followed with the vanilla, until all are incorporated fully.
Stir in the dry. Form the dough by mixing in the salt along with the baking powder and flour.
Chill. 4 hrs. are the minimum, but overnight is best for a fully-set dough.
Roll. Shape into small balls, then cover completely with powdered sugar.
Bake. Bake in a preheated 350F oven for about 10 to 12 mins. They're ready once the edges crisp up but the center is not yet baked fully. Cool and enjoy!
Recipe Variations:
Choco overload: Stir in some semi-sweet chips into the dough for a nice bit of texture and a richer treat. Peanut butter or caramel will work, too!
Use other oils: Other oils like canola, olive, or coconut are a great substitute for vegetable oil.
Give it a coffee hit: Add a tsp of instant espresso powder for a delicious but subtle coffee flavor!
Mix in some peppermint candy: Make them even more holiday-ready by stirring in some crushed peppermint candies into the dough.
Try sanding sugar: The bigger granules of sanding sugar provide a nice crunch and texture to these soft-baked treats. You can also use red, white, and green colored ones to make them more festive!
How do you know when crinkles are done?
Once you see that the edges are set, they're ready to come out of the oven. The middles should still look a little underbaked. Don't worry; it will set and finish baking from residual heat while it cools!
Why are my crinkle cookies flat?
Not chilling the dough long enough is one of the top culprits for flat crinkles. This dough is unlike your usual dough. It's more similar to a thick brownie batter, which is why it NEEDS to be chilled for at least 4 hours. However, I strongly recommend doing it overnight.
Is confectioner's sugar the same as powdered sugar?
Yes, they're the same. Other names for this type of sugar are 10X or more commonly, icing sugar.
What cocoa powder is best used in cookies?
Use the highest-quality Dutch-process cocoa possible. This type results in fudgier and darker baked goods, and it's less acidic than natural cocoa.
Can you make them in advance?
Yes, these are ideally made in advance due to the extra chilling time required. It also makes shaping easier, and the chocolatey flavor gets deeper and yummier as it sets.
Make sure to cover the dough very tightly with foil or cling plastic before placing it in the coldest part of your fridge.
How to store:
They will stay fresh and delicious for up to 1 week at room temp inside an air-tight container.
How to freeze:
I don't recommend freezing or keeping them in the fridge because it will affect their trademark tenderness. The moisture inside the container can also cause the delicate sugar coating to melt.
Make them last longer by freezing the dough itself. Once it's very firm, wrap very tightly in cling plastic then foil. Alternatively, you can roll them into balls already before freezing. Store for 3 months. This way, you always have fresh-baked crinkles any time you want!
More Holiday Recipes:
Recipe Tips:
Finding the dough too sticky to shape? Try rubbing your hands with a little bit of oil or non-stick spray.
Chill them overnight to minimize overspreading, to develop flavor, and for easy shaping.
They should still have underbaked middles when you take them out of the oven and will set as they cool.
Deliciousness to your inbox
Enjoy weekly hand picked recipes and recommendations