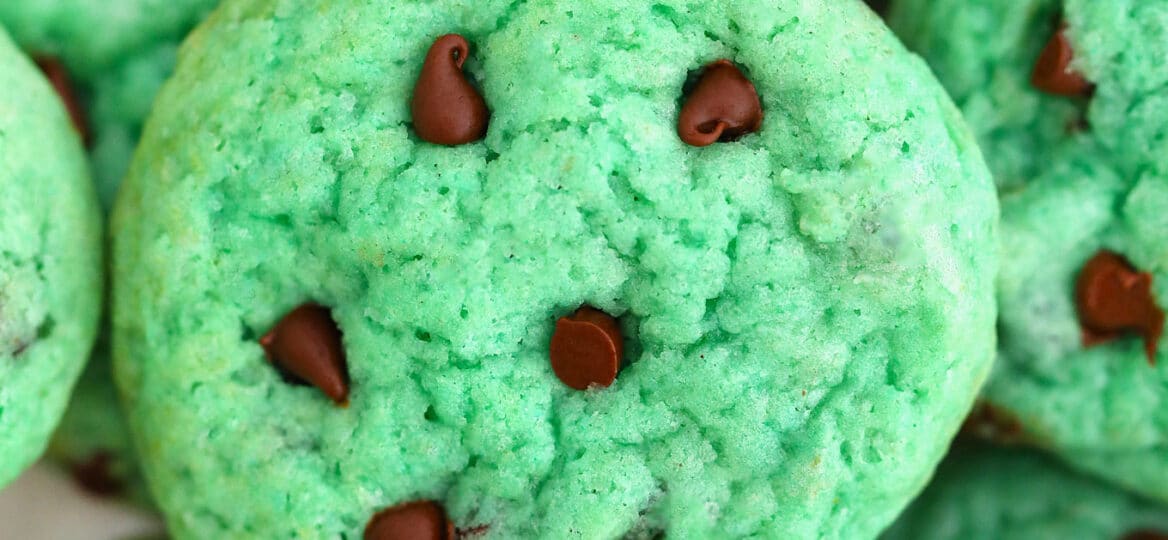 Pudding Mint Chocolate Chip Cookies [Video]
Pudding Mint Chocolate Chip Cookies are gooey, flavorful, and fun, this fun-colored dessert is perfect for the holidays and family get-togethers! Watch the recipe video tutorial below and see how fun and easy they are to make!
It is great for St. Patrick's Day's celebration with its green color. But the flavors are universal, and the mint-chocolate combination even reminds me of Christmas! Check out my other recipes using this magical combination for truffles, cake, cupcakes, and fudge!
Pudding Mint Chocolate Chip Cookies
Mint Chocolate Chip Cookies are easy to make using just a few ingredients, but the result is phenomenal. Even the aroma that the baking cookies produce is so enticing! They are refreshing, not overly sweet, festive, and interesting. Just the perfect Christmas dessert!
The flavor is unconventional that adults who are not into sweets will appreciate it, and it is cool enough for kids to love it, too. They are soft and chewy – just perfect!
And this recipe is easy, uses a few ingredients, and the actual baking takes only 10 minutes. Now, that is quick! In a matter of minutes, you will have festive cookies on your counter that you can share with family and friends.
Give them as a gift or leave them for Santa, I am pretty sure that he will be drooling for those melted chocolate chips in the chewy dough.
Turn your favorite ice cream flavor into cookies with this easy recipe! Yum!
How to make Mint Chocolate Chip Cookies:
Prepare the dough: Cream the fat and sugar, then, add the egg, yogurt, and pudding mix. In a separate bowl, combine the flour and the other dry ingredients. Then, fold this mixture into the mixture prepared earlier. Add the mint extract and coloring.
Add the chocolate: Fold in the chocolate chips.
Bake: Scoop out the dough and arrange on a baking sheet. Make sure that there is space all around each scoop. Bake them for 10 minutes at 375 degrees Fahrenheit.
Cool: Let the cookies cool on the wire rack then, serve.
Recipe Variations:
Here are some suggestions that you can try to change things up in this recipe:
Leave out the color: You can skip putting the food coloring and simply let the flavors radiate through.
Make it chocolaty: Add more chips, mix white and dark, or you can add crushed Oreos.
Swap with brownie mix: For a more chocolaty outcome, use a brownie mix instead of the pudding mix. Follow the package instructions.
More toppings: Add more toppings like chopped walnuts and marshmallows to make them more festive and for added texture.
Turn into pinwheels: Divide the dough into two. In one half, add the mint extract and fold in the Andes baking bits. Add melted chocolate in the other half. Flatten each half then lay one layer on top of the other. Then, roll. Slice into pieces that you will bake and be surprised by the pinwheel cross-section. The design makes it more interesting.
Can you make Mint Chocolate Chip Cookies in advance?
Yes! Make the dough and freeze just up until the point that you will bake them. Freeze for 3 months.
Just thaw enough that you will be able to scoop out pieces, no need to thaw completely. Then, bake as usual.
If you will serve them within 5 days, then, it is okay to keep the dough in the fridge.
How to Store Mint Chocolate Chip Cookies:
Store cookies in airtight containers at room temperature. They will keep good for one week.
Recipe Tips:
Do not overmix the dough when you are to combine the flour and pudding mixtures. It is enough that both are incorporated.
You can freeze the dough balls for about an hour before baking. That is if you want thicker cookies.
Feel free to cut back on the mint flavor if you want.
Deliciousness to your inbox
Enjoy weekly hand picked recipes and recommendations