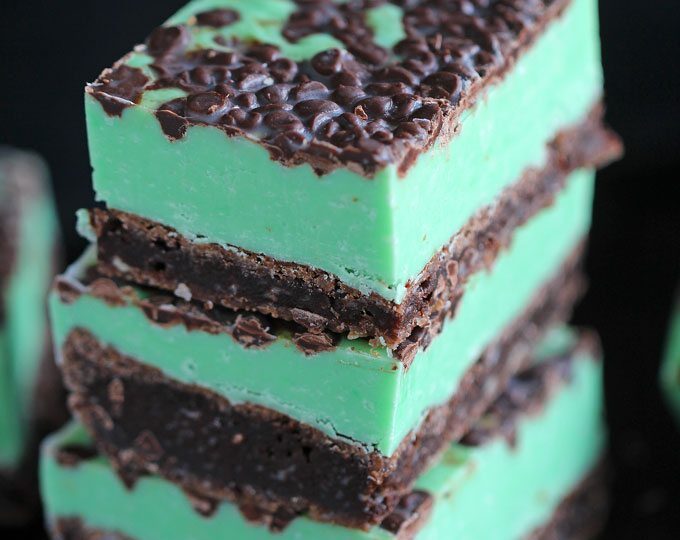 Mint Chocolate Chip Fudge [Video]
Mint Chocolate Chip Fudge is incredibly fudgy and easy to make at home. These decadent fudge brownies are made of a thick layer of mist and covered with delicious chocolate chips, which are perfect for any occasion.
I love making fudges, among my favorites, include: No Bake Nutella Fudge, Pumpkin Fudge, and Patriotic Fudge.
Mint Chocolate Chip Fudge
Mint Chocolate Chip Fudge over super chocolaty and fudgy brownies is one of the most amazing combos. Any mint chocolate chip fan will love and appreciate this super easy dessert. A layer of dense and very chocolaty brownies is topped with a thick, refreshing and easy to make fudge layer, that has been finished with sweet and crunchy mini chocolate chip morsels.
A creamy, refreshing, rich and chocolaty dessert that will make you reach for seconds and thirds. You can make it for any occasions, or birthday parties. It is also the perfect dessert to make for St. Patricks day, as the color and texture is just right!
Tips to Make the Best Mint Chocolate Chip Fudge:
Use high-quality unsweetened cocoa powder and also high-quality chocolate in the brownies. As the chocolate flavor is front and center here.
The food coloring is optional, but it will make the fudge more festive.
Make sure you don't over-bake the brownies, they will become less fudgy if you do, but still delicious.
The same applies to the dry ingredients when mixing into the brownies. It is better folded in the flour with a spatula so you don't add extra air to the batter.
Before slicing the fudge, make sure it's fully cooled and settled. Then, clean the knife after each cut, otherwise, the slices will be messier, since the brownie may stick to the knife.
White chocolate is very pretentious, so be extra careful when melting it. I do 20 or 30 seconds intervals in the microwave and lots of stirring to make sure I am not overheating it. If you overheat the white chocolate it will clump and separate and it will become unusable, unfortunately.
I used chocolate melts/wafers, but if you are using regular chocolate, make sure you chop it into small pieces before adding it to the bowl to microwave.
Use gel food coloring, it is the best in this recipe as the liquid food coloring may make the white chocolate to separate.
You can also make JUST the fudge, it will be ready in minutes, make sure you like the pan with parchment paper for easy removal.
How long does Fudge last?
Home-made fudge will last fairly well. The main risk with fudge is that it dries out and becomes a little crumbly. To better preserve the fudge, it is best to store it in an airtight seal, or a container with a tight-fitting lid. In a cool place, the fudge will keep for about 2 weeks but you can also keep the fudge in the fridge which will extend the life for 3 to 4 weeks.
How do you freeze Mint Chocolate Chip Fudge?
Fudge can also be frozen in airtight containers for up to 3 months. The temperature in the freezer should be as close to 0°F as possible. If freezing the fudge you may prefer to put pieces of baking parchment paper in between layers of the fudge to prevent the pieces freezing together. The fudge will thaw very quickly at room temperature.
Tools/Ingredients I used to make this Mint Chocolate Chip Fudge Recipe:
If you love decadent bars, you should give these Homemade Snickers Bars a try:
Deliciousness to your inbox
Enjoy weekly hand picked recipes and recommendations