Mint Chocolate Chip Fudge [Video]
Mint Chocolate Chip Fudge is incredibly fudgy and easy to make at home. These decadent fudge brownies are made of a thick layer of mist and covered with delicious chocolate chips, which are perfect for any occasion.
I love making fudges, among my favorites, include: No Bake Nutella Fudge, Pumpkin Fudge, and Patriotic Fudge.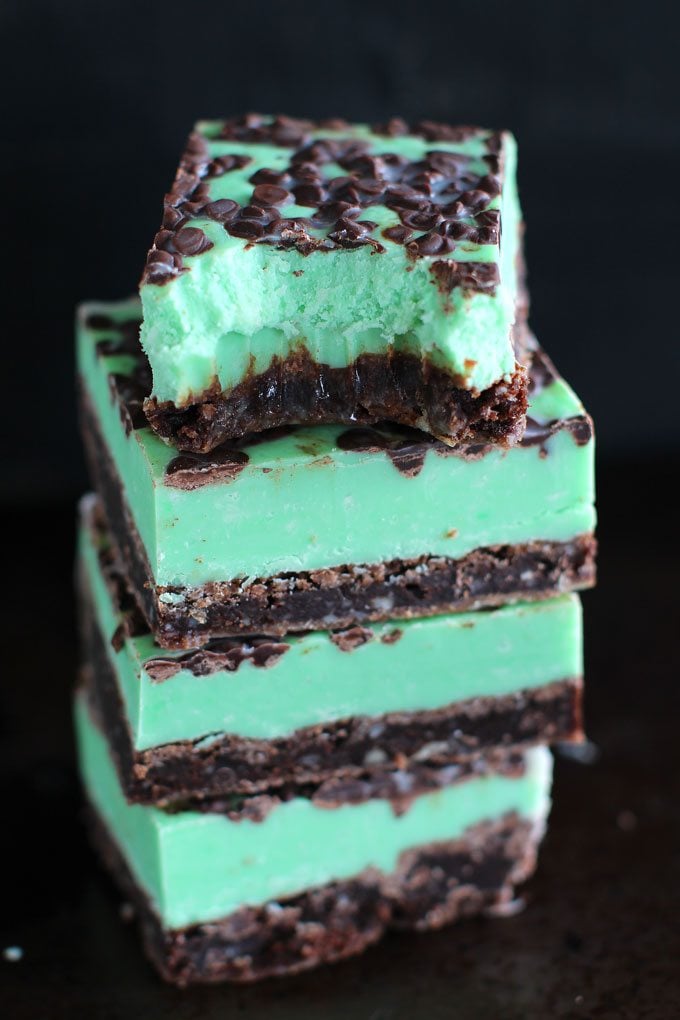 Mint Chocolate Chip Fudge
Mint Chocolate Chip Fudge over super chocolaty and fudgy brownies is one of the most amazing combos. Any mint chocolate chip fan will love and appreciate this super easy dessert. A layer of dense and very chocolaty brownies is topped with a thick, refreshing and easy to make fudge layer, that has been finished with sweet and crunchy mini chocolate chip morsels.
A creamy, refreshing, rich and chocolaty dessert that will make you reach for seconds and thirds. You can make it for any occasions, or birthday parties. It is also the perfect dessert to make for St. Patricks day, as the color and texture is just right!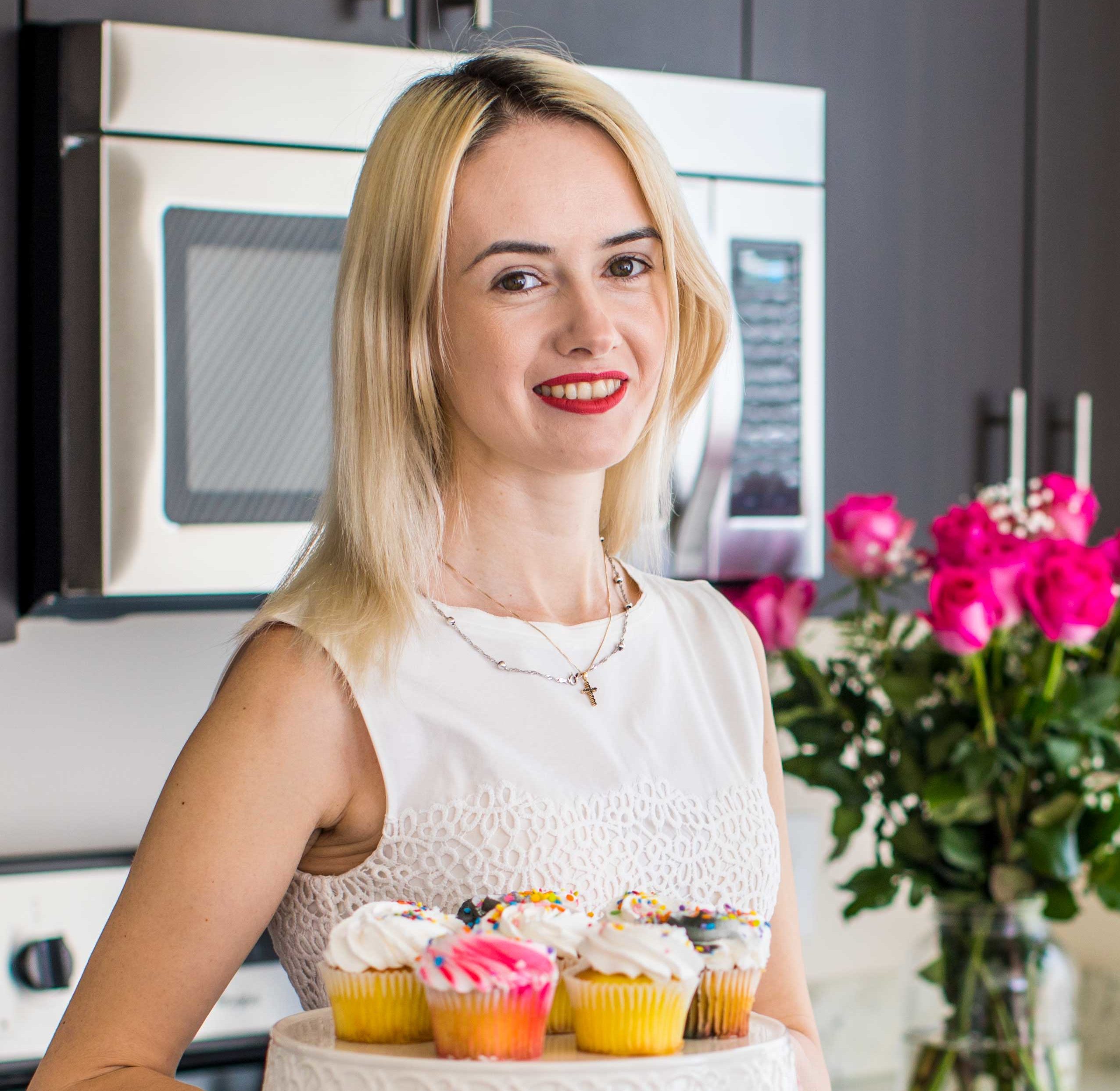 Follow us on Pinterest for more delicious recipes!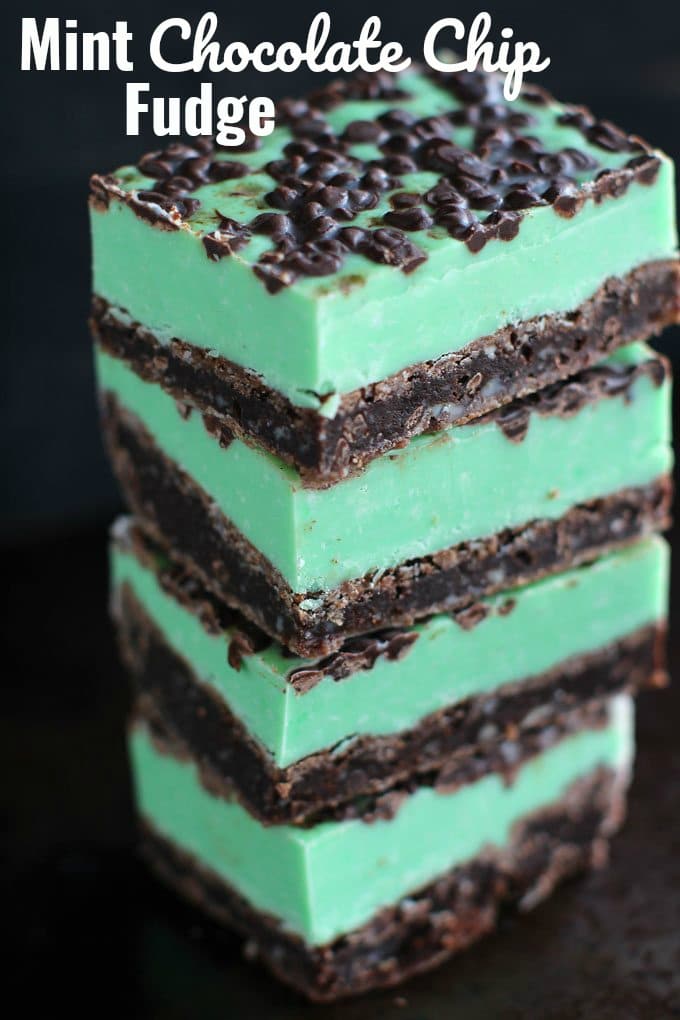 Tips to Make the Best Mint Chocolate Chip Fudge:
Use high-quality unsweetened cocoa powder and also high-quality chocolate in the brownies. As the chocolate flavor is front and center here.
The food coloring is optional, but it will make the fudge more festive.
Make sure you don't over-bake the brownies, they will become less fudgy if you do, but still delicious.
The same applies to the dry ingredients when mixing into the brownies. It is better folded in the flour with a spatula so you don't add extra air to the batter.
Before slicing the fudge, make sure it's fully cooled and settled. Then, clean the knife after each cut, otherwise, the slices will be messier, since the brownie may stick to the knife.
White chocolate is very pretentious, so be extra careful when melting it. I do 20 or 30 seconds intervals in the microwave and lots of stirring to make sure I am not overheating it. If you overheat the white chocolate it will clump and separate and it will become unusable, unfortunately.
I used chocolate melts/wafers, but if you are using regular chocolate, make sure you chop it into small pieces before adding it to the bowl to microwave.
Use gel food coloring, it is the best in this recipe as the liquid food coloring may make the white chocolate to separate.
You can also make JUST the fudge, it will be ready in minutes, make sure you like the pan with parchment paper for easy removal.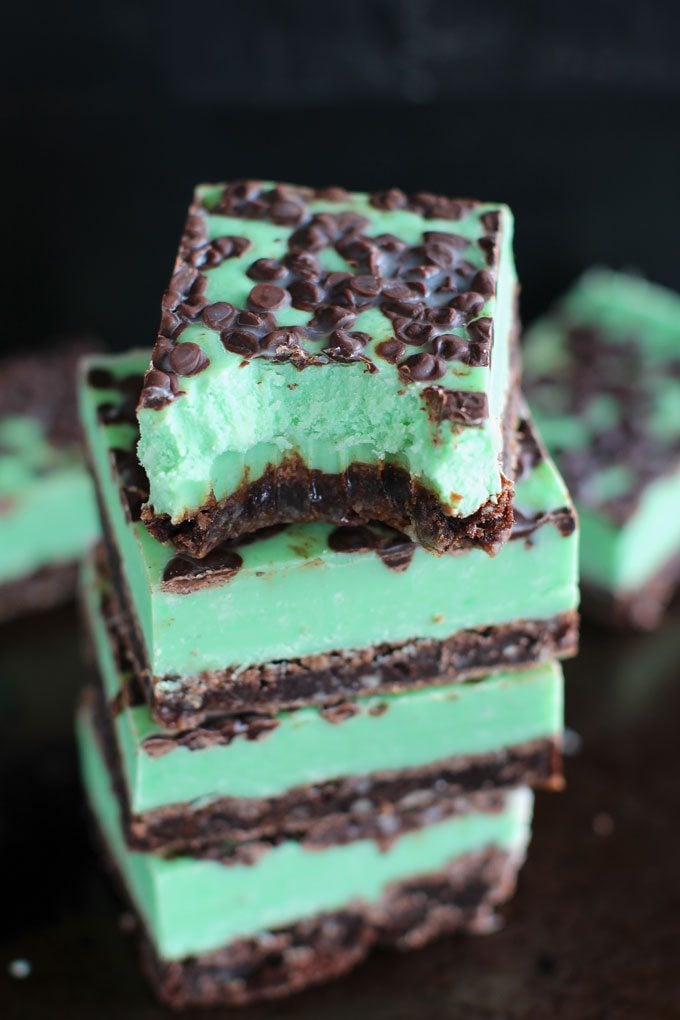 How long does Fudge last?
Home-made fudge will last fairly well. The main risk with fudge is that it dries out and becomes a little crumbly. To better preserve the fudge, it is best to store it in an airtight seal, or a container with a tight-fitting lid. In a cool place, the fudge will keep for about 2 weeks but you can also keep the fudge in the fridge which will extend the life for 3 to 4 weeks.
How do you freeze Mint Chocolate Chip Fudge?
Fudge can also be frozen in airtight containers for up to 3 months. The temperature in the freezer should be as close to 0°F as possible. If freezing the fudge you may prefer to put pieces of baking parchment paper in between layers of the fudge to prevent the pieces freezing together. The fudge will thaw very quickly at room temperature.
Tools/Ingredients I used to make this Mint Chocolate Chip Fudge Recipe:
If you love decadent bars, you should give these Homemade Snickers Bars a try:
Save Recipe
Mint Chocolate Chip Fudge
Author: Catalina Castravet
Serves: 12 bars
Prep time:

20

minutes
Cook time:

35

minutes
Total time:

55

mins
Ingredients
Fudgy Mint Brownies:
1 cup white granulated sugar
1 stick unsalted butter (at room temperature)
2 large eggs (at room temperature)
10 ounces dark chocolate (melted)
2 tablespoons unsweetened cocoa powder
½ tbsp espresso powder
2 tablespoons warm water
1 teaspoon mint extract
½ cup all purpose flour
½ cup chocolate chips
Mint Chocolate Chip Fudge:
20 ounces white chocolate
1 cup condensed milk
gel food coloring - spring green color
1 teaspoon mint extract
1 cup mini chocolate chips
1 cup chocolate chips
Instructions
Fudgy Mint Brownies:
Preheat oven to 350F.
Position oven rack in the middle of the oven.
Place parchment paper in a 9X9 inch pan so it covers the bottom and 2 sides (to facilitate the brownie/fudge removal).
Butter the pan or spray it with baking spray and set aside.
Add 10 ounces of chocolate melts or chopped chocolate to a microwave safe bowl and microwave for 25-30 seconds, stir using a rubber spatula and microwave again for 25-30 seconds. Stir well, and if needed microwave again for a few seconds, careful not to burn the chocolate.
Stir well melted chocolate until smooth and set aside.
In a mixing bowl, cream butter and sugar until the mixture is light, pale and fluffy. Stop once to scrape the sides and bottom of the bowl.
Add the eggs one at a time and whisk well on low-medium speed after each addition. Add mint extract and mix again for about 5 minutes on medium-high speed.
In a small bowl or cup, mix together the espresso powder with warm water until the espresso powder has fully dissolved.
Add the espresso mixture and melted chocolate to the batter and mix on low-medium speed until just combined. Stop once to scrape the sides and bottom of the bowl.
In a separate bowl, whisk together flour and cocoa powder and add the mixture to the batter. Mix on low speed until just combined, or fold it in with a spatula.
Using a spatula, fold in ½ cup of mini chocolate chips.
Pour the batter into the prepared pan, use a spatula to spread the batter evenly over the entire pan.
Bake for 35-40 minutes or until an inserted toothpick comes out covered in a few sticky crumbs. I baked my brownies for 35 minutes.
Let the brownie cool down to room temperature before adding the mint chocolate chip fudge layer.
If the brownie layer is not very flat use a spatula to level it by pressing down the sides of the brownie.
Mint Chocolate Chip Fudge:
Combine the white chocolate and condensed milk in a large, microwave safe bowl.
Microwave in 20 seconds increments and stir after each one until the chocolate has melted. It took me two intervals ONLY to fully melt the chocolate, make sure you stir well before you microwave again, as the remaining residual heat will melt the chocolate.
Note: If you are using regular chocolate, make sure you chop it into small pieces before adding it to the bowl to microwave.
Stir well until smooth, add a few drops of gel food color and the mint extract. Stir using a spatula until well combined and the color has been distributed equally.
Pour mixture into the lined pan over the cooled brownies, top with 1 cup of mini chocolate chips. Slightly press the mini chocolate chips into the fudge and refrigerate for at least 1 hour before serving.
Run a knife thru the sides of the pan without parchment paper, lift the dessert out of the pan, place on a cutting board and using a sharp knife cut in into squares.
Clean the knife a few times as brownie bites may stick to it.
The fudge can be stored at room temperature for 3-4 days.
Enjoy!
Calories: 675 Carbohydrates: 90 Protein: 11 Fat: 33 Saturated Fat: 19 Cholesterol: 52 Sodium: 104 Potassium: 606 Fiber: 7 Sugar: 73 Vitamin A: 180 Vitamin C: 1 Calcium: 227 Iron: 5.3
Save Recipe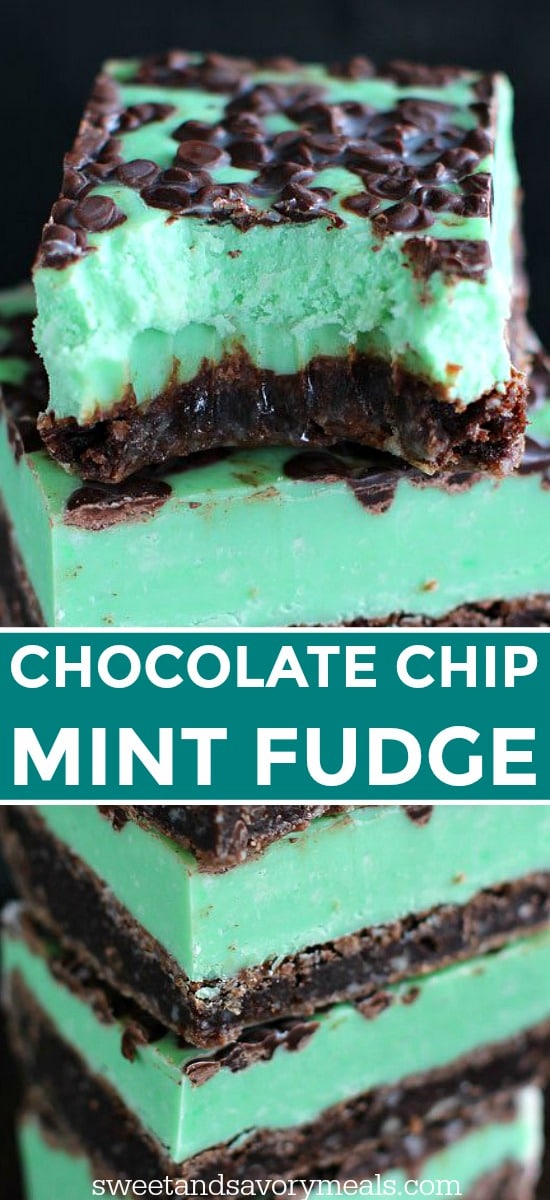 More recipes you might love