Irish Mint Brownies [Video]
Irish Mint Brownies are super chocolatey and fudgy, topped with minty cream cheese frosting, and finished with more dark chocolate. Perfect for St. Patrick's Day or any time of the year!
Complete your Irish-inspired spread! Try making homemade corned beef completely from scratch, enjoy this easy and delicious Shepherd's Pie, and cap off the meal with Bailey's Affogato.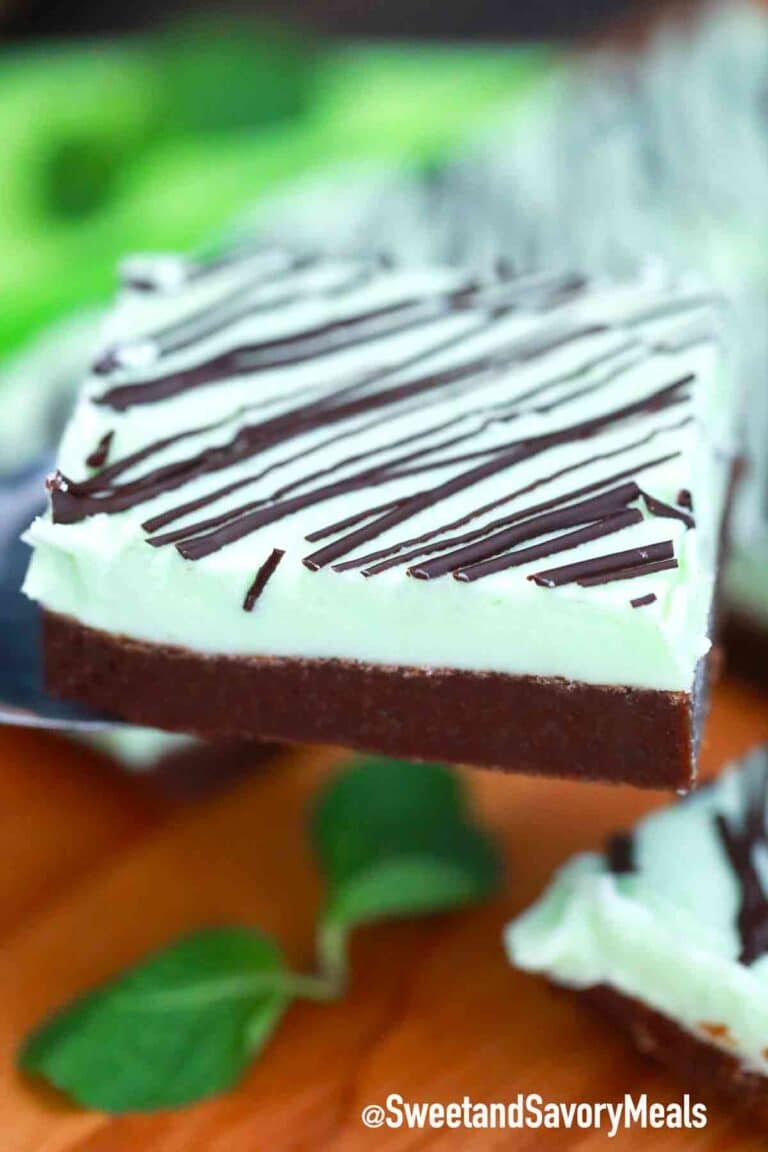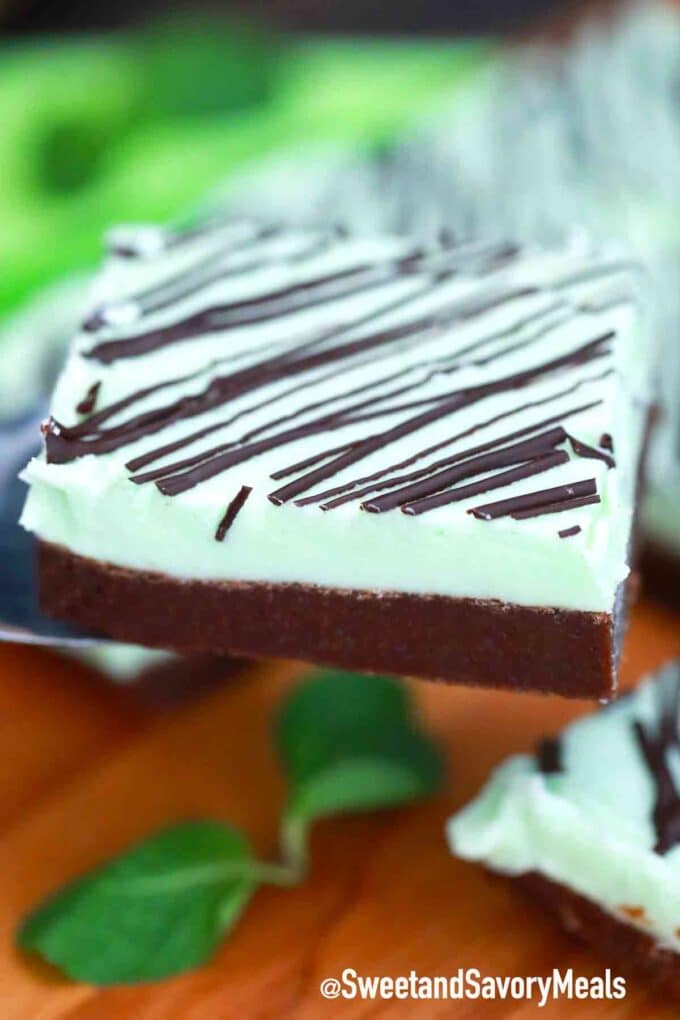 Mint Brownies Recipe
Irish Mint Brownies are known by many names – Grasshopper, Irish Mist, Luck o' the Irish, Mint Irish Cream – but they all have one thing in common. These brownies are chocolatey, minty, fudgy, and impossible to put down! They look so beautiful with that vibrant green frosting too!
This dessert has three layers but all of them are easy to make. The bottom layer is your typical brownie, while the simple filling and melted chocolate only take a few minutes to whip up. The hardest thing about these amazing brownies is waiting for them to cool and trying not to finish it all!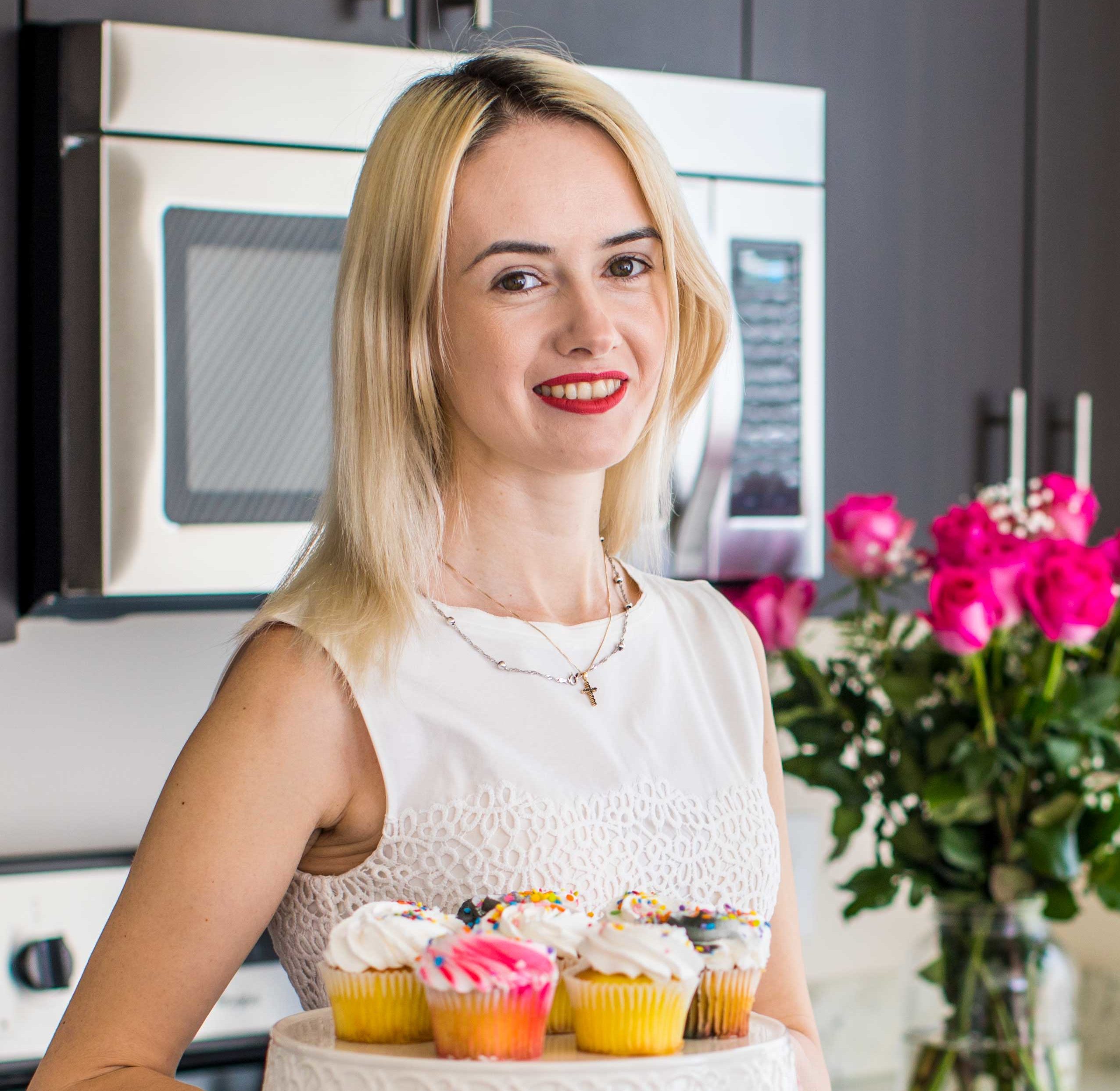 Follow us on Pinterest for more delicious recipes!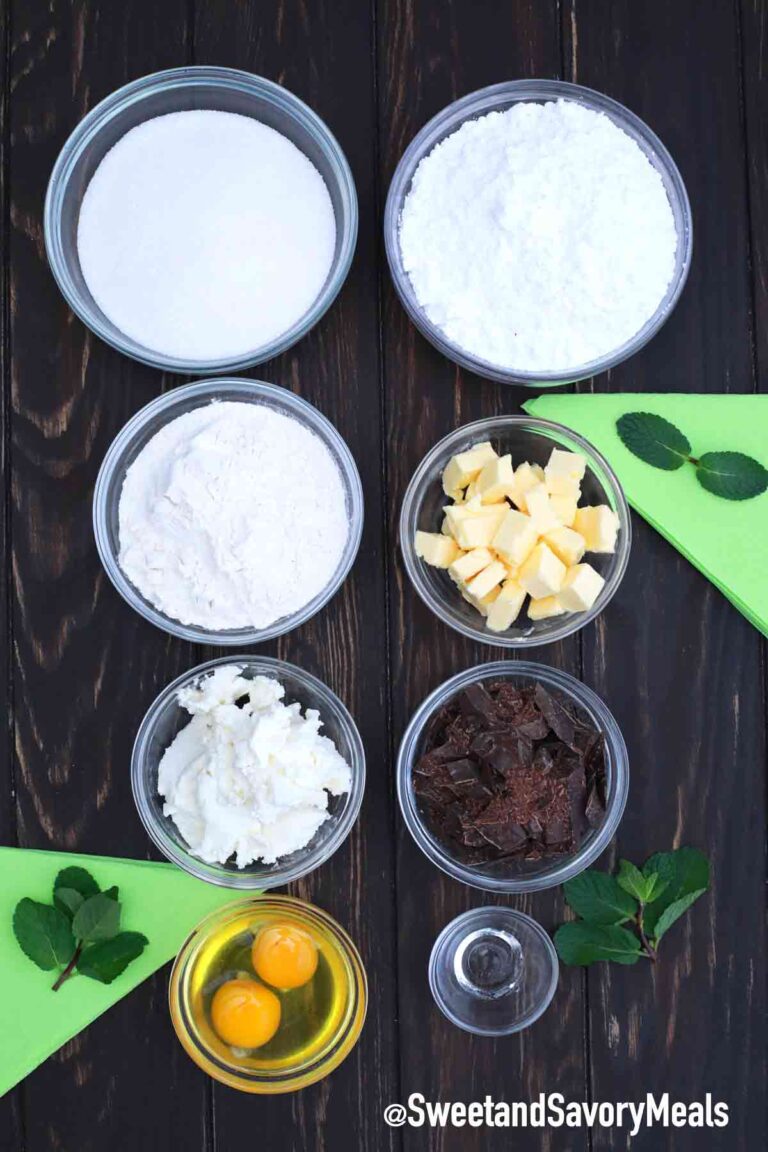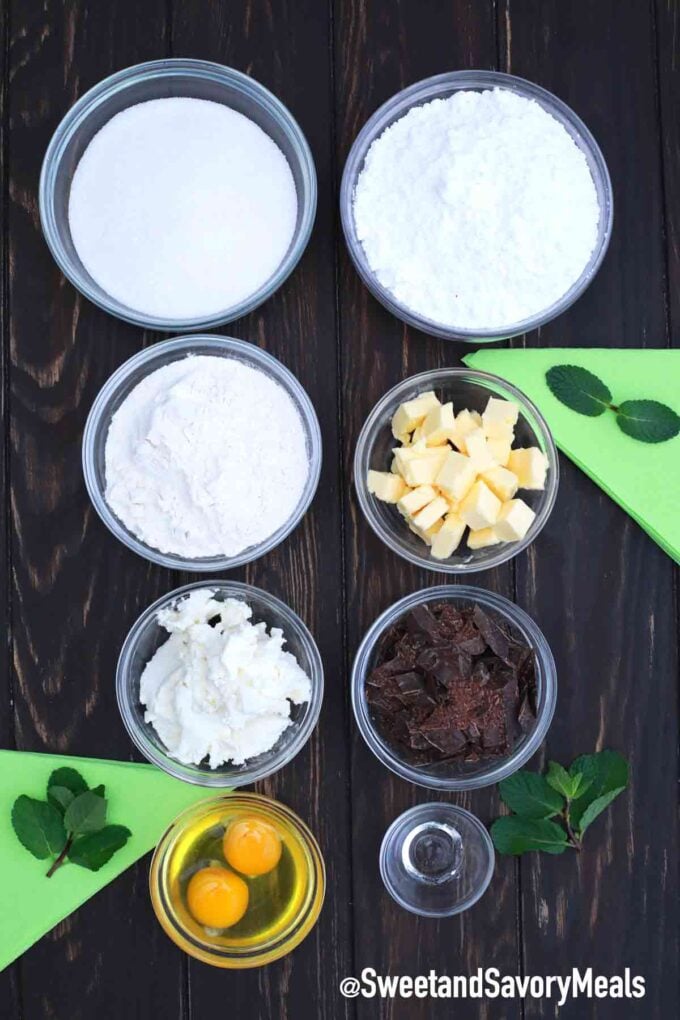 What are Irish Mint Brownies?
They're very similar to the classic version, but the defining ingredient is mint or peppermint. Some people also add Irish cream like Bailey's to their versions, but I'm keeping this one alcohol-free (though that's a delicious variation!). This dessert tastes similar to a mint chocolate chip ice cream.
For this recipe, we're using the peppermint flavor for the cream cheese frosting, so the chocolate brownie base really shines through. We're also mixing in a few drops of green food dye to complete the Irish theme!
Irish Mint Brownies ingredients:
Brownie:
Butter: About a half cup.
Baking chocolate: Make sure it's unsweetened.

Sugar: We're using regular white sugar for sweetness and fudginess.

Flour: All-purpose will help us create a sturdy base for the frosting.
Eggs: A couple of large ones for structure!
Filling:
Powdered sugar: No need to sift!
Cream cheese: Soften to room temperature before using.
Butter: Helps the cheese and sugar incorporate, and gives the frosting a silky feel.
Peppermint extract: Just half a teaspoon will infuse the filling with a delicious minty flavor!
Green food color: I prefer using gel instead of liquid, but it will work too.
Drizzle:
Baking chocolate: Unsweetened and melted.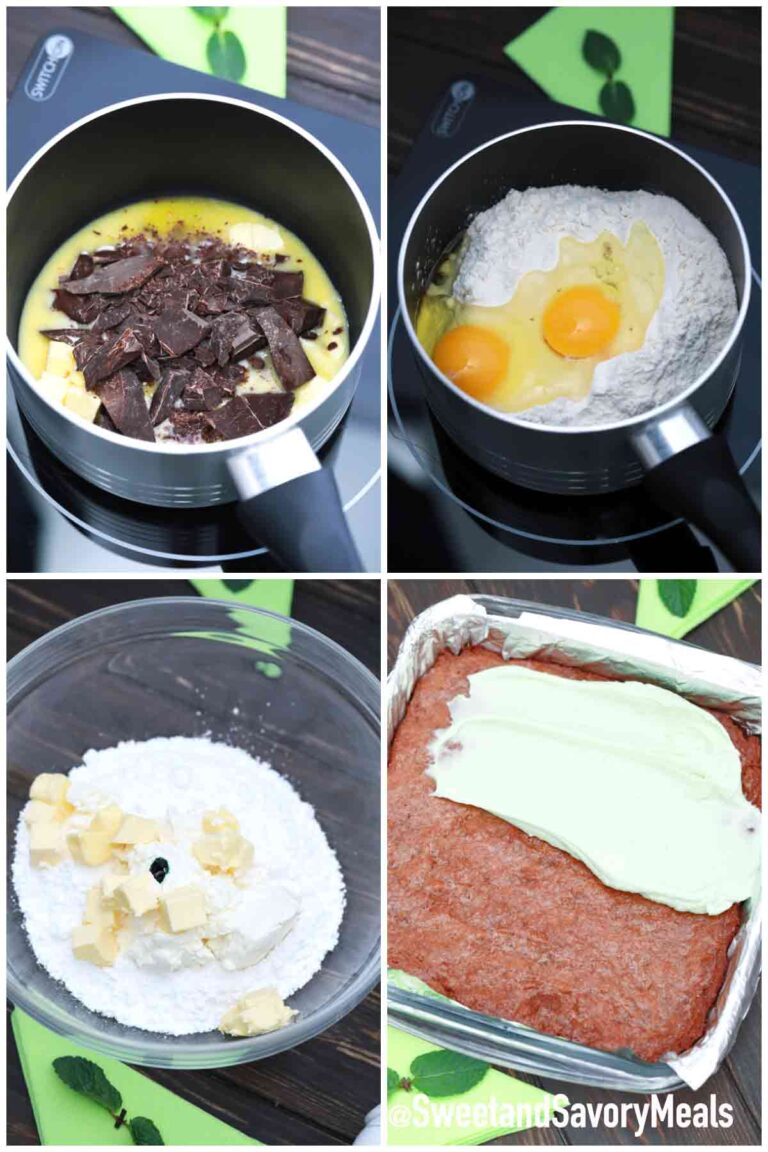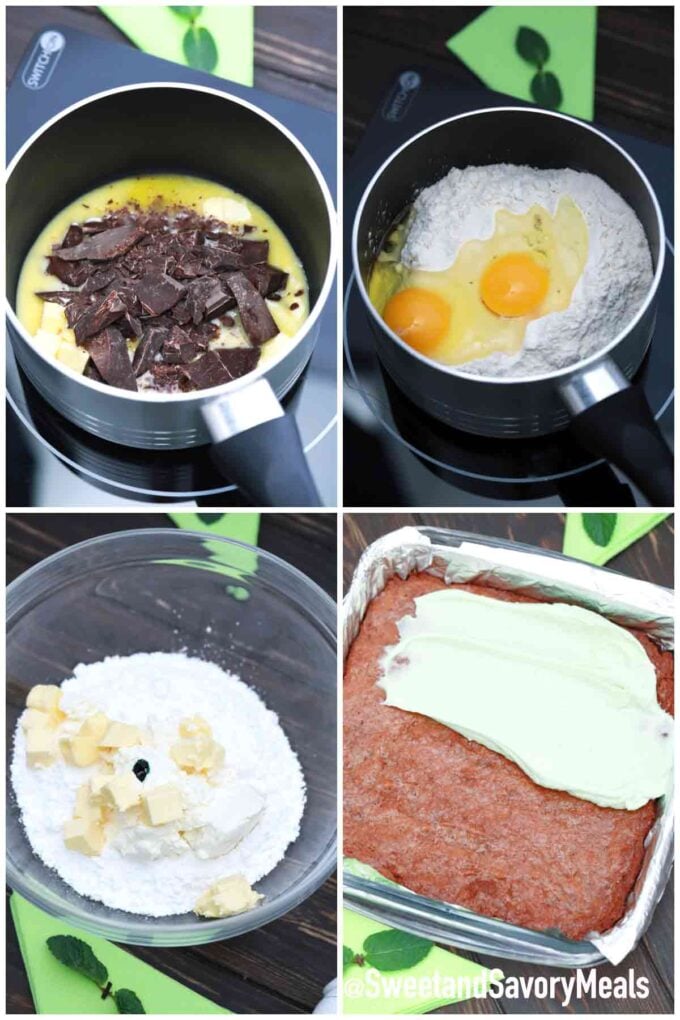 How to make homemade Irish Mint Brownies?
Bake. Prepare the batter by melting the chocolate and butter together, then combining it with the rest of the batter ingredients. Bake for about 20 to 30 minutes at 350F. Let it cool.
Frost. Beat all the filling ingredients together until fluffy and creamy. Spread over the cooled brownies.
Drizzle. Spread the melted chocolate on top, or drizzle it. Let the dessert cool completely before removing it from the pan.
Serve. Slice into bars and enjoy!
Topping suggestions:
Feel free to play with toppings! Some of our favorites are:
Chopped Andes mint chocolate squares
Nuts like walnuts, almonds, and crushed pistachios
Green and gold sprinkles
Peppermint drizzle
Crushed peppermints
Mint chocolate ice cream on top!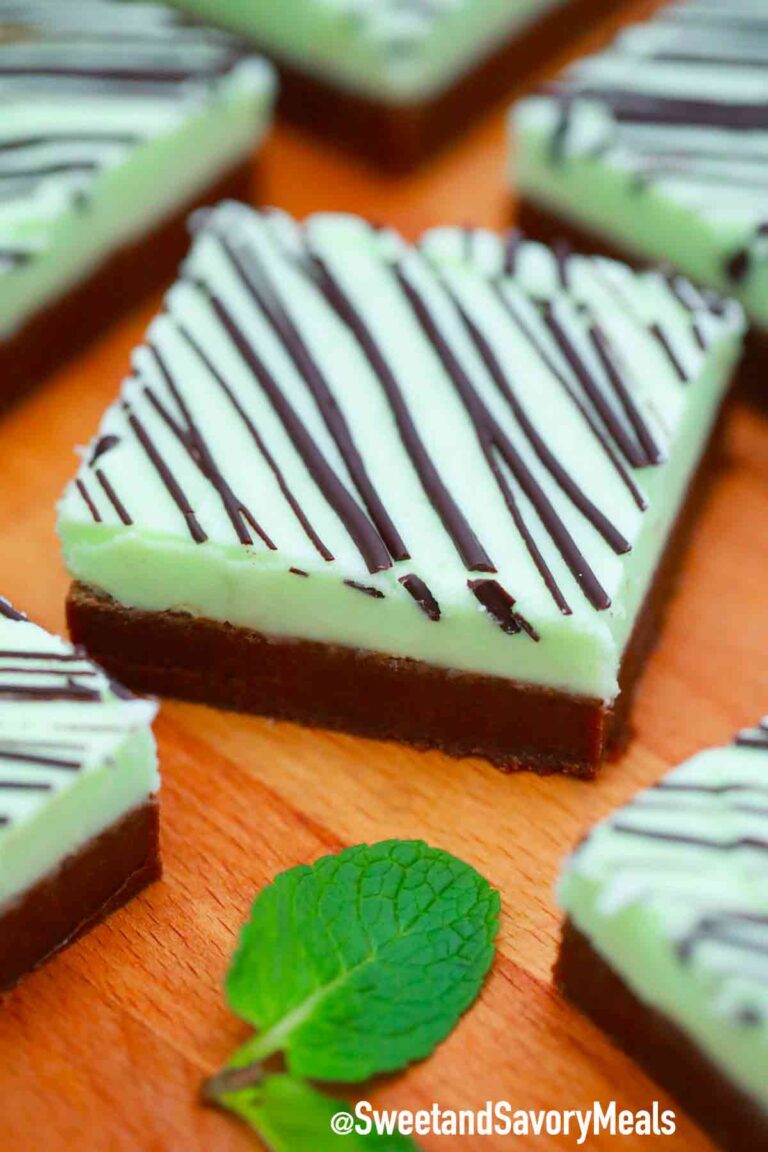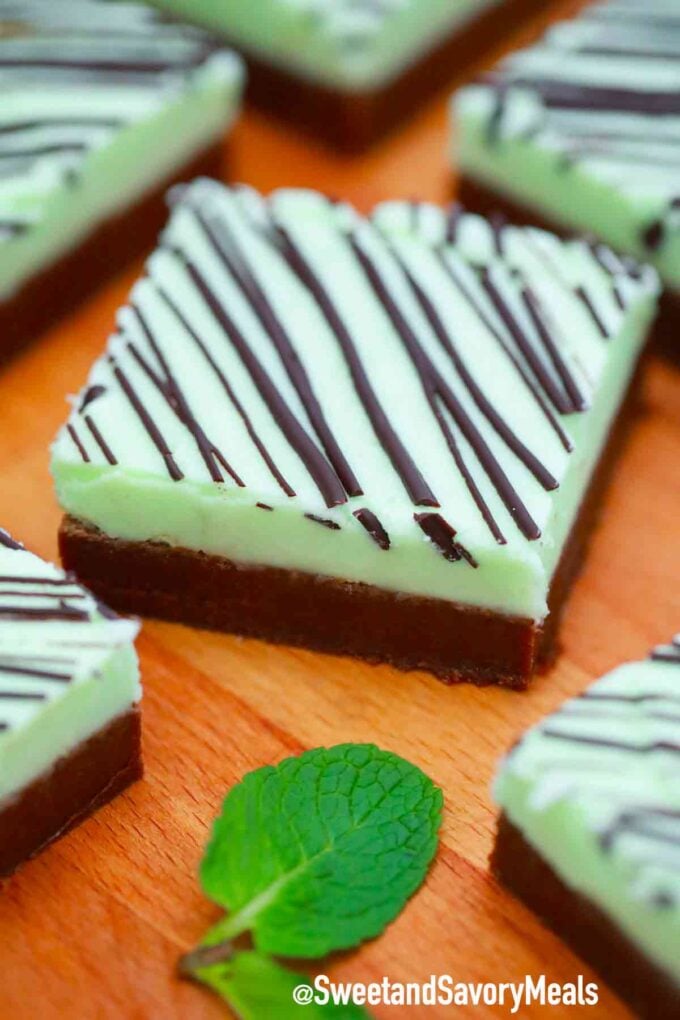 Can you make Irish Mint Brownies in advance?
Sure! You can make this the day before, but we recommend only slicing it before serving. This way, the frosting gets to set. You can also freeze the entire pan after baking and let them cool down, then just defrost and slice on the day you want to serve them.
How to store leftovers?
Once you've transferred them to a tightly-sealed container, you can store them in the refrigerator for up to one week. I like arranging them side by side in a single layer, so the cream cheese frosting stays intact.
To freeze, wrap them individually in cling wrap, then foil. Freeze up to a month, then thaw before consuming.
More Irish recipes to try: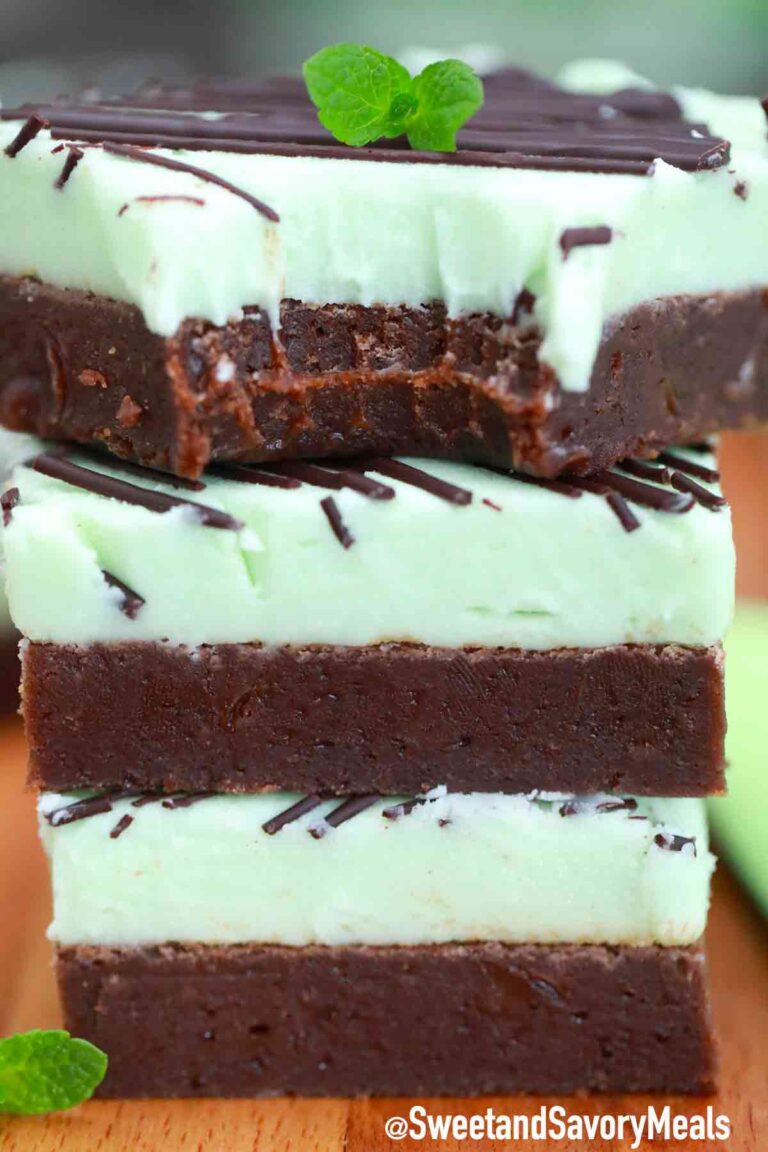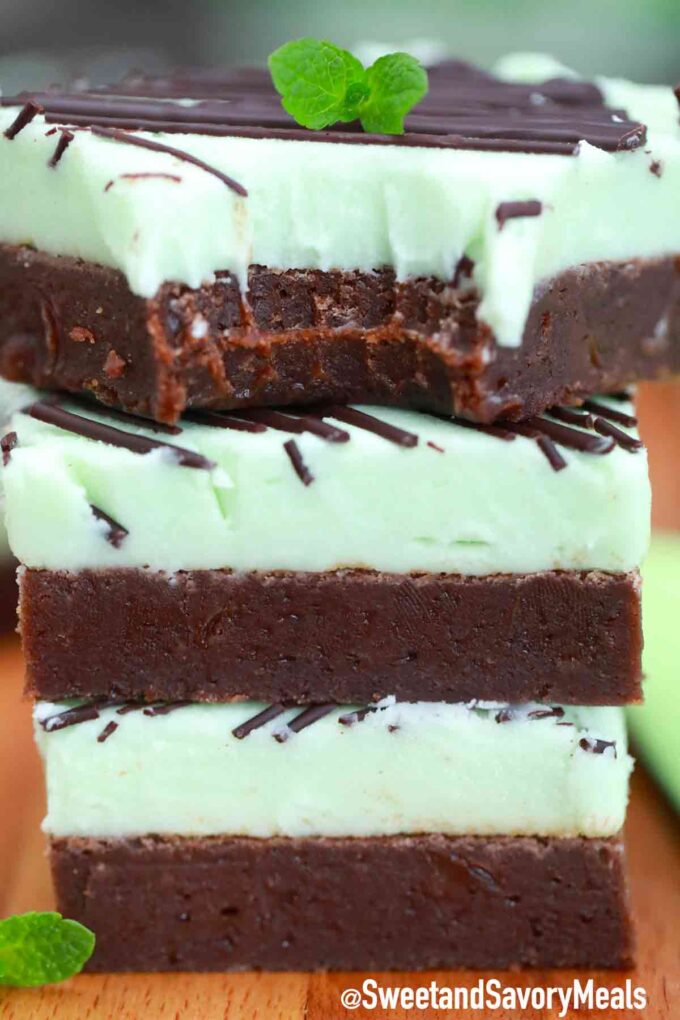 Recipe Tips:
Wait for all your filling ingredients to be at room temperature before using! Otherwise, you can end up with lumpy frosting. Room-temp ingredients are easier to incorporate and give you smooth results.
For beautiful, clean slices, use a sharp knife dipped in hot water, then wipe it off with every cut.

Cut down the sugar if you like your brownies darker.

Make sure you're using baking chocolate. They melt better and work perfectly in recipes like this one.

Give the cream cheese filling and melted chocolate time to set before lifting from the pan and slicing, because the layers can fall apart.
Save Recipe
Irish Mint Brownies
Irish Mint Brownies are super chocolatey and fudgy, topped with minty cream cheese frosting, and finished with more dark chocolate.
Author: Catalina Castravet
Serves: 9 brownies
Prep time:

30

minutes
Cook time:

30

minutes
Total time:

1

hr
Ingredients
Brownies:
Topping:
Nutrition information
Calories: 609 Carbohydrates: 83 Protein: 6 Fat: 29 Saturated Fat: 17 Trans Fat: 1 Cholesterol: 84 Sodium: 214 Potassium: 264 Fiber: 4 Sugar: 67 Vitamin A: 630 Calcium: 65 Iron: 4
Save Recipe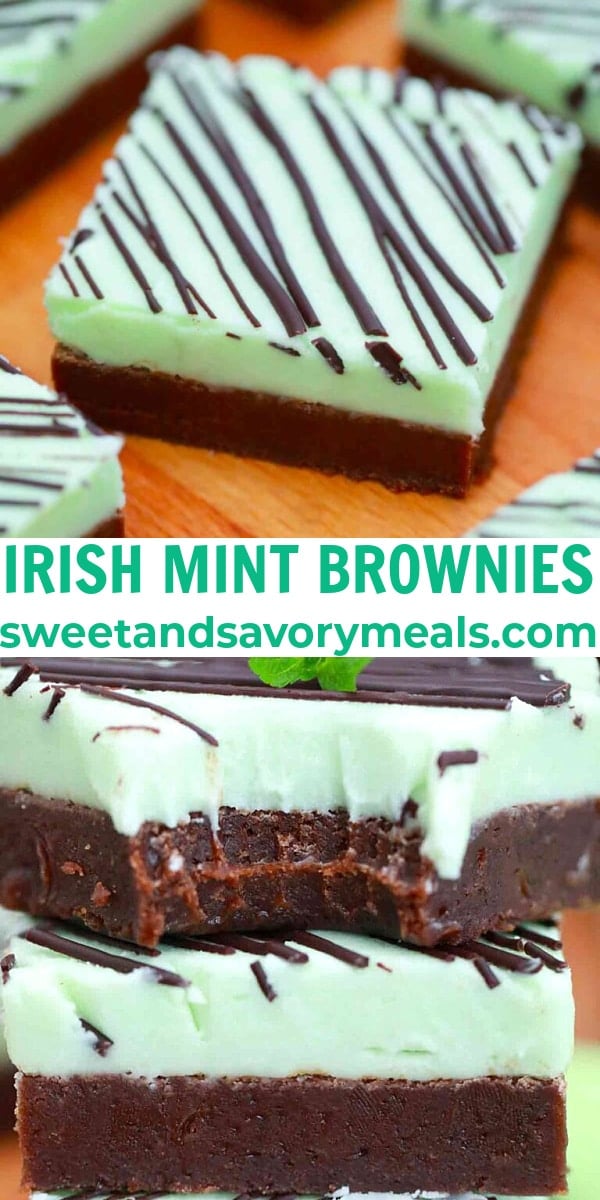 More recipes you might love