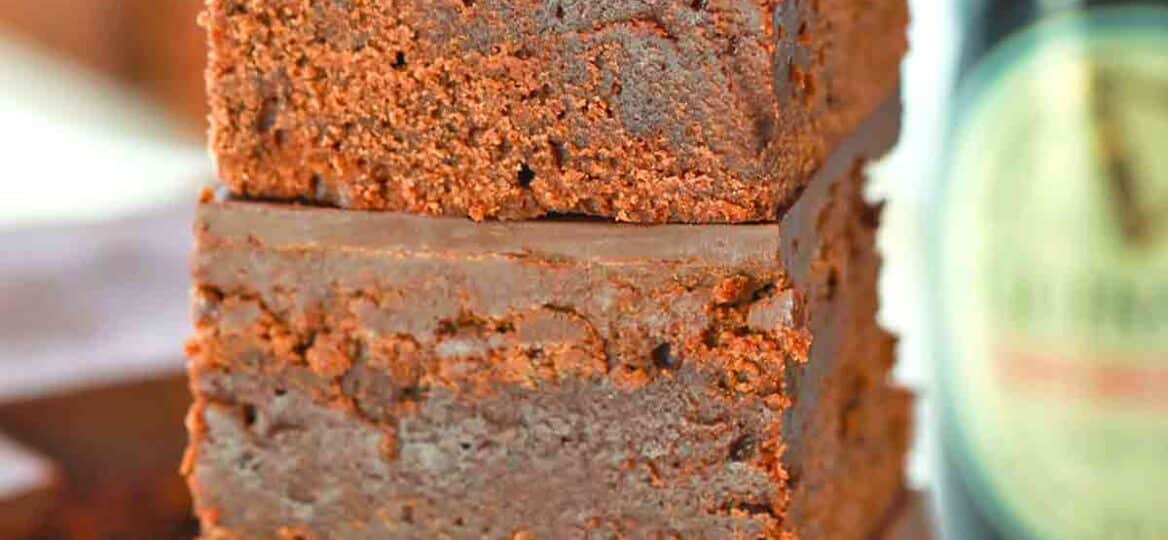 Guinness Chocolate Brownies
Guinness chocolate brownies are incredibly rich, delicious, and chocolaty with a deep coffee-like flavor of Guinness beer. These are the best brownies for St. Patrick's Day too.
Another way to use Guinness beer is in this Guinness French Onion Soup with brown sugar and white cheddar. For a different kind of dessert, try our Irish Mint Brownies with Irish cream frosting or this Mint Chocolate Chip Fudge flavored with white chocolate and mint extract.
Whether you are a beer lover, chocolate lover, or both, this Guinness chocolate brownies recipe is easy, fun, and super fudgy.
You can use other flavors of Guinness or a different kind of beer altogether to make it unique. For other brownie recipes, try our cognac or Oreo brownie recipes.
What did you make for St. Patrick's Day last year? With a chewy and moist texture and chocolate ganache frosting, these scrumptious dessert cakes are irresistible to any chocolate lover.
Ingredients needed:
Here are the main ingredients you need for this recipe. Our recipe card at the bottom of the page has the complete instructions, ingredients, and measurements.
Brownie ingredients:
Vegetable oil: You can use any oil you prefer.
Guinness stout beer
Sugar: White granulated sugar.
Vanilla: Pure vanilla extract.
Butter: Melted and at room temperature.
Eggs: Large eggs.
Flour: We used all-purpose flour, but you can use your favorite.

Cocoa: We used Hershey's dark cocoa.
Ganache ingredients:
Chocolate chips: We used semisweet chocolate chips.
Butter: We used salted butter.
Powdered sugar: Or confectioners' sugar.
Guinness beer
How to make Guinness chocolate brownies recipe?
Preheat: To begin, set your oven to preheat at 350 degrees F. Grease a square baking pan with nonstick spray and line with parchment paper.

Combine: Meanwhile, mix the vanilla, sugar, beer, and oil in a large mixing bowl.
Add butter: Next, add the butter and mix until it is just combined before adding eggs and mixing again.

Add cocoa: After, mix the dry ingredients in a medium bowl.
Mix: Immediately, pour chocolate mixture into the egg mixture.

Pour into pan: Pour brownie batter into the pan and even it out with a spatula.

Cook: Last, bake for approximately 35 to 38 minutes or until it passes the toothpick test. Set aside to cool.

Make ganache: Using a large bowl, melt the butter, chips, and beer in 30 second increments, stirring with a whisk between microwaving.

Whisk: Once it is smooth, add the powdered sugar and whisk until it is smooth.

Spread: Then, spoon the ganache onto the top of the brownies and spread it evenly with a spatula.

Cut: After it cools completely, cut into bars.

Serve: Finally, serve with a glass of ice-cold milk.
Recipe variations:
Brown sugar: Feel free to substitute granulated white sugar with brown sugar.
Substitute: For less calories, you can also use sugar substitute.
Espresso: Replace half the cocoa with espresso powder for a richer taste.

Reduce: For more Guinness flavor, reduce the beer for 20 minutes on the stove on medium heat.
Flavors: Use butterscotch or peanut butter chips in the mix for a different flavor.

Unsalted: If you use unsalted butter, add ¼ teaspoon of salt to your mix.
How to serve:
These are best served slightly warm and are perfect for St. Patrick's Day. You can also use one of these ideas:
Frequently asked questions
What is the difference between Guinness draught and Guinness stout?
The stout has a sharper flavor, more like the typical canned or bottled beer you are probably used to drinking.
The carbonization makes it a crisper flavor. The draught is creamier and richer with a sweet, coffee-like flavor.
Can I use nonalcoholic beer with this recipe?
Some recipes require alcohol in the ingredients for the cooking process, but this Guinness brownies recipe is not one of them.
In fact, they make alcohol-free beer called Guinness Zero Draught that will work just fine.
Is it okay to substitute cocoa powder with chocolate chips or melts?
The best substitute for cocoa powder is unsweetened chocolate. Semi-sweet chocolate chips or melts are not unsweetened so they may make your recipe too sweet.
However, you can reduce the amount of sugar to even it out.
How to store leftovers:
Store: Wrap these tightly in plastic or aluminum foil before storing in an airtight container. They will stay fresh and moist for several days in the refrigerator.
Freeze: These plastic-wrapped brownies will stay fresh in the freezer in a freezer bag for up to three months.
Thaw: Put these in the fridge overnight to thaw.

Reheat: No need to reheat. Serve at room temperature.
Cooking tips:
For more chocolate flavor, use a pint of Guinness draught instead of stout.

The beer should be at room temperature. Pour it into a small bowl beforehand so the foam settles.

You could also spoon off the foam when you measure it.

Instead of using the microwave, you could melt the chocolate in a double boiler or a small saucepan on the stovetop.

Grease the pan and add parchment paper for easier removal.
Only beat the eggs until they foam for the moistest brownies.

Sift the dry ingredients together for a fluffier brownie.
Let them cool before cutting for a clean cut.
Deliciousness to your inbox
Enjoy weekly hand picked recipes and recommendations