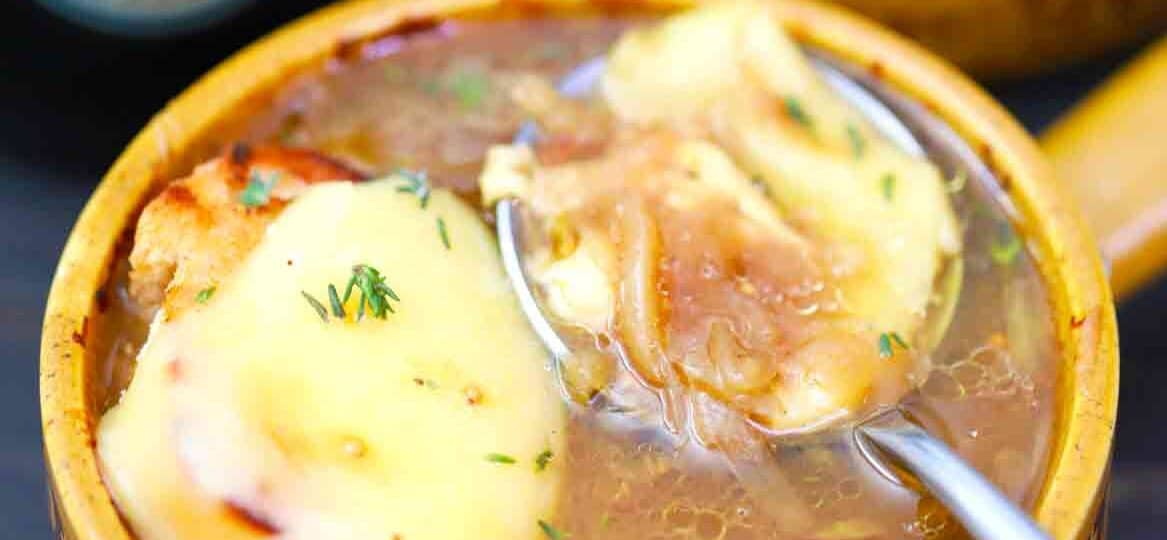 Guinness French Onion Soup Recipe
Guinness French Onion Soup is loaded with caramelized onions, beef broth, and Guinness beer and topped with toasted bread and gooey cheese. This dish is perfect for a cold winter night or any time of the year.
For an even easier way to make this soup, try our Ultimate Instant Pot French Onion Soup with gruyere cheese, red wine, and brown sugar. You could also serve this soup as an appetizer for our Red Wine Pot Roast. Or try this Slow Cooker Pork Stew made with red potatoes, wine, and tomato paste.
This delicious comfort food actually goes by the name of Irish onion soup because you are using Irish beer instead of wine or another alcohol.
Anyone who is a fan of onions, beer, or cheese will love our soup recipe. The onions are caramelized to perfection with some brown sugar and a bit of thyme.
Served with toasted French baguette and lots of melted cheese! It is even better than what you get at a fancy restaurant with its savory and sweet flavors!
Ingredients needed:
For the step-by-step instructions and measurements, scroll down to the bottom of the page to our recipe card. But here are the main ingredients you need for this Guinness onion soup:
Butter: Separated.
Olive oil
Onions: Sliced.
Garlic cloves: Minced.
Fresh Thyme: Chopped.

Brown sugar: Light or dark are both fine.
All-purpose flour: Or you can use your favorite.
Guinness beer: Or any other Irish stout or dark beer.
Beef broth: Or vegetable broth.
Worcestershire sauce
Grainy mustard
Bay leaf: One large or several small bay leaves.
Thick slices of day-old bread: Or soda bread, toasted.
White cheddar cheese: Shredded.

Kosher salt
Black pepper
How to make Guinness French onion soup recipe?
Preheat oven: First, heat oven or broiler to 500 degrees F.

Melt: Meanwhile, melt the butter in a large skillet or large pot over medium heat. Add the olive oil and onion cooking thoroughly until they are caramelized and brown. This usually takes about one hour, stirring every 10 to 15 minutes.
Deglaze: Then, add beer or water to deglaze the pan to prevent burning.

Add: Next, add the thyme, brown sugar, and garlic and cook on medium-high heat for about one minute.

Thicken: After, on low heat, add the other half of the butter and flour and let it cook for about three or four minutes.
Boil: Then, immediately add the beer, bay leaves, mustard, Worcestershire sauce, and the broth. Boil for 30 minutes.
Serve: Ladle soup into heat-resistant bowls on a baking sheet, place cheese and bread on top of the soup until the cheese melts. This usually takes about one to three minutes.
Recipe variations:
Slow cooker: For a later meal, toss the ingredients into your crock pot and cook it for three to four hours on high or six to eight hours on low.

Other cheese: You could also use Gruyere cheese or whatever flavor you like best.

Vegetable stock: If you do not have broth, vegetable or beef stock will do just fine.
Soy sauce: Use soy sauce instead of Worcestershire sauce for a different flavor.
Vinegar: Similarly, you can also use red wine vinegar instead of Worcestershire sauce.
Chicken: Chicken broth will do in a pinch.
Irish cheddar cheese: For an Irish twist, use Irish cheese.
How to serve:
This is a great dish for St. Patrick's Day or any day of the year. The beer drinker of the family will love the addition of beer because it gives it a depth of flavor you cannot get otherwise. Here are some unique serving ideas you may enjoy:
Soup and sandwiches always go great together. Try our roast beef sandwich or slow cooker French dip sandwich.
Top soup with a bit of parmesan cheese for a more Italian flavor.
This soup would go great with our tangy lemon chicken piccata.

You could also give everyone individual slices of French bread or baguette slices on the side.

Sticking with the same recipe, try serving with our cheesy French onion chicken.

Another favorite way to serve is with a side salad or our creamy BLT salad.
Frequently asked questions
What is the best alcohol to use in French onion soup?
Although this recipe calls for Guinness beer because it is a special soup, most people use dry sherry, vermouth, red wine, or brandy in their classic French onion soup.
Then others use champagne or cognac. It depends on your taste and the recipe.
Which onions are best for this soup?
Because caramelized onions are the most important ingredient in this soup, you should use a fresh quality onion with the best flavor.
Although you should typically go with what the French onion soup recipe calls for, you also have to go by your own tastes.
Most recipes call for red or yellow onions, but you can also use white or Vidalia as well.
What is the difference between this and regular onion soup?
The end result in both of these soups are almost the same but the ingredients are a bit different. For example, French onion uses just one kind of onion, but English onion uses several kinds including shallots.
Also, English onion soup uses Worcestershire sauce instead of liquor. Lastly, French onion typically calls for Swiss cheese and English uses cheddar.
How to store leftovers:
Store: After the soup is cooled to room temperature, you can store it in your fridge in an airtight container for up to five days.
Freeze: To freeze, put soup into a freezer bag and lay it flat. It will stay fresh for up to 90 days.

Thaw: Thaw overnight in the fridge before serving for best results.

Reheat: Put soup in a microwave-safe bowl and reheat in the microwave for one or two minutes, depending on how much you are heating. Or put it into a saucepan on low heat until it boils.
More Irish recipes:
Cooking tips:
Make sure you stir broth often as it boils to keep the onions from sticking to the bottom.

While deglazing, be sure you are scraping the bottom to get the glazed onions off.
Try to place onions in a single layer to help them glaze more evenly.
You can use a Dutch oven instead of a large saucepan.

Preheat the broiler and place the bread on the top oven rack to broil to make it crusty.
Be sure you use oven-proof bowls when you put them in the oven.
You can also use individual broiler-safe crocks.
Cut onion slices thick for a more intense onion flavor.
Guinness French Onion Soup
Ingredients
2

tablespoons

butter

2

tablespoons

olive oil

4

pounds

onions

sliced

2

cloves

garlic

minced

1

teaspoon

fresh thyme

chopped

2

tablespoons

brown sugar

2

tablespoons

butter

1/4

cup

all-purpose flour

3

cups

Guinness beer

or other Stout

3

cups

beef broth

or vegetable broth

2

teaspoons

Worcestershire sauce

1

tablespoon

grainy mustard

2

bay leaves

salt and pepper to taste

6

slices

baguette

1/2 inch thick and day old, toasted

1

cup

white cheddar

shredded
Instructions
Place a large saucepan over medium heat and add the butter and olive oil.

Once the butter has melted add the onions and cook until completely caramelized and golden brown, stirring from time to time for about 1 hour. Also, add a bit of water or Guinness to deglaze the pan as needed to prevent burning.

Next, add the garlic, brown sugar, and thyme. Cook until fragrant, about a minute.

Add the butter, let it melt, sprinkle and mix in the flour and let it cook for 2-4 minutes.

Add the beer and deglaze the pan.

Add the broth, Worcestershire sauce, mustard, bay leaves, salt, and pepper. Bring the mixture to a boil, reduce the heat and simmer for 30 minutes.

Finally, ladle the soup into oven-proof bowls and arrange them onto a baking sheet.

Top with the sliced bread and sprinkle cheese on top, broil until cheese melts, about 1-3 minutes. Serve.
Deliciousness to your inbox
Enjoy weekly hand picked recipes and recommendations