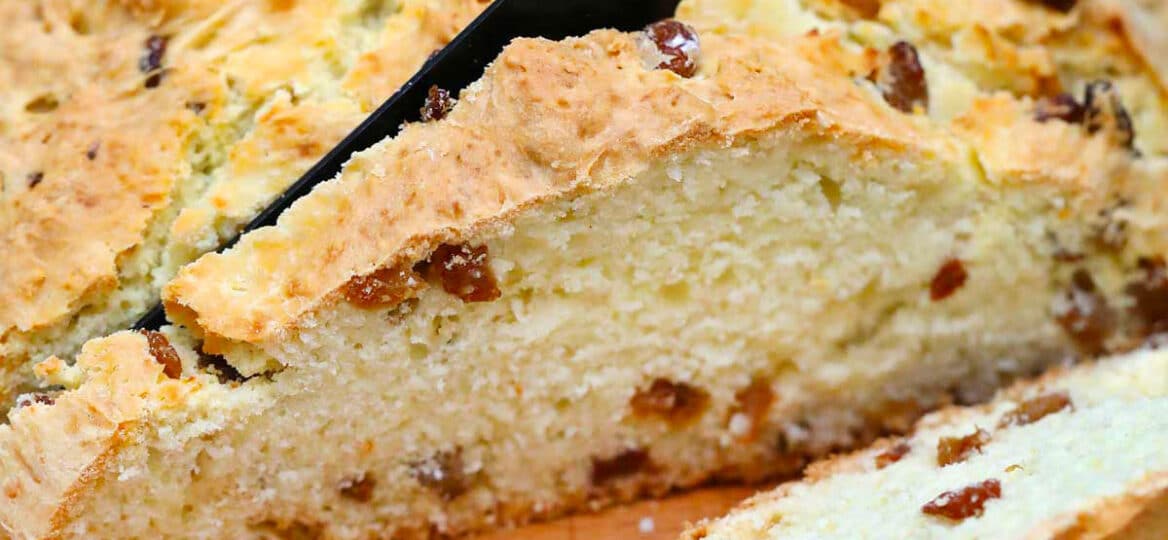 Irish Soda Bread is soft yet dense, with a fantastic crunchy exterior. It's perfect on its own, toasted with some butter or made more decadent with currants and raisins. Watch friends and family devour slice after slice!
Got a bit more time to spare? With St. Patrick's Day coming soon you still have time to try your hands at some Irish recipes. We recommend our famous Slow Cooker Corned Beef, Guinness Beef Stew and this Mint Chocolate Chip Cake.
Homemade Irish Soda Bread Recipe
Irish Soda Bread is my secret weapon when I have surprise dinner guests, need to feed a crowd, or don't want to settle for eating store-bought bread with meals.
This recipe comes together so quickly because it doesn't need yeast. But don't let its simplicity fool you – it's so flavorful, crusty, and moist!
Traditional recipes only require four ingredients: flour, baking soda, buttermilk, and salt. However, I put my twist by adding butter, sugar, and raisins to make it even yummier. It's a wonderful accompaniment to sweet and salty spreads or savory dishes.
Is Irish Soda Bread really Irish?
Not really. Despite the name, its history is more complicated than that. American Indians were the first to use a natural form of soda, called pearl ash, as a leavening agent.
However, the Irish were the ones to make it famous worldwide when they adopted the recipe, thus giving it its name. In the US, it's usually sweet and white, made with butter, eggs, and studded with raisins.
No matter its exact origin, one thing's for sure: you will love this tasty classic from the very first bite!
What is the texture like?
You made the recipe right if your loaf has a tight and dense crumb, with a beautiful golden-brown crust. Despite the density, it shouldn't be heavy at all. In fact, the insides should be soft and tender.
How do you eat Irish Soda Bread?
You can serve it for breakfast, lunch, and dinner, or even eat it as a snack! Spread butter and a fruity jam or honey on it for a simple breakfast. It's also excellent for soaking up soups and sauces.
Since the loaf is dense and sturdy, you can also use it for sandwiches. If you have some leftover, toast it and use as croutons for soups and salads. Top it with soft cheese or dip in balsamic vinegar and olive oil. Seriously, this recipe goes so well with everything!
How to Make Irish Soda Bread
Prepare for baking. Preheat your oven, and ready your preferred baking pan. Measure all the ingredients.
Whisk the ingredients. Begin whisking your liquids. Then whisk the rest of the ingredients (except the raisins) in another bowl.
Cut in cold butter. Work the butter into the dry ingredients until you end up with rough crumbs. Now mix the raisins in.
Work the dough. Fold everything until stiff. Shape into a round loaf, then knead for a few seconds. Finally, transfer to your baking pan and score an X on top.
Bake. Bake for around 45 minutes until it's golden brown.
Cool. Let the loaf cool before transferring to a wire rack.
Serve. Slice it as you wish, and serve with whatever you desire.
More Bread Recipes
How to Store:
Prevent it from drying out by storing it in an air-tight container. It can last up to 3-4 days this way, and up to 3 months frozen. To consume, simply thaw and heat up!
Recipe Tips:
Use fresh baking soda as much as possible.
Use cold butter.
Don't use self-rising flour. It already has hard flour, salt, and baking powder, which can affect the ideal texture.
If you don't have buttermilk on hand, use our recipe for homemade buttermilk substitute.

Be gentle with your dough! Don't knead it too much.
Get creative! Popular mix-ins are currants, caraway seeds, toasted coconut, dark chocolate, nuts, cheese, and grated apples.