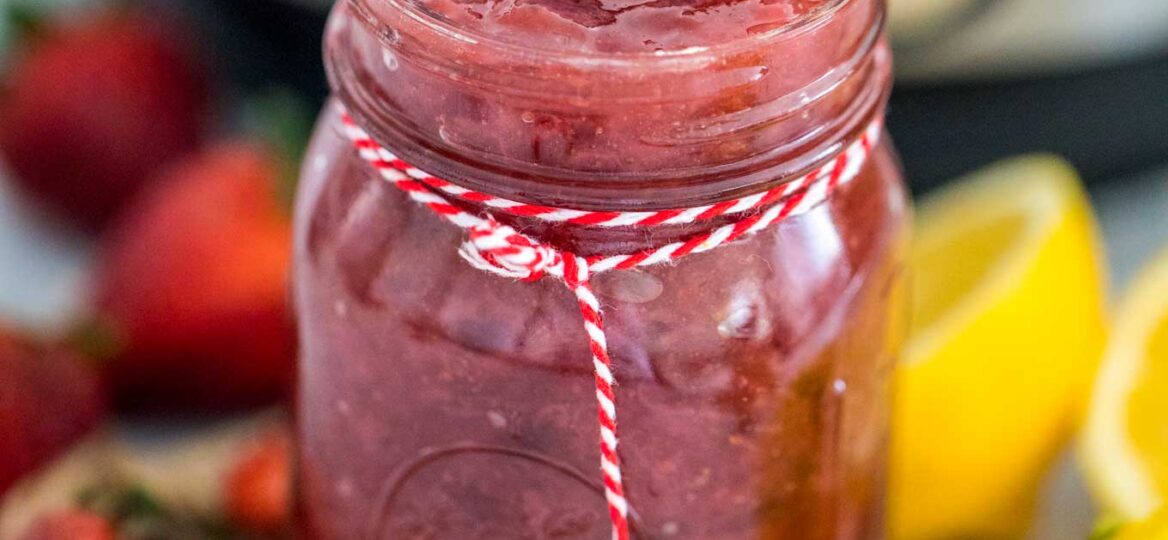 Instant Pot Strawberry Jam Recipe
Instant Pot Strawberry Jam is one of our favorite comfort foods and so easy to make. This delicious goodness is ready in about 30 minutes and can be used on cakes, or any type of desserts.
We enjoy making easy and delicious Instant Pot Recipes. You can use this jam on a Cheesecake, Pie, or on a Homemade Brioche Bread to spread it on.
Easy Instant Pot Strawberry Jam
Instant Pot Strawberry Jam is such a treat for my whole family that we constantly have a few jars stashed in our pantry. We love this recipe because of the ease it is made, and also how handy it is. With the help of the pressure cooker, the heat of cooking over the stove is eliminated. Therefore, you are just left with the gooey goodness of it!
Additionally, you can utilize it pretty much on anything, and is always handy. With kids going to school, you can easily fix a peanut butter and jam sandwich for breakfast, lunch, or dinner. Making it at home is also way cheaper than buying it at the store, and also much healthier!
You only need a few things when doing this recipe. Especially when the strawberries are in season, and cheap, this recipe is a no brainer! The other ingredients are typically on hand in everybody's kitchen like lemon and cornstarch. Give this homemade recipe a try, and you will never buy a store version of it again!
WHAT IS STRAWBERRY JAM?
It is basically a fruit preserve. The spreadable gooey goodness of strawberry cooked in sugar and blended in with lemon zest.
HOW DO YOU MAKE INSTANT POT STRAWBERRY JAM?
First, you have to wash and cut the strawberries in half. Once cut and cleaned, place them in the pressure cooker with some added sugar. Let them sit in the pot for about 30 minutes or until they release the juices. The sugar that you added will release the juice of the strawberry.
Then, stir and add in your lemon juice. Close the lid and set the instant pot on the manual for 1 minute. Turn it off and release the pressure naturally without touching anything. Once the pressure is released, carefully remove the top.
Next, get a masher and mash the strawberries together. Turn on the sauté function and allow the mixture to simmer for an additional 2-3 minutes. Add in your cornstarch and let it simmer again for 2 more minutes.
Let the jam cool completely before putting it in your jars.
WHAT IS PECTIN?
Pectin is a natural starch found in the skins of fruits especially lemons, oranges, and apples. They occur in some vegetables too like carrots, potatoes, and green beans. Pectin thickens jams and jellies. Pectin is available commercially, in powder and liquid form. They are made from apple and citrus peels.
HOW DO YOU MAKE STRAWBERRY JAM WITH PECTIN?
We just add a packet of fruit pectin for every 4 cups of strawberries. It is that easy!
HOW DO YOU MAKE STRAWBERRY JAM WITHOUT PECTIN?
Just like in our recipe below, we did not use pectin to thicken it. We just added cornstarch dissolved in water to thicken our jam. Simply, follow the recipe steps below.
WHAT IS CORNSTARCH?
Cornstarch is a fine powder made from corn used to thicken sauces for your savory and sweet foods. Just a tablespoon or two of this wonderful powder can thicken any sauce to your desired consistency.
HOW DO YOU MAKE STRAWBERRY JAM WITH CORNSTARCH?
We thickened this recipe by using a ¼ cup of cornstarch dissolved in 1/3 cup of water. After adding the cornstarch mixture, we let the jam simmer again for another 2-3 minutes.
CAN YOU PRESSURE COOK STRAWBERRY JAM?
You can certainly cook it in a pressure cooker. You can eliminate the 30 minutes of sitting time of the strawberries if you use the pressure cooker function of your Instant Pot. Just cook it for 1 minute under pressure and proceed to the next step.
HOW DO YOU MAKE INSTANT POT STRAWBERRY JAM WITHOUT SUGAR?
You can certainly cook this recipe without sugar by buying top-quality strawberries that are fully ripe and in season. When they are fully ripe, they are naturally sweet, and you can avoid adding sugar. Just follow the same recipe and omit the sugar part. Also, use the pressure cooker function to cook them before adding the lemon juice and cornstarch mixture.
HOW DO YOU MAKE STRAWBERRY JAM WITH HONEY?
Honey is more nutritious and less processed than sugar, therefore better for the body. Just substitute honey for the sugar in this recipe. But you might have to add more cornstarch mixture because honey will add liquid to it.
How to make this recipe on the stovetop?
To make it on the stovetop, follow the recipe link here.
More homemade strawberry recipes:
RECIPE TIPS:
Choose the sweetest and ripest strawberries for this recipe.
Also, naturally release the pressure when the cooking is done, meaning do not touch the IP for about fifteen minutes.
It can last up to a month in the refrigerator. Just ensure to store it in a sealable container, or a jar with a lid.
Sterilize your jars, lids, and rings after you have cooked your jams. You have plenty of time while waiting for it to cool down. There are bacteria in the air and there is no need for the jars to just sit there to gather dust before using it.