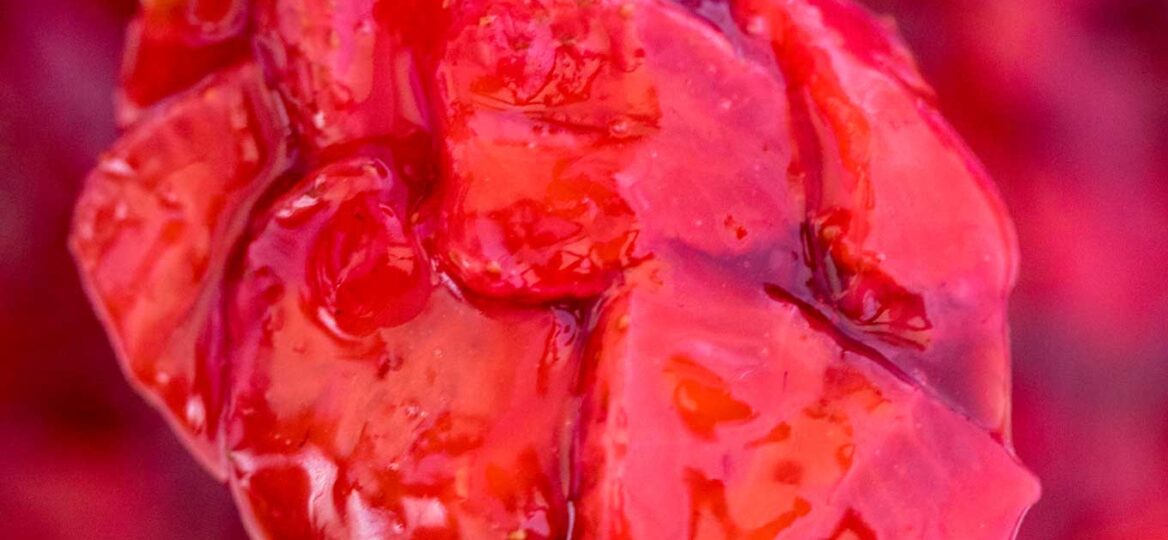 Homemade Strawberry Pie Filling Recipe [Video]
Strawberry Pie Filling Recipe is made with fresh strawberries and Jell-O. It tastes so much better than the store-bought version! Use it on pies, cakes, or simply for breakfast spread on toast or bread.
Making homemade jams is always fun, easy, and budget-friendly. You might also like our Persimmon Jam, Apple Pie Filling, and Caramel Sauce.
Easy Strawberry Pie Filling Recipe
The great thing about this Strawberry Pie Filling is that you can utilize it not only on pies but in various other desserts. And trust us, making it at home is well worth it, and it tastes so much better than the canned version.
Especially when strawberries are coming in full season, we tend to take advantage of their abundance and make batches of this recipe. Even though you could make this dish year-round, the fruits just taste better when in season. They are sweeter, juicier, and not to mention cheaper this time of the year.
What ingredients are needed to make it?
You will need the following ingredients:
Fresh Strawberries – go with fresh and ripe ones. They are ideal for this recipe.
Lemon Juice and zest – it adds some citrusy tone to it and a nice flavor.
Water
Sugar
Cornstarch – to thicken the sauce.
Strawberry Jello – to thicken the sauce and add extra flavor.
How to make Strawberry Pie Filling?
Making this recipe is quite simple. First, ensure you have selected ripe strawberries, as they are sweet and most flavorful. Then, wash and clean them, and cut them in half.
Next, add them to a bowl with the lemon juice and lemon zest.
Then, add water,

sugar, cornstarch, to the saucepan, and stir constantly. Bring to a boil, stirring constantly, for about 1 minute.

After which, add the sliced strawberries and simmer for about 3 minutes.

Remove from the heat and stir in the Strawberry Jell-o. Then, let it cool and refrigerate until chilled all the way through.
What kind of strawberries are best to use?
As stated above, always try using ripe once, as they are the sweetest and most flavorful. Also, try going with organic once, as they are healthier and contain less if any pesticides.
It is best to buy them when in season, as they are quite cheap, and you can make a larger batch of them, and simply store them for later.
What can you make with STRAWBERRY PIE FILLING?
It can be used in various desserts, or simply enjoyed on a muffin, cupcake, or toasted bread. It is mostly used in pies, but some other ways to use it would be in:
Can you freeze strawberry pie filling?
Yes, it stores and freezes well. Prior to storing it, ensure the mixture is completely cooled down. Then, transfer to an airtight container, a lidded jar, and store in the fridge for up to 2 weeks.
To freeze it, transfer to a freezer-proof dish, and freeze it for up to 3 months. Prior to serving, thaw it overnight in the fridge before using it. Once thawed, it might have some excess liquid or water on top, simply pour that off before using on pies, or as a spread.
Recipe Tips
Instead of cornstarch, you might use clearjel. It works well as an alternative.
Also, to make it brighter, you might use some red gel food coloring. Although we do not use it, some do as it gives it a bright, red color to it. This is totally up to you.
Always use ripe strawberries, as they are sweet, and work excellent here. In addition, try avoiding using frozen ones because they are watery and the filling will just not taste the same.
To mix things up, add some berries to the filling, such as raspberries. It adds a nice flavor to it.
Also, Jell-O is an important ingredient, so don't skip it. It doesn't only help thicken the sauce further, but it gives it that beautiful and shiny finish. Also, it enhances the flavor and it adds the perfect texture.
You can make this recipe with any other berries, and in this case, if you want to decorate a cake, you can also cut the fruit just in half or keep them intact for a richer look.
Homemade strawberry jam is also very easy and simple to make. Give it a try!