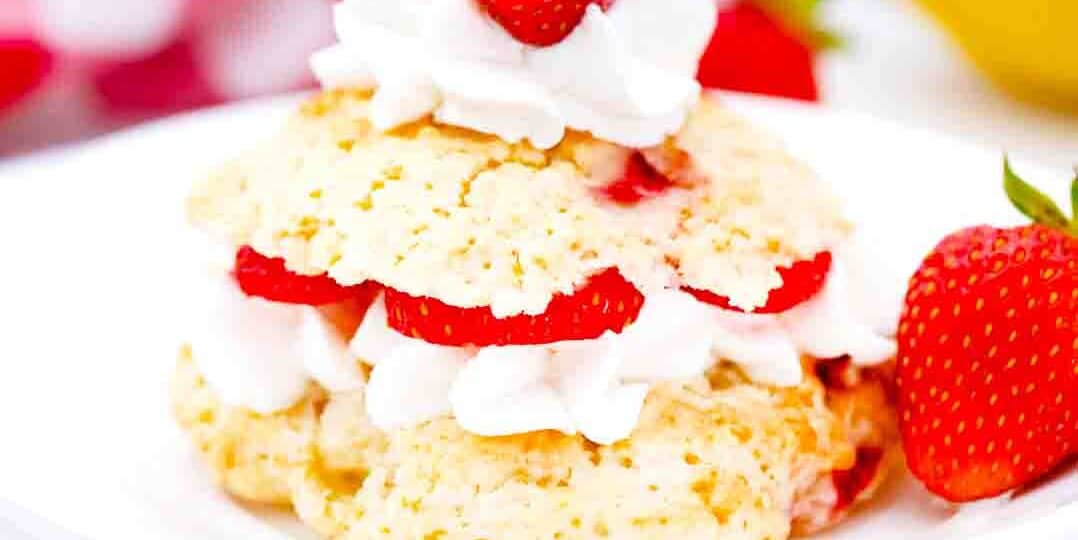 Strawberry Shortcakes Recipe – Loaded with Strawberries
Strawberry Shortcakes are delicious little cakes, so buttery they melt in your mouth, topped with strawberries and fluffy whipped cream. Everything is fresh, never frozen, and enhanced by a small amount of sugar. It may seem simple, but this is the best strawberry shortcake recipe I have ever tried, and I am sticking with it. A simple strawberry shortcake is often the tastiest. Check out our baking instructions and tips at the bottom of the page and share a few tips of your own.
The earliest printing of a strawberry cake recipe was in 1588 when it was found in The Good Huswifes Handmaid for Cookerie in Her Kitchen. But it became popular after a woman named Eliza Leslie made and published her version in 1847. It was a cookie cake layered with strawberries and sugar icing. We did not start adding baking powder and baking soda until the late 1800s.
Other shortcake recipes may call for extra ingredients like brown sugar, cold butter or cubed butter, and whole milk. But this easy strawberry shortcake recipe is easy as 1-2-3. All you need is some strawberries, cream, sugar, and vanilla mixed with a few baking ingredients. These little delicious cakes can be on the table in 30 minutes or less!
Ingredients needed:
For our easy strawberry shortcake recipe, just gather the ingredients below. After, scroll down to our recipe card to find the complete instructions and measurements.
For the shortcakes:
All-purpose flour

Heavy cream
Granulated white sugar: Separated.
Baking powder: Not baking soda.

Kosher salt
For the strawberries:
Fresh strawberries: Hulled and sliced.
Vanilla extract
Granulated white sugar
For fresh homemade whipped cream:
Cold heavy cream
Vanilla extract
Powdered sugar
How to make strawberry shortcakes from scratch?
Preheat oven: Preheat your oven to 450 degrees F. Cover a large baking sheet with parchment paper and set it aside.
Whisk dry ingredients: While you wait, whisk two cups of flour, four tablespoons of baking powder, sugar, and salt in a large bowl with an electric mixer or in the bowl of your stand mixer fitted with a whisk attachment.

Stir in heavy cream: Now, add 1½ cups heavy cream and stir with a rubber spatula until combined.
Shape the cakes: Then, use a 1/4 cup measuring scoop to portion out the dough onto the baking sheet. Use a glass or cookie cutter to shape each one into a round.

Top and bake: Next, sprinkle about 1/2 teaspoon of granulated sugar on each cake and bake for 12 to 15 minutes or until lightly golden brown. Let shortcakes cool completely on a wire rack.
Macerate your strawberries: In the meantime, mix fresh strawberries with sugar and vanilla in a medium bowl until it is combined. You can chill until needed if you are not making them right away or leave them out at room temperature if you are going to serve immediately. You want to let them sit until they produce strawberry juice.

Make homemade whipped cream: Meanwhile, beat the whipped cream ingredients in a bowl until slightly floppy soft peaks form.

Add whipped cream and serve immediately: When you are ready to serve, slice shortcakes in half horizontally and put the bottom halves on serving plates. Then, top with whipped cream and macerated strawberries, place the rest of the cake on top of that and add more strawberries and whipped cream.
Recipe variations:
Boxed cake: Instead of making biscuits, use a boxed cake like pound cake, chiffon, or angel food cake.

Buttery shortcake: If you want your cakes to be more buttery, use cold butter instead of heavy whipping cream. The easiest way to do this is with a food processor but you could also use a pastry cutter.

Sour cream: Alternatively, you can switch the heavy cream with sour cream for a lighter cake.

Use yogurt: Speaking of lighter, you can make this tasty dish a little healthier by using plain Greek yogurt instead of cream.

Minty flavor: For an absolutely delicious minty flavor, add some fresh mint to your strawberries.

Different fruit: If you cannot find good strawberries at the grocery store and you do not want to use frozen, try a different fruit. Blueberries, blackberries, and raspberries are all great choices.
Dairy-free: You can certainly make these little cakes dairy free by using soy or plant cream instead.
How to serve:
This strawberry shortcake recipe is popular during the summer when strawberries are in season. But you can make them any time of the year if you use frozen or canned strawberries. Here are some other great serving ideas.
These little cakes also go great with a scoop of vanilla ice cream.

For extra strawberry flavor, you cannot go wrong with strawberry sauce. We have the best recipe for super sweet and tangy strawberry sauce.

You can leave the tops of the cakes plain so that guests can pick them up and eat them like a sandwich.

Or, for extra creamy sweetness, use our recipe for cream cheese frosting on top instead.

Chocolate is good on everything. Sprinkle on some chocolate chips and drizzle on some chocolate syrup before serving.

You can also try our recipe for whipped cream instead of the one used in this recipe.

Make your strawberry shortcakes tropical. Add a teaspoon of toasted coconut on top of the whipped cream.
Frequently asked questions
What are macerated strawberries?
When you chop or slice your juicy strawberries and then add sugar and lemon juice, you will find that they turn into thick and sweet syrup. The strawberries are soft and extra sweet, and the syrup is like candy. When you macerate, stir the strawberries in the liquid and let them sit at room temperature for a few minutes before using them.
How do I get flaky layers in my shortcakes?
For extra flakiness, divide the dough into four squares on a lightly floured surface and then stack them on top of each other. Press them down to flatten them back into a square before using your biscuit cutter or glass to make the round shapes. Or you can flatten and fold it by rolling it out and then folding it in on itself four times before cutting.
Why do they call them shortcakes?
With such a name, you would think these delightful cakes would be short, right? Well, the name has nothing to do with their height. It is from an old English term that refers to making a baked good crispier by adding some kind of fat. So, there were shortcakes, short biscuits, and other short-baked goods.
Why is the oven temperature so high for shortcakes?
Another reason to call them shortcakes is because of the short cooking time. The crispiness comes not just from adding fat but also from baking them at a high temperature for a short amount of time. Rather than baking them at 350 degrees F for 30 to 40 minutes, these light, fluffy, and crispy cakes are finished in half that time.
What are the nutrition facts in this recipe?
Each one of these strawberry shortcakes has 432 calories, 40 carbs, 30 grams of fat, 19 grams of saturated fat, 91 mg cholesterol, 153 mg sodium, and 18 grams of sugar. But on the good side, you will also get 5 grams of protein, 7 grams monounsaturated fat, 1 gram polyunsaturated fat, 180 mg potassium, and 2 grams of fiber plus 1,180 units of vitamin A, 2 mg iron, 66 mg calcium, and 30 mg vitamin C.
How to store leftovers:
Store: You can store your leftover strawberry shortcakes separately in the fridge. The cakes can be stored in a gallon-size zip baggie and the strawberries will stay fresh in an airtight container for three days. The whipped cream should be used within 24 hours.

Freeze: If you cannot eat your shortcakes in a few days, they can also be frozen separately. Wrap the cakes in plastic wrap and then store them in freezer bags. The strawberries can also be stored in a freezer bag for several months.

Thaw: Just remember to put your leftovers in the fridge to thaw out overnight before serving.
More recipes with strawberries:
Baking tips:
Add a teaspoon of fresh lemon juice to your strawberry mixture. The sugar and lemon juice will naturally create a delicious syrup. For a bit more flavor, sprinkle in a pinch of lemon zest.
Wait until you are ready to serve to assemble the strawberry shortcake. Otherwise, the whipped cream melts and the juice from the strawberries will make your cake soggy.
To shorten prep time, feel free to use store-bought shortcakes and whipped cream. But get the freshest name-brand cakes you can find for the best flavor.

For perfectly round shortcakes, use a biscuit cutter to shape your cakes before you bake them.

If you do not have a stand or hand mixer, you can use a whisk to beat your whipped cream, but it will take longer.
Make sure you cut strawberries into bite-sized pieces for this great shortcake recipe.

Do not use too much extra flour when rolling out your dough or it may end up being dry.

There are other strawberry shortcake recipes out there but this one is by far the best with moist cake and juicy strawberries.
Strawberry Shortcakes
Ingredients
For the shortcakes:
2

cups

all-purpose flour

4

tablespoons

granulated sugar

2

teaspoons

lemon zest

2 1/2

teaspoons

baking powder

1/2

teaspoon

salt

1 1/2

cups

heavy cream

1

cup

strawberries

chopped

4

teaspoons

granulated sugar

for topping
For the strawberries:
2 1/2

cups

fresh strawberries

tops removed and sliced

1

tablespoon

granulated sugar

1

teaspoon

vanilla extract

1

teaspoon

lemon zest
Whipped cream:
1 1/2

cups

heavy whipping cream

cold

1/4

cup

powdered sugar

1

teaspoon

vanilla extract
Instructions
Make the shortcakes:
Preheat the oven to 450F degrees. Line a baking sheet with parchment paper and set aside.

First, in a large bowl, whisk together flour, 4 tablespoons of granulated sugar, baking powder, lemon zest, and salt.

After that, add the heavy cream and stir just until combined.

Now, add the chopped strawberries and using a rubber spatula, gently for them in.

Next, using a large cookie scoop portion out the dough and drop it onto the prepared parchment-lined baking sheet, a few inches apart.

Use the bottom of a glass to gently press the top to make a round biscuit shape. Sprinkle the top with some granulated sugar.

Bake for 12 to 15 minutes or until lightly browned on the edges.
Make the strawberry mixture:
In the meantime, add the sliced fresh strawberries, to a large bowl. Add, granulated sugar, vanilla extract, lemon zest, and stir to combine. Refrigerate the mixture for a few hours, or until the strawberries produce juice.
Whipped cream:
In a large cold bowl, beat together the cold heavy whipping cream, powdered sugar, and vanilla extract until soft peaks form.
Assemble the strawberry shortcakes:
When ready to serve, slice a shortcake/biscuit in half and top the bottom part with whipped cream and strawberries (from the strawberry mixture).

Add the top part, add more whipped cream, and a strawberry on top. Enjoy!
Deliciousness to your inbox
Enjoy weekly hand picked recipes and recommendations