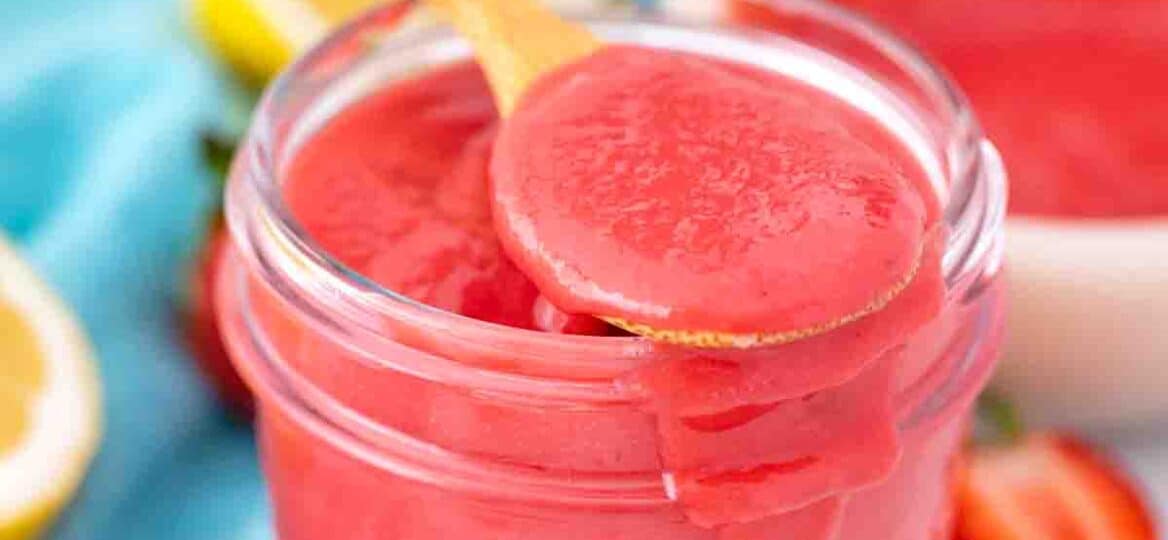 Strawberry Curd Recipe
Strawberry Curd is a delicious blend of fresh strawberries, rich vanilla bean seeds, and fresh lemon juice, the perfect summer recipe. It is thickened with a rich egg mixture and has a touch of butter for a smooth texture. If you are a strawberry lover, you can use this delicious spread on pastries, bread, or crackers. Or try it as a topping for cakes or a filling for donuts. Actually, it is so delicious you can just eat it with a spoon.
The first time fruit curds were recorded on the menu was in England in 1844 as it was written in The Lady's Own Cookery Book by Lady Charlotte Bury. Also, they were traditionally served with scones or bread for afternoon tea. Although it was England who invented this delicious fruit spread, it has evolved over the years to include sugar, eggs, butter, and other flavorings as well as different fruit flavors.
For this basic recipe, all you need are a few ingredients including butter, eggs, vanilla beans, lemon juice, sugar, cornstarch, and strawberries. You should also save some of the fresh strawberries for serving. Try dipping strawberries into strawberry curd for a burst of sweet flavor. It is also a good source of vitamin C, calcium, and vitamin A.
Ingredients needed:
Gather the ingredients below to make this amazing homemade strawberry curd recipe. Then, when you are ready to begin, find the printable recipe card at the bottom of the page for exact measurements and instructions.
Sliced fresh strawberries
White granulated sugar
Cornstarch
Fresh lemon juice
Vanilla beans: Seeds only.
Large egg yolks
Unsalted butter: At room temperature.
How to make strawberry curd from scratch?
Prep your strawberries: First, rinse, drain, and hull the strawberries before cutting them into slices or small chunks, placing them in a bowl or food processor. Then, blend strawberries until the mixture is smooth.

Remove the seeds: After, press the strawberry puree through a fine mesh strainer over a separate bowl to remove all the seeds.

Heat the curd: Next, add cornstarch and sugar to a medium saucepan and cook over medium-low heat whisking in the lemon juice, vanilla bean seeds, and the strawberry mixture a little at a time. Turn the heat to medium and whisk in the egg yolks. Bring it to a boil on medium heat, whisking constantly, for one minute. Now, remove from heat and whisk in the butter until it is combined.

Chill and serve: Cover hot strawberries with a piece of plastic wrap, laying it directly onto the curd to prevent a film. Chill for six to eight hours before serving.
Recipe variations:
Lemony flavor: For a more lemony flavor, add a teaspoon of lemon zest.

Other zests: Instead of lemon, feel free to experiment with other zest flavors like orange, lime, or banana.

More flavor: Add powdered freeze-dried strawberries to your strawberry curd for a more intense strawberry flavor.
Fresh berries: You could also use other fresh berries instead of or in addition to the strawberries. Try raspberries, blackberries, or blueberries.
No butter: For a non-dairy strawberry curd, try using coconut oil instead of butter.

Spicy curd: Are you a fan of spicy food? Add a pinch of red pepper flakes to your strawberry curd to give it a kick.
No beans: If you do not have vanilla beans, substitute with a teaspoon of pure vanilla extract.
How to serve:
This strawberry lemon curd has a delightful burst of strawberry flavor with a touch of vanilla and tangy lemon. You can use it as a spread, filling, or topping for all sorts of foods like cake filling, cookies, and pastries. Here are just a few ideas you can try or share some of your own ideas in the comments section.
This fresh strawberry curd is perfect for topping strawberry shortcake.

Add this to cream cheese or buttercream frosting to make a strawberry buttercream frosting. We have a great recipe for the best cream cheese frosting you can try.

Add leftover strawberry curd to a parfait or smoothie for a boost of flavor.

Top your strawberry curd with whipped cream on your favorite desserts. Try our recipe for easy and rich whipped cream.

Spread strawberry curd between cake layers for a burst of strawberry flavor in any kind of layer cake you are making.
It is also a great ice cream topping. Try it on top of our strawberry ice cream or sorbet with a bit of powdered sugar.
Why not use it as a fruit dip for crackers, fresh fruit, or whatever else you want to dip?
Frequently asked questions
What is fruit curd?
Fruit curds are sweet dessert toppings or spreads made with some type of fruit mixed with a cooked thickened egg mixture, butter, sugar, and some kind of fruit zest. It is often made with citrus fruit like orange, lime, or lemon. But this delicious strawberry curd is amazing too. You can use strawberry curd on toast, sandwiches, filling baked goods, or topping ice cream.
How can I make this recipe vegan?
You could make egg-free strawberry curd by leaving out the egg yolks and adding more cornstarch for a thickener. Also, you will need to substitute the butter with vegan butter. Most margarines are vegan too but are usually too soft. For this recipe, you need the hard block type rather than the kind in a tub to make vegan strawberry curd.
What are some ways to use strawberry curd?
Try filling your favorite pastries like donuts, cannoli, eclairs, crepes, or puff pastry rolls. With this easy recipe, you can use it for all sorts of ideas like decorating the edges of cakes, using it as a cake filling, spreading it on toast or biscuits for breakfast, and making a parfait with yogurt. You can even just grab a spoon and eat it from the bowl.
Can I use whole eggs instead of egg yolks?
Although our recipe calls for just egg yolks, you can use whole eggs if you like. Other curd recipes use whole eggs. It will be lighter than when using egg yolks only. The yolks give your curd that extra creamy and thick texture. You could also use a combination of the two. Try two egg yolks and two whole eggs or three yolks and one whole egg.
What are the nutrition facts in this recipe?
One serving of strawberry curd has 144 calories, 7 grams of fat, 3 grams saturated fat, 19 grams of carbohydrates, 108 mg cholesterol, 42 mg of sodium, and 15 grams sugar. But you also get 1 gram of protein, 0.5 mg of iron, 22 mg calcium, 32.5 mg vitamin C, 265 units of vitamin A, 3 grams unsaturated fat, 1 gram fiber, and 92 mg of potassium.
More strawberry recipes to try:
How to store leftovers:
Store: You can store strawberry curd in your fridge for three days in an airtight container like a jar with a lid.

Freeze: Pack your leftover strawberry curd in a freezer bag or another kind of freezer-safe container such as a mason jar and it will stay fresh in the freezer for up to six months.

Thaw: The night before serving, place your frozen leftovers in the fridge to thaw for the best results.
Recipe tips:
Do not use salted butter for this recipe. It can make strawberry curd taste salty.

If you do not have a food processor, you can use a blender. You can even try using a potato masher, stick blender, or immersion blender.
Try to get local strawberries from a farmers' market. They are always fresher than the imported strawberries you get at the store and have more flavor.

You could also use frozen strawberries if it is not the strawberry season in your area.
Use the back of a spoon to press the strawberries through the fine mesh strainer.

Feel free to use less sugar if you do not like overly sweet fruit curds.

If you think this strawberry curd sounds amazing, check out our food blog for more fruit curd recipes.
Strawberry Curd
Ingredients
3

cups

sliced fresh strawberries

1/2

cup

sugar

2

tablespoons

cornstarch

1

tablespoon

fresh lemon juice

3

vanilla beans

seeds only - or use 1 teaspoon of vanilla extract

4

large egg yolks

3

tablespoons

butter

unsalted
Instructions
First, place strawberries in a food processor or blender and process until smooth. Press the mixture thru a fine mesh over a medium bowl, and discard the seeds.

Add sugar and cornstarch to a medium saucepan over low-medium heat, and gradually whisk in strawberry puree, vanilla bean seeds, and fresh lemon juice.

Whisk in the 4 egg yolks. Bring mixture to a boil over medium heat, whisking constantly, and cook for 1 minute, also whisking constantly.

Remove from heat and whisk in butter until combined.

Place plastic wrap directly onto the warm curd, to prevent a film from forming, and chill for 6-8 hours.

Serve as is as a spread or dip, or use in other recipes.
Deliciousness to your inbox
Enjoy weekly hand picked recipes and recommendations